June 17th, 2014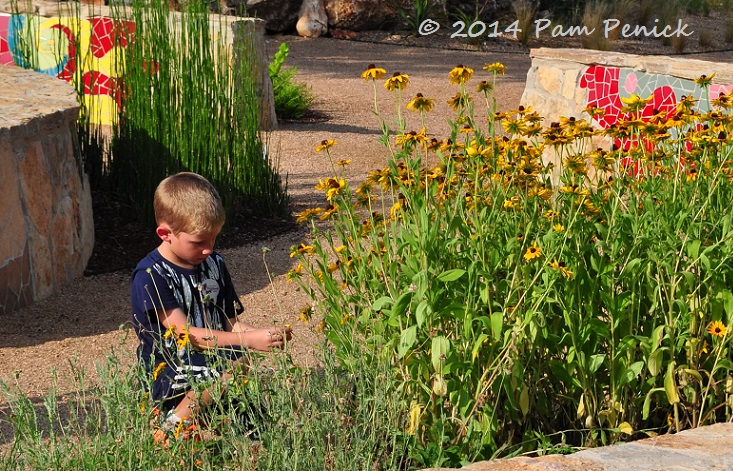 My kids are teens now and well past playground age. But I'm not!
Since the Luci and Ian Family Garden opened on May 4, I've been wanting to check it out. I previewed the garden before it was completed in mid-March and could see it would be a great addition to the Lady Bird Johnson Wildflower Center. So when I learned that the Wildflower Center is staying open late every Thursday this summer for Nature Nights, a family-oriented evening of nature exploration and play, I grabbed my camera and headed over.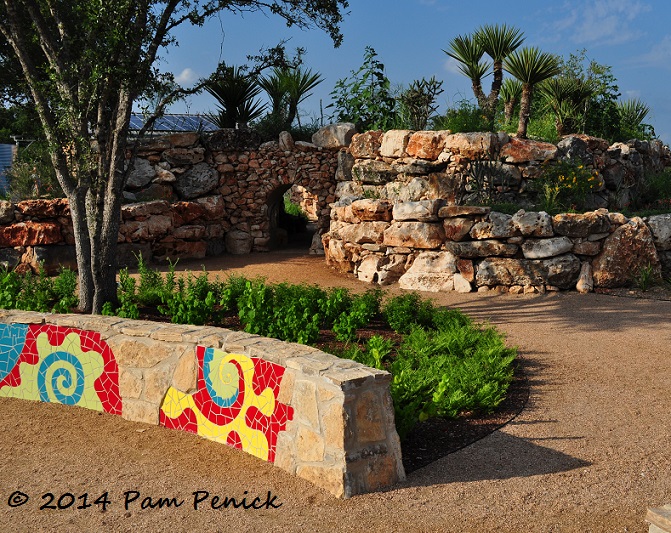 Normally the garden closes at 5 pm, but on Nature Nights it stays open until 8 pm, which is much better for picture taking, so even if you aren't especially interested in the Family Garden you can still enjoy all the gardens in more flattering light. It's also free all day and evening on those days.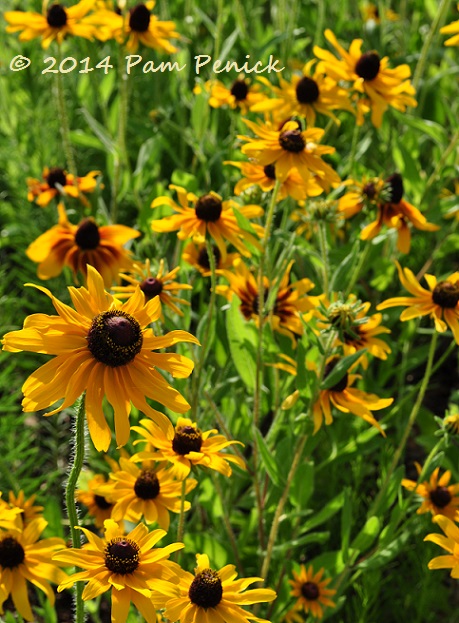 Don't fool yourself into thinking that it'll be cooler, however. It won't. I arrived last Thursday at 5 pm in 97-degree heat. It had dropped all the way to 95F by the time I left at 6:30 pm. I may not love the heat, but the brand-new plants are sure eating it up.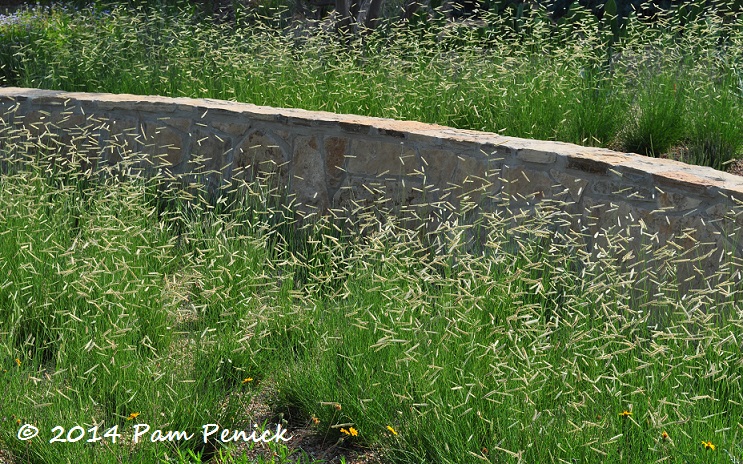 Surprisingly lush for being so new, the Family Garden is awash right now in blooming coneflowers, zexmenia, and 'Blonde Ambition' grama grass (above), plus masses of other beautiful native Texas plants.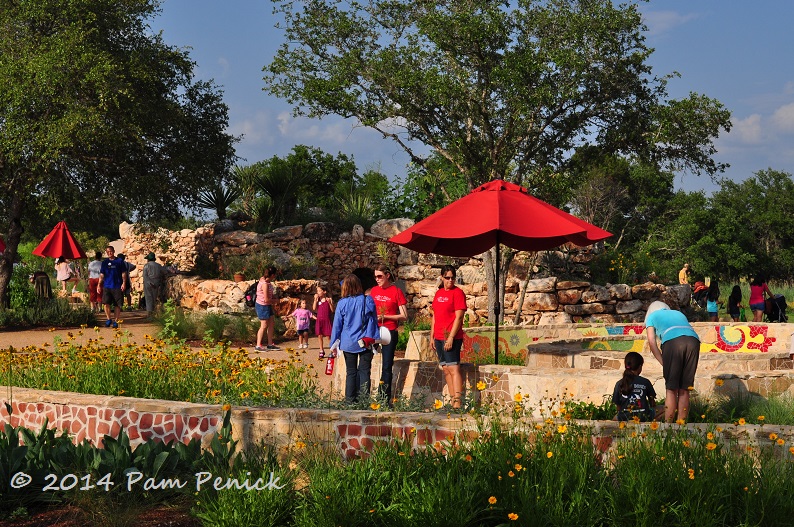 Last Thursday, the Family Garden had a festival atmosphere with crowds of people, a band, and small giveaways set up near the play lawn. Pictured here is the Nature's Spiral, a low, spiraling wall with colorful, tiled mosaics including the Fibonacci numbers sequence.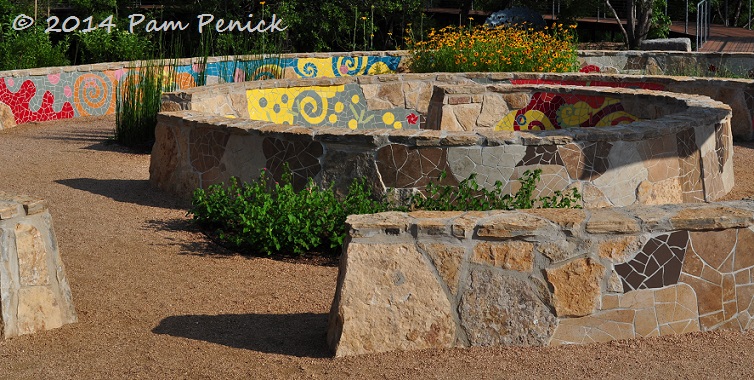 The plants in this garden were chosen for spiral features, and I saw a few kids examining them to find the spirals.

The tile art is fun and colorful.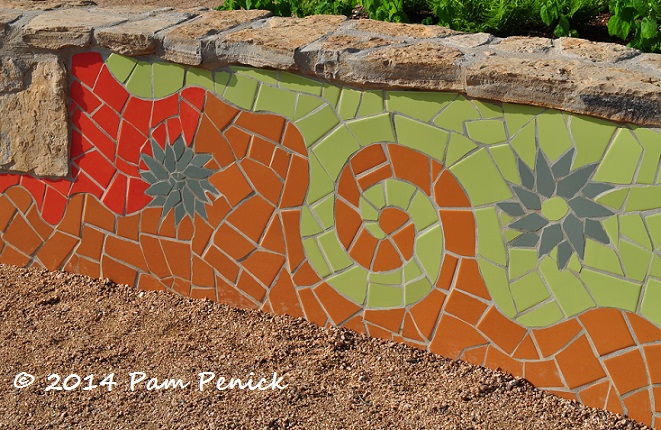 Is that a spiral aloe represented at left?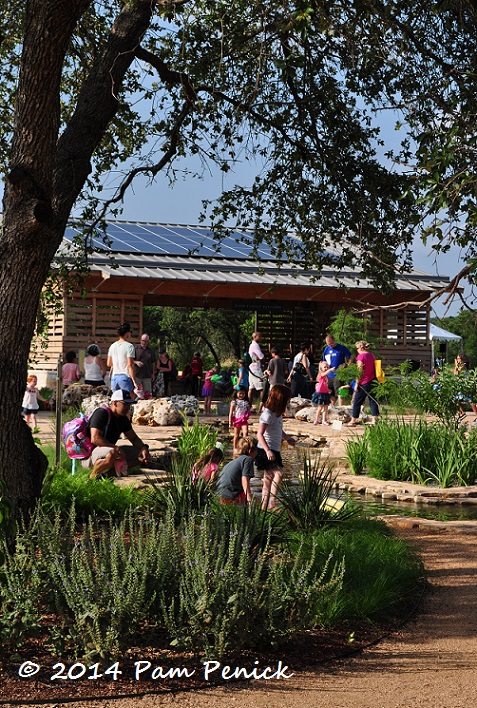 A rustic-style shade pavilion offers picnic seating, but the kids were all drawn to the water features, as kids are.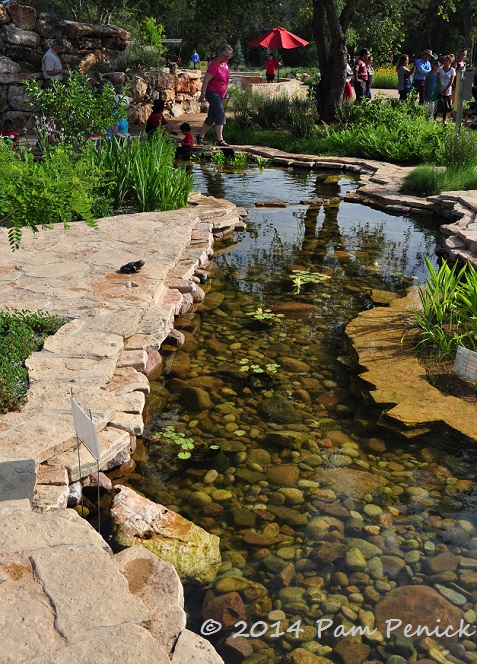 Dinosaur Creek flows through a flagstone plaza…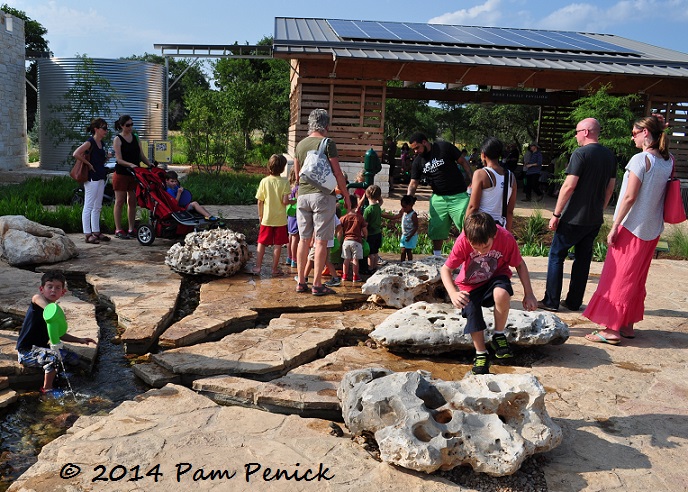 …from the Watering Holes, pictured here, to a grotto with a waterfall. Boulders of holey limestone, called karst rock, mark the "headwaters" of seven streams that flow into the creek.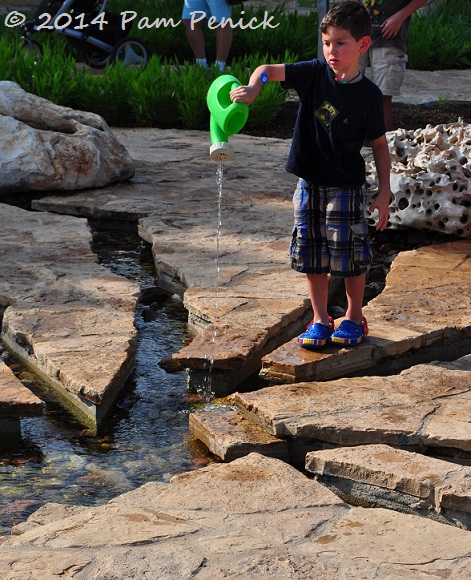 An old-fashioned pump and plastic buckets and watering cans allow children to fill and dump over the holey rocks or directly into the creek.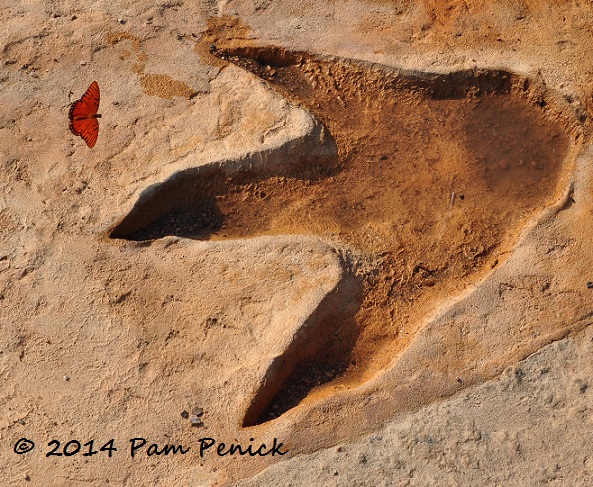 Dinosaur "footprints" lead along the creek toward the grotto. I watched a Gulf fritillary puddling on the edges of this one, heedless of the busy feet all around.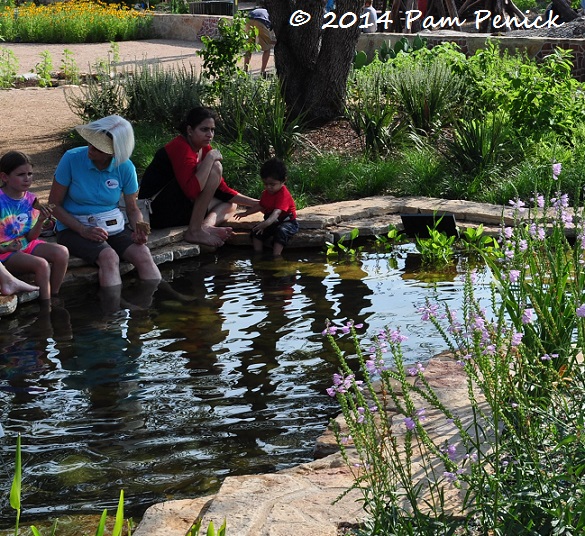 Many feet were happily soaking in the creek. Other feet (not pictured) were walking around in the creek bottom, despite a sign asking people not to wade or swim; the water is non-potable, and they're trying to establish plants and habitat for fish, frogs, turtles and aquatic invertebrates. I had wondered how the Family Garden would balance the natural desires of children to get fully into the water (or climb walls or pick plants) with the safety and garden-preservation concerns that a public garden must contend with. At the media preview I attended in March, I was told that signage would be minimal and docents would be on hand to redirect destructive or dangerous play. It looks like the jury is still out on how this will work. The people pictured here were enjoying the creek in a garden-approved way.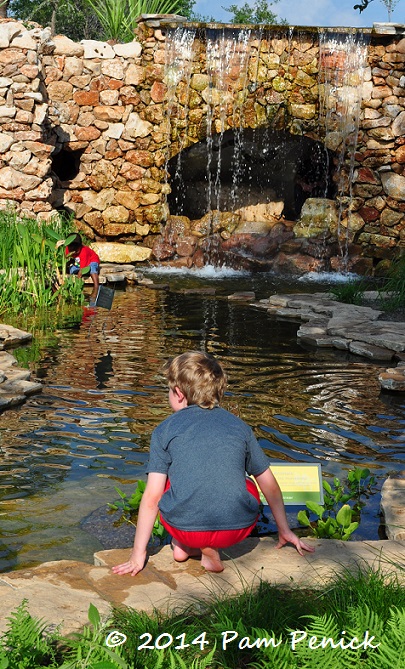 These boys were exploring the creek near the Hill Country Grotto, the spectacular main attraction of the garden.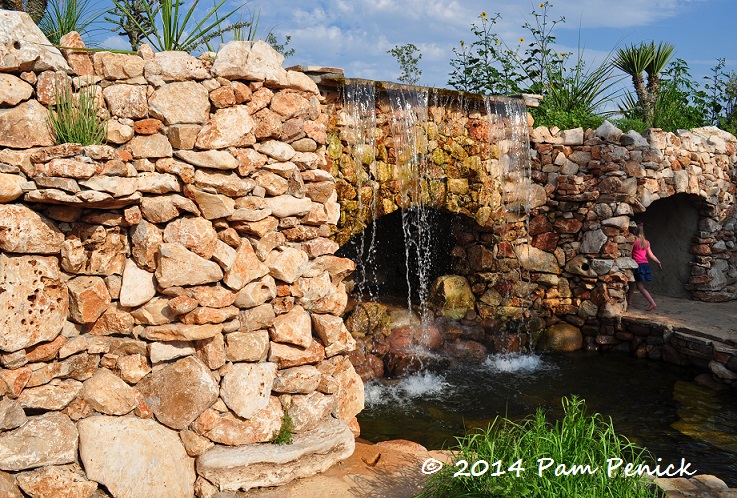 A long, stone-faced wall rises in the central part of the garden, with several cave-like entrances sized for children (I had to crouch to enter) and a dramatic waterfall spilling over the top into the creek.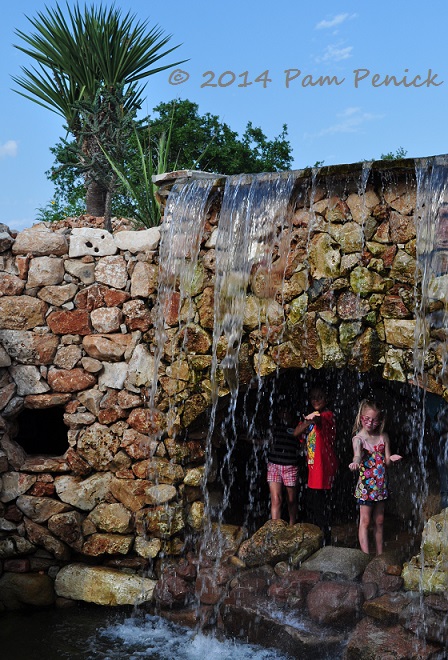 One cave entrance leads behind the waterfall, where a few ledges are built into the walls for parents to sit on while their kids play in the water.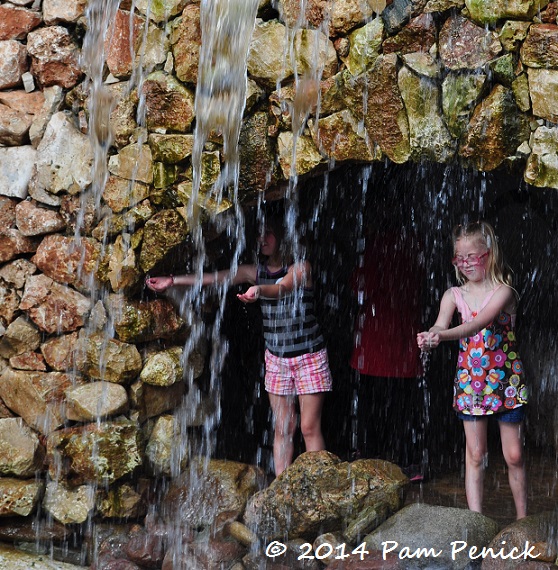 Spilling water is endlessly entertaining.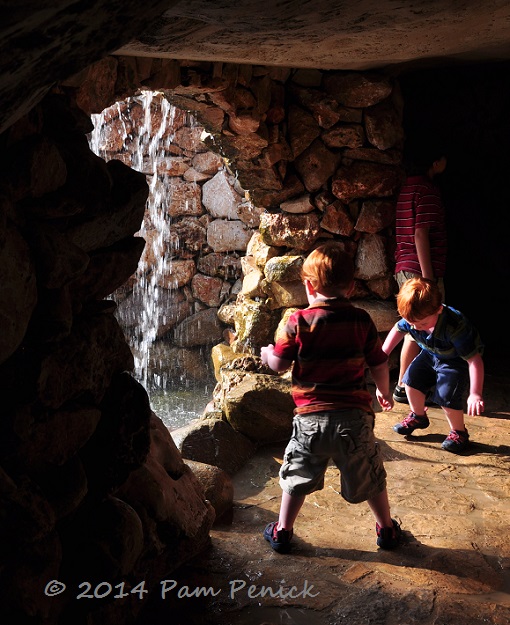 Even puddled on the floor, it's pretty fun to splash around in. This is the scene behind the waterfall.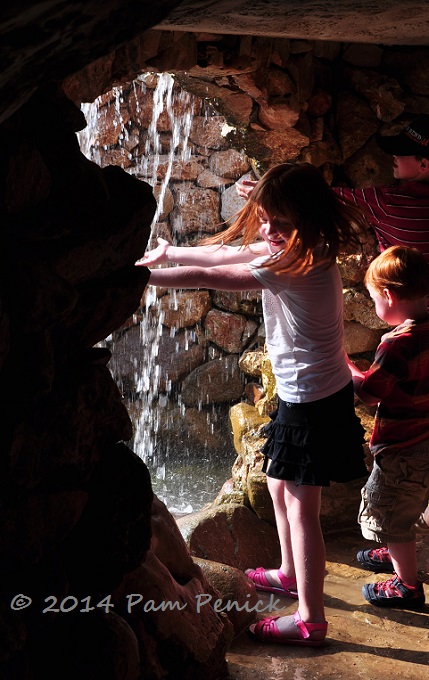 A good way to cool off on a hot day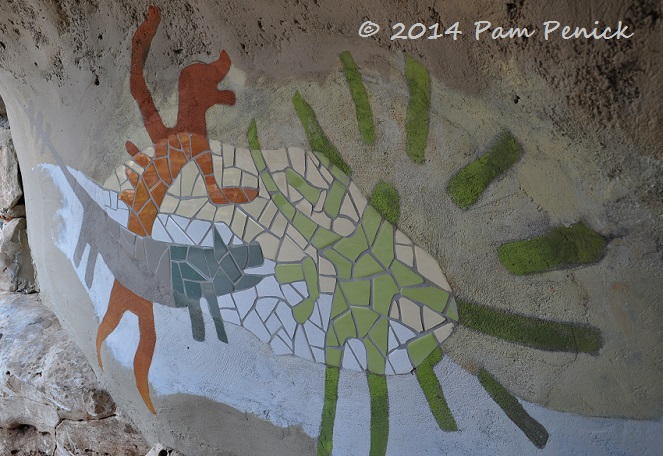 A tile mosaic in one of the tunnels represents prehistoric pictographs in a vaguely Keith Haring style.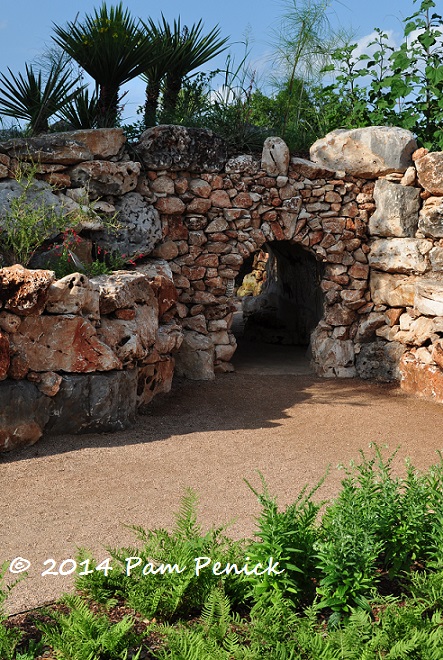 With dramatic yuccas planted on top, the grotto reminds me of the Hartman Prehistoric Garden at Zilker Botanical Garden.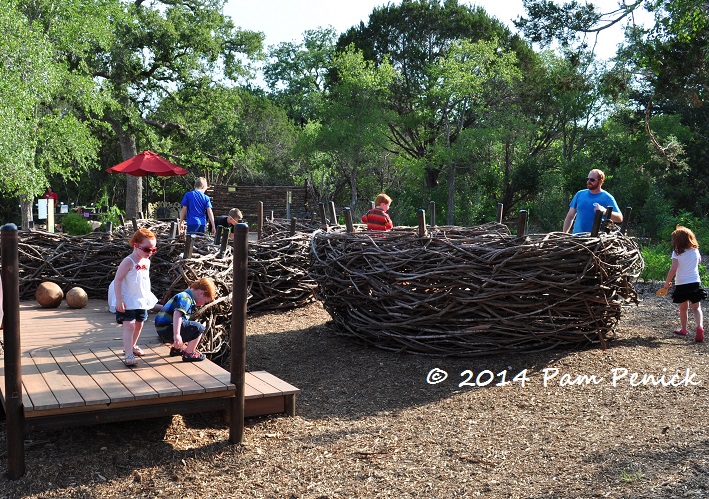 Kids were also flocking to the Giant Birds' Nests made of grapevines and branches found on-site. Play is unstructured and open to interpretation, of course. One little boy shouted, "It's a ship!" as he ran up to a nest. Another told me that the nests were for dinosaurs…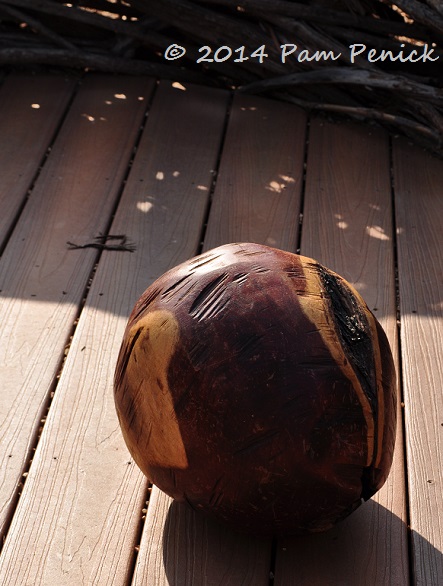 …with dinosaur eggs inside. I love that there are heavy, carved wooden eggs in the nests — like coconuts, to my mind. The children enjoyed hefting them and moving them around.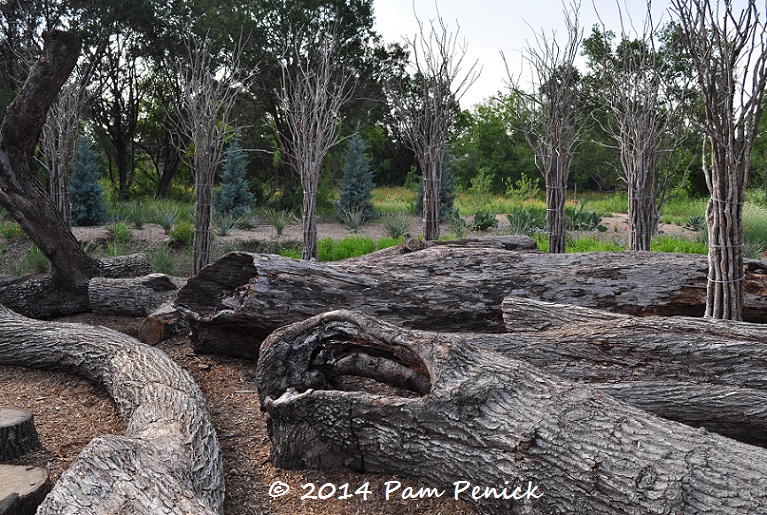 But my favorite feature by far was the Stumpery. I have fond childhood memories of playing on logs and in a pile of large branches after my parents had a bunch of pine trees cut down. Fallen tree trunks like these can be balance beams, high ground in an alligator-infested swamp, boats, forts, an obstacle course, and even just a place to sit and rest. Thinner branches, bound vertically, surround metal poles at the perimeter of this play space, adding the illusion of a circle of trees.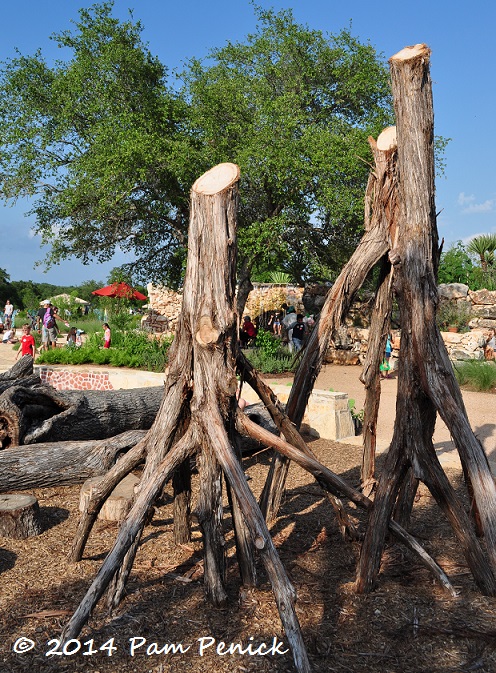 Upside-down cedar trunks seem to scuttle like crabs. These could be forts for a child crawling under the leg-like branches, or they'd make fine climbing structures.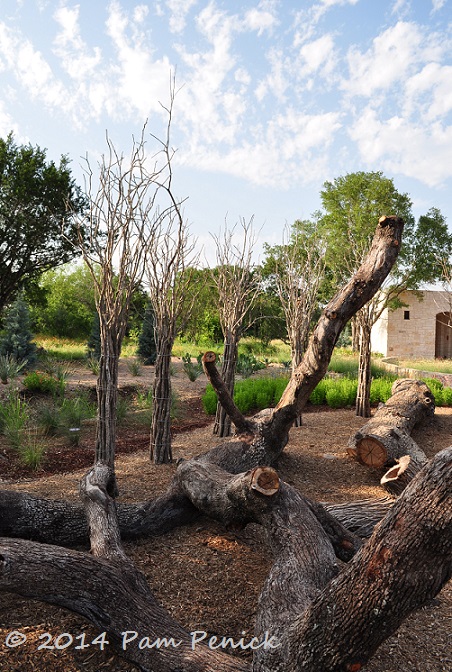 This huge tree trunk just begs to be climbed on.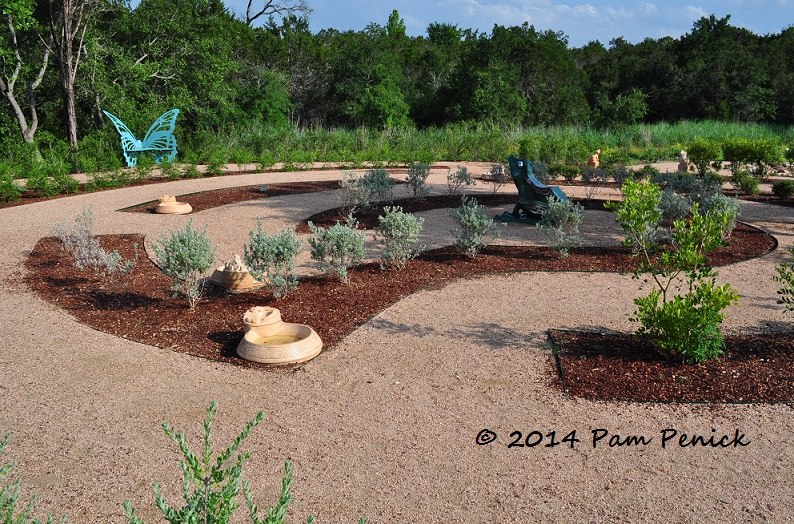 The newly planted Metamorphosis Maze is still a bit raw, but once the evergreen native shrubs (I saw cenizo and Texas mountain laurel) fill in it'll be a fun track to explore. It has a froggy theme, with a large frog sculpture in the center of the maze…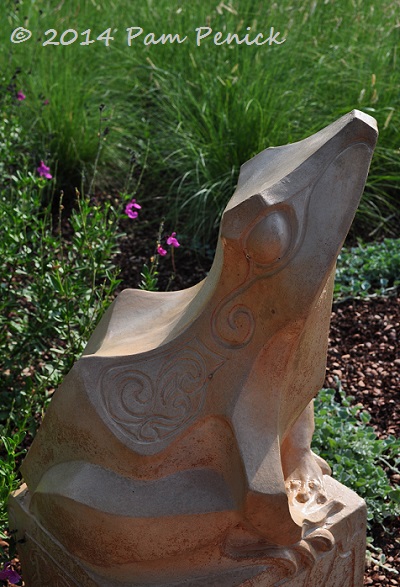 …and smaller frogs at the entrances.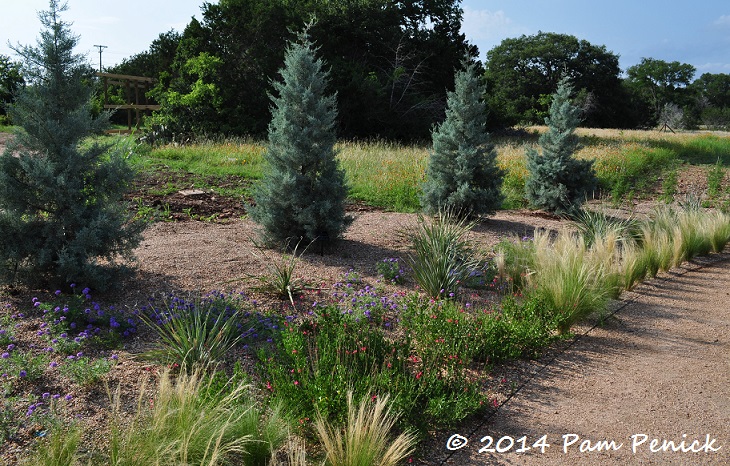 Aside from the play features, the Family Garden also contains numerous planting beds that'll inspire adult visitors.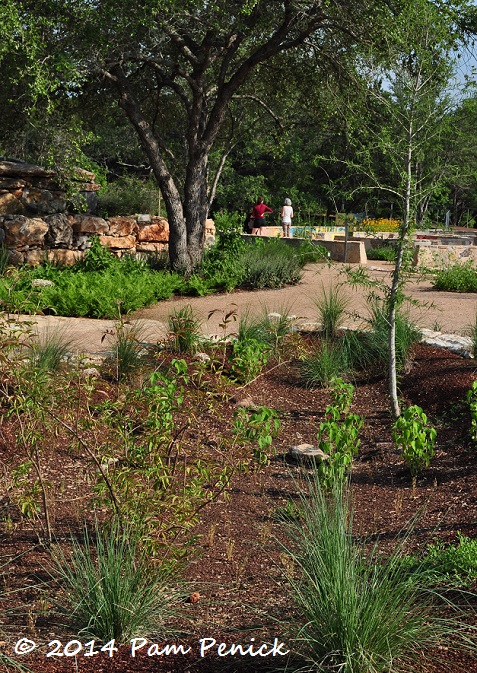 This sunken rain garden is designed to capture rainwater and allow it to soak in slowly and stay on-site.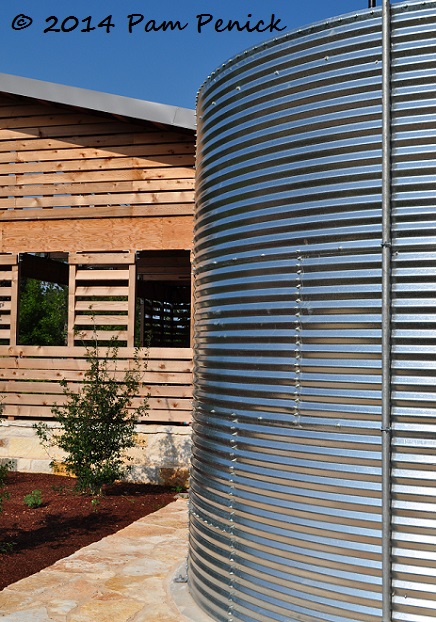 An enormous, galvanized cistern is hooked up to gutters on the restroom roof.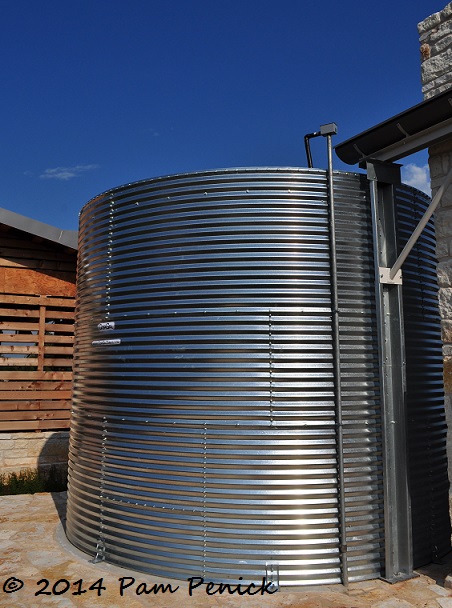 I'd like to learn more about how the stored water is used in the garden.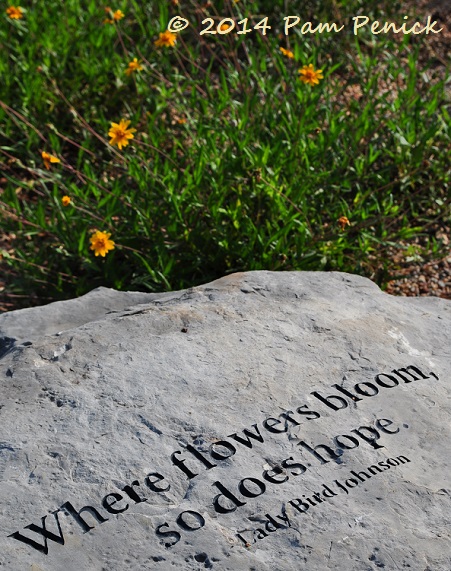 Quotes by Lady Bird Johnson, the Wildflower Center's founder, are engraved on boulders throughout the garden, reminding visitors of her mission to promote native plants, to preserve the unique flora each place is endowed with, and to help us all recognize the beauty of the natural world around us.
Click here for more information on Nature Nights, including the fossil-themed event this Thursday, June 19th. Of course you can visit the Family Garden any time the Wildflower Center is open during regular hours as well. All ages are welcome.
Update: My thanks to designer Gary Smith for adding his voice to the comments below. See comment #5.
Up next: More pictures of the other gardens in early summer bloom at the Wildflower Center.
All material © 2006-2014 by Pam Penick for Digging. Unauthorized reproduction prohibited.