June 13th, 2014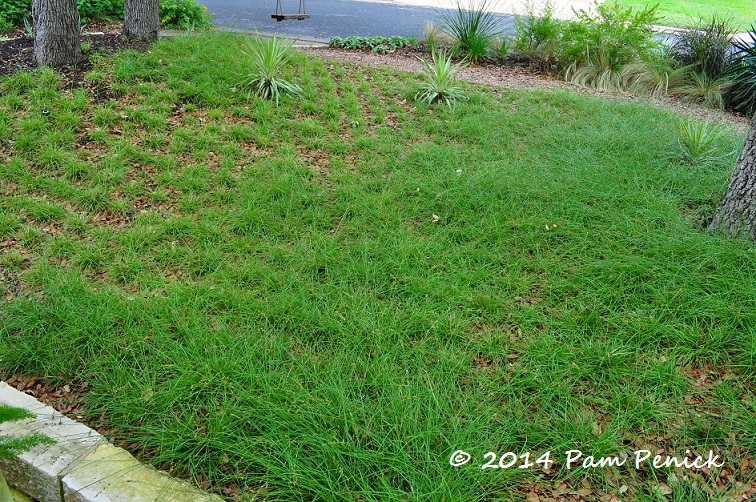 It's time for an update and assessment on the Berkeley sedge (Carex divulsa) "lawn" I installed in my front garden a year ago, in March 2013. (Click the link for my how-to.) Seven months after planting I posted an update, noting that certain areas had filled in well but one section still resembled new hair plugs.
As you can see, the sedge lawn is still patchy, with lush growth on the right and persistent gaps between the plugs on the left. I've evaluated my sprinkler system coverage several times and can't see any problems there, and I prepared all the soil the same way, so I'm not sure what the problem is. Last fall I spread a light layer of compost and mulch between the thin sedges, hoping to encourage them, and that did seem to help. I also fertilized again this spring with organic Medina Hasta-Gro Lawn, and that helped significantly.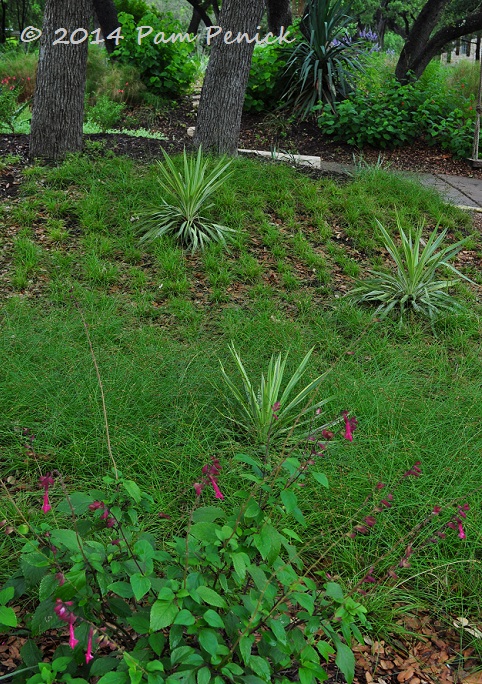 It's a little more evident in this photo that the ground undulates; it's essentially a shallow trough, lowest in the middle and sloping on each end of the lawn, where the live oaks are growing. The sedge is growing well on one of the slopes and in the low middle.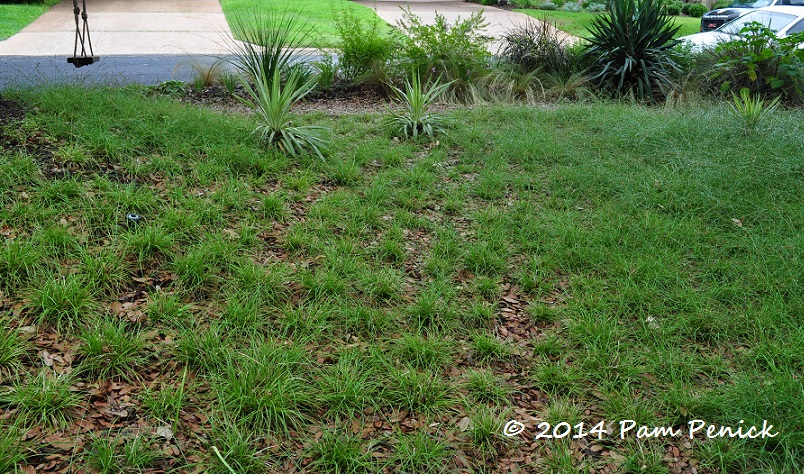 It's only on the other slope that it's struggling — if struggling is even the right word. It looks healthy. It's just not growing very much. However, it IS growing, and I'm prepared to wait it out.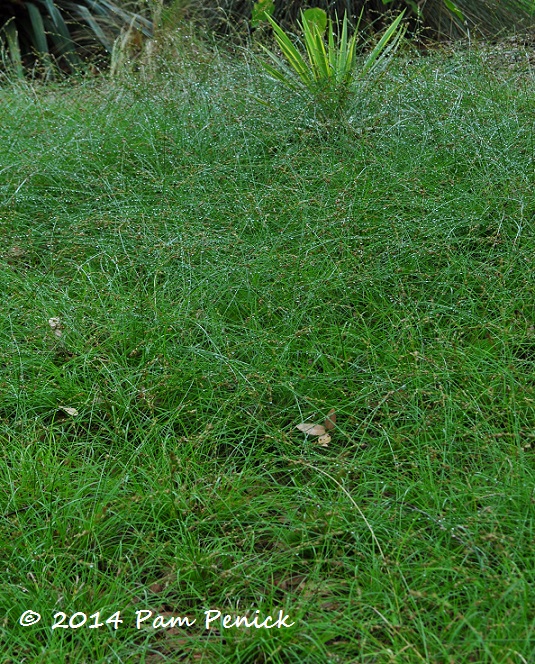 Overall, I am really enjoying the shaggy, touchable texture of the sedge lawn and, best of all, the fact that it requires very little maintenance. I mow twice a year on a high setting: once in early summer, after it goes to seed, and once in early fall. I water on my city-mandated irrigation day (once a week only), just like the rest of my garden. I fertilize with an organic drench via a hand sprayer connected to the hose twice a year, spring and fall. No weekly mowing or additional watering. No edging. No creek-poisoning lawn chemicals.
What do you think? Is sedge something you'd try in a shady area where your lawn is not thriving or needed?
All material © 2006-2014 by Pam Penick for Digging. Unauthorized reproduction prohibited.