June 10th, 2014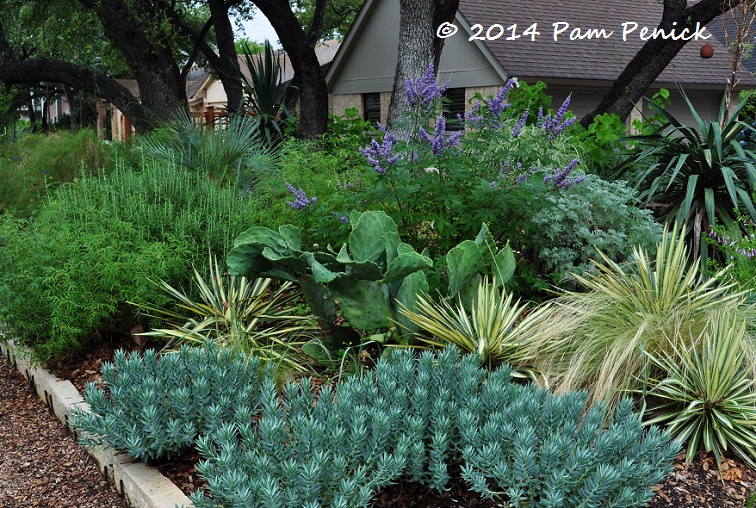 Summer's heat entices chaste lilac, or vitex (Vitex agnus-castus), to send up an explosion of purple spires, adding a dash of rich color to the xericsaped island bed in the circular driveway.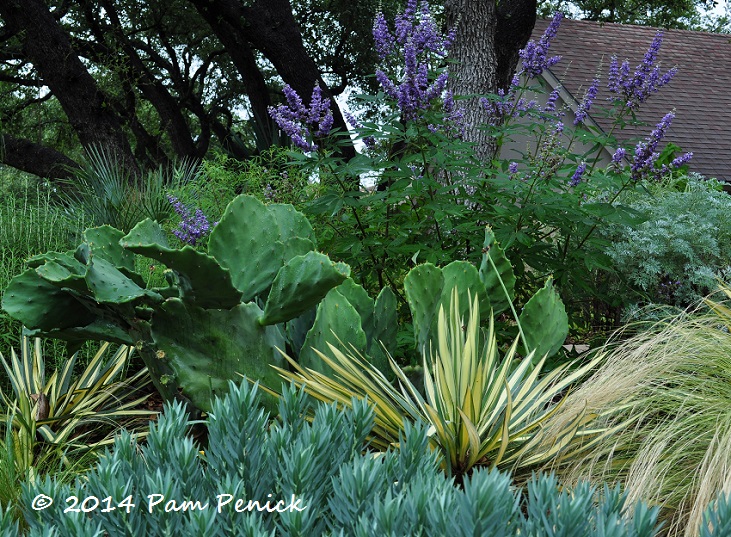 This bermed garden bed, shaded all morning by live oaks and hit with late-afternoon sun, is not on the irrigation system, and I try to remember to water it at least every other week in summer, never in winter. Tough, drought-tolerant plants that are distasteful to deer make up this largely evergreen (and gold and silvery blue) garden.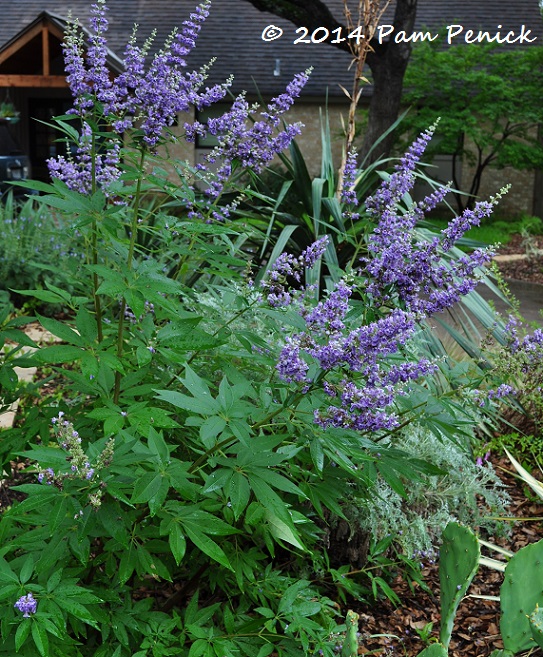 Right now, the vitex is the belle of the ball, showing off long, tapered bloom spires that attract bees and coarse, palmate leaves that could be mistaken for marijuana foliage. But beware. With fast-growing, thickety growth, vitex requires a firm hand with the pruning shears. I don't recommend it unless you're committed to regular pruning after each bloom cycle. Vitex is on Austin's invasive-plant list, which is a shame since it performs so well in our extreme climate — hence its designation, confusingly, as a Texas Superstar plant. If you want to grow it or already have one, to be a good environmental steward I suggest cutting it back after every bloom cycle, preventing it from going to seed, and pruning it back to about 8 to 12 inches in winter, keeping it shrub-sized.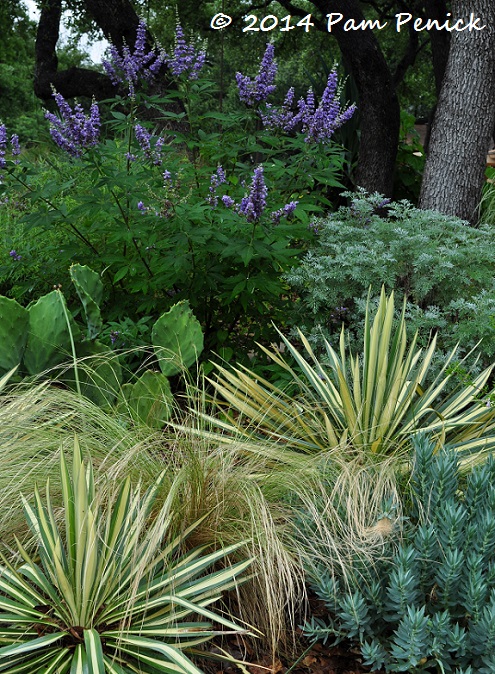 Actually, several plants in this bed have seeding-out tendencies (only in my own garden; they never invade my neighbors' lawns or beds) — namely Mexican feathergrass (Nassella tenuissima) and gopher plant (Euphorbia rigida) — but I love them anyway.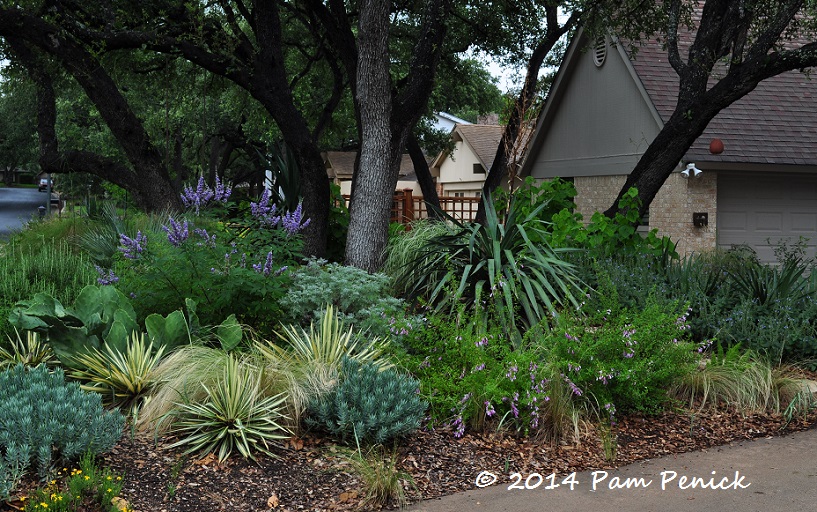 The wide view. The left side receives a blast of the Death Star in the afternoon; the far-right side is shady. The main players, roughly from left to right, are gopher plant, 'Color Guard' yucca, wavy prickly pear, vitex, Mexican feathergrass, 'Powis Castle' artemisia, Mexican oregano (Poliomintha longiflora), softleaf yucca (Y. recurvifolia), turk's cap (Malvaviscus arboreus var. drummondii), heartleaf skullcap (Scutellaria ovata), and Texas dwarf palmetto (Sabal minor).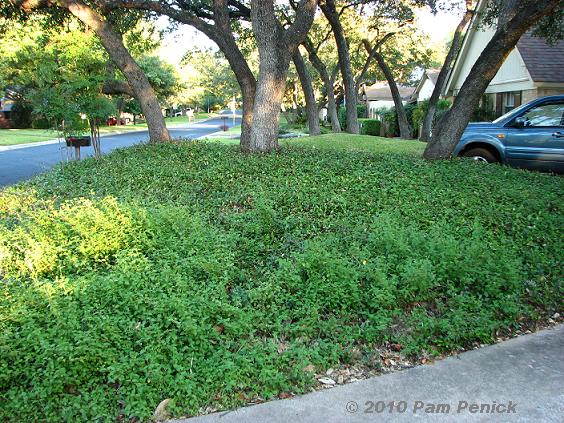 To illustrate how far this bed has come, let's pop back to 2008 for a "before" picture. Even then it was lawn-gone, thanks to the efforts of the previous owners, who'd planted groundcovering Asian jasmine, trailing purple lantana, and a few other plants. But I wanted something more dramatic and interesting since visitors pass this bed on the way to the front door. It's also our view from the front door and what we see each time we pull into the driveway. Moreover, I desired screening from the street, and taller plants on the crest of the berm provide that.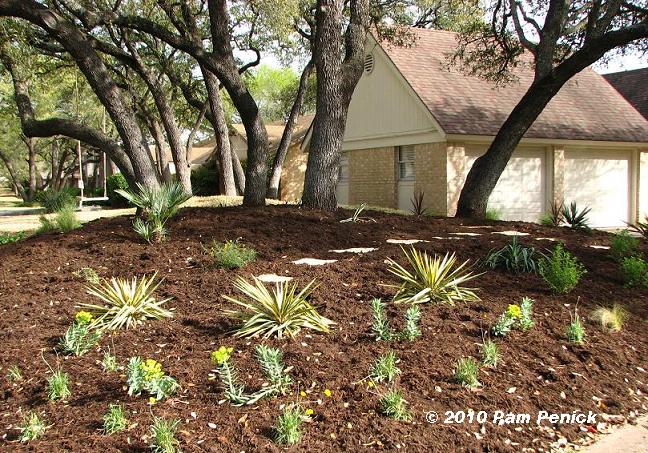 I planted this garden bed in March 2010. Subsequent years of drought and blisteringly hot, dry summers slowed its growth but couldn't thwart it, and deer-resistant plant choices have kept the antlered pests' depredations to a minimum, although the four-nerve daisies in front proved tasty and had to be relocated to the fenced hillside garden. (We've also changed our house color since then, painting the cream siding a warm gray.)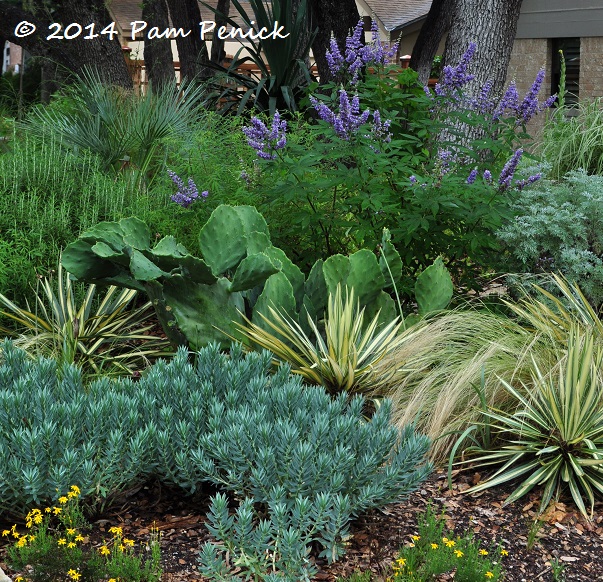 The recent cold winter hardly nipped the island bed, and this year it's really taking shape. Don't you love it when reality finally catches up to the vision in your mind's eye?
All material © 2006-2014 by Pam Penick for Digging. Unauthorized reproduction prohibited.