May 16th, 2014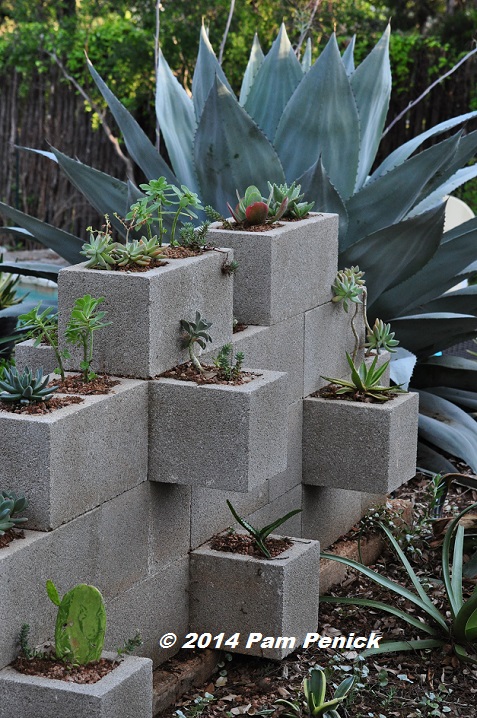 After the deep freeze that Austin experienced last winter, I had to replace three-quarters of the succulents in my cinderblock wall planter (click for the how-to) this spring. It's still a bit sparse, but it's nice to see all that pinchable — like a plump baby's cheek — foliage settling in, knowing it'll sail through the dog days of summer with only an occasional sprinkling of water.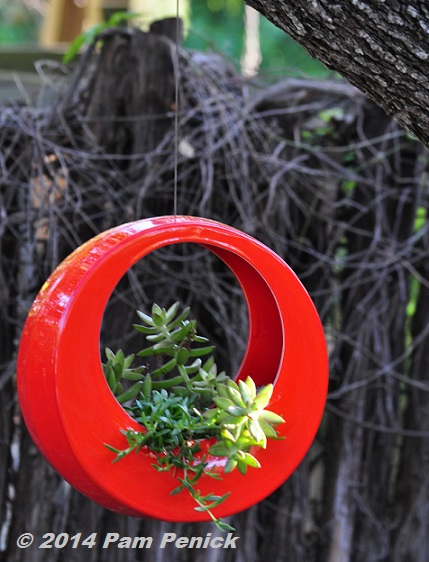 With some extra cuttings, I filled my red Circle Pot, which hangs amid the live oaks for a dash of hot color in the dappled shade.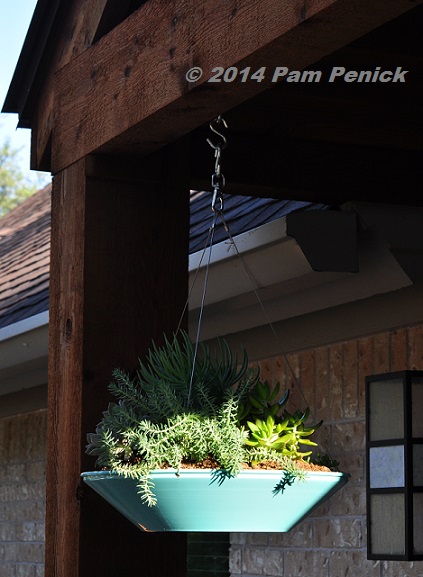 And the tapestry of succulents in my new Hover Dish is growing well — on one side, anyway. I'd neglected to turn the pot around so that both sides get light, but I remedied that yesterday evening.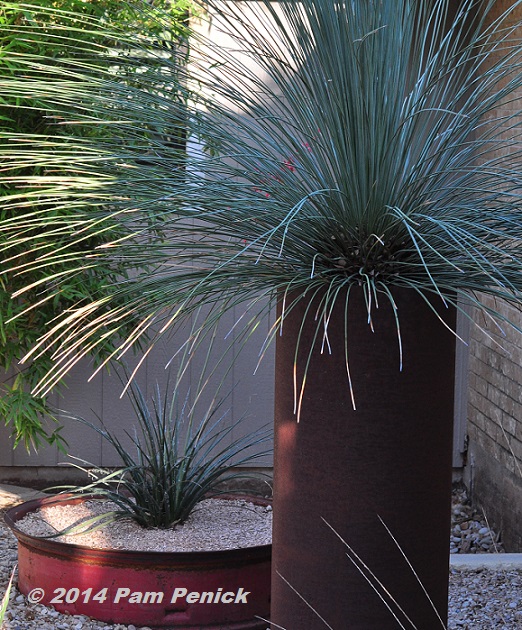 I think I get more questions about the toothless sotol (Dasylirion longissimum) in the steel pipe than any other plant in my garden. Toothless sotol is not commonly grown in Austin, although you do see it around. This one came through the winter with absolutely no damage, and it just laughs at the Death Star.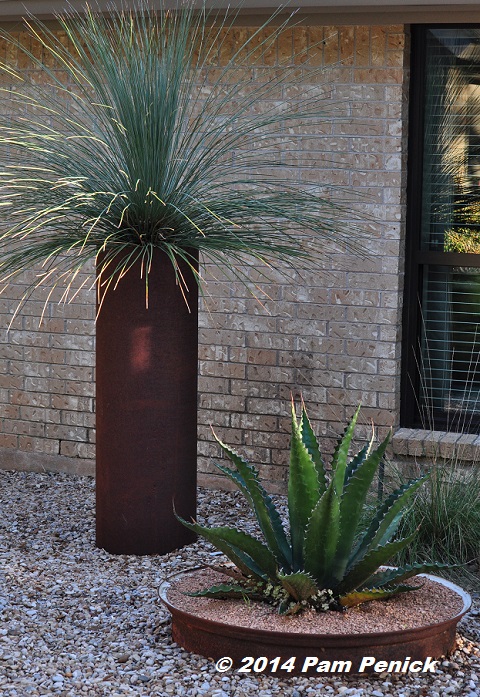 Plus it's shaped like a 1970s fiber-optic light. What's not to love? The toothy agave in the tractor-rim planter at its feet is 'Jaws'.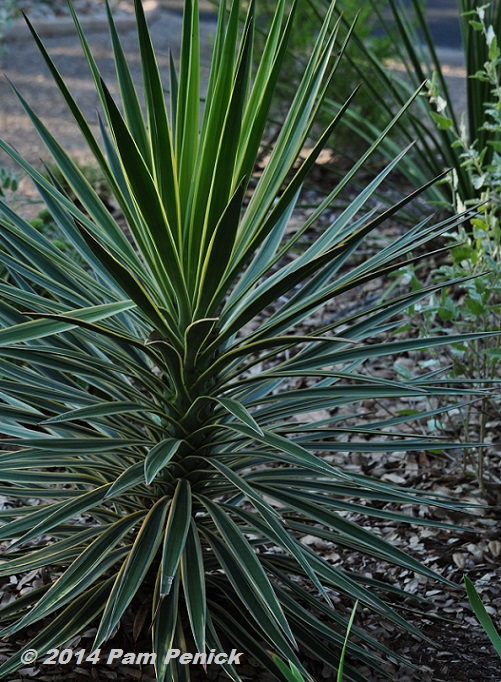 Variegated Spanish bayonet (Yucca aloifolia 'Variegata') is a relatively new addition, an impulse purchase from Vivero Growers. I like its verticality. I did have to cage it last fall and winter, fearing that the deer would antler it to oblivion.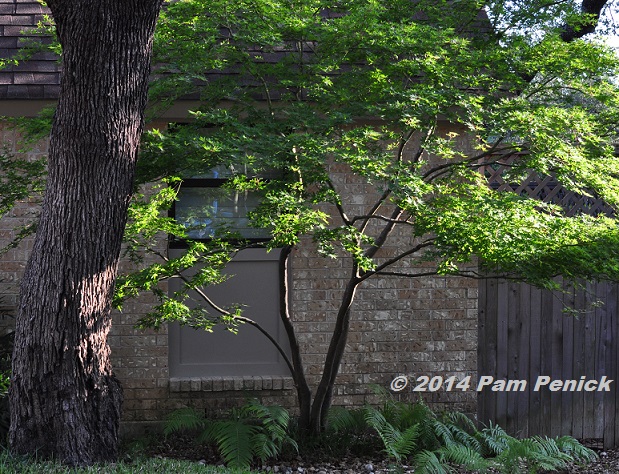 Of course not all my plants are spiky and succulent. The Japanese maple (a species Acer palmatum) delights me in spring with leaves that glow like stained glass. Native river ferns (Thelypteris kunthii) are coming up at its feet.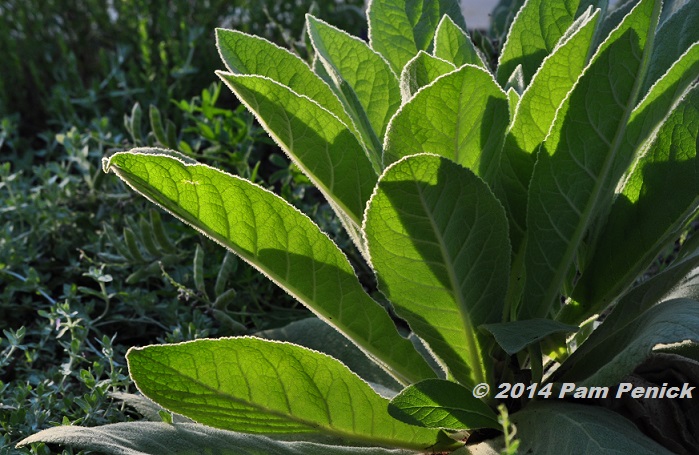 Also glowing with new growth are a trio of giant mullein (Verbascum thapsus) in the raised bed out front. Their fuzzy texture is irresistible to one's fingers when passing by.
Please join me in posting about your lovely leaves of May for Foliage Follow-Up, a way to remind ourselves of the importance of foliage in the garden on the day after Bloom Day. Leave your link to your Foliage Follow-Up post in a comment. I really appreciate it if you'll also include a link to this post in your own post (sharing link love!). If you can't post so soon after Bloom Day, no worries. Just leave your link when you get to it.
All material © 2006-2014 by Pam Penick for Digging. Unauthorized reproduction prohibited.