May 2nd, 2014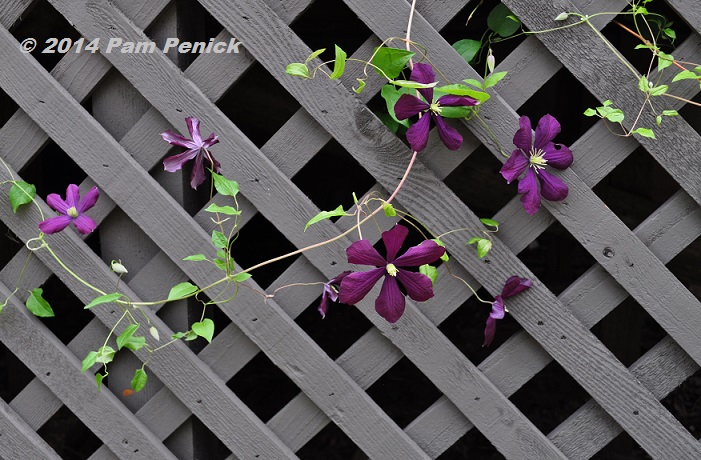 Winter's chill finally gave way to spring, and then, suddenly, to summer. Several mid-90F days earlier this week thankfully didn't fade 'Etoile Violette' clematis, growing on the lattice under the deck.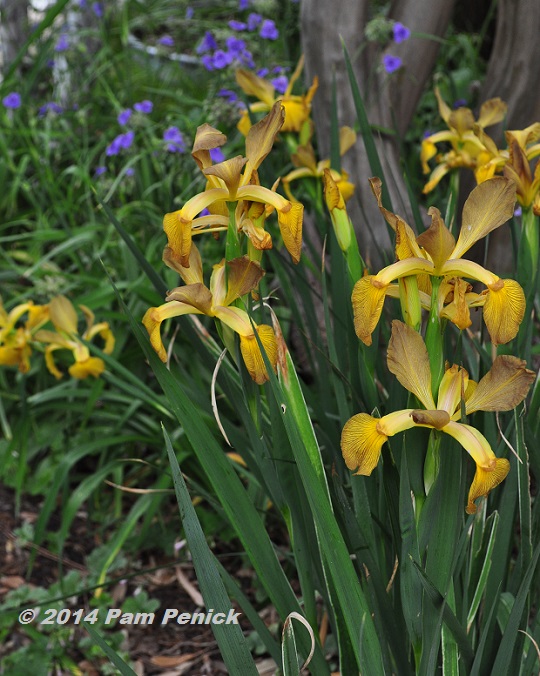 But it did in the spuria iris, shown here in full bloom last week, before the untimely heat wave. That's native spiderwort (Tradescantia occidentalis) blooming behind it.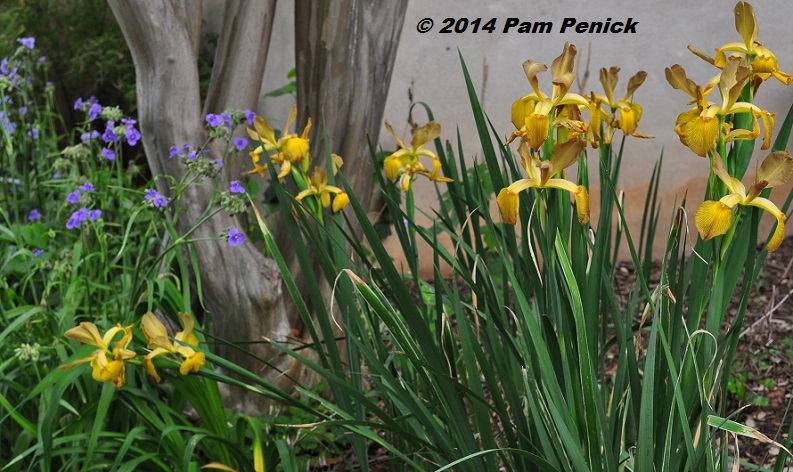 We're back to normal temperatures now, with highs in the lower 80s, but these butterscotch-colored spurias are done for the season.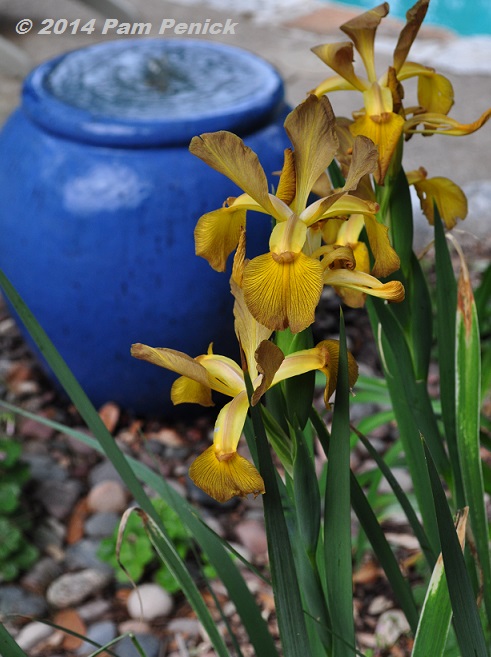 That's OK. You were pretty while you lasted, spurias! Flowering bulbs (corms, rhizomes, whatever) are so nice to have as seasonal markers, even if they don't bloom for long. If passalongs, as these were (thanks, Linda Lehmusvirta!), they also serve to remind us of gardening friends when they bloom.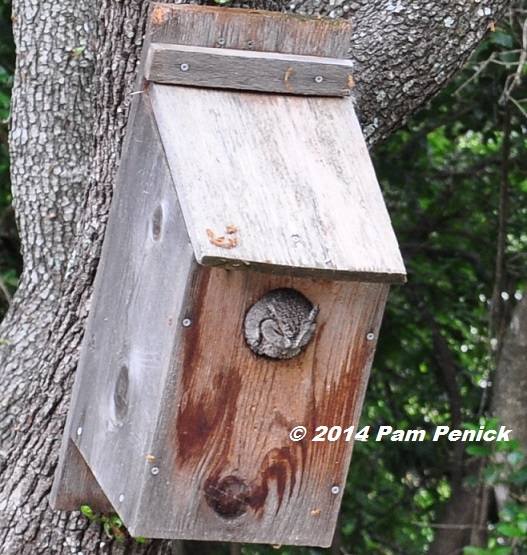 Mama Screech Owl is hanging out in her doorway nearly all day now, which makes me think that her eggs have hatched and she needs a little room. Soon, I think, she'll move out of the box altogether, and we'll see both Mama and Papa Owl feeding chicks in the evening.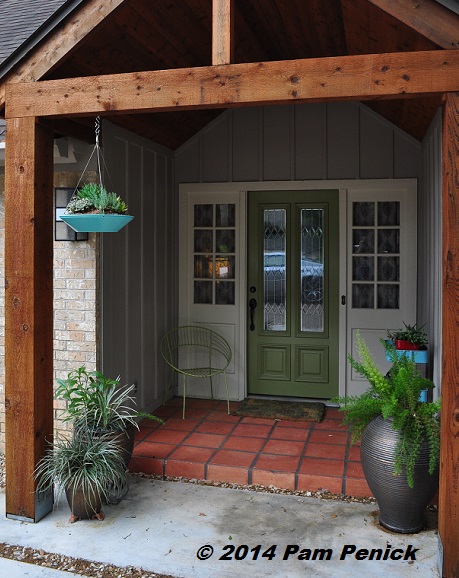 What else has been happening in my garden lately? I had the Mexican tile on my front porch cleaned and resealed. It looks so much better and ties in perfectly to the Mexican tile in my entry. Cristy Hansen of Nu-Tech Texas Floors did the work and suggested I keep my potted plants off the porch in order to prevent restaining. So I moved them to the concrete pad at ground level.
I also planted up a Hover Dish planter from Pot Inc. that I treated myself to for a pop of color on the porch. As the succulents grow, some will trail over the lip of the pot. I'll show more pics soon.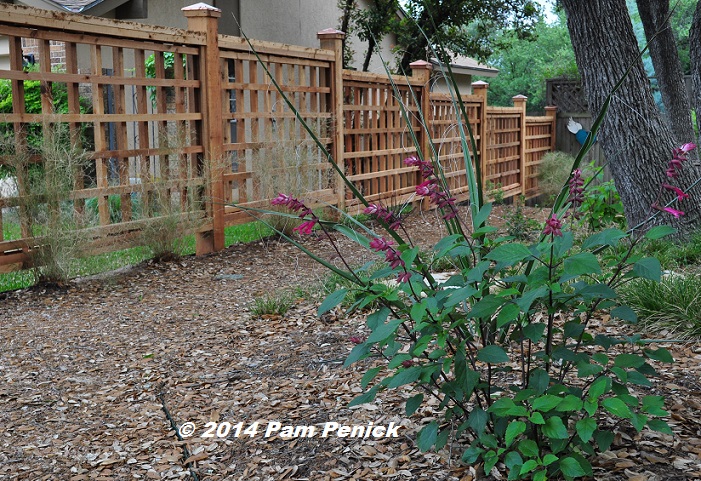 But the biggest addition to my garden this spring is this lattice cedar fence that runs along the property line in the front yard, from approximately the front edge of the house to the back fence. It's a friendly fence with chunky, 5-inch lattice openings, that lightly screens the neighbor's driveway, makes a pretty backdrop for my garden, and creates a 3-sided garden room along the side of the house. John Gibson of Gibson Landscape built the fence from my design.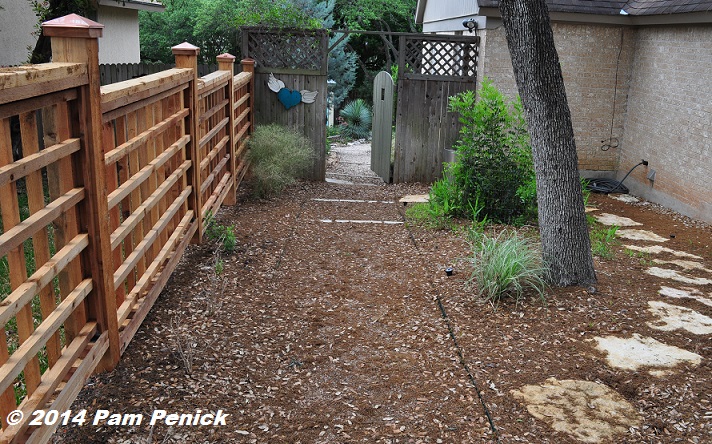 I love the enclosure it provides along the path to the back garden. (This is a raw, keeping-it-real picture, y'all; the garden is buried in live oak tassels. Sigh.) Aside from the decomposed-granite path (under the tassels) and a skinny bed between the path and my neighbor's yard, this was neglected lawn grass until last fall. I ripped it out and mulched the soil until I could start planting and ran a curving path of flagstone to the spigot and back around to the gate.
The young tree near the spigot is a native Texas mountain laurel (Sophora secundiflora), and I'm seeding a large swath of inland sea oats (Chasmanthium latifolium) underneath all the way to the live oak. Along the fence I have bamboo muhly (Muhlenbergia dumosa) and baby flame acanthus (Anisacanthus quadrifidus var. wrightii). Out of the frame, at right, there's a rustic bench, and I planted a Mediterranean fan palm, Gregg's mistflower, 'Soft Caress' mahonia, Salvia guaranitica, white mistflower, and 'Wendy's Wish' salvia. I have high hopes for a pretty, intimate garden here in a few seasons.
So what garden projects have you been working on? Do tell!
All material © 2006-2014 by Pam Penick for Digging. Unauthorized reproduction prohibited.
posted in
2nd garden--2014
,
Birds
,
Bulbs/Rhizomes
,
Containers
,
Fences
,
Gates
,
Owls
,
Paths
,
Porch
,
Vines
,
Water features