April 30th, 2014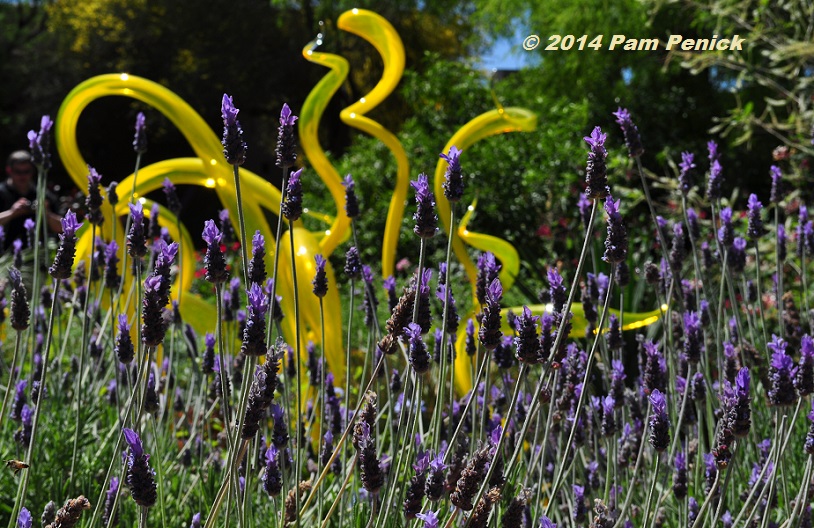 During my April 4th visit to Desert Botanical Garden in Phoenix, Arizona, I flitted from trail to loop to gallery with no concern for the map or where the Chihuly pieces were located or any knowledge of the garden beyond what I'd gleaned from the blog posts of Jenny/Rock Rose, Noelle/AZ Plant Lady, Loree/Danger Garden, and Gerhard/Succulents and More. (Have I missed anyone? Feel free to add your favorite DBG blog links in the comments).
That led to me missing some Chihuly pieces (like the boat full of glass balls) and gardens (how did I miss the Sonoran Desert Nature Loop and the Plants and People of the Sonoran Desert Loop?). But it also led to some serendipitous moments, like having the wildflower trail to myself before the hordes descended, leisurely birdwatching, and the surprise and joy of turning a corner and seeing vignettes like this: a scrim of fragrant lavender in front of a yellow Chihuly piece resembling a balloon-animal octopus.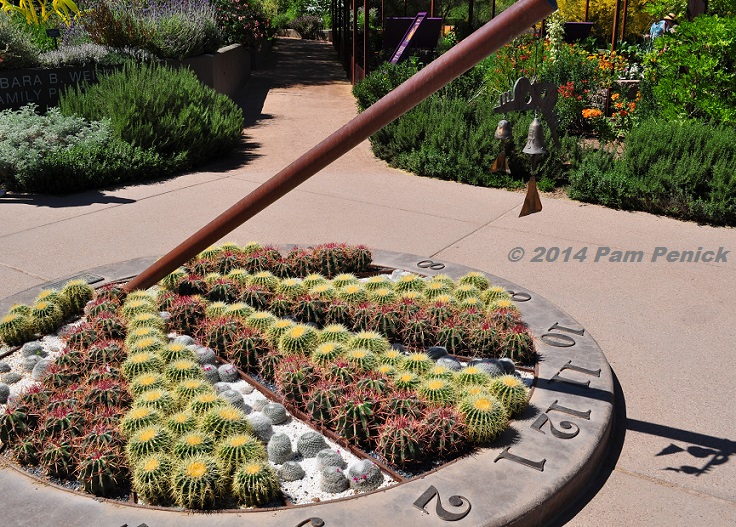 By the time I'd stumbled across the Edible Garden, the sun was nearing its zenith, as this prickly sundial shows.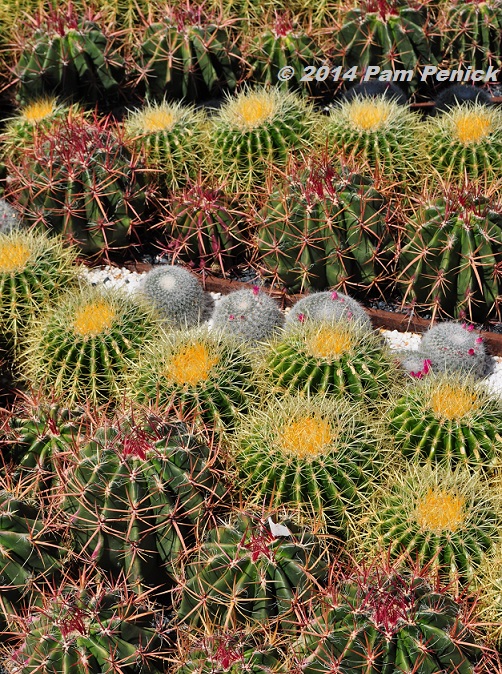 Awesome pattern and texture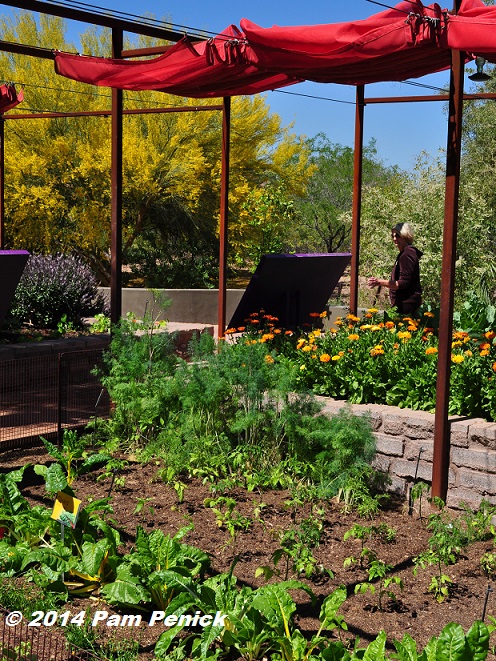 Y'all know I'm not really into edible gardens, but DBG has a nicely designed one, with raised beds, sandstone walls, and red shade cloths that can be stretched over steel frames as needed.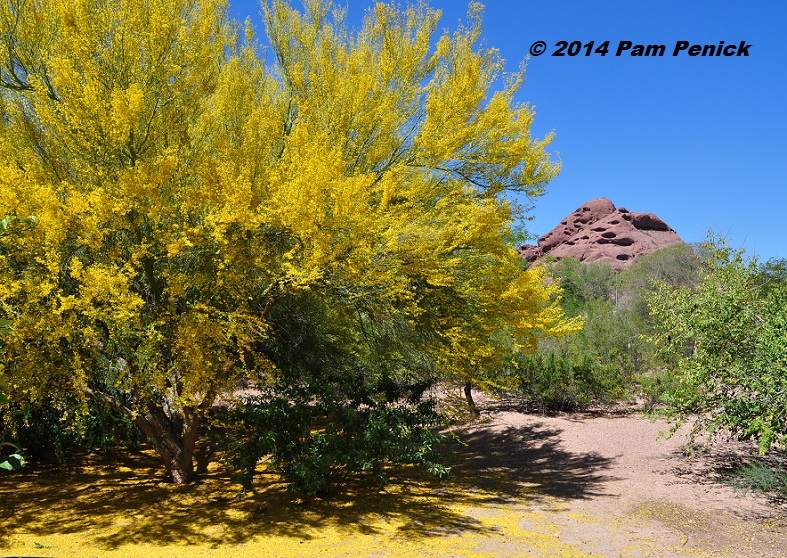 Just past the edibles, this vision held me spellbound for a good ten minutes: a glorious palo verde in full bloom against a china-blue sky, the ground carpeted with golden petals, a red hill in the distance.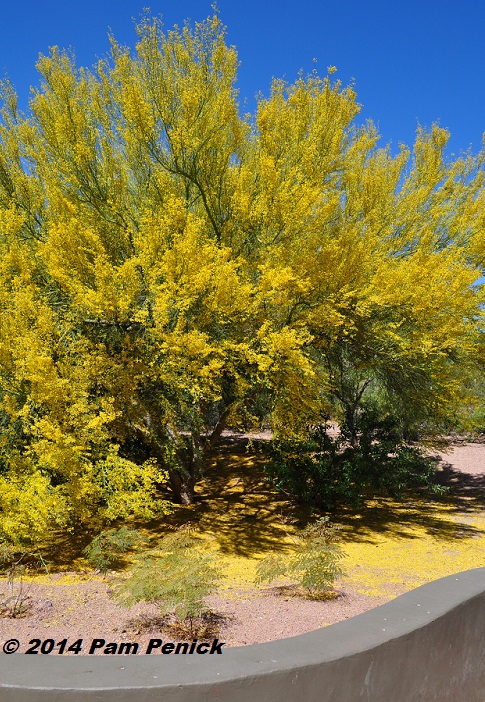 So beautiful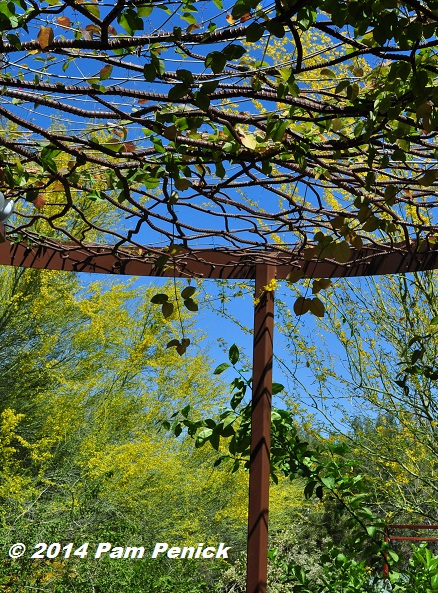 I also really liked this steel-and-rebar arbor, the top in a branching design.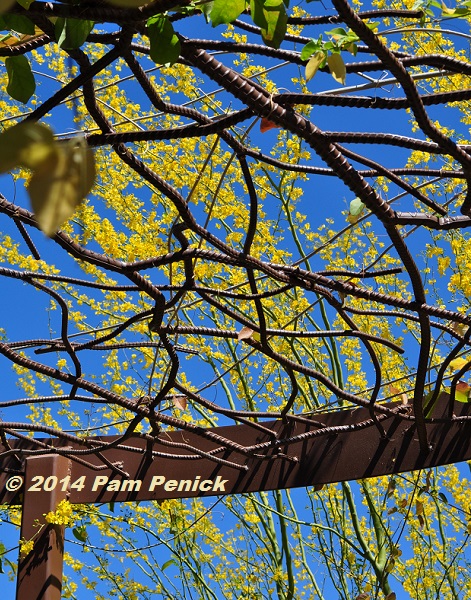 Isn't this clever?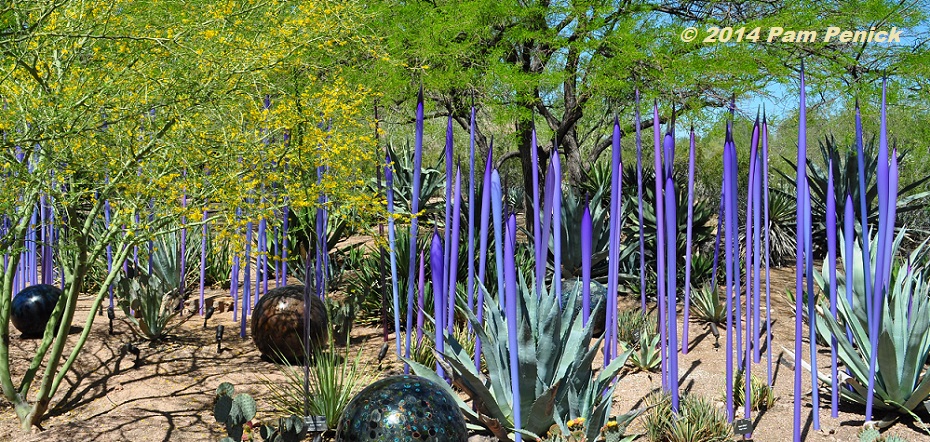 One of my favorite Chihuly installations appears just across the trail from Archer House: purple reeds (or tubular balloons?) and spheres like giant bowling balls set amid agaves and yuccas.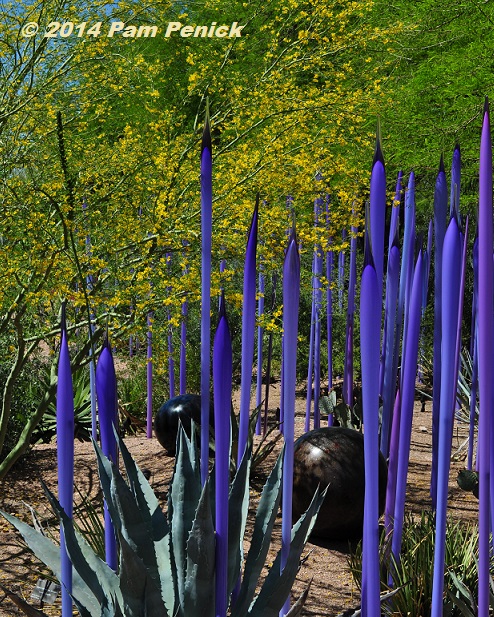 Even the flat light of midday couldn't take away from their beauty.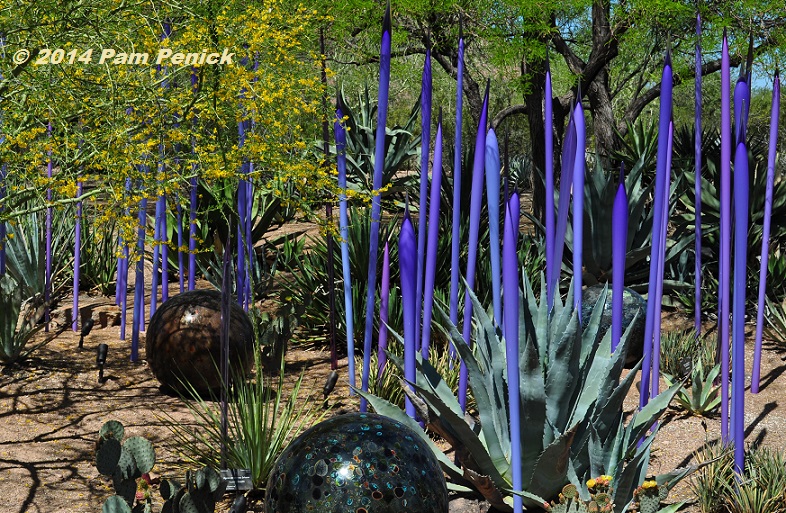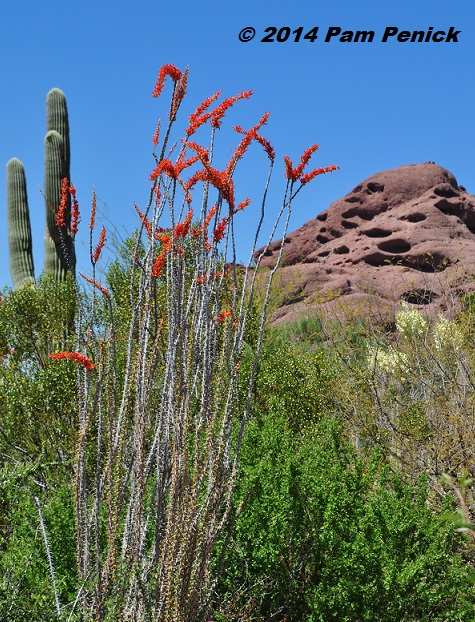 By now I was thinking of lunch, having gotten up at 4 am, hopped on the 2-hour flight to Phoenix, and come straight to the garden, so I headed to the cafe, stopping along the way to admire this ocotillo blooming against blue sky.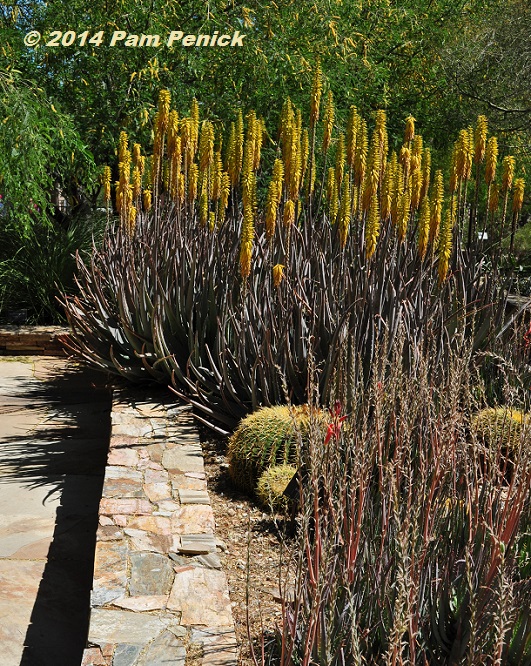 Yellow-flowering aloes caught my eye too…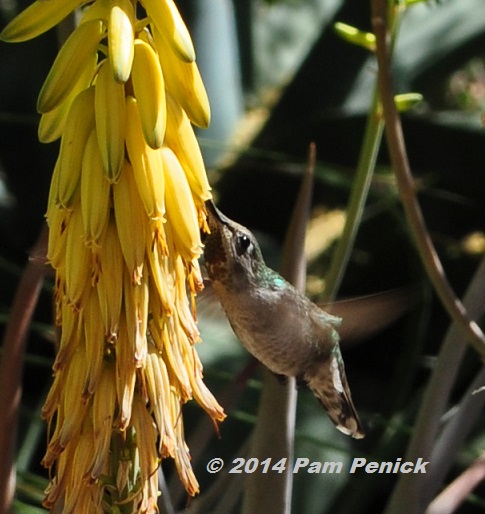 …especially when I noticed a hummingbird sipping from the tubular blossoms.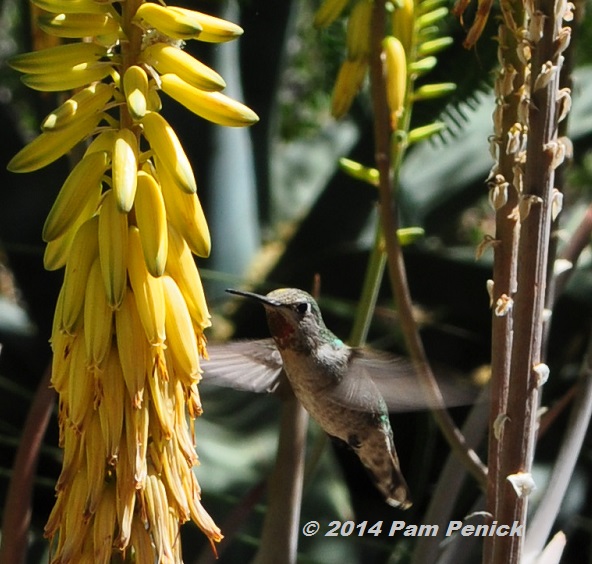 So cute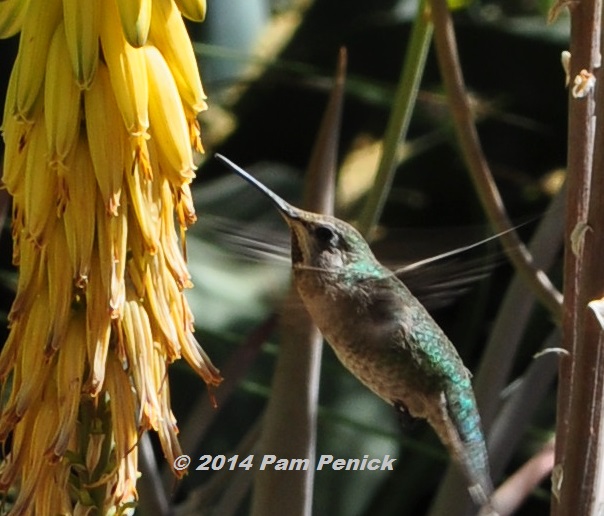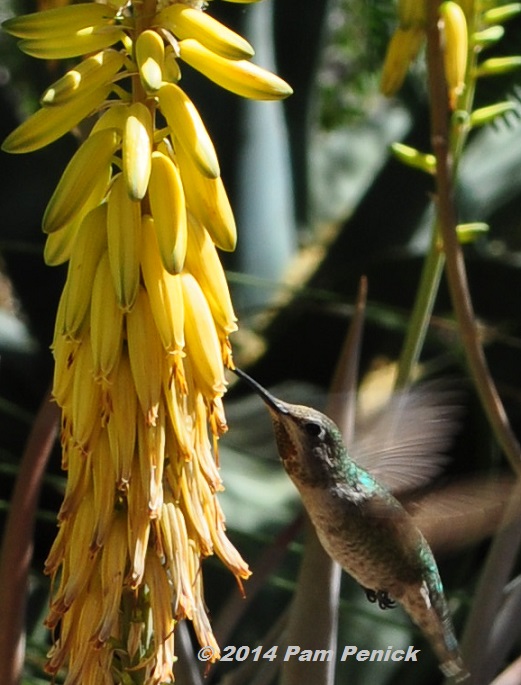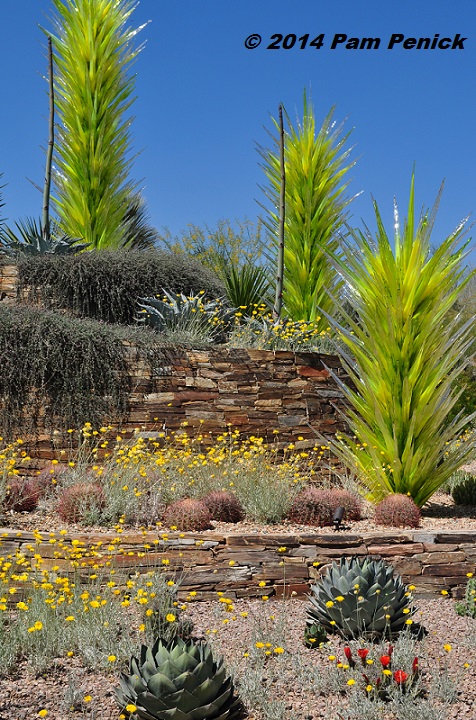 After a late lunch I headed out since I was meeting Steve Martino later that afternoon. Here's one last look at "Desert Towers," the garden's permanent Chihuly piece, and the flowering garden around it. But I would be back at 7 pm to see the garden in the evening light and the Chihuly sculptures illuminated at night.
Up next: My final post from Desert Botanical Garden features sunset views and Chihuly sculptures at night — dramatic light, both natural and artificial. For a look back at Archer House garden and Desert Living Trail, click here.
All material © 2006-2014 by Pam Penick for Digging. Unauthorized reproduction prohibited.
posted in
Agaves
,
Aloes
,
Arbors
,
Birds
,
Botanic/Public Gardens
,
Cactus
,
Desert
,
Edibles
,
Garden art
,
Garden structures
,
Sculpture
,
Spring color
,
Succulents
,
Travel
,
Trees
,
Trellis
,
Views
,
Vines
,
Walls
,
Wildflowers
,
Wildlife
,
Xeric plants