April 24th, 2014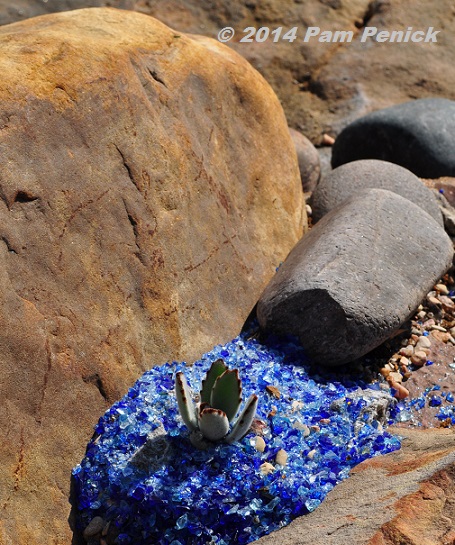 Garden-tour season in Austin is here, despite late freezes that set all our gardens back a few weeks. The Inside Austin Gardens Tour, sponsored by Travis County Master Gardeners, kicks things off on Saturday, May 3, from 9 am to 4 pm.
The Austin garden bloggers were invited to preview the gardens yesterday and give you a sneak peek. The theme of this year's tour is "Gardens Eclectic," but one thing they all have in common is a personal, home-grown appeal. These are relatable gardens created and maintained by the homeowners themselves, and you'll find many creative details and plenty of inspiration in each one. You'll also find talks, kids' activities, and book sales offered at the various gardens throughout the day.
Here's a preview.
Garden of Dugie and David Graham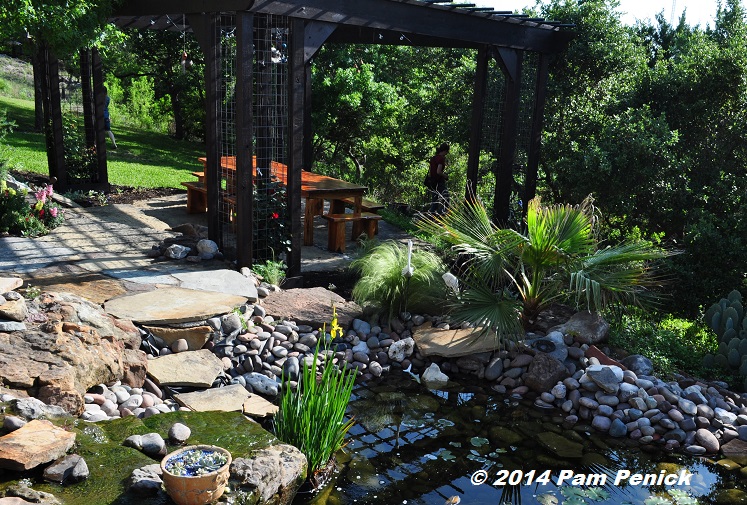 Dugie and David have worked hard to transform "our builder's yard into the garden of our dreams," adding a large pond with a waterfall ledge that takes advantage of their steep back yard. A covered terrace along the back of their home leads down to a generously proportioned arbor overlooking the pond.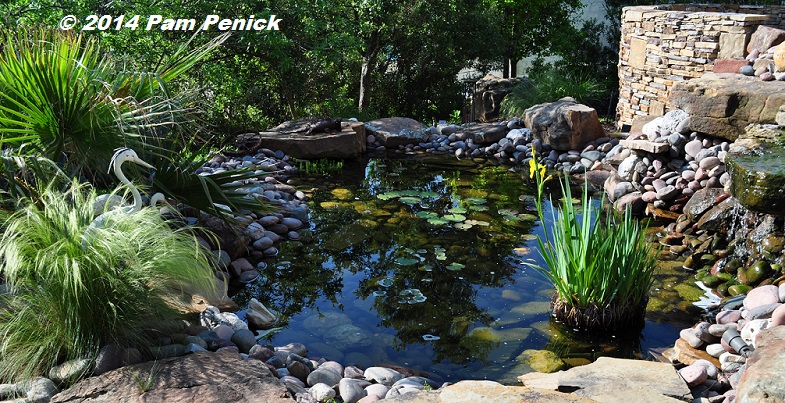 View from the arbor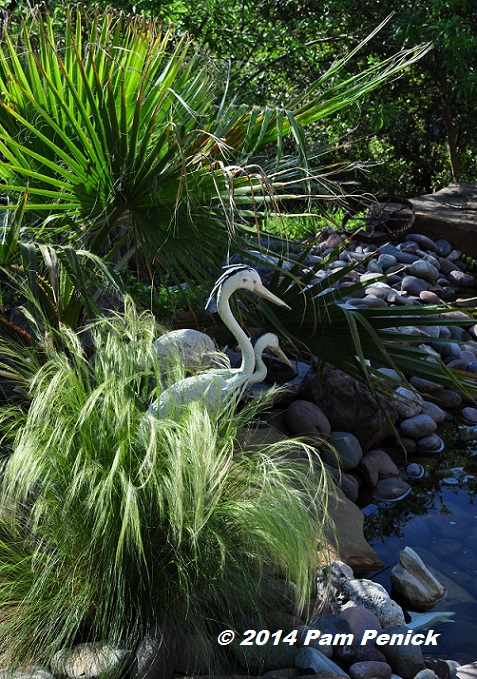 The Grahams take pride in having created a Certified Wildlife Habitat for the creatures that share their West Austin garden. The herons are faux, but they looked charming amid billowing Mexican feathergrass — like extravagant tail feathers, as a fellow blogger pointed out.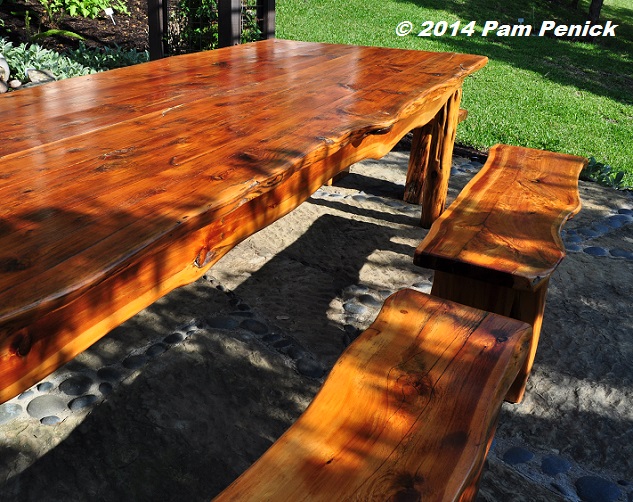 I was smitten by their polished cedar-plank table and benches. This is a work of art. Dugie said they bought it at a shop near Dripping Springs. If I find out the name I'll let you know.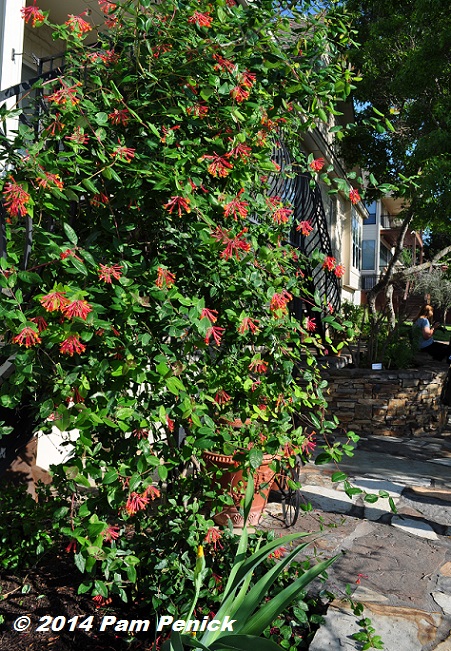 Coral honeysuckle brightens a trellis at the base of the terrace and attracts hummingbirds.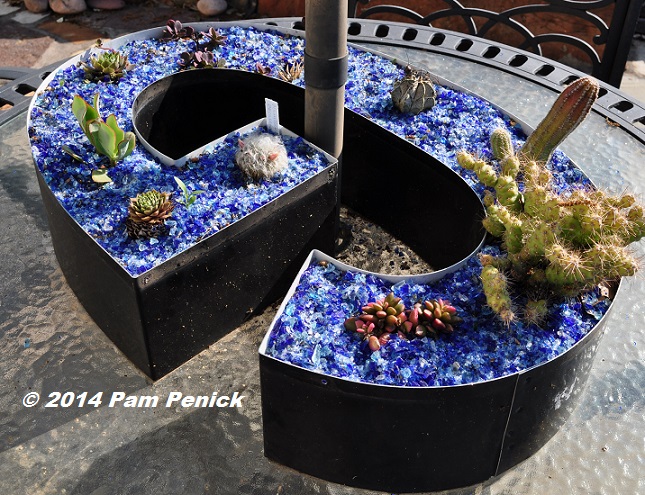 "G" for Graham becomes a fun succulent and cactus planter topped with chips of blue glass.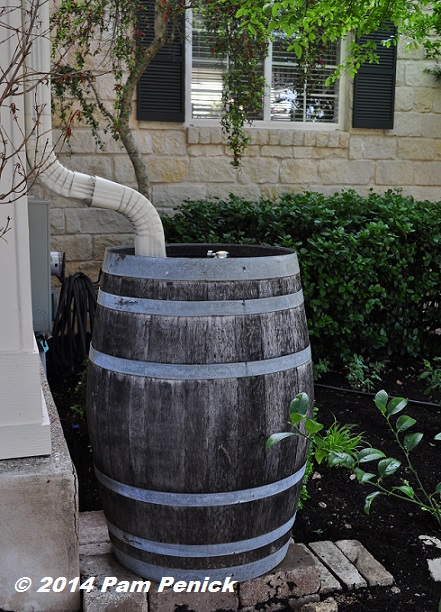 Out front I noticed this wooden rain barrel — a sign of water conservation that's so important for every Austin gardener these days.
At the Grahams', there will be informal discussions all day on vegetable gardening in a small space.
Garden of Jerry Naiser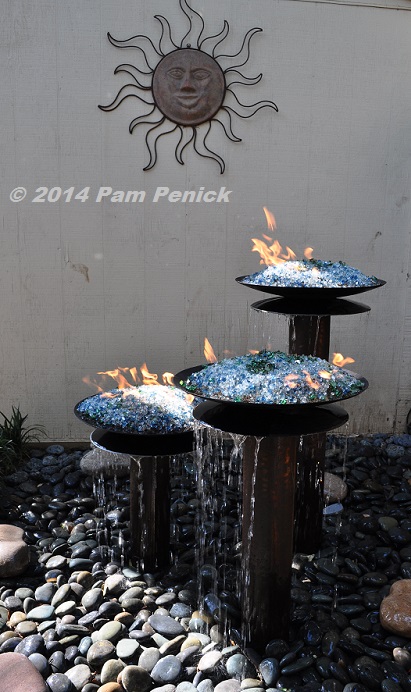 Your first glimpse of Jerry Naiser's back garden is dramatic: these fiery, dripping fountains made of plow discs. They sit on top of a water-collection cistern buried underground, which connects to Jerry's extensive, 32-zone, drip-irrigation system, which he can control via his computer.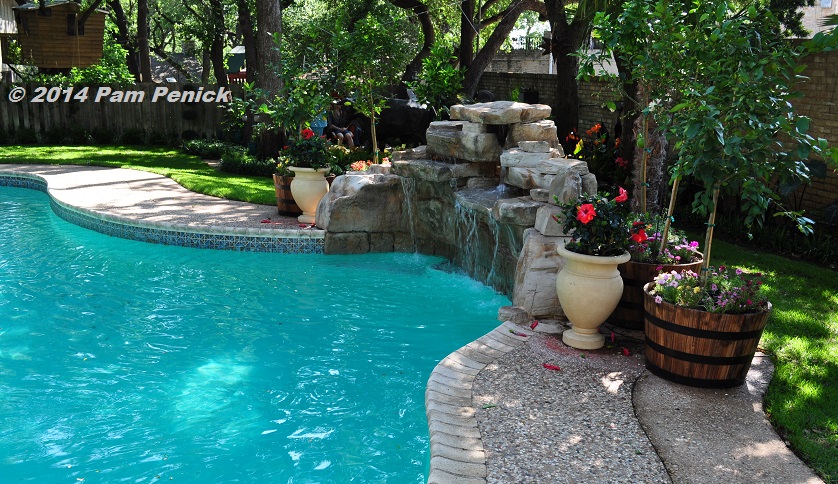 His garden is made for parties, with an outdoor kitchen and TV under a covered porch and a swimming pool as the focal point of the back yard.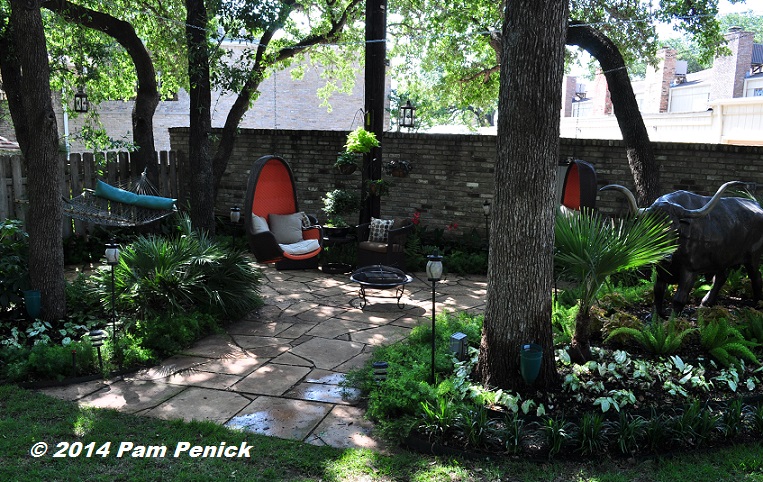 My favorite area was this intimate but comfortably proportioned patio tucked into the back corner of the yard. As you can see, a large condo building looms over Jerry's property, which could have made his garden feel over-exposed. But by placing the patio against the brick wall, he created a feeling of privacy and shelter.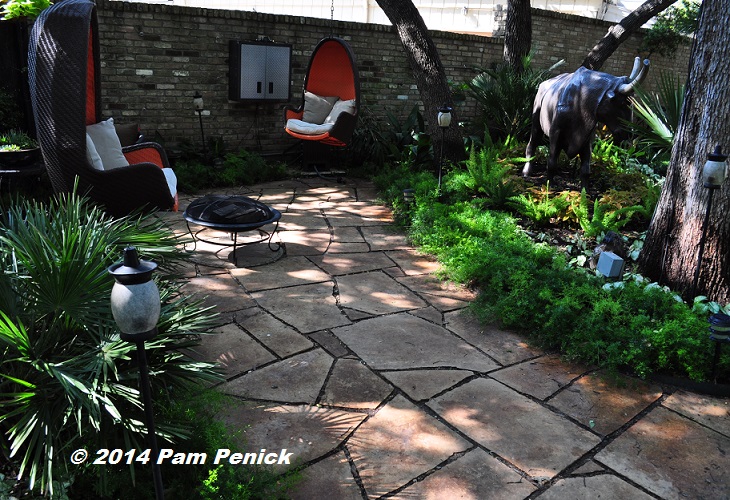 A cluster of live oaks provides shade all day for two hanging, egg-shaped chairs and a hammock. Palms, caladiums, and ferns create a lush, tropical ambiance — tempered with Western flair provided by the bronze longhorn sculpture.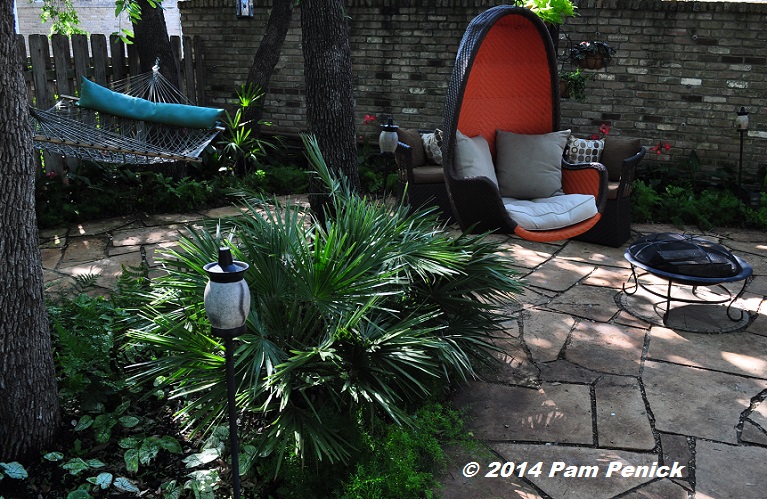 The paving winds delightfully around small planting beds, creating a division of space between the fire pit area and the hammock.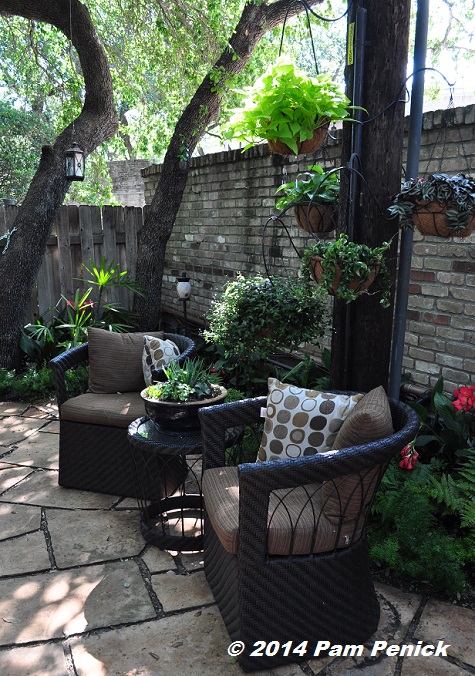 Jerry didn't let a utility pole get in the way of his design. He hung plant baskets from it, parked two comfy chairs in front of it, and made it disappear into the background.
At Jerry's garden there will be informal discussions all day on drip irrigation systems.
Garden of Robin Howard Moore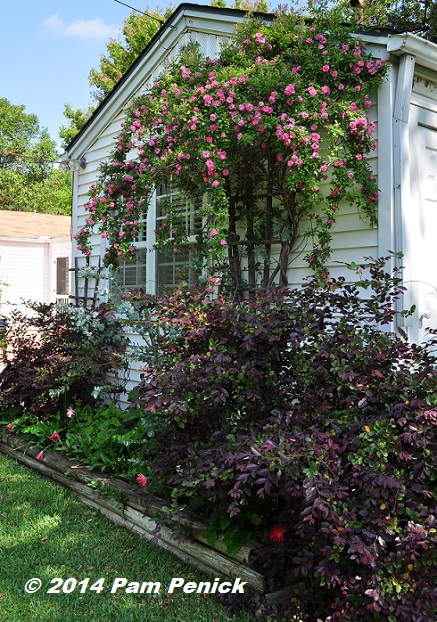 Longtime Austin gardeners will fondly remember Howard Nursery on Koenig Lane. Robin Howard Moore is one of those Howards, and she worked at the nursery for many years until it closed. At her home in west-central Austin she has created lush, tumbling perennial borders to frame her home and the swimming pool that's the focal point of the back yard.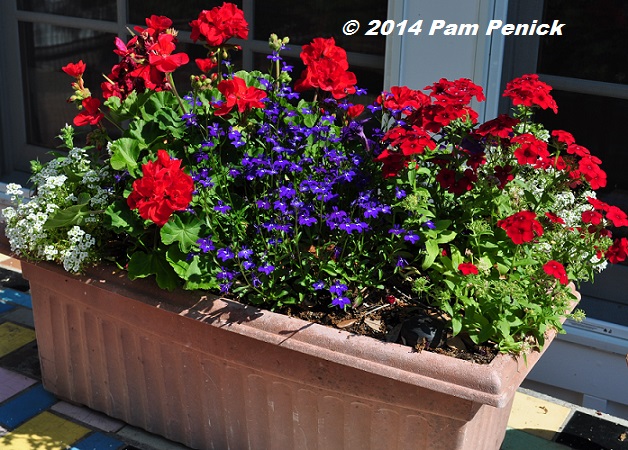 Containers of colorful annuals…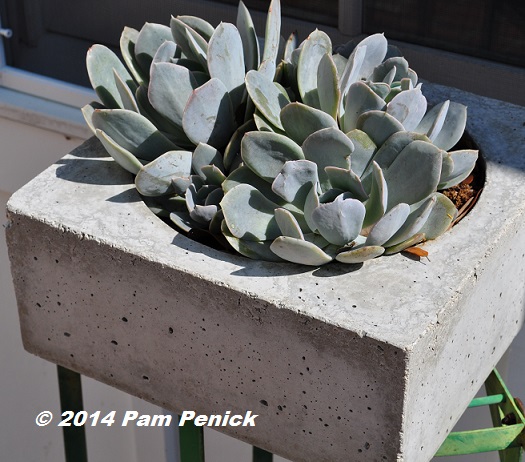 …and cool succulents decorate her back patio.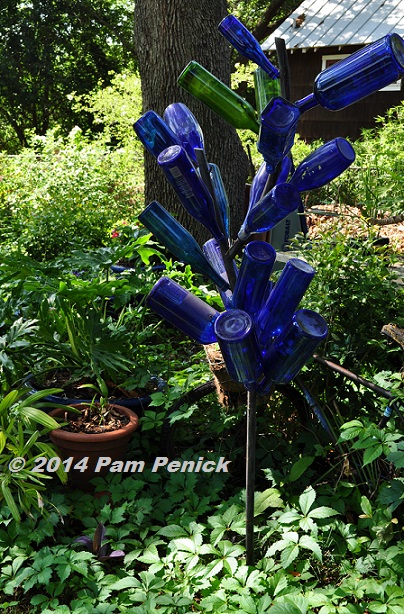 In the borders, blue bottle trees sprout like saplings under a tall canopy of stately shade trees.
At Robin's garden there will be informal discussions all day on how to create a perennial border.
Garden of Austin Neal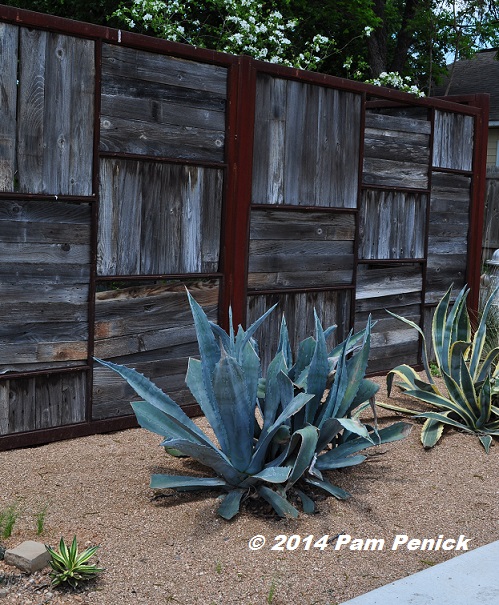 Eastside gardener Austin Neal is a talented and creative recycler. An eye-catching patchwork fence of old cedar pickets and raw steel surrounds this garden, which sits just across the street from the elevated CapMetro urban rail line. Agaves in decomposed granite add toothy structure to the minimalist beds between the street and the fence.

Sections of the fence are open for views, with hog wire fencing keeping it secure. Bi-fold "shutters" on the inside of the fence allow the open panels to be closed off for privacy, if desired.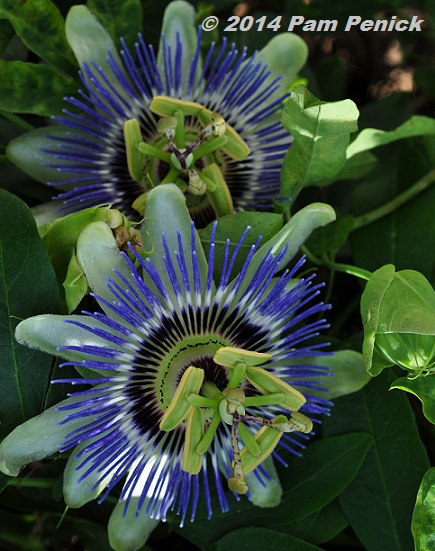 Passionflower was already in bloom on the fence.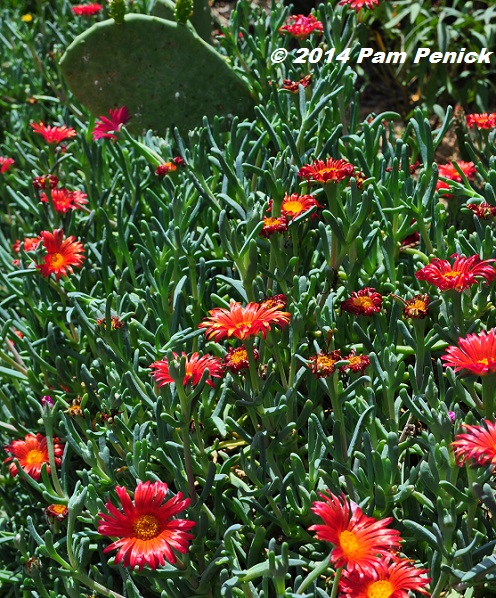 As was ice plant in the gravel garden inside the fence.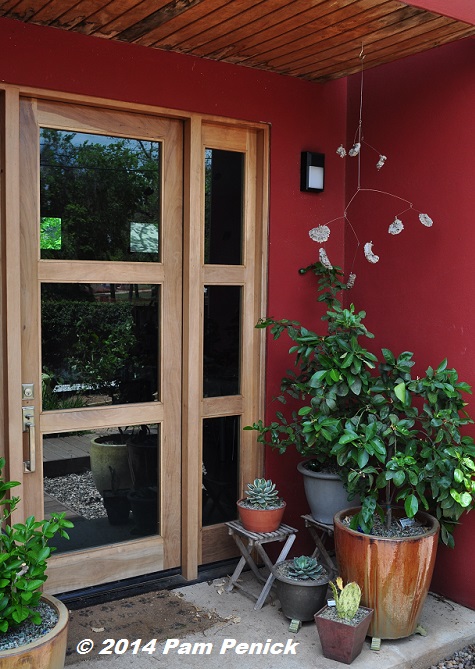 A red front stoop houses a collection of potted plants and an interesting mobile…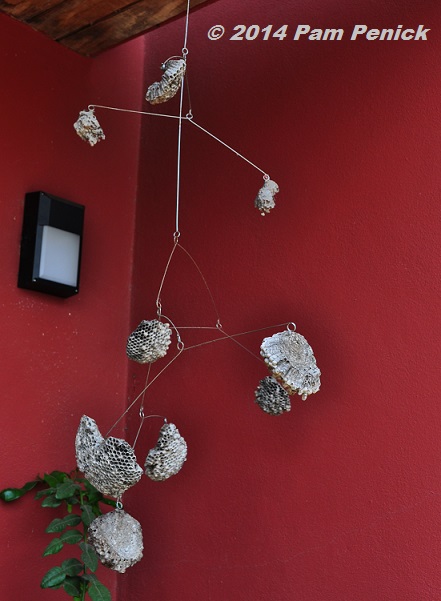 …made of old paper wasp nests. Fascinating but a little creepy too.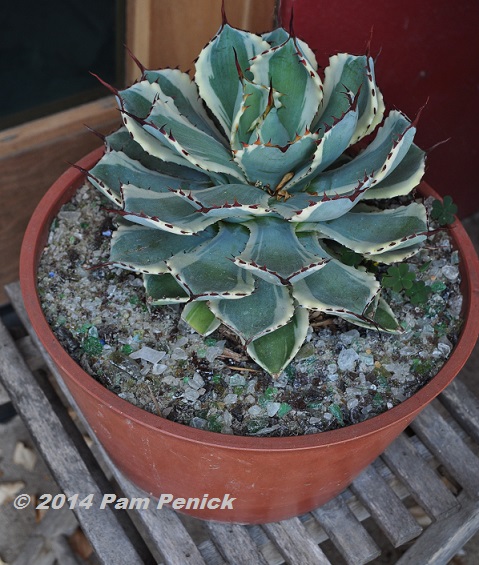 I love this agave. I had one of these last year, but I left it outside during a hard freeze last winter and lost it. I may have to try again.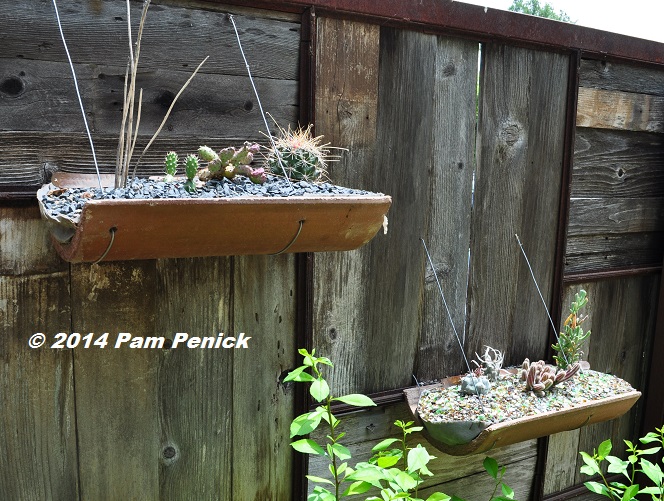 Austin repurposed old clay tiles into hanging wall planters for succulents and cactus.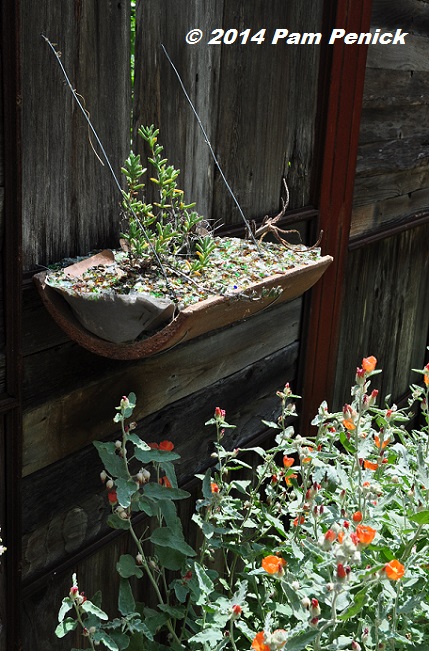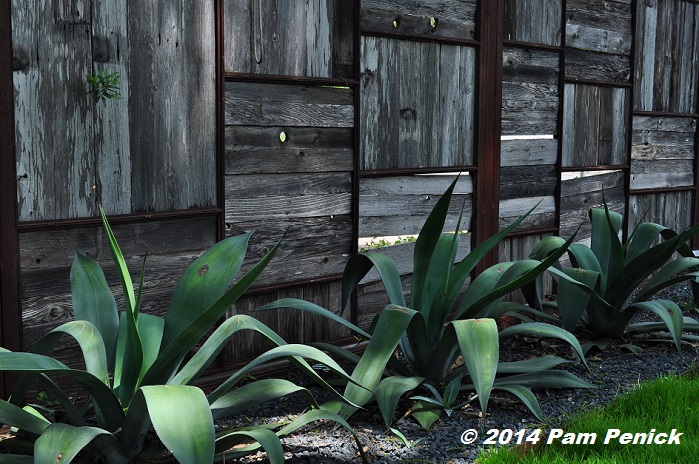 Agaves line part of the inside of the fence too.
At Austin's garden there will be informal discussions all day on — get this — keeping Austin weird (I love it!).
Garden of Lori Daul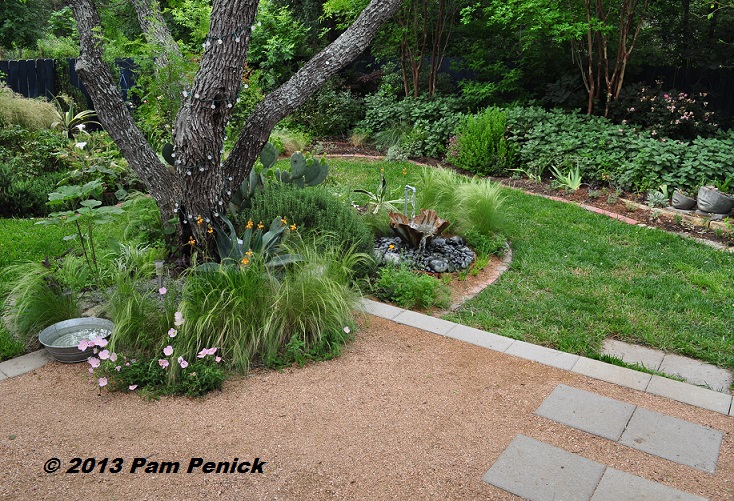 I wasn't able to follow the preview tour to the end, and so I missed seeing the garden of fellow blogger Lori Daul (The Gardener of Good and Evil). Lucky for me, I saw Lori's beautiful garden last spring (click through for a full tour).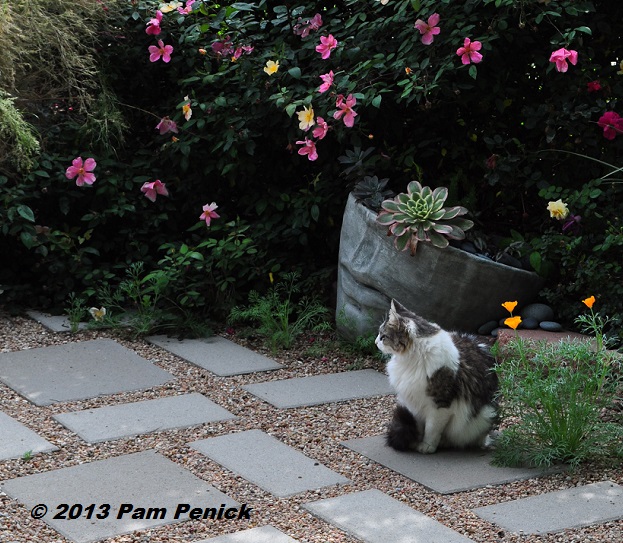 She's added some cool, new features since I was last there, including a cluster of stock tanks filled with agaves and yuccas, so I may have to pop over on tour day to see it. This is definitely the garden you won't want to miss!
At Lori's garden there will be informal discussions all day on principles of landscape design.
Tour Info
Inside Austin Gardens Tour: Saturday, May 3, 9 am to 4 pm
Tickets are $15 and may be purchased at any of the gardens, or in advance online. Cash, check, and credit cards are accepted at the gardens. Individual garden passes are also available on-site for $5 per garden. The extension demonstration garden is free. Children 16 and under are free.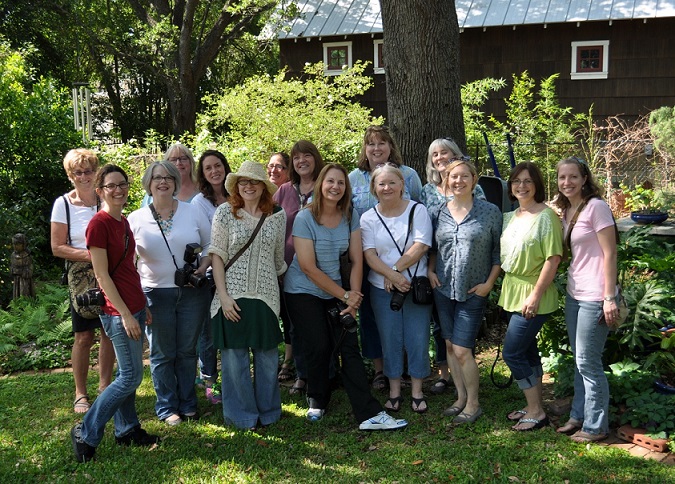 Here's the fun group of bloggers I toured with. From left to right: Jenny of Rock Rose, Katina of Gardening in Austin, Caroline of The Shovel-Ready Garden, Robin of Getting Grounded, Cat of The Whimsical Gardener, Lori of The Gardener of Good and Evil, Renee of Renee's New Blog, Vicki of Playin' Outside, Ally of Garden Ally, yours truly, Linda of Patchwork Garden, Bonnie of Kiss of Sun, Suzie of Viva Verde, Diana of Sharing Nature's Garden, and Laura of Wills Family Acres. Check out their blogs for more posts about the upcoming tour. Jenny and Ally already have posts up as of this writing.
All material © 2006-2014 by Pam Penick for Digging. Unauthorized reproduction prohibited.