April 23rd, 2014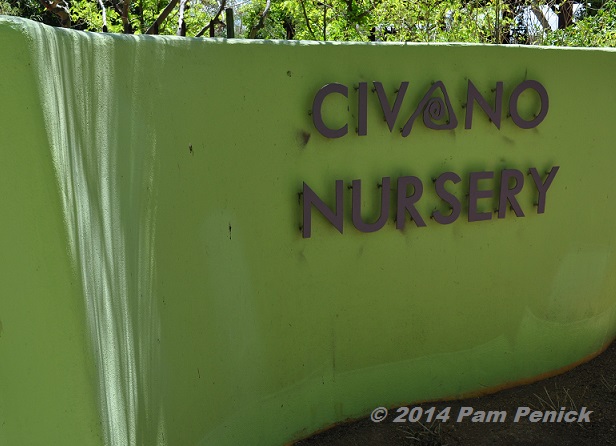 After my drive-by of Civano's candy-colored homes and front-yard gardens while in Tucson earlier this month, I popped into Civano Nursery for a look around. Yep, that's right. The lucky residents of Civano have a full-service nursery in their neighborhood, within wagon-pulling distance of many of the homes.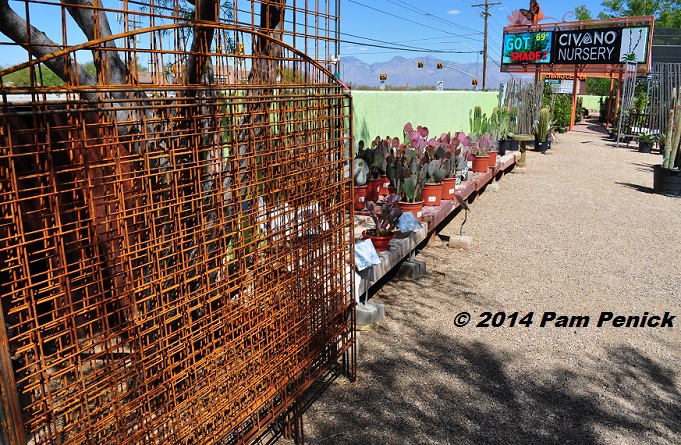 The nursery is located at the entrance to the neighborhood, with views of rugged mountains over a wall that shields the grounds from highway road noise.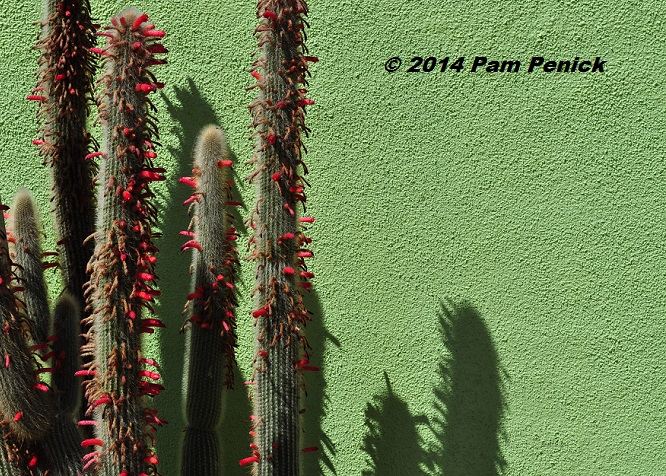 Colored walls are the perfect backdrop for desert plants like cactus and succulents.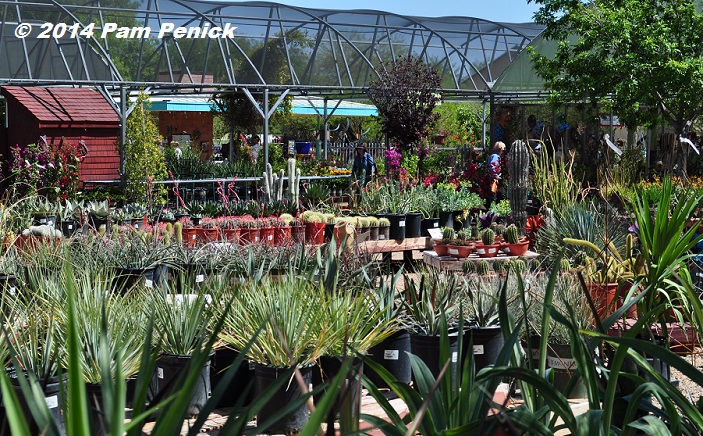 Civano has such plants in abundance.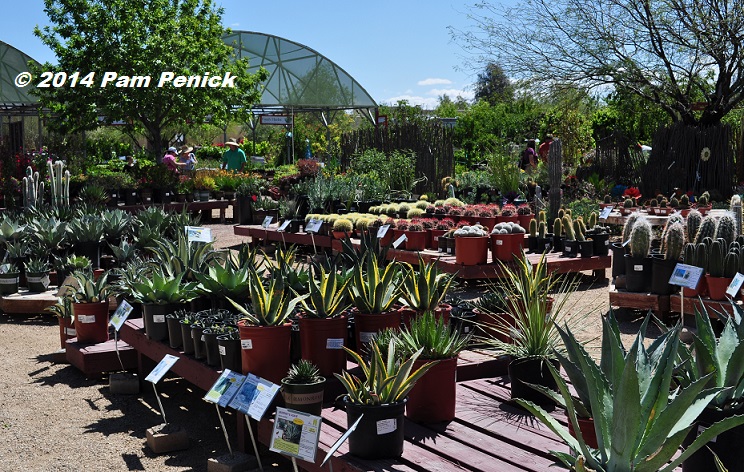 Agaves and cactus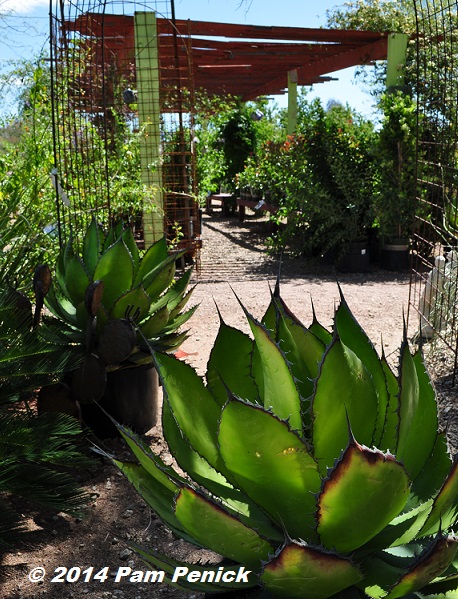 More beautiful agaves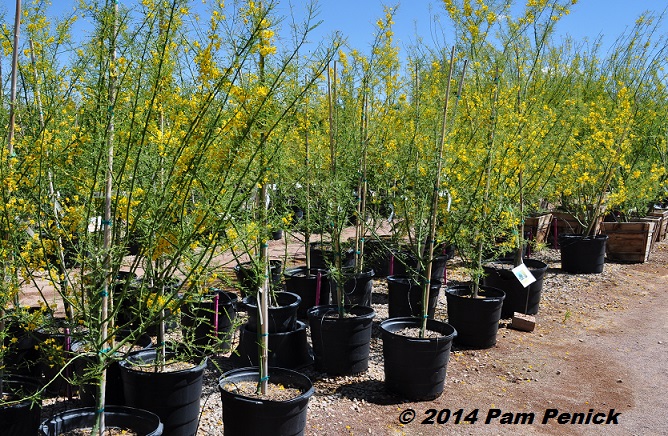 Palo verde, the ubiquitous native tree that was blooming all over Phoenix and Tucson while I was there.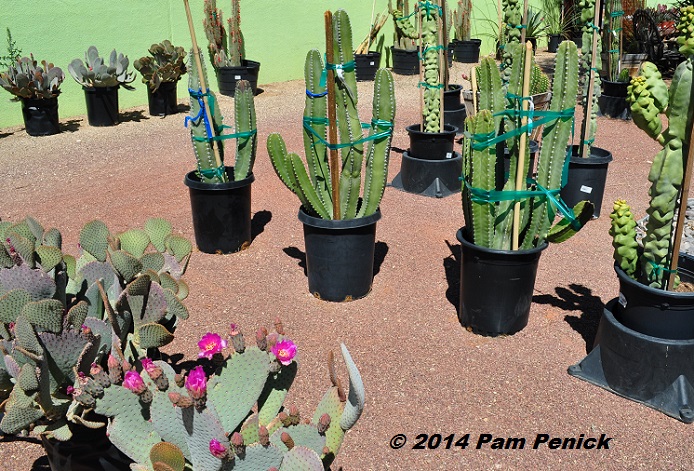 Mexican fence post cactus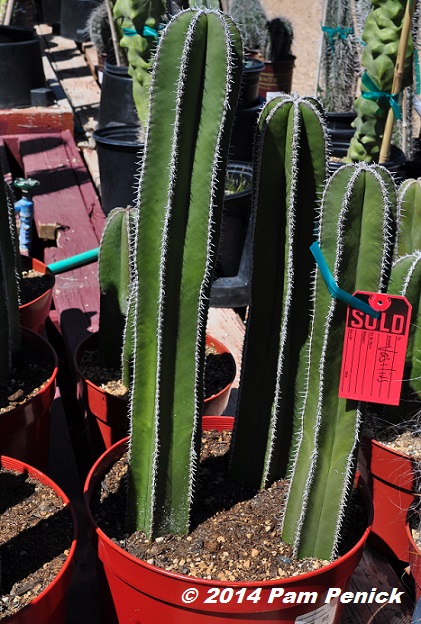 I'd have to grow this if I lived there.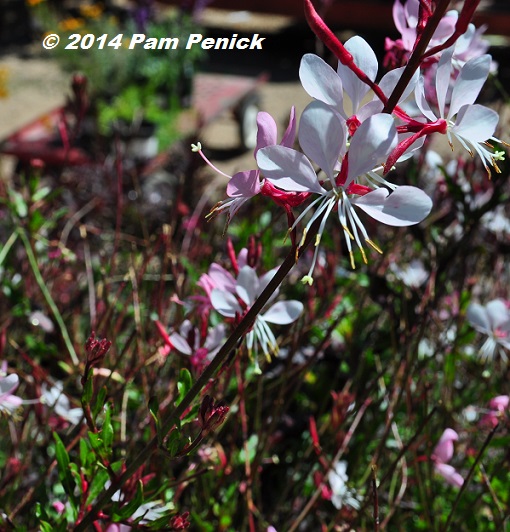 Drought-tolerant perennials like gaura are also offered.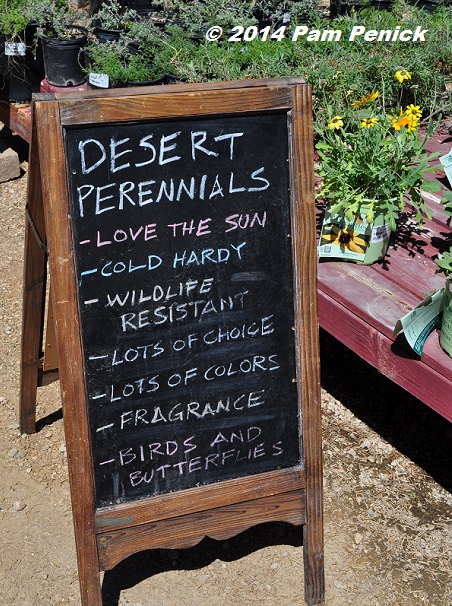 Lots of reasons to plant them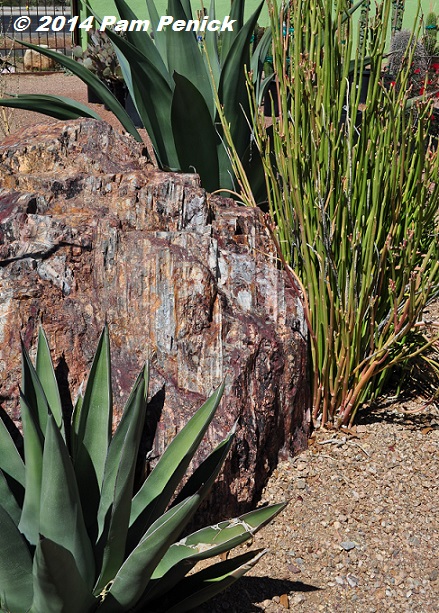 Pocket gardens throughout the grounds are planted with desert-loving plants, like this 'Sharkskin' agave and 'Sticks on Fire' euphorbia.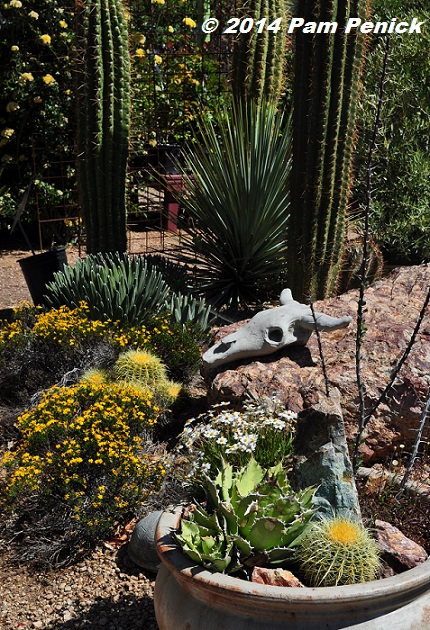 I love when nurseries plant display gardens. They give you such great ideas for what might work in your own garden.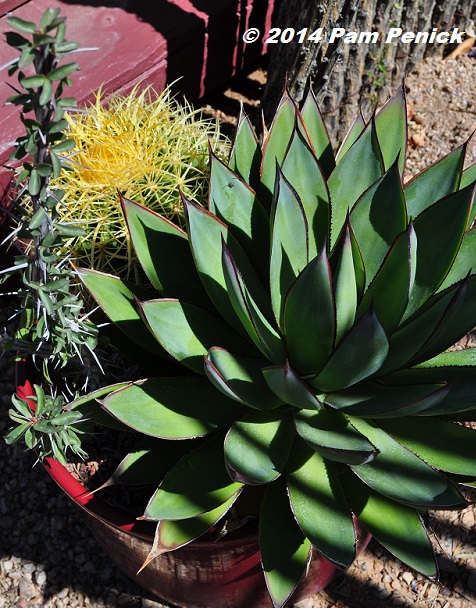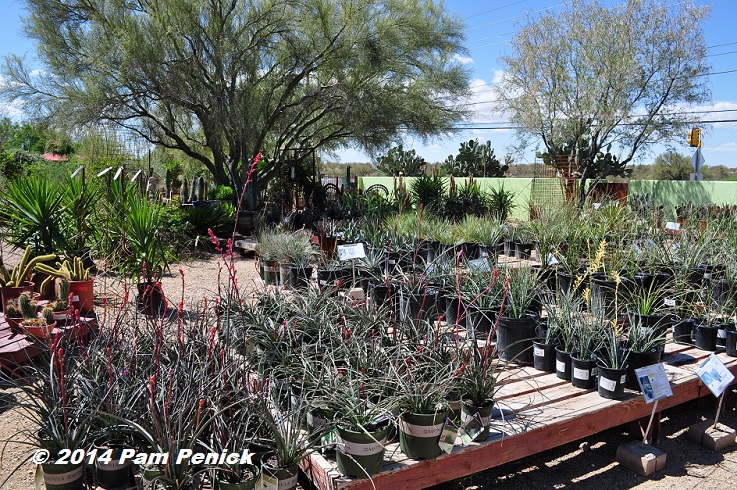 Red yucca, a Texas native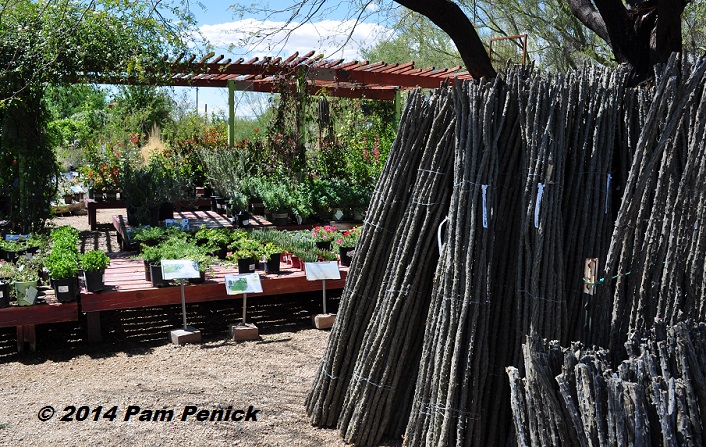 Here's something you don't see in central Texas: bundled ocotillo branches for sale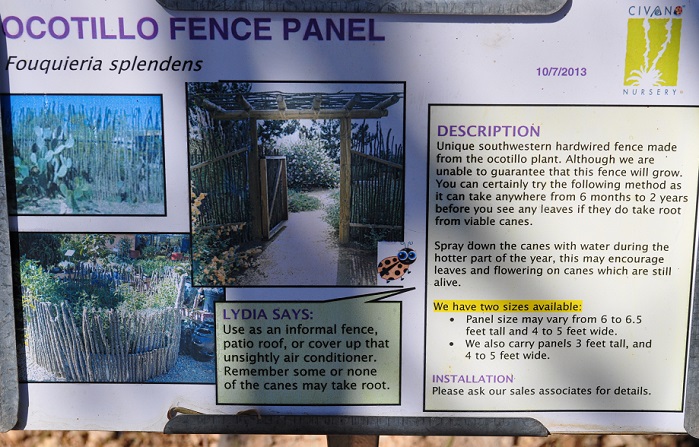 You can make them into fences that might even take root and grow.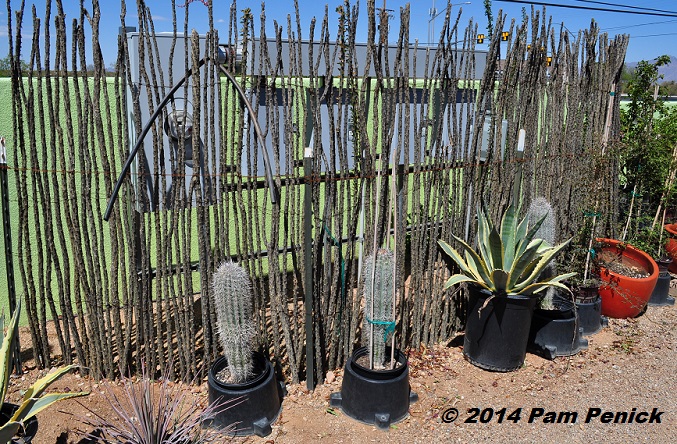 Here's one that screens a row of electrical panels.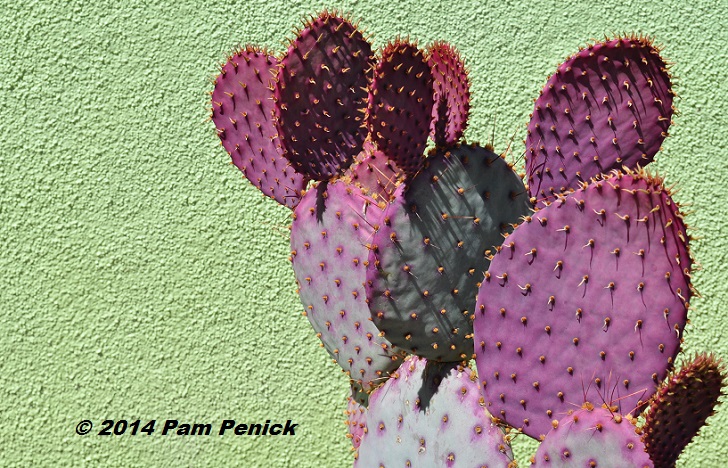 Purple prickly pear against a pistachio-colored wall — such great color and texture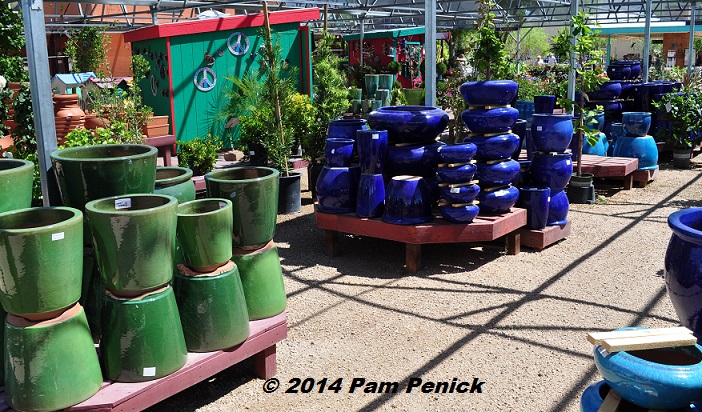 Colorful accessories seem to be vital in the desert, and Civano offers a nice selection of pottery.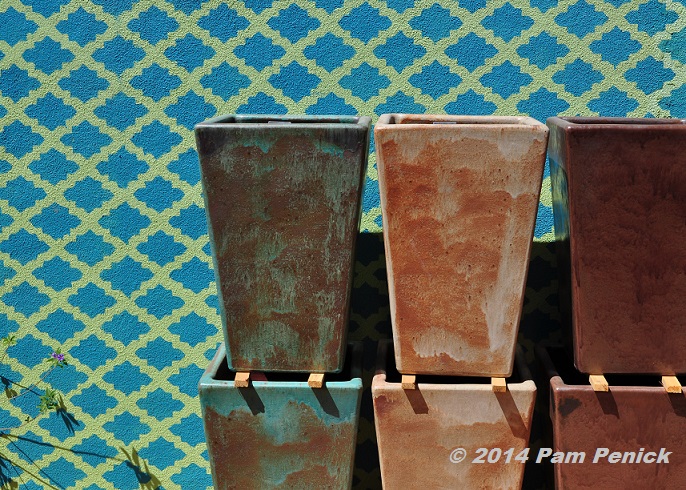 Or maybe you'd prefer muted pottery if your wall is painted. I love this!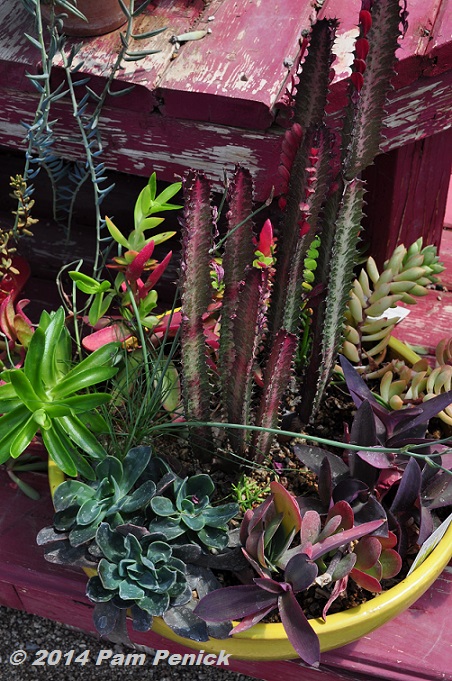 They also sell pre-planted containers…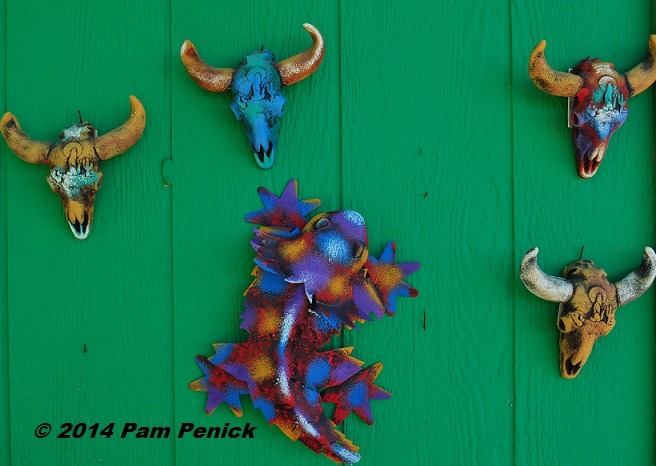 …as well as southwestern-style garden art.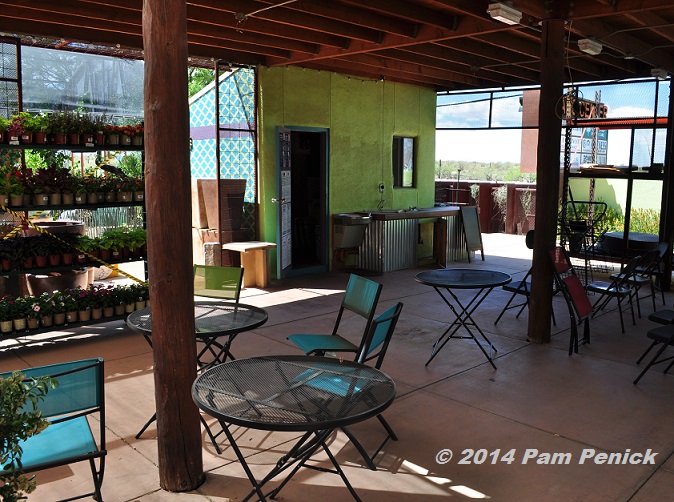 A large, covered patio offers space for garden speakers and their audiences.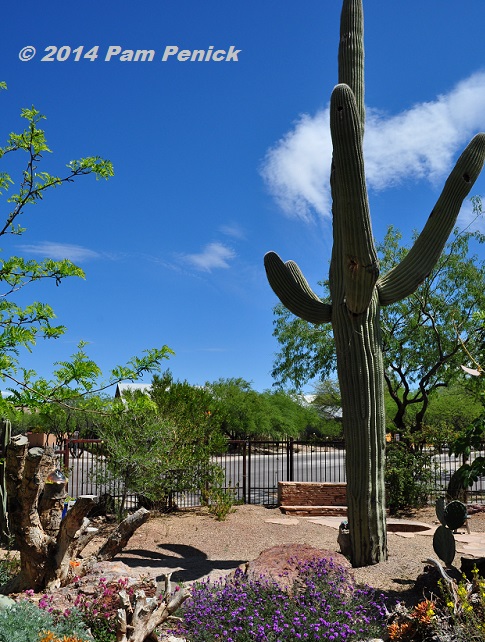 A tree-size saguaro grows in a streetside display garden — symbol of the Arizona landscape.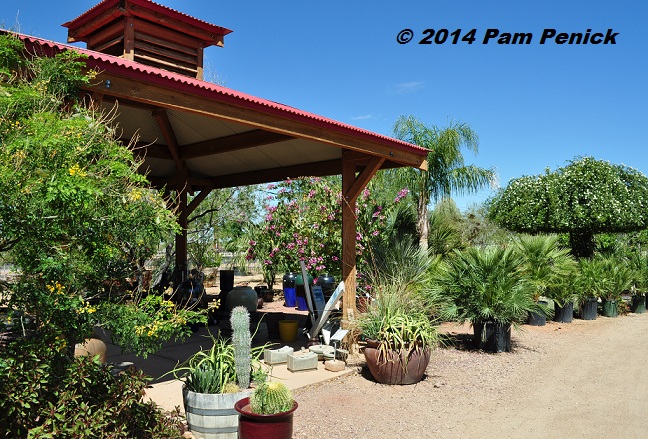 If you garden in the desert, you've gotta create some shade. This expansive arbor is something to aspire to.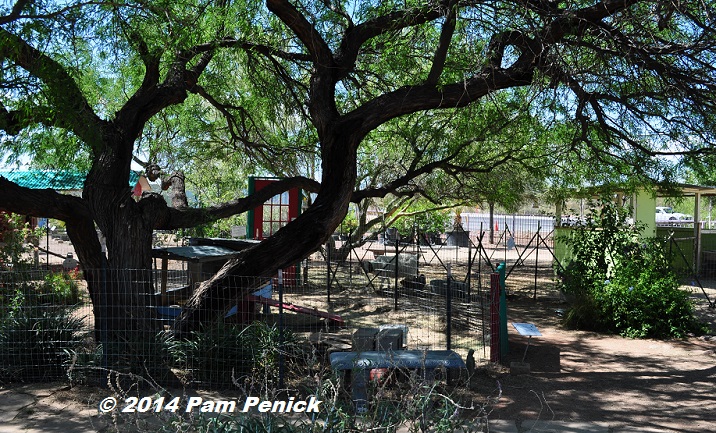 Or maybe you'd be lucky enough to have a shade tree. The nursery is family-friendly, with a play area and also several animal pens, shown here, which house goats, chickens, and even a tortoise.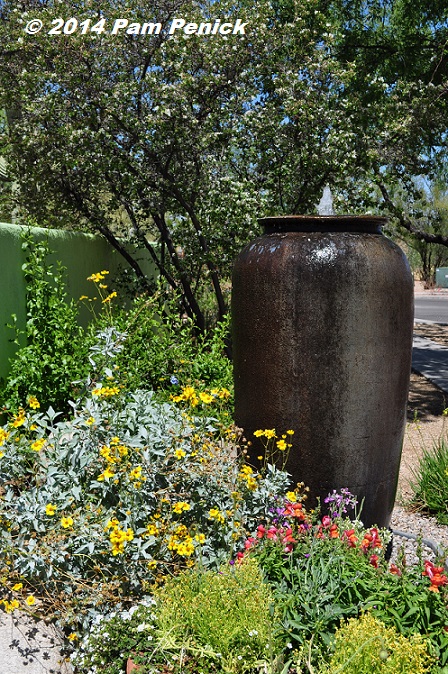 Civano is a wonderful neighborhood nursery that shows how beautifully you can garden in the desert. I ran into the owner, Chris Shipley, whom I'd met at the Garden Writers Association conference two years ago. He was the one who gave me the Indian mallow (Abutilon palmeri) that I packed home in my suitcase. How about that? I already have a Civano plant at home! (That is, if it survived our freezing winter; it's still too soon to say.) Chris is a friendly, knowledgeable guy, and I enjoyed visiting his family-run nursery.
Up next: A series of posts about Desert Botanical Garden in Phoenix, where the Chihuly exhibit was on display
All material © 2006-2014 by Pam Penick for Digging. Unauthorized reproduction prohibited.
posted in
Agaves
,
Butterflies/Moths
,
Cactus
,
Containers
,
Decor
,
Desert
,
Fences
,
Fountains
,
Garden art
,
Garden structures
,
Nurseries & Shops
,
Seating
,
Succulents
,
Travel
,
Trees
,
Trellis
,
Walls
,
Xeric plants