April 22nd, 2014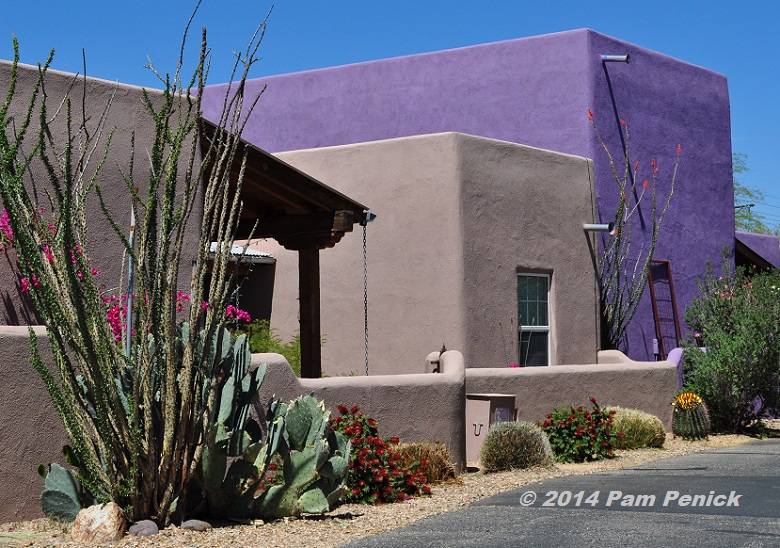 I made a quick visit to Tucson while in Arizona earlier this month, and one of my stops included the green, master-planned community of Civano on the southeast side of town. One of my favorite garden authors, Scott Calhoun, wrote about building his home and garden there in Yard Full of Sun, and I'd visited his Civano-based landscape-design offices in October 2012. This time I wanted to see the neighborhood I'd read so much about, plus the local nursery (which I'll post about soon).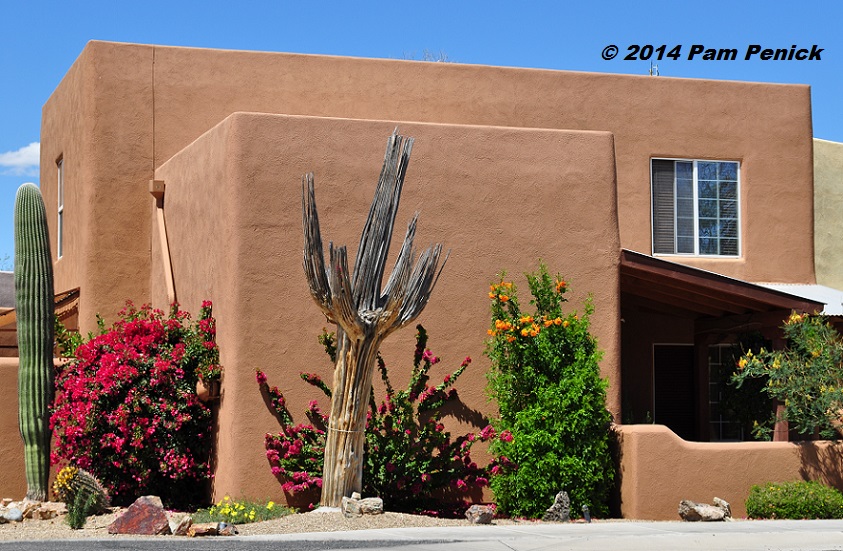 I expected the neighborhood to be somewhat like the Mueller neighborhood in Austin: a mix of house styles set close to the street and to each other, with front porches for socializing with neighbors, sidewalks along every street, and community parks and businesses. In short, a New Urbanist neighborhood designed to bring neighbors together and reduce their dependence on cars by providing walkable amenities, and with energy- and water-conserving homes and gardens. I was not disappointed.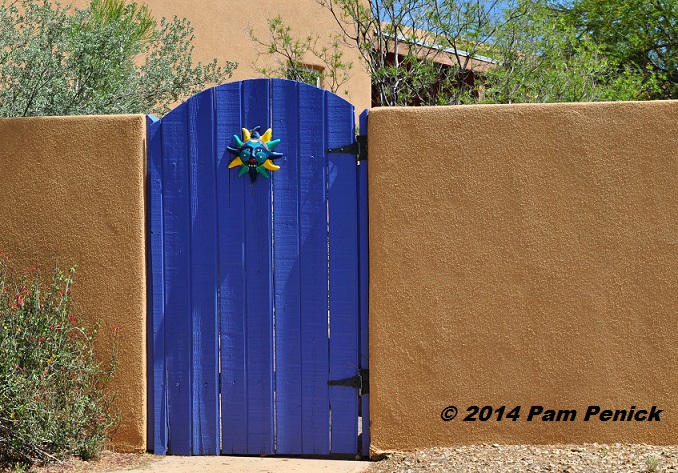 More than that, I was charmed.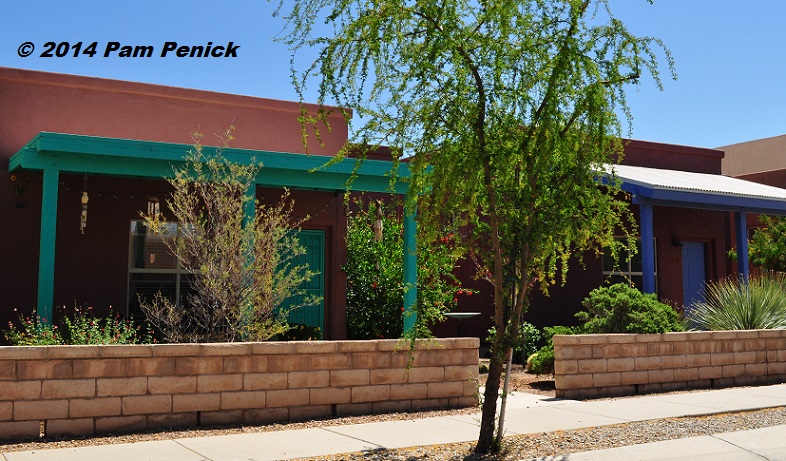 Unlike a typical new subdivision, with houses all much alike in color (muted), size (big), and yard appearance (mandatory lawn and two trees), where you can hardly distinguish one house from the next, Civano's homes are colorfully painted, relatively small, and set off by tiny front yards planted with desert-appropriate plants.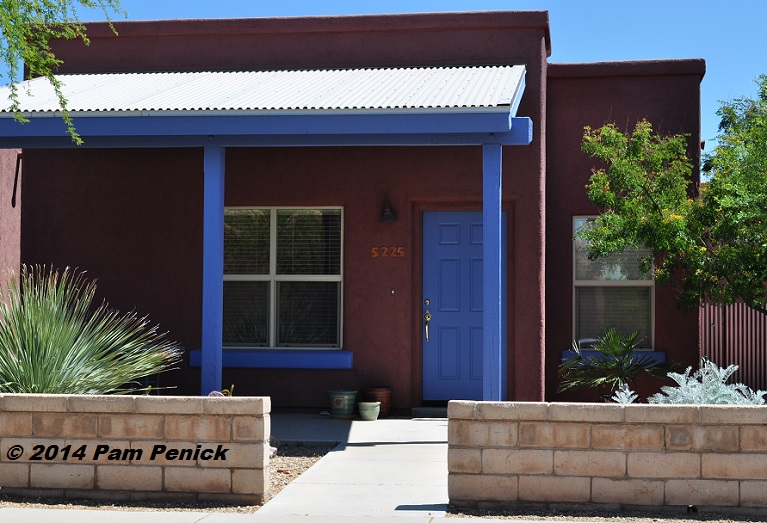 Low walls serve the same purpose as picket fences in other parts of the country: delineating public and private spaces while still presenting a friendly face to the neighborhood.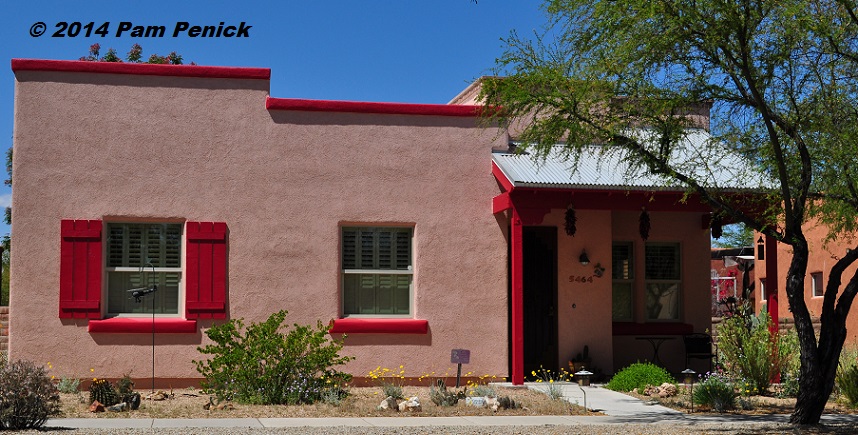 The house styles look at home in the desert, but their candy-colored stucco or woodwork functions like Steve Martino's richly colored garden walls: it injects color into the muted palette of the desert and signals an attitude of playfulness and cheer.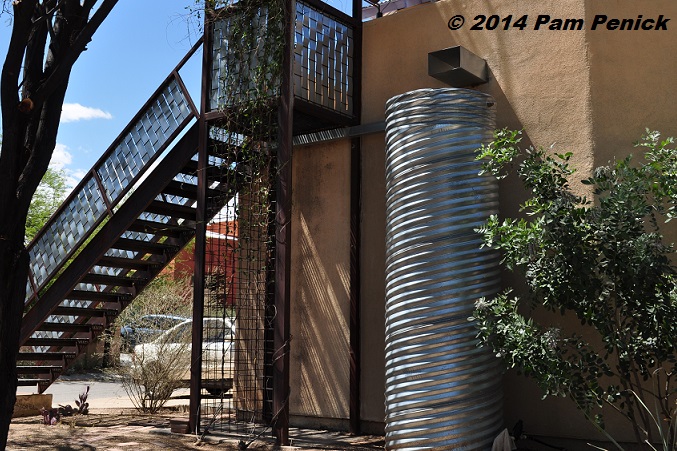 Many homes, I noticed, have installed large, cylindrical cisterns to capture roof runoff.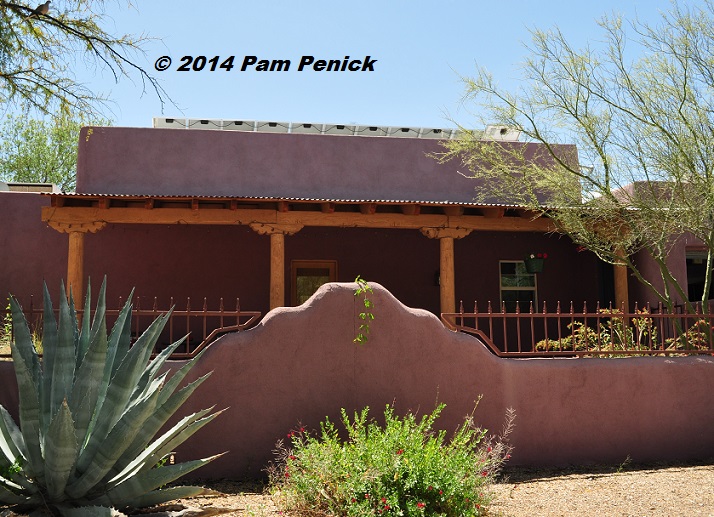 Others have solar panels on the roof to take advantage of the desert sun.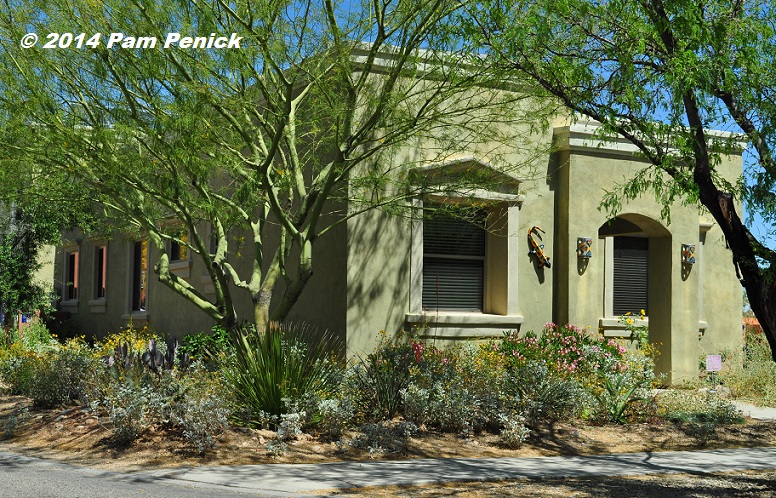 Many of the homes have gardens out front, not merely landscaping.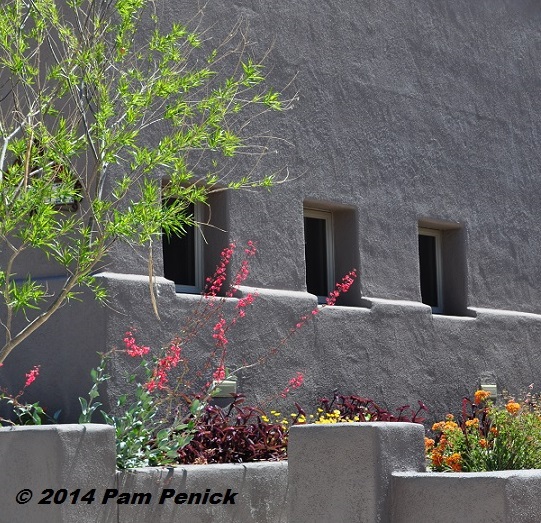 It helps, I am sure, to have smaller lots and a nursery dedicated to desert plants right in the neighborhood.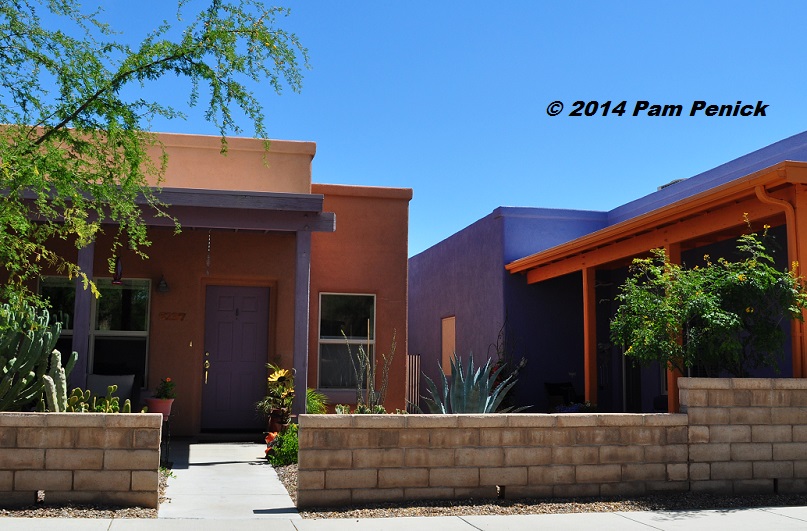 Is this Tucson's answer to Charleston's Rainbow Row or San Francisco's Painted Ladies?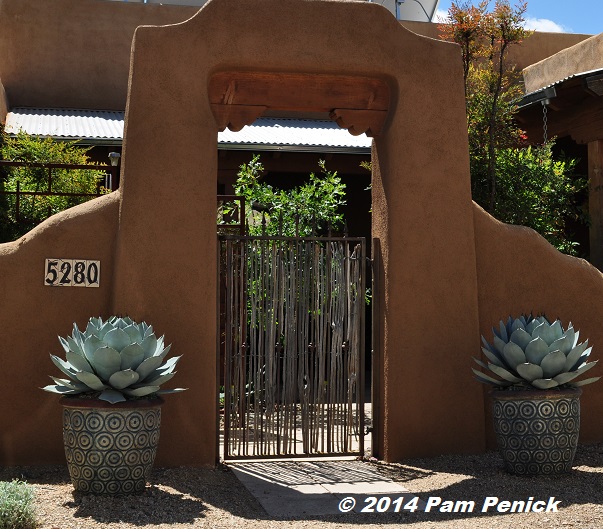 This arched stucco gate reminds me of Santa Fe. I love the agaves in those geometrically patterned pots too.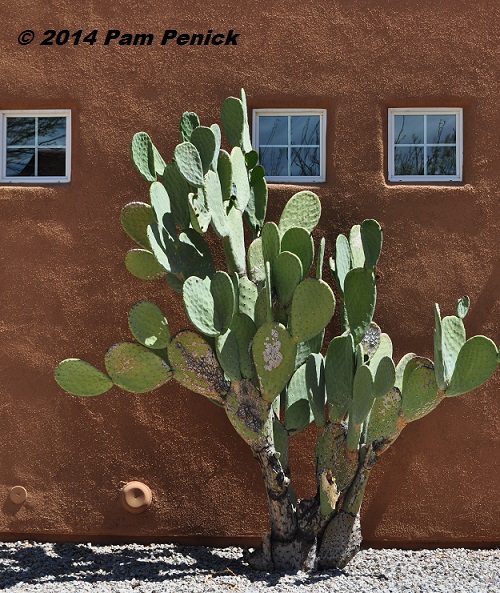 Opuntia and terracotta stucco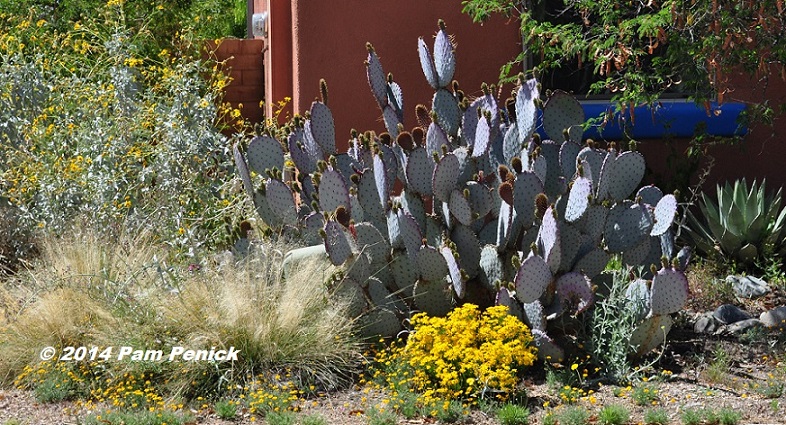 There was lavender Opuntia too.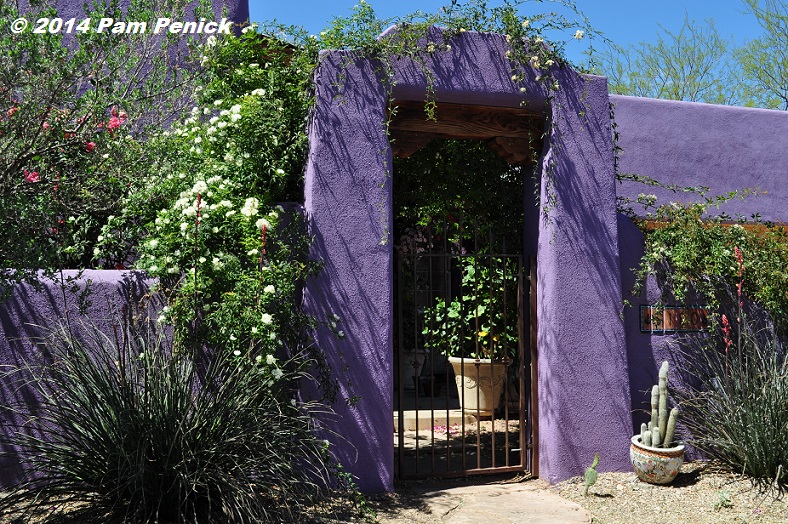 Purple walls! (Shout-out to desert gardener and designer David Cristiani)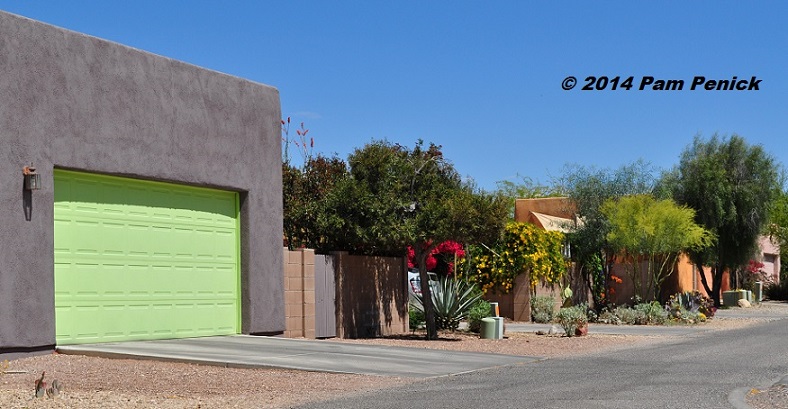 Even the alleyways were as tempting as a jelly-bean jar with brightly colored garage doors.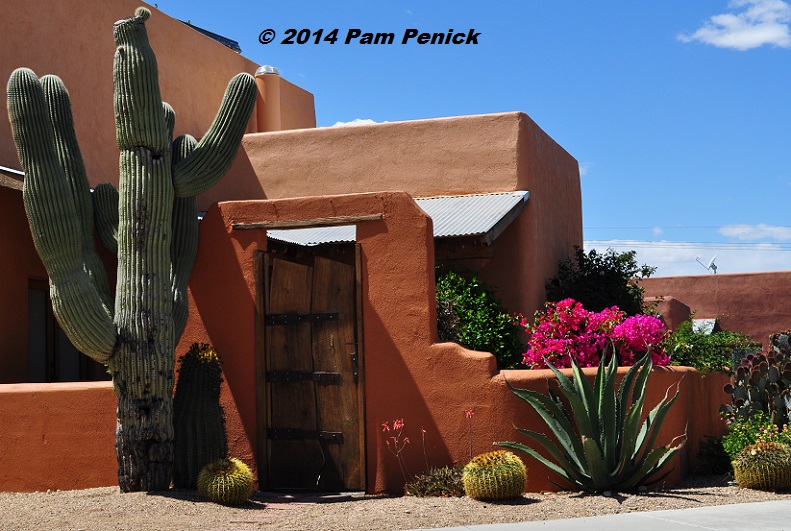 Check out this massive saguaro, plus the one-of-a-kind wooden gate.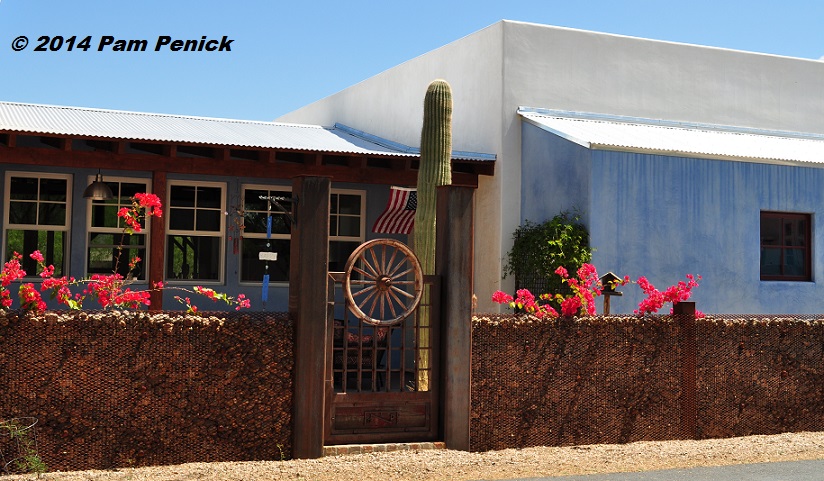 The wagon-wheel gate at this home caught my eye first, but then I noticed the gabion wall made of metal mesh and river rock.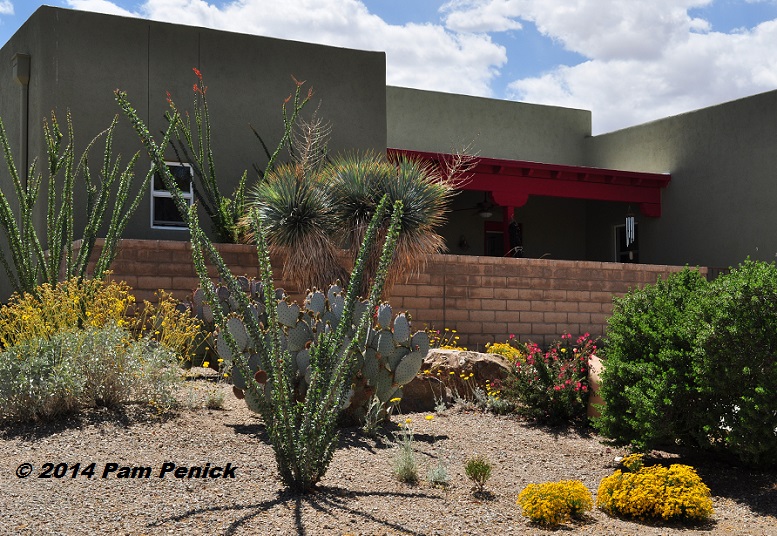 Ocotillo in leaf and bloom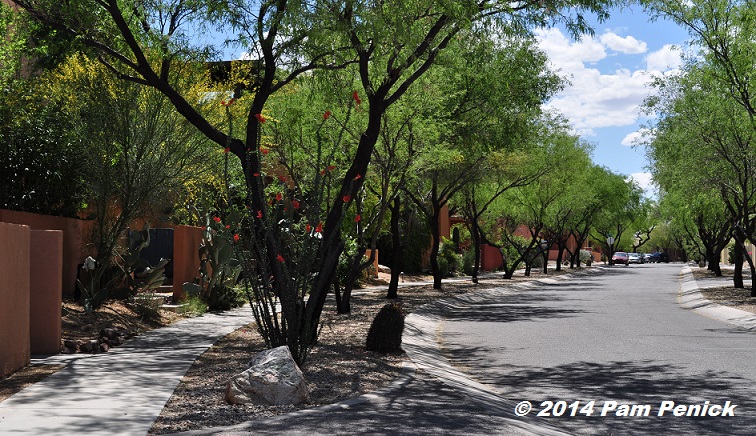 What a lovely neighborhood, and a perfect place to admire gardens on a morning stroll or drive-by!
Up next: A visit to Civano Nursery.
All material © 2006-2014 by Pam Penick for Digging. Unauthorized reproduction prohibited.
posted in
Agaves
,
Cactus
,
Color
,
Containers
,
Desert
,
Design
,
Doors
,
Drive-By Gardens
,
Fences
,
Garden art
,
Gates
,
Lawn Gone!
,
Porch
,
Sustainable Gardening
,
Travel
,
Walls
,
Water conservation
,
Xeric plants