February 9th, 2014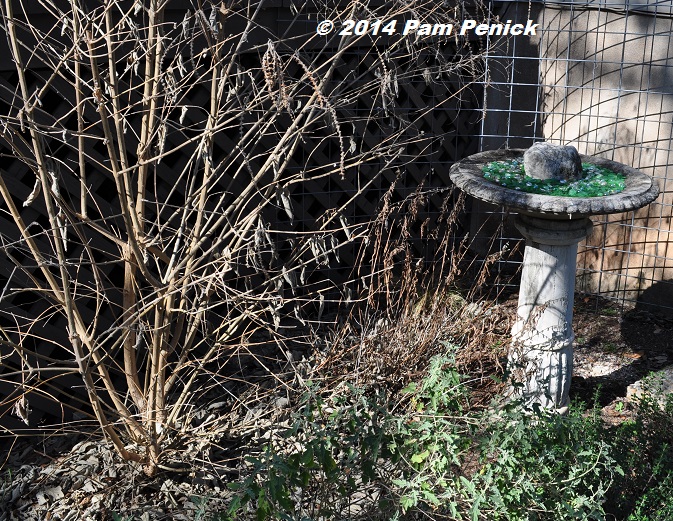 Sunny and 65 degrees F, yesterday was flat-out perfect gardening weather, and I puttered, planted, and potted nearly all day. One of my last projects before I collapsed indoors involved a bit of rearranging and ground prep in order to pot up a 'Sharkskin' agave that's been too shaded for its liking. Some agaves, I've found, just do better in pots, where you can give them excellent drainage, especially in winter when they risk rotting in chilly, damp soil. Aside from that, placing a pot in a garden bed creates an instant focal point and elevates a plant so you can appreciate its finer details. Also, potting the 'Sharkskin', a lethally spiny agave, would make the garden safer for our dog, Cosmo. I'd been snipping the tips off the lower spines, but I still worried he'd get poked in the eye.
Looking for a hot, sunny spot to keep my 'Sharkskin' happy, I decided on this corner between the deck and the hillside-garden path. A few years ago, I'd recognized the need for a focal point here and plopped a birdbath filled with green glass "water," moved from my former cottage garden. In summer this space is livelier with fragrant sweet almond verbena (Aloysia virgata), Mexican bush sage (Salvia leucantha), globemallow (Sphaeralcea ambigua), and wall germander (Teucrium chamaedrys). At this time of year only the globemallow and wall germander are green.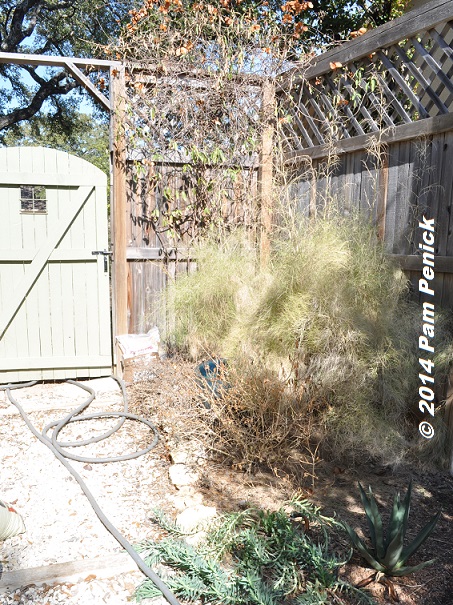 Looking up the path, it's a late-winter, straw-bleached scene of bamboo muhly (Muhlenbergia dumosa), butterfly vine (Mascagnia macroptera), and gopher plant (Euphorbia rigida). Oh yeah — plus the sad, shaded, little 'Sharkskin' agave.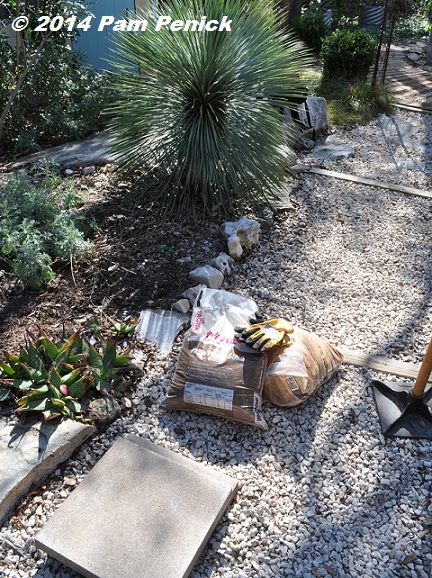 After moving the birdbath out of the way, I got my tools and supplies together. That's right: I don't just plop a pot in a garden bed. If you do that, you'll soon see your pot leaning to one side, sinking into the soft soil, and you'll forever be futzing with it. But if you lay a compacted, level base for your pot to sit on, you won't have to fiddle with it later.
I bought a bag of paver base (crushed gravel), a bag of paver sand, and a couple of 16-inch square concrete pavers from Home Depot. With a tamper (a heavy, metal plate with a wooden handle) at the ready, I grabbed my shovel and dug an 18-inch square 3 or 4 inches deep.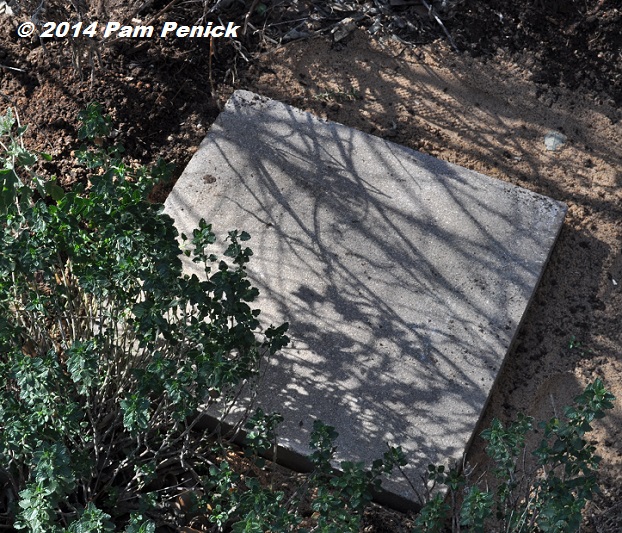 I poured the bag of paver base into the hole and used the tamper to pack it down firmly. Then I spread a few inches of paver sand and laid the first concrete paver, checking with a level and moving sand as necessary to ensure that the paver wasn't sloping to one side. The first paver sat flush with the soil, which was fine, but I wanted a little more height, so I placed the second paver on top. Then I filled and tamped around the edges with the soil I'd dug out.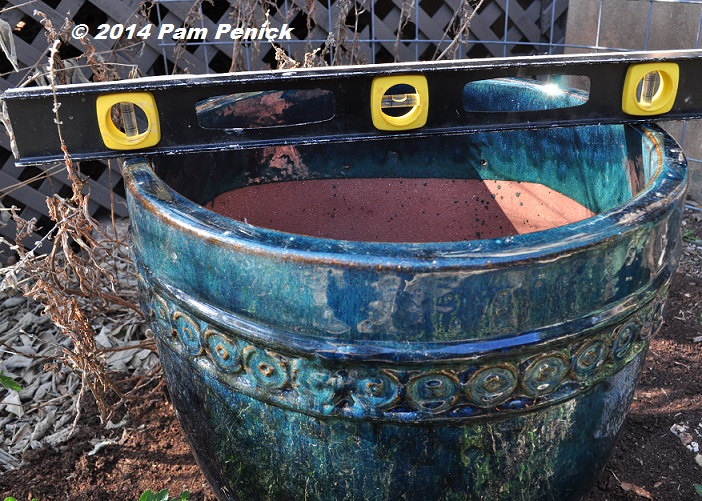 Next I heaved my beautiful new pot from Barton Springs Nursery (bought on sale just after Christmas) onto the pavers and checked one more time with the level. Perfect.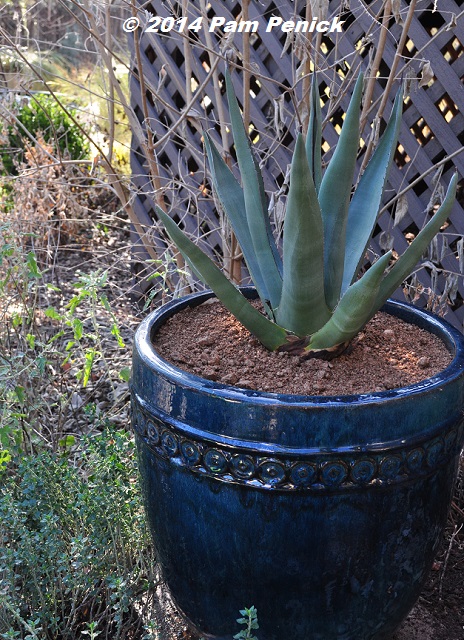 I put some chunky rock for drainage in the bottom of the pot, and then I filled it with a mix of gravelly pebbles (leftover from another project), decomposed granite, and Hill Country Garden Mix from The Natural Gardener. I dug up the 'Sharkskin', taking care not to impale myself, and potted it up. A mulch of decomposed granite finished it nicely. I hope it'll be much happier here. I'm enjoying my new focal point.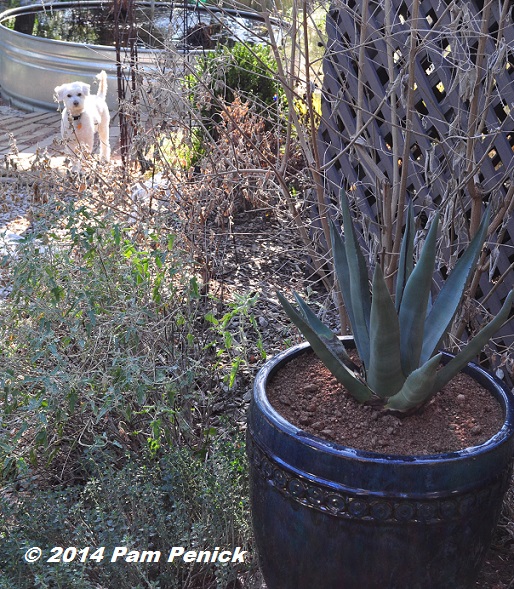 Cosmo photobomb!
All material © 2006-2014 by Pam Penick for Digging. Unauthorized reproduction prohibited.