April 14th, 2009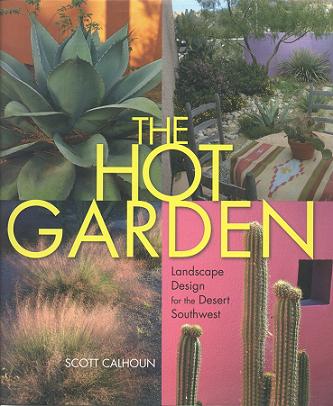 "Get your desert eyes on," Scott Calhoun urges in his new book The Hot Garden. In other words, see and appreciate the natural beauty of a country that is not lush, leafy, or green and that relies on rock and open space as much as plants for its sense of place. Ah, but those plants! Hot-garden plants—star-shaped agaves, colorful sedums, rose-like sempervivums, columnar cacti, feathery grasses, spherical yuccas and sotols—are the darlings of contemporary garden designers, xeric gardeners, and collectors alike. Their architectural shapes, evergreen habit, and variously smooth, spiky, or fleshy textures invite use as garden sculpture or as foils for fine-leaved xeric perennials and wildflowers.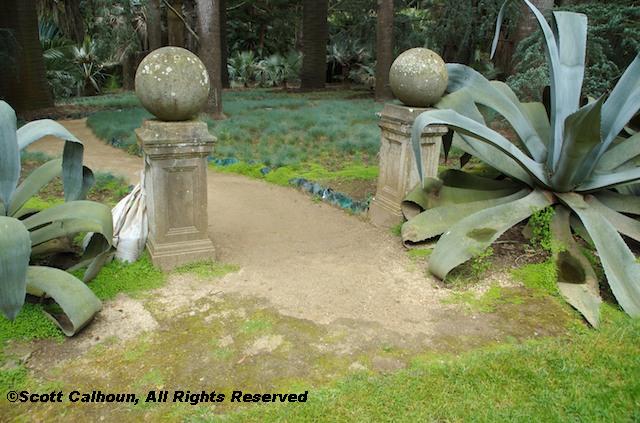 A pair of enormous agaves marks the entry to Lotusland's Blue Garden.
Ironically, although agaves and other succulents are cultivated in gardens as far removed from the desert as Pennsylvania's Chanticleer, gardeners living in the dry climates from which those plants originate have gotten short shrift when it comes to literature about garden design. To address this void and share his love of desert gardening, Calhoun, a Tucson designer, fellow blogger, and lifelong "desert rat," has written The Hot Garden: Landscape Design for the Desert Southwest.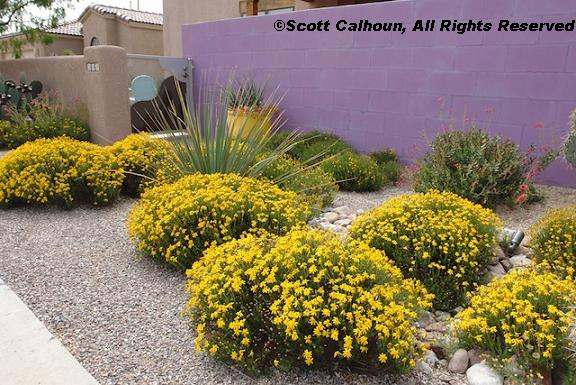 Damianita (Chrysactinia mexicana) and blue nolina (Nolina nelsonii) stand out against a purple wall. Design by David Cristiani.
I've been a big fan of Scott's writing and free-spirited gardening style since reading Yard Full of Sun, his memoir about building a home and garden in harmony with the harsh but beautiful conditions of the Sonoran Desert. Recently I reviewed his Designer Plant Combinations also. His follow-up, The Hot Garden, is one of those rare garden books for which I requested a review copy but would have bought in hardback anyway.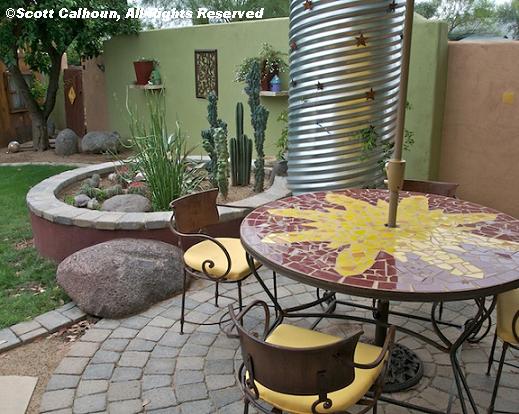 A cylindrical galvanized rainwater-collection cistern becomes part of the circle theme in this dry garden. Design by Scott Calhoun.
Scott writes that his book is for desert gardeners from El Paso, Texas, to Palm Springs, California, to Las Vegas—"the part of the Southwest where creosote bush is the most common shrub, gravel is the most ubiquitous mulch material, rain is scant, and summers are hot." Except for the part about hot summers, this does not describe central Texas, where we generally rely on organic mulches, creosote is not found, and we get many more inches of rain than the desert.
So why am I interested in this book? Because design-wise Austin straddles the border between the eastern and western U.S.—where leafy, oak-shaded retreats share neighborhood space with open, sunny, gravel-based gardens—and certain desert plants are readily available and reliably hardy. The spare, architectural desert aesthetic also plays well with the contemporary design movement that's taken hold in Austin. Moreover, desert flora are the ultimate drought-tolerant plants, which makes them invaluable for sustainable gardens in water-challenged regions of the country. Plus I just love the way they look.
But even if I gardened where desert plants wouldn't grow except in a frost-protected container, I'd enjoy this book. Calhoun is a funny, engaging writer who loves where he lives and wants us to love it too. His design style is appealingly naturalistic, employs modest materials in creative ways, and is rooted in local culture. Also, he's knowledgeable and passionate about rainwater harvesting and the use of xeric native plants, aspects of desert gardening that I'm particularly interested in.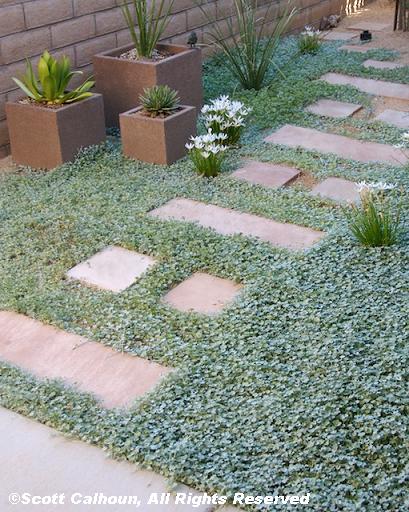 Silver ponyfoot 'Silver Falls' (Dichondra argentea), accented with white rain lilies, makes a striking groundcover. Design by Scott Calhoun.
Calhoun argues for a different aesthetic for desert gardening, one that relies on transparency (the big sky and openness of the desert), minimalism ("negative spaces between the plants are as important as the plants themselves," he writes), visible geology and borrowed landscape (exposed rock and mountain views), and ecological values (preserving the fragile desert ecosystem and water conservation). He expounds on each of these principles, illustrating them with his own gorgeous photographs of hot gardens, including a few from the local gardens of Austinites Jill Nokes and Selena Souders of Big Red Sun, and Peckerwood in Hempstead, Texas.
In one of my favorite chapters, Scott makes the case for colored walls in the garden. In addition to making your evergreen desert plants "pop" against a brightly painted surface, colored walls also "reduce [the] need for water-wasting annual carpet bedding plants. Because people want year-round garden color they often feel compelled to buy annual bedding plants (that must be replaced at least twice annually in the desert Southwest), which require intensive watering and fertilizing. In harsh climates, colored walls provide a better low-water-use alternative to the sort of throwaway annuals purchased at 'big box' stores. It seems needless to say, but paint counts as color in a garden! With year-round strong color provided by paint, gardeners are freed up to play with thrifty and sculptural native plants."
Scott's colorful prose and images will make a convert of you too. Putting on your desert eyes is an eye-opening exercise and should prove inspiring to desert gardeners—and wannabes—everywhere.
All material © 2006-2009 by Pam Penick for Digging. Unauthorized reproduction prohibited.