January 7th, 2014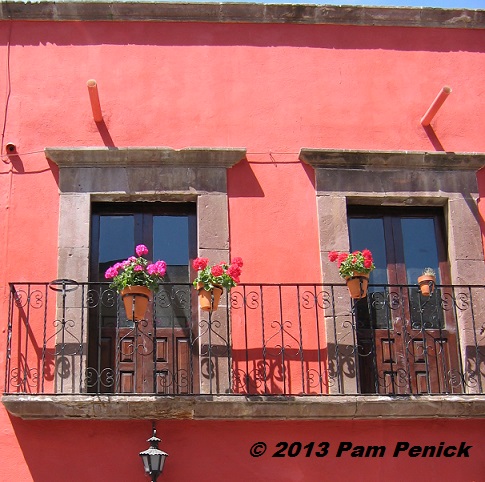 Revisiting my trip to Beijing proved so enjoyable on a cold winter day that I'm continuing the travel theme. Next up: Mexico! In March 2006, just one month after I started this blog, my husband and I traveled to San Miguel de Allende in central Mexico. I don't know why I didn't post any photos from the trip, especially since the city's rooftop and courtyard gardens and colorful streets captivated me. Well, better late than never! As most of the U.S. shivers under the so-called polar vortex, a virtual visit to Mexico may be just the ticket for a warm-up.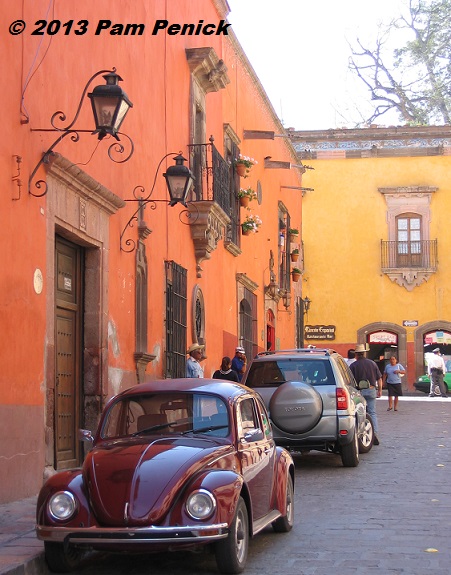 With narrow cobblestone streets bordered by pumpkin-, ocher-, and mango-colored homes and quaint shops, with gothic cathedrals and a central park lined with tree-shaded benches, San Miguel de Allende is often described as a European city in Mexico.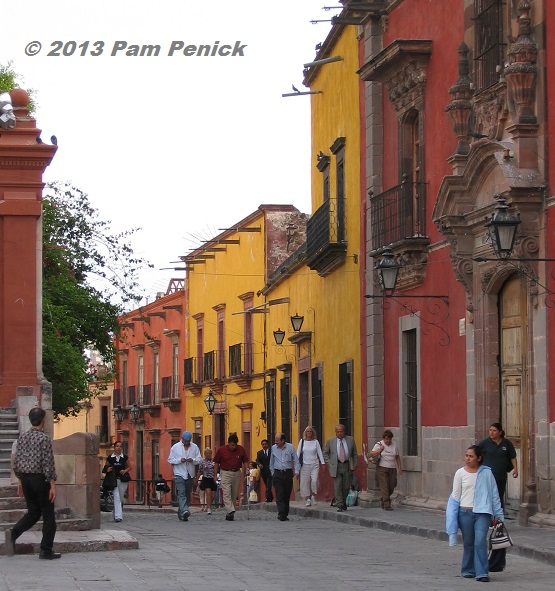 Built under Spanish rule during the silver rush of the mid-1500s, this colonial city's architecture has been beautifully preserved.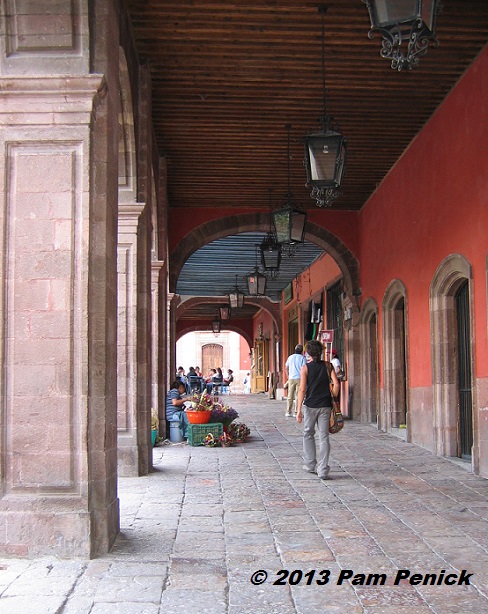 The city declined in the 1800s but was rediscovered by artists after World War II and by hippies in the 1960s. Today it's home to a sizeable ex-pat community of Americans, including many retirees, and continues to support a thriving artists' community.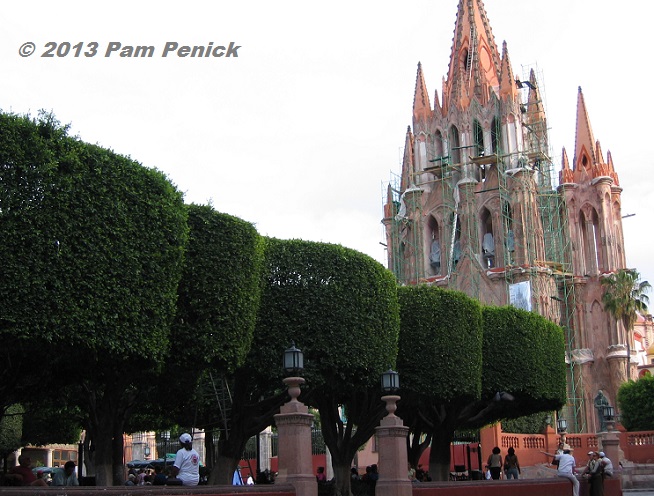 When we visited, the grand parish church on the square, the Parroquia, was under renovation, with scaffolding clinging to the gothic facade.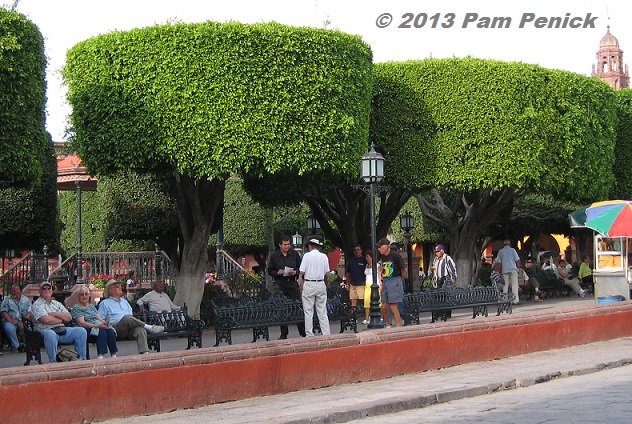 Topiaried laurels in the jardin shade people-watchers camped out on park benches.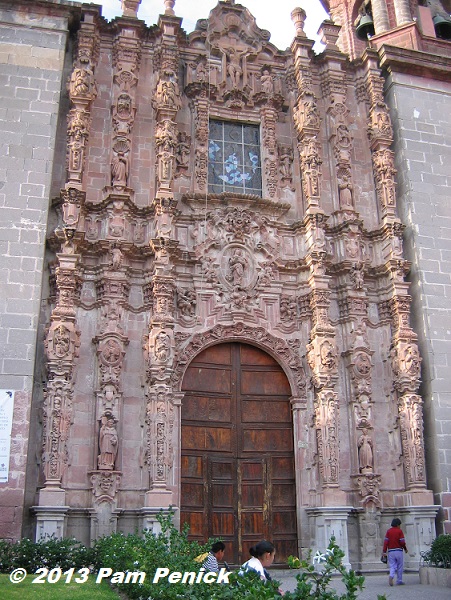 Beautiful churches abound in San Miguel…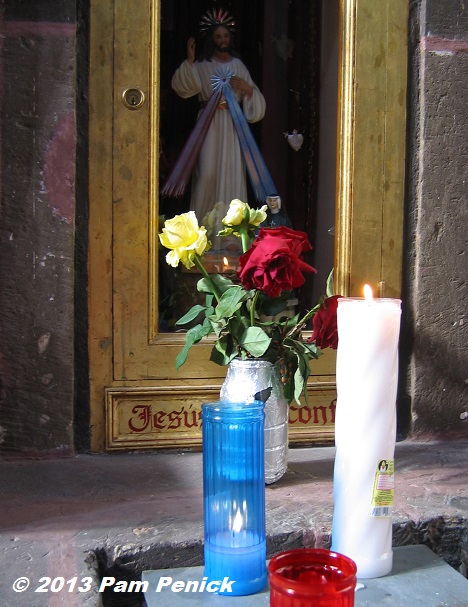 …and they are not merely tourist attractions like many churches in northern Europe, but in daily use.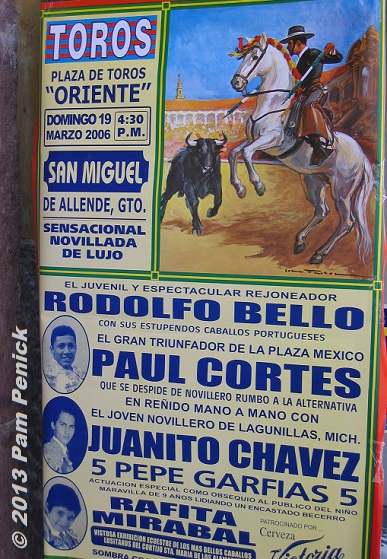 We saw that a bullfight was to be held on the day we departed, and I was glad we wouldn't be there then.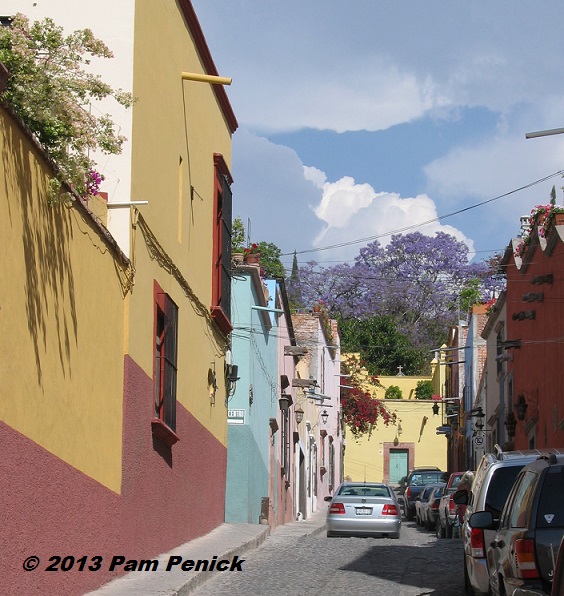 We stayed at a bed-and-breakfast on Recreo, pictured here.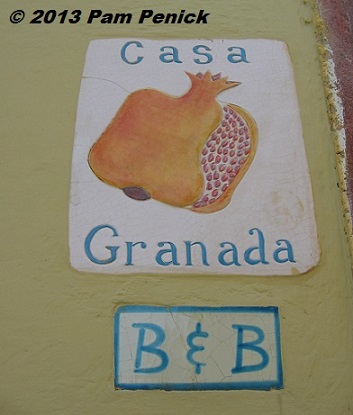 Look for the pomegranate. Ah, Casa Granada — that's us!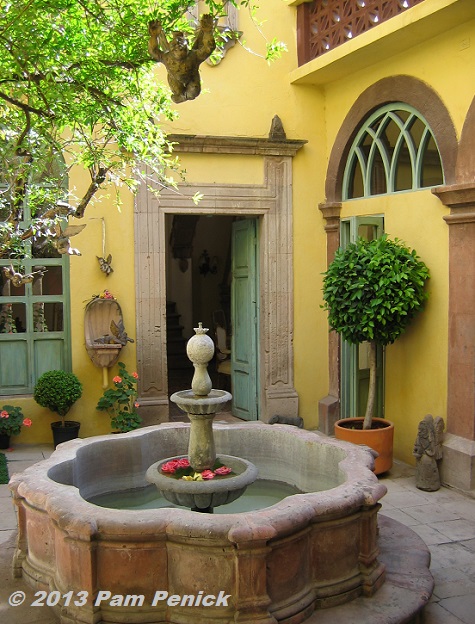 Owned by American artist Gerry Gill (but no longer operated as a B&B, I believe), Casa Granada is a beautiful, colonial-style home centered around a sunny courtyard garden and fountain.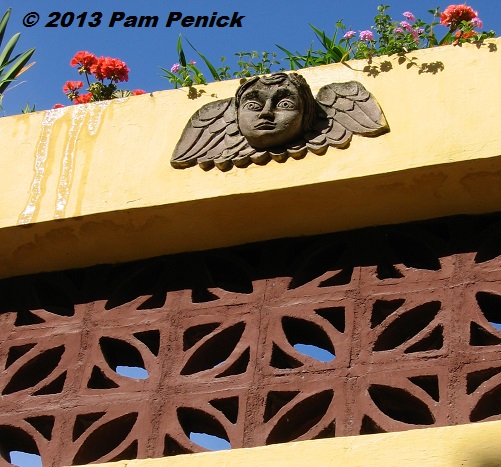 Flowers tumbled over the walls from the rooftop garden.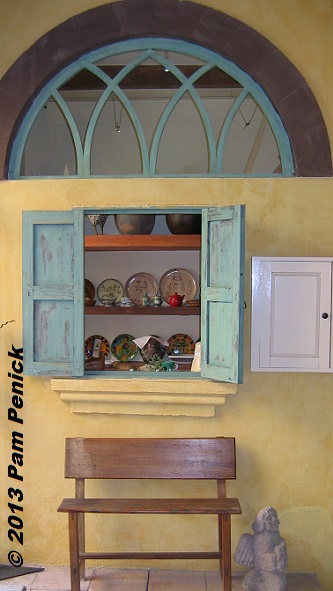 Charming details everywhere you look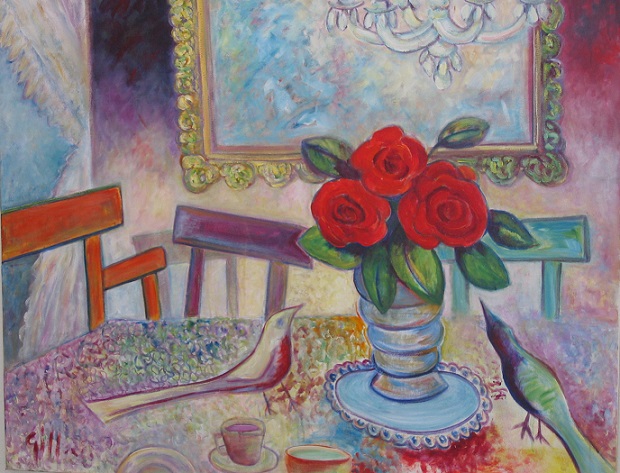 Gerry displayed a few of her paintings in the dining and living spaces for guests.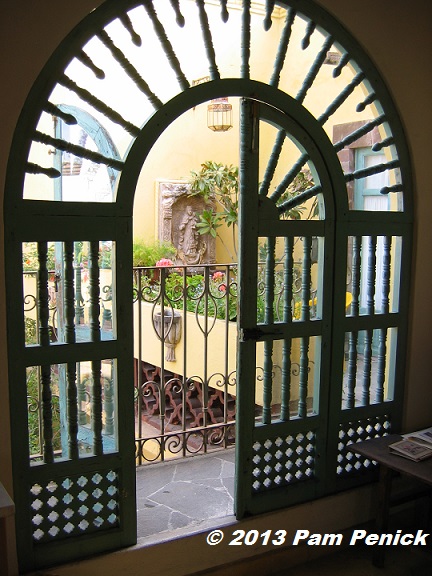 Upstairs, an arched doorway beckons you into the rooftop garden.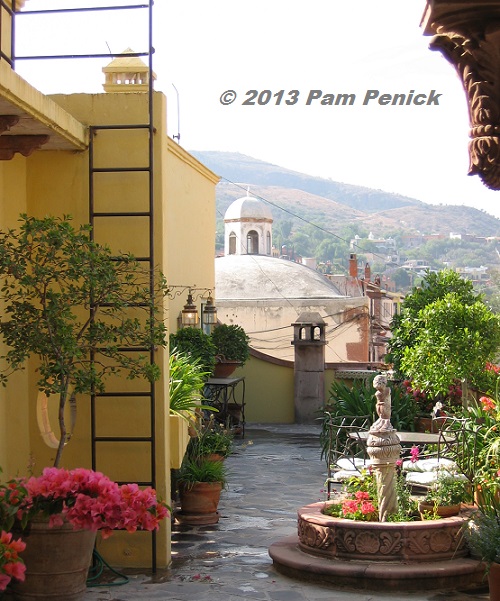 Potted topiary trees, colorful bougainvillea, an old stone fountain, and a small table and chairs invite you to relax and take in the view.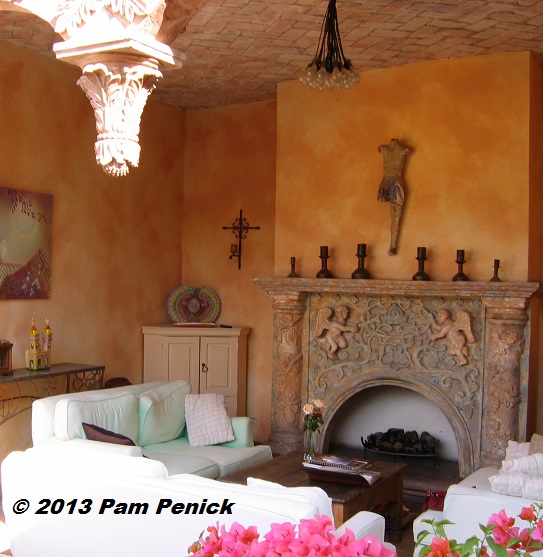 San Miguel's temperate climate allows for indoor-outdoor living in style. Here's a beautiful sala, or living room, walled on three sides but open to the rooftop garden. Check out the brick ceiling.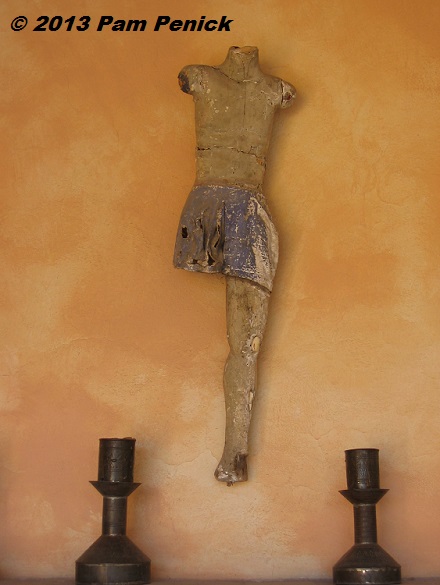 I wondered if this was a religious relic over the mantel.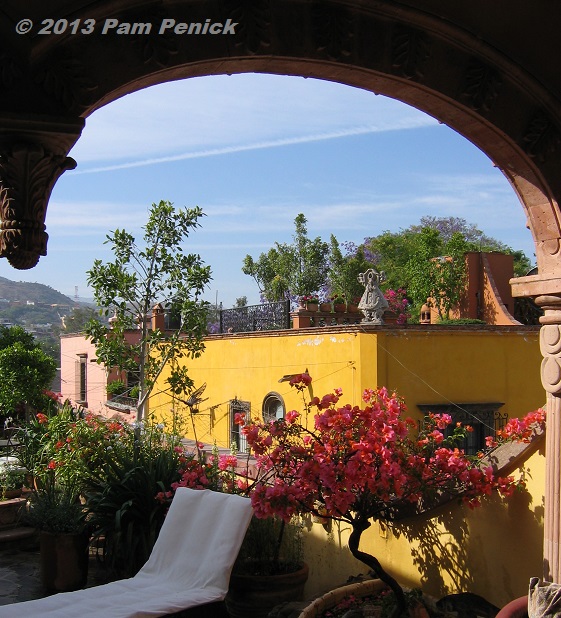 The view from the sala — that's a neighbor's rooftop garden across the way.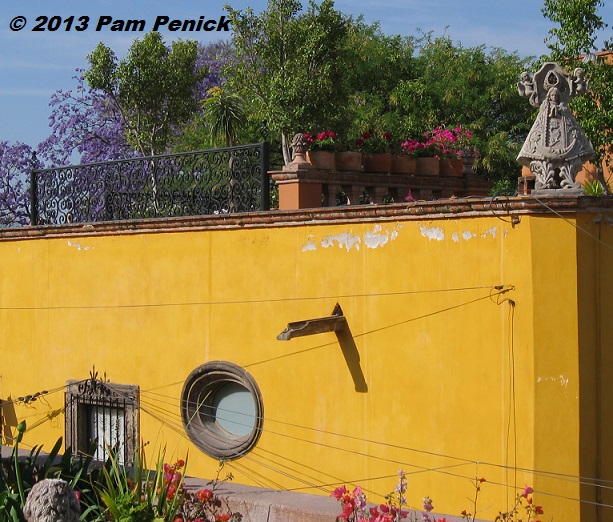 A closer look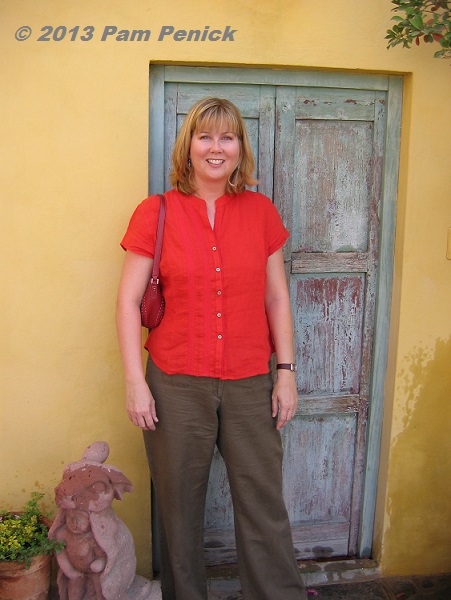 Ready for a day of strolling around town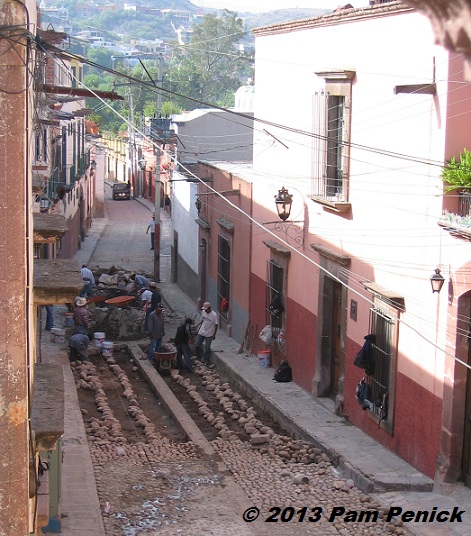 One day we came across a repair crew working on a cobblestone street.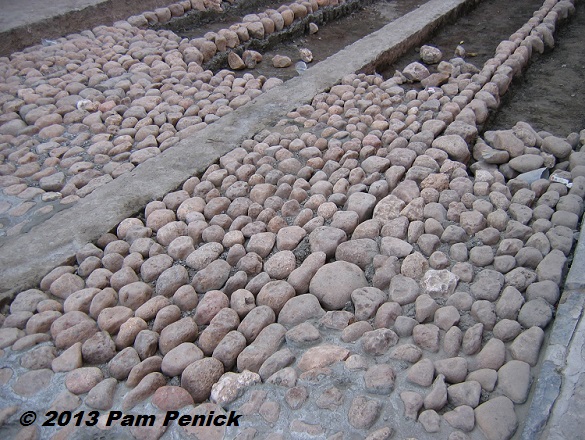 We took a closer look to see how it was constructed.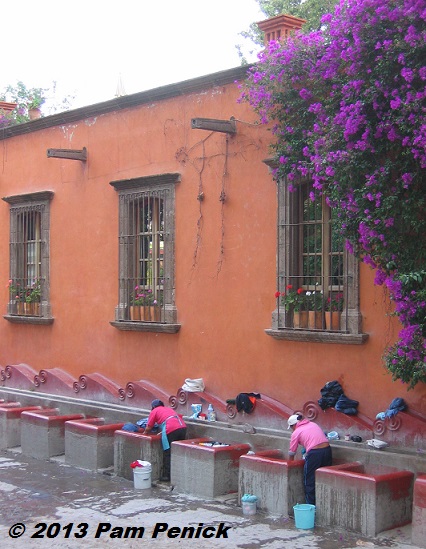 The public laundry was interesting too. It's all quite lovely, with the bougainvillea and the architectural detail on the basins. But I'm not going to romanticize it — hand-washing is hard work. My grandma did it this way.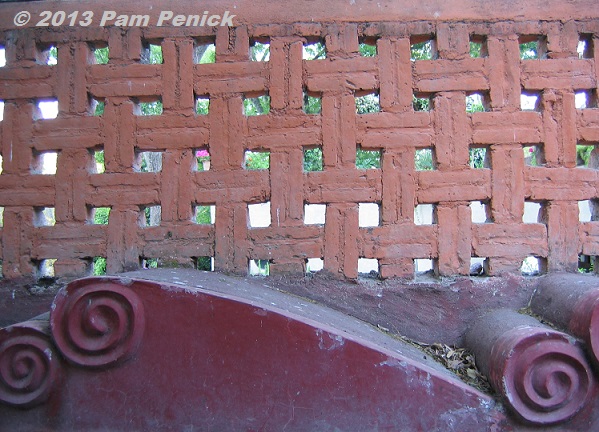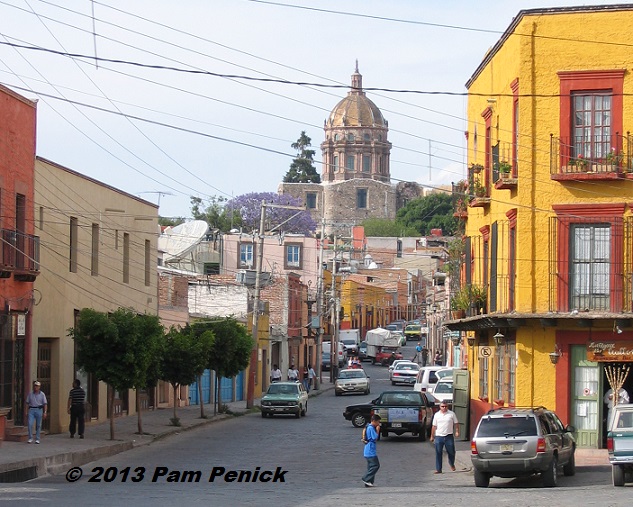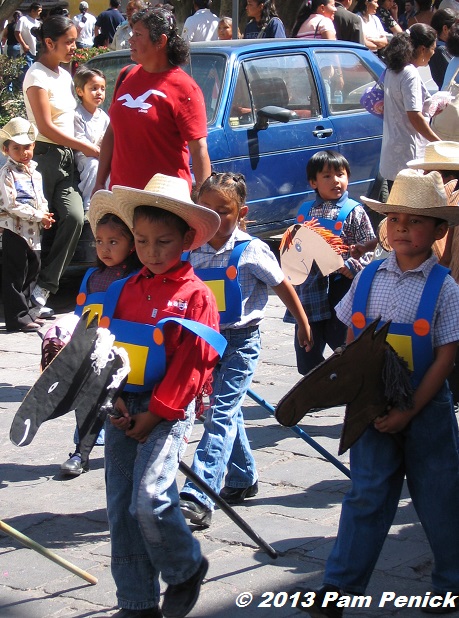 We happened onto a festive St. Patrick's Day parade on the 17th. I had no idea Mexicans celebrated St. Patrick's Day, but they do seem to do it differently than in the U.S. We didn't see any green beer or shamrocks. Instead, a parade of schoolchildren marched down the street, with kids dressed up as vaqueros…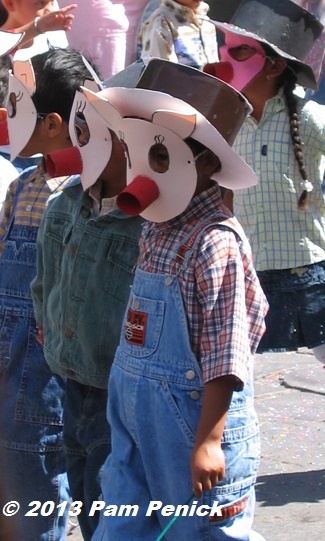 …pigs and other farm animals…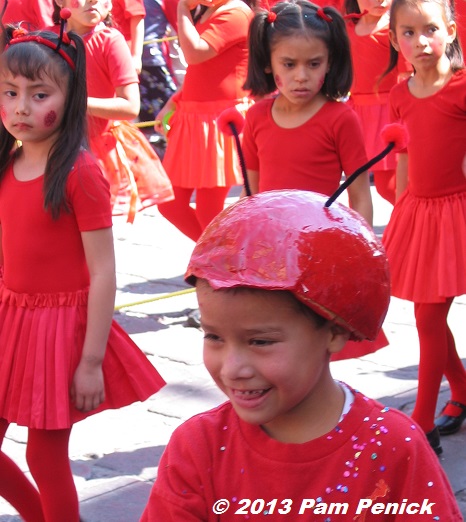 …and even ants!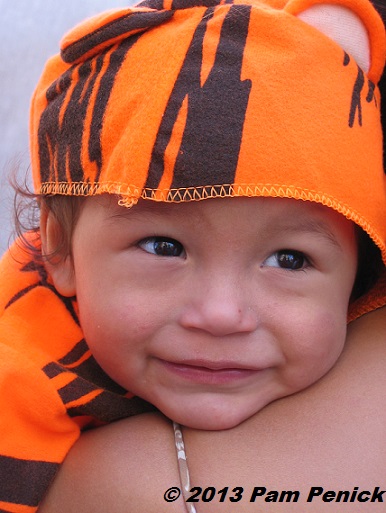 This little boy dressed in a tiger suit seemed to be having fun.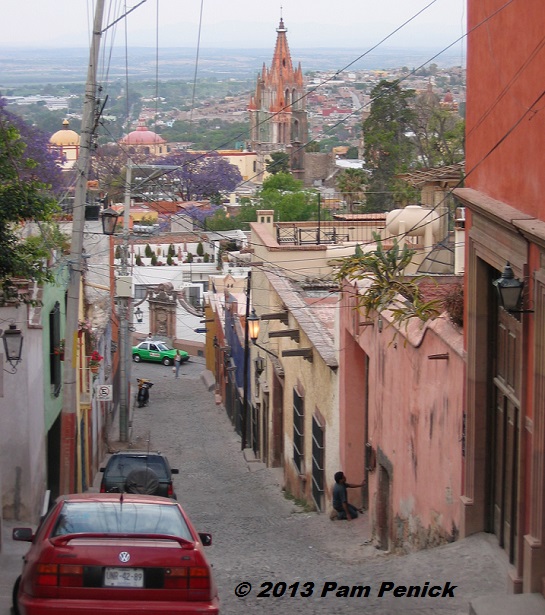 As the day ended, we climbed the hilly streets back to our B&B.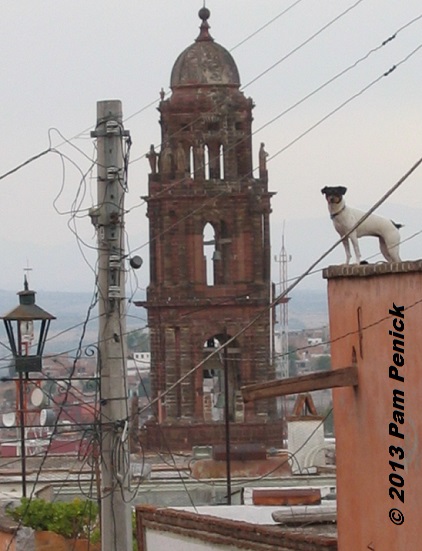 One of many dogs we spotted standing sentinel on rooftops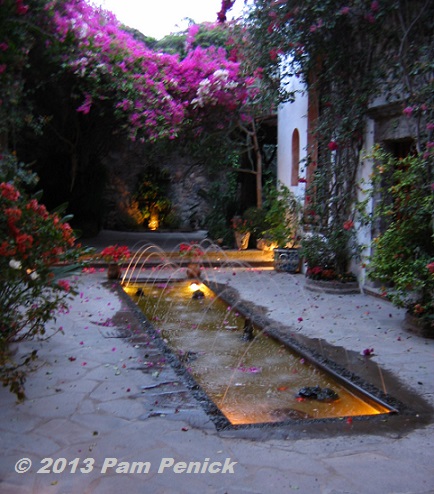 On the way to dinner we glimpsed this romantic courtyard — just lovely.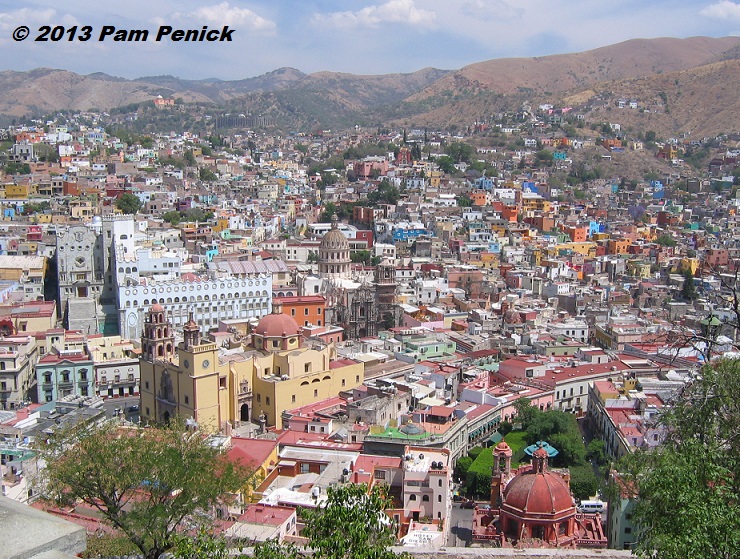 One day we hired a driver and a guide to take us to Guanajuato, the capital of the state of Guanajuato and a university town an hour away from San Miguel.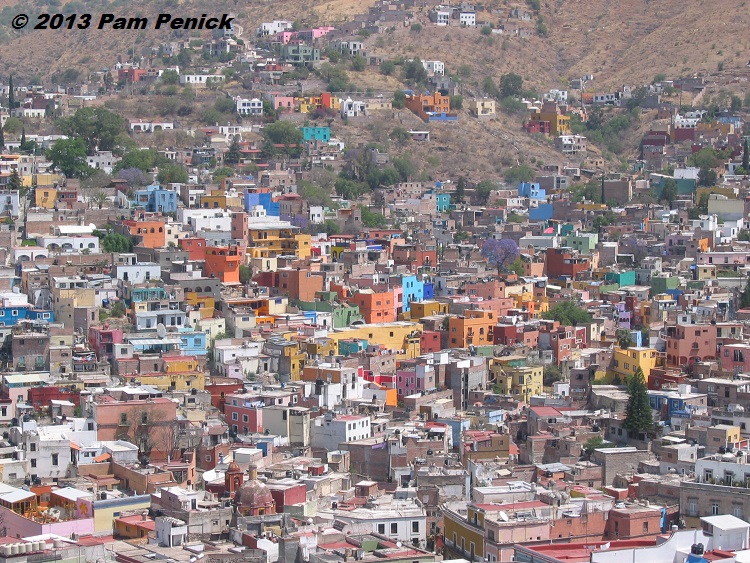 A hilltop overlook provides a spectacular view of the city's Crayola-bright, boxy buildings.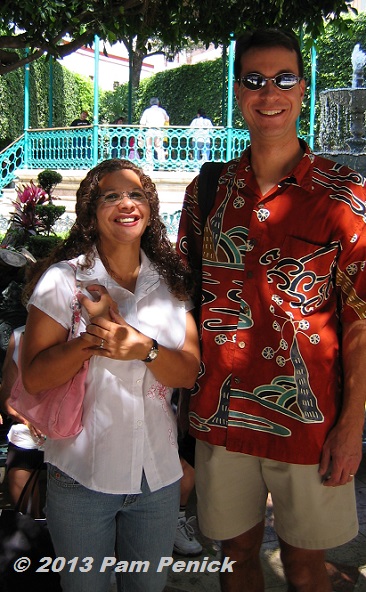 Our guide, Alicia, had lived in the U.S. for a number of years before returning to her home country. Personable and knowledgeable about the region, she was an excellent companion for the day.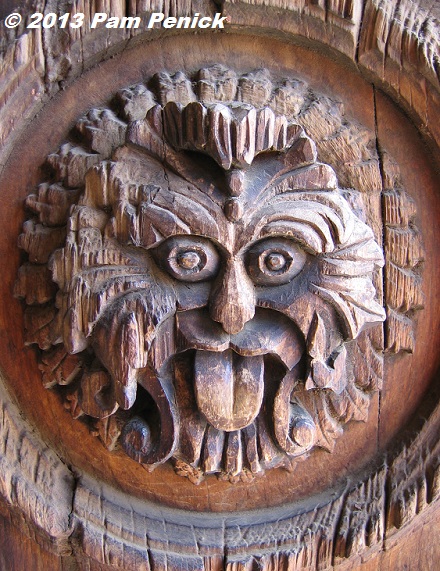 Indian carving on a church door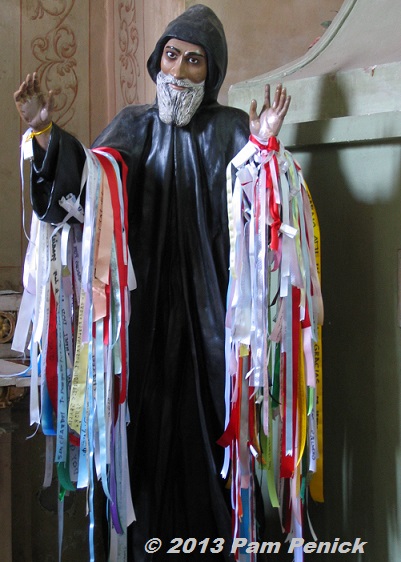 Religious figure in one of the many churches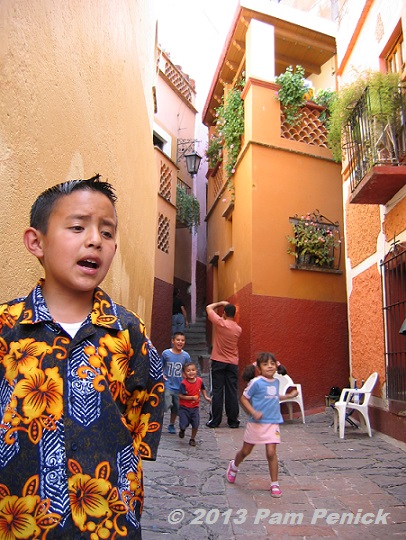 Alicia asked this boy to tell us the story of the Callejón del Beso, or Alley of the Kiss. Visible in the background, the narrow, stair-stepped alley has a tragically romantic past (if such tales are believed). Legend says two young lovers, forbidden from seeing each other, met across the nearly touching balconies. The girl's father discovered them and killed her in a rage, leaving her lover to kiss her cold hand as she died. Mystifyingly, it's said to be lucky to kiss on the steps, so we did.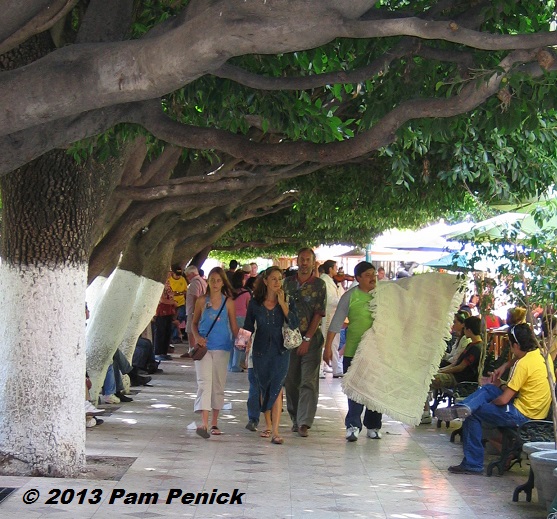 Afterward we strolled in the jardin along with the locals…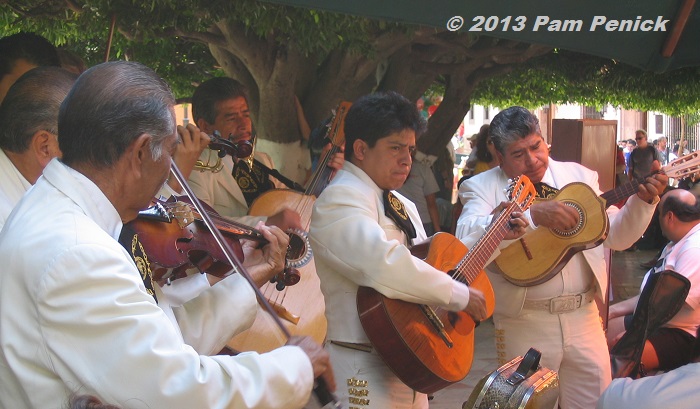 …listening to mariachis play and sing songs of love and loss.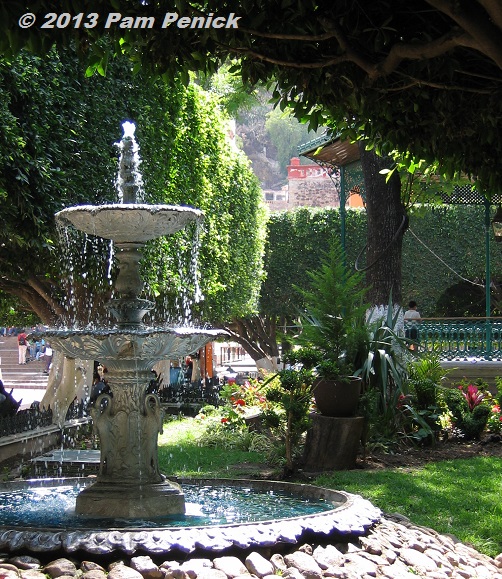 How lovely it was.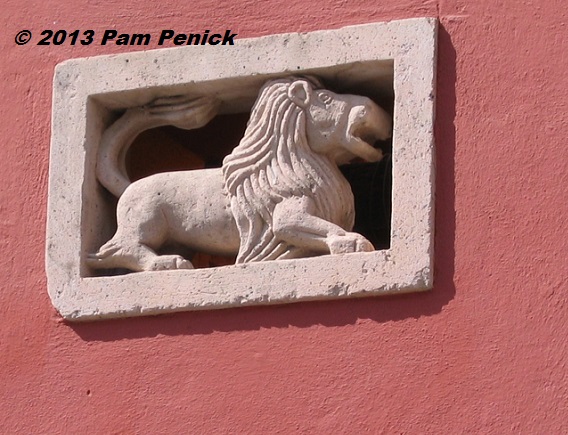 In 2006, when we visited, we felt quite safe in Mexico since San Miguel de Allende is far inland from the troubled U.S.-Mexico border. I hope that's still the case today. It's only a couple of hours by air from central Texas, although you do have to fly into nearby Leon or Queretaro and arrange for a cab or shuttle for the approximately one-hour drive to San Miguel. But you won't need a car once you arrive, as the city is very walkable. Cabs and hired cars are readily available if you want to explore farther afield.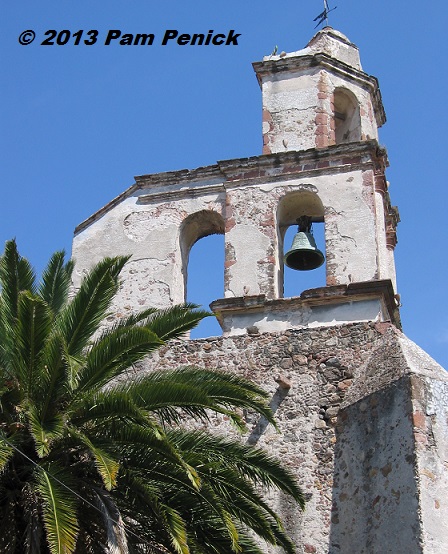 I'd like to return one day. I'm imagining the warm sunshine of San Miguel on my face right now.
All material © 2006-2014 by Pam Penick for Digging. Unauthorized reproduction prohibited.