December 16th, 2013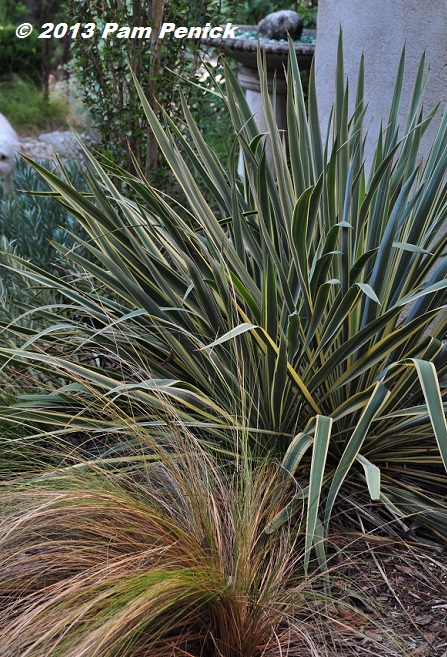 Edged with mellow-yellow stripes, Yucca filamentosa 'Bright Edge' adds a little sunshine to my garden on chilly winter days. Evergreen, drought tolerant, deer resistant, heat loving, and cold tolerant to US hardiness zone 4 or 5, 'Bright Edge' proves adaptable to everything except shade and damp soil. No worry of either on this fast-draining hillside, which gets baking hot in summer. Mexican feathergrass (Nassella tenuissima), wearing its tawny summer-through-winter hue, picks up the gold of the yucca's stripes.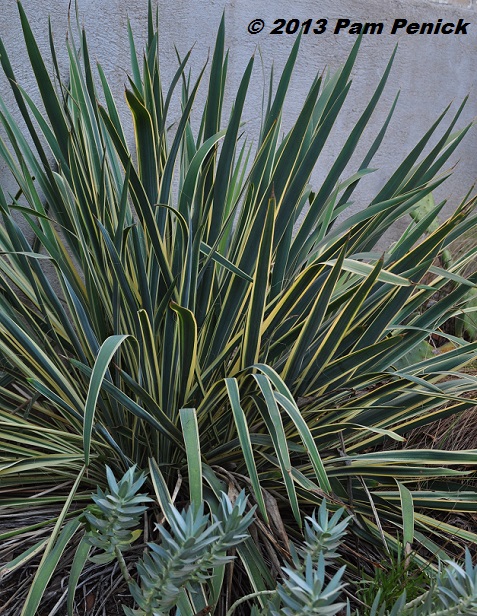 Looking uphill at it, you get a glimpse of its other dry-loving, heat-loving, sun-loving companions: gopher plant (Euphorbia rigida), spineless prickly pear (Opuntia), and four-nerve daisy (Tetraneuris scaposa). When the daisy blooms spring through fall, its sunny flowers echo those yellow stripes perfectly.
'Bright Edge' yucca gets about 1-1/2 feet tall and wide in my garden, a nice size for foundations and narrow beds, and its flexible leaves, while sharp-tipped, are unlikely to stab the unwary gardener in the shin. It's often confused with the more popular 'Color Guard' yucca, but you'll notice that the yellow runs up the center of 'Color Guard's leaves but along the edges of 'Bright Edge'. 'Color Guard' has a more open, handsome form, in my opinion, while 'Bright Edge' is a little scruffier, with offsets clumping together as the plant grows. But those gilded leaves are so pretty you'll want some for your winter — and summer garden — too.
Please join me in posting about your lovely leaves of December for Foliage Follow-Up, a way to remind ourselves of the importance of foliage in the garden on the day after Bloom Day. Leave your link to your Foliage Follow-Up post in a comment. I really appreciate it if you'll also include a link to this post in your own post (sharing link love!). If you can't post so soon after Bloom Day, no worries. Just leave your link when you get to it.
All material © 2006-2013 by Pam Penick for Digging. Unauthorized reproduction prohibited.