November 16th, 2013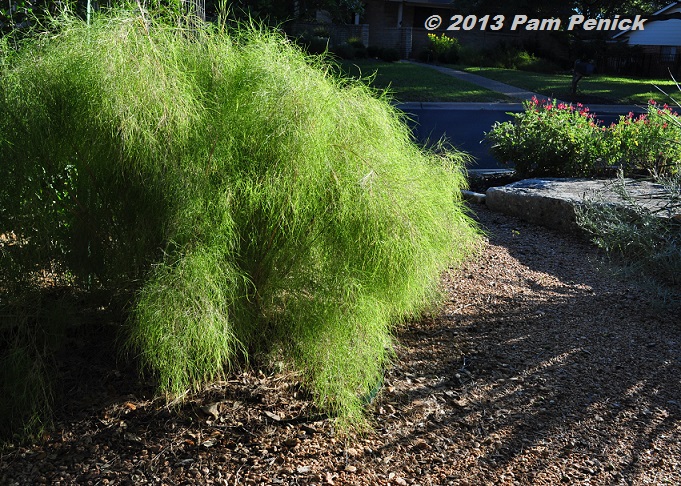 A feathery, chartreuse cloud in the garden, bamboo muhly (Muhlenbergia dumosa) is my favorite ornamental grass for hot, dry, sunny spots, where it grows vase-like to 4 to 5 feet tall and wide, tall enough to make a pretty border along the driveway, perhaps, hiding the neighbor's car. Positioned to catch the morning or evening light, it incandesces into a glowing scrim of foliage. In full sun it shrugs off heat and drought and makes a perfect foil for the bold forms of agave or yucca. In part sun or even bright shade, it grows floppier and less full, but it still looks nice. You can't help running your fingers through its "hair" as you pass by. Deer totally ignore it.
Native to northern New Mexico and Arizona, bamboo muhly does not spread aggressively like its namesake. Rather it grows slowly outward from a central clump. Its only downside for use in central Texas is that sustained deep freezes can injure it, turning it the color of straw and possibly even killing it. Despite that risk, it's considered hardy to around 10 F, a low temperature that's rare for us. My safety precaution is to plant it in spring rather than fall. Then just stand back and enjoy.
Please join me in posting about your lovely leaves of November for Foliage Follow-Up, a way to remind ourselves of the importance of foliage in the garden on the day after Bloom Day. Leave your link to your Foliage Follow-Up post in a comment. I really appreciate it if you'll also include a link to this post in your own post (sharing link love!). If you can't post so soon after Bloom Day, no worries. Just leave your link when you get to it.
All material © 2006-2013 by Pam Penick for Digging. Unauthorized reproduction prohibited.