November 5th, 2013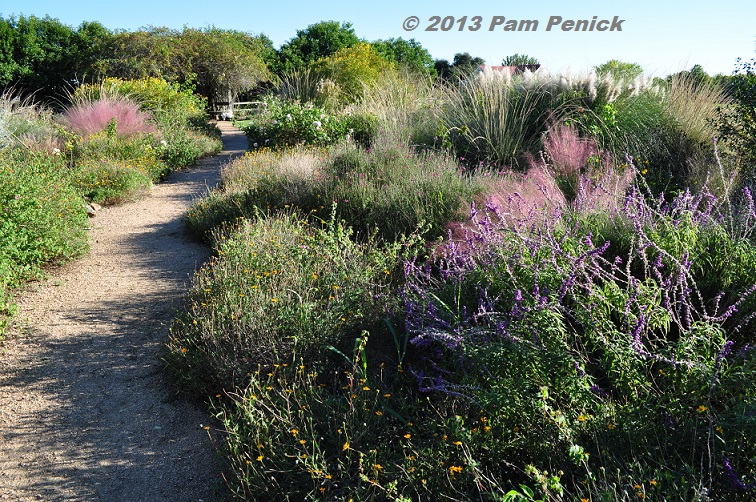 What happens when you get a gorgeous fall day in Texas, with sunny, blue skies, a cool breeze, and every perennial in the garden flowering its head off? If the 25th Annual Fall Festival of Roses is going on, you set your own garden aside for the day and head to the Antique Rose Emporium in Brenham, Texas (two hours east of Austin), for a day of garden talks, leisurely strolls through the bucolic display gardens, and, of course, plant shopping.
The twist for me this year is that I was one of the festival's speakers. What an amazing experience! Thanks to ARE's location, centered amid several major Texas cities, I met gardeners from Dallas, Houston, San Antonio, and Austin as well as from nearby College Station and numerous smaller towns.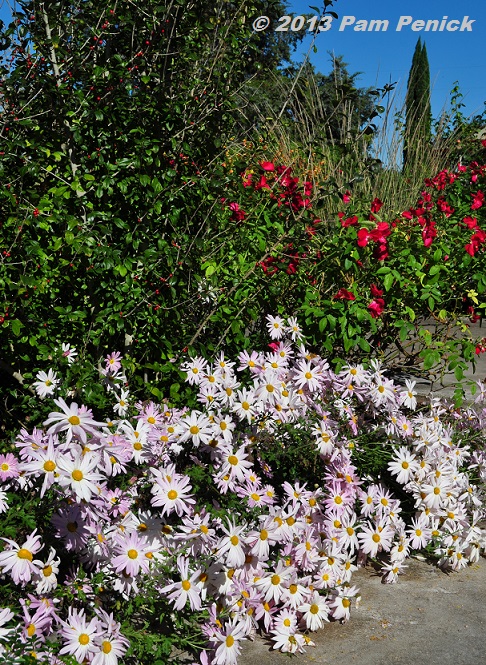 More on the talk in a minute. First I must regale you with the sweetness of 'Country Girl' mums, which were sprawling onto pathways and leaning against their companions in their eagerness to show their blushing, pink faces.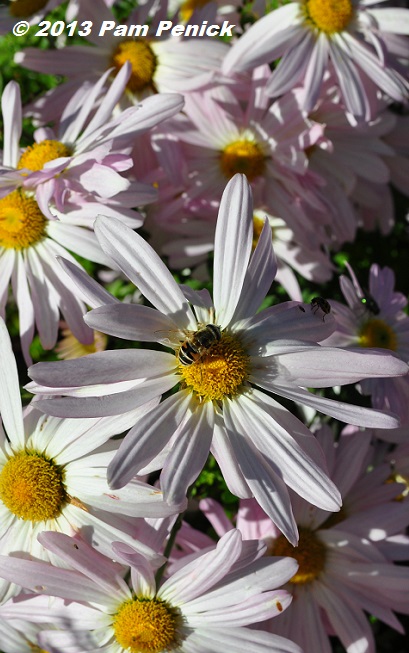 I was captivated, and so were the bees.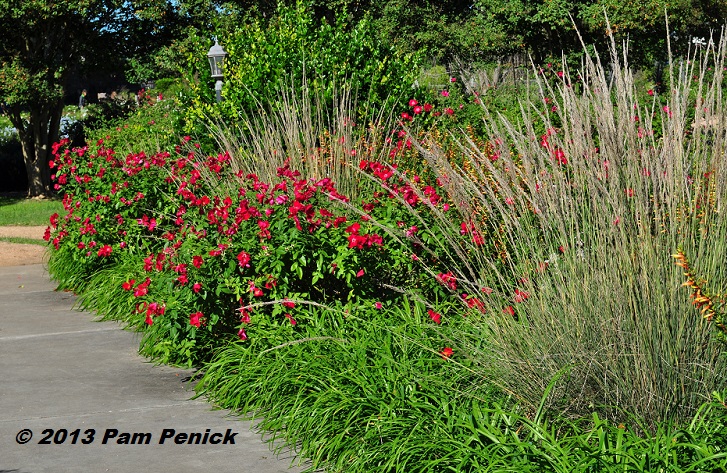 Of course roses aplenty were blooming too, like these bodacious crimson ones. (Don't ask me for any rose IDs; I didn't write down a single one.) In ARE's display gardens, roses grow in mixed borders like this, rubbing elbows with native Lindheimer muhly and flowering perennials. You won't find boring rows of thorny sticks with unreal looking, chemically sprayed blossoms. These are tough, old cemetery roses, shrub roses, and antique roses that can survive with little attention in the garden, if given plenty of sunshine and reasonably friable soil. If you don't like traditional rose gardens, come see how they're meant to be grown. And if you think you don't like roses, ARE's gardens will convince you otherwise.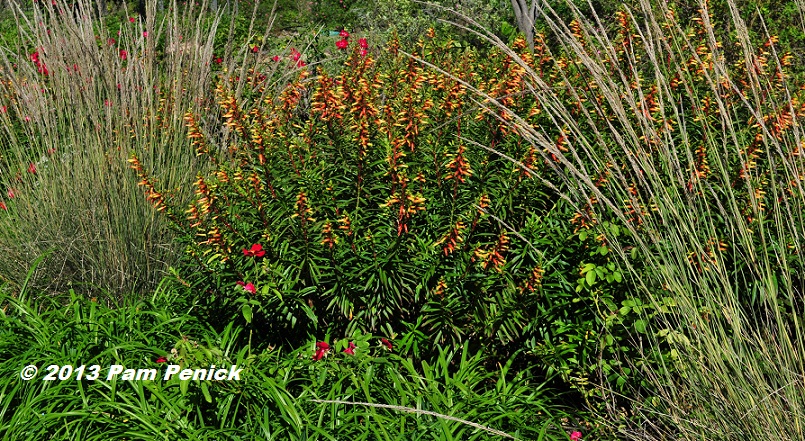 Cuphea micropetala mingling with Lindheimer muhly, a pretty combo for autumn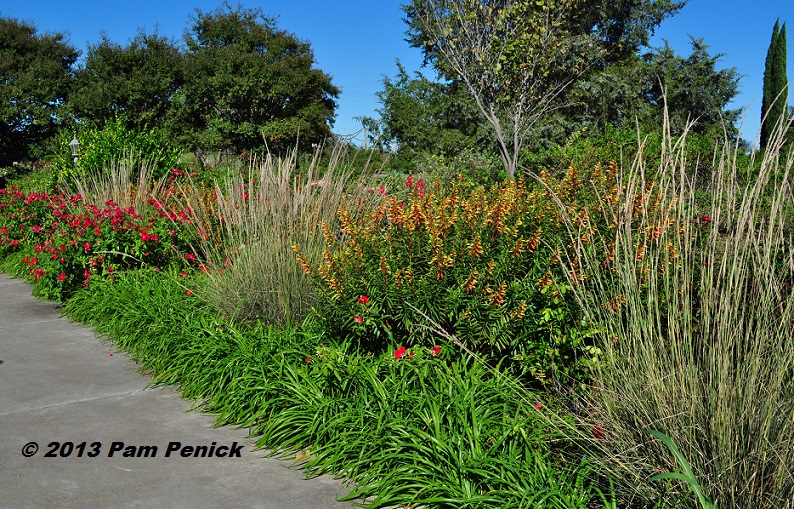 And a wider shot, with the red roses adding more warmth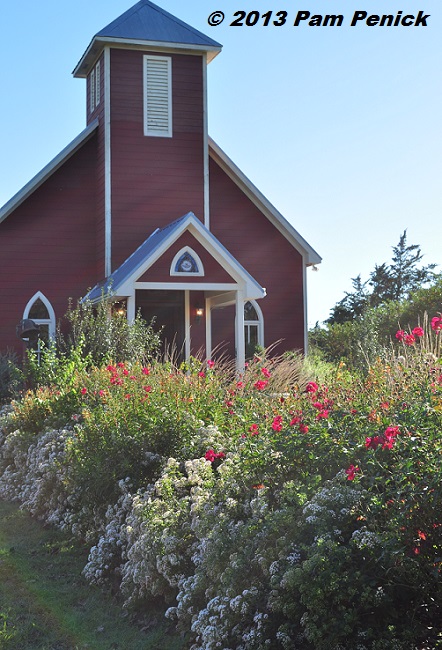 On the outside of this border, native white mistflower, also known as shrubby white boneset (Ageratina havanensis), was a froth of spicy-scented, ivory flowers.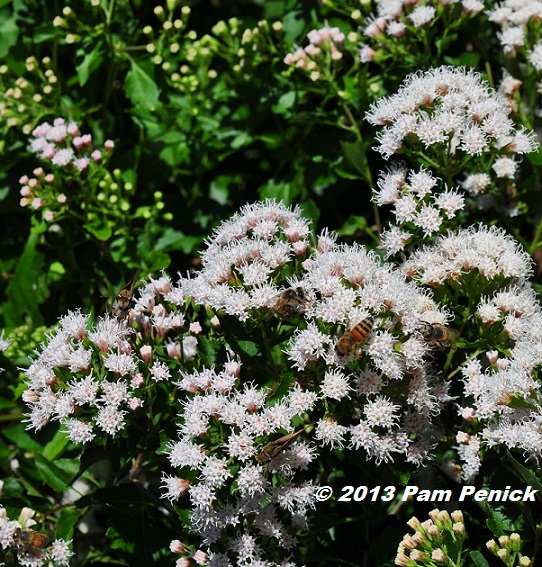 Clouds of skippers and other butterflies and bees flitted around the blossoms like the paparazzi around Kim Kardashian.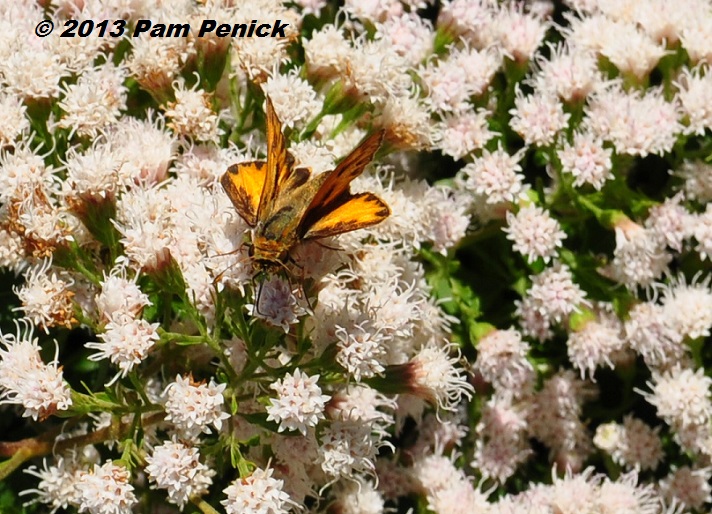 These guys are fast, but I finally sneaked in close enough for a photo of a skittish skipper.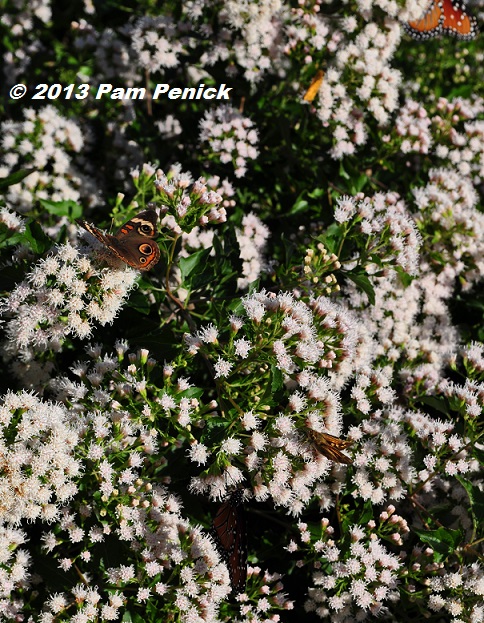 I wish my blog had smell-o-vision. White mistflower in bloom smells like autumn to me.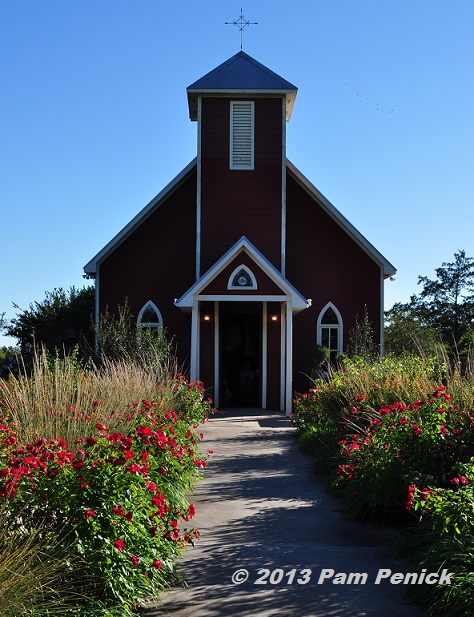 ARE is located in the scenic, gently rolling countryside of east-central Texas, and the grounds cover several acres. Part of the display gardens' charm comes from several rescued old buildings that have been converted into gift shops and galleries (more pictures of these in upcoming posts). This old red chapel is where garden talks are held.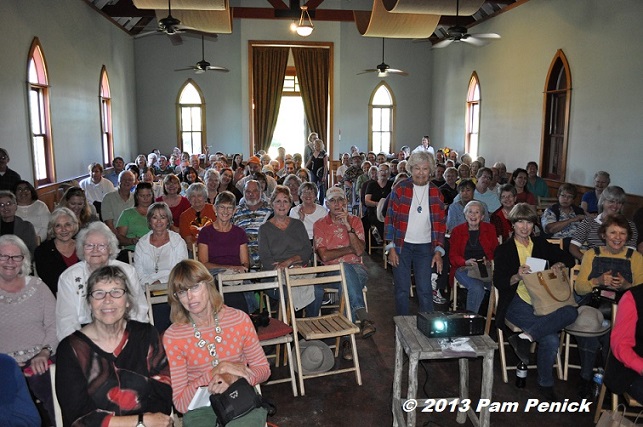 Inside there was a full house to hear my Lawn Gone! talk. They were such good sports about being blogged about, and even said Cheese! when I pulled out my camera. After my talk I signed books and chatted with folks about their own lawn-removal adventures. Fun!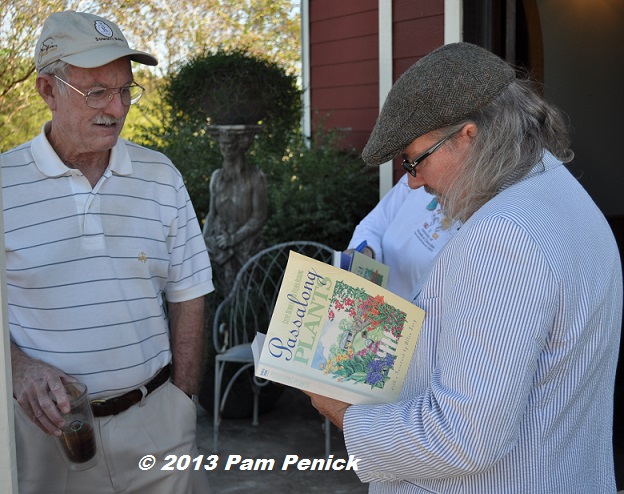 I wasn't the only speaker on Saturday afternoon. Gardening humorist Felder Rushing was on hand to sign his books and give the final talk of the day.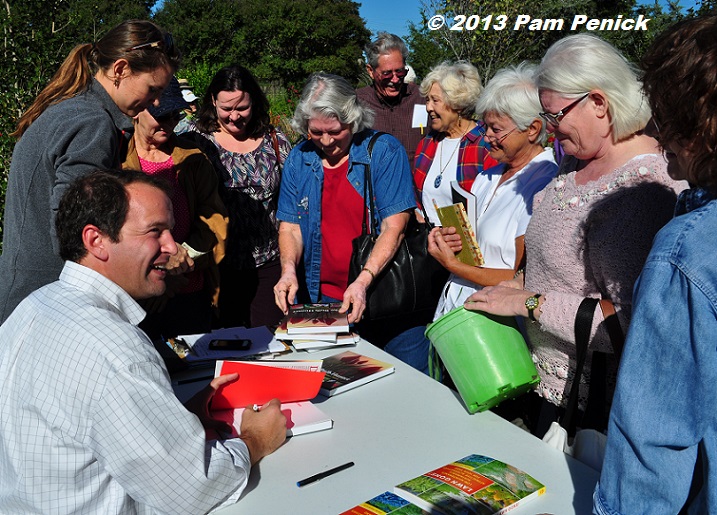 And Chris Wiesinger, "The Bulb Hunter" of Southern Bulb Co., was there to speak about his adventures in collecting bulbs from old homesteads and sign copies of his new book. It was so nice to meet both Chris and his wife, Rebecca, who was rocking a fabulous pair of cowboy boots (wish I'd gotten a picture!).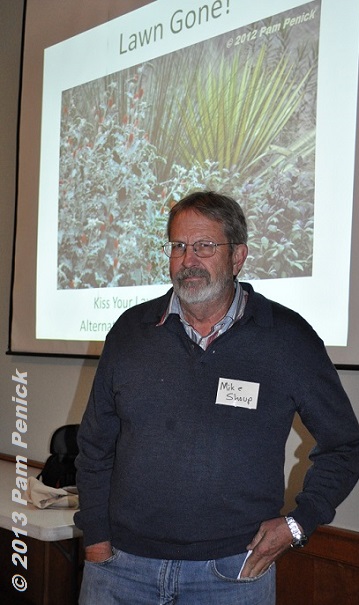 Huge thanks to owner Mike Shoup for inviting me to speak at the Antique Rose Emporium, and to everyone who came out for my talk and/or bought a copy of Lawn Gone! Hearing from some of you about your own lawn-gone efforts is inspirational to me, and good luck to those of you who are just starting a new garden in place of lawn. The gardens at ARE provide plenty of inspiration in that regard. I'll have more pictures from my visit in the next couple of posts, with lots of gorgeous fall blooms. Stay tuned!'
Update: Click here for my post about ARE's Beatrix Potter garden, bottle trees & cottage charm.
All material © 2006-2013 by Pam Penick for Digging. Unauthorized reproduction prohibited.