November 3rd, 2013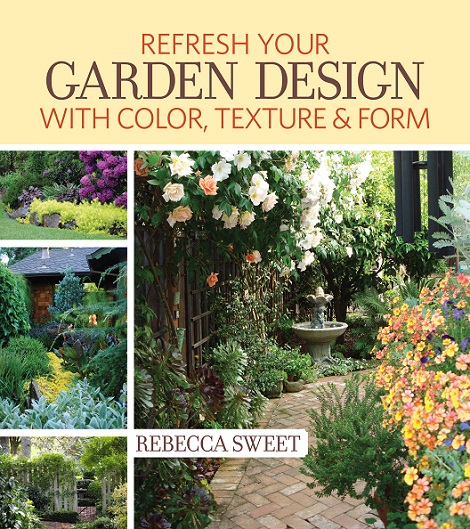 I'm delighted to be part of my friend Rebecca Sweet's virtual book-release party for her new baby, Refresh Your Garden Design with Color, Texture & Form. Six other garden bloggers and I are hosting 7 great giveaways this week, all related to Rebecca's theme of refreshing your garden.
I want to tell you two things up-front: 1. I haven't read Rebecca's book yet, although I've paged through an online version that her publisher was able to make available pre-release. 2. I'm putting my money where my mouth is and have ordered my own copy from Amazon. Why? Because Rebecca is a talented designer and garden stylist, and she has a gift for explaining how to achieve certain design effects, both through her clear and gently humorous writing style and through her inspiring photographs. I always look forward to Rebecca's design-related posts at her blog, Gossip in the Garden, and her co-authored book Garden Up! is an excellent read as well.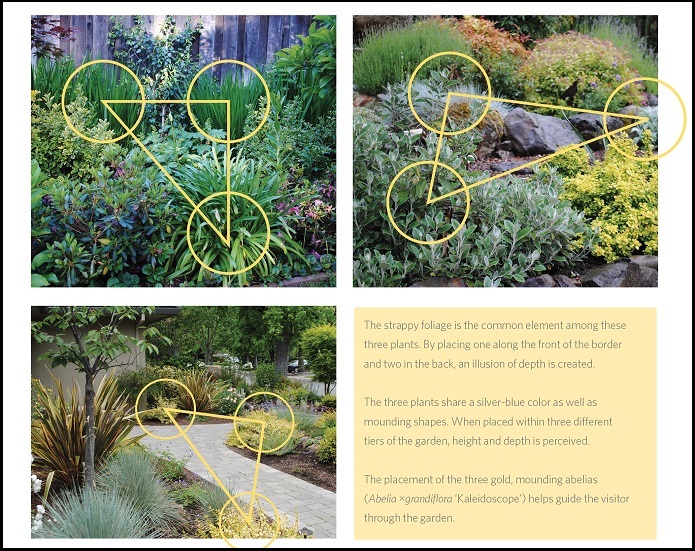 Refresh Your Garden Design, Rebecca's first solo book, is for you if your garden doesn't look quite the way you envisioned, or if your garden has somehow lost its sparkle over time, whether due to age, lack of attention, or any of the many reasons why our gardens no longer please us. She offers strategies for seeing your garden with fresh eyes, figuring out what's not working and why, and then taking simple steps to freshen it up, perhaps by grouping plants differently, adding a new plant for contrast or harmony, making a focal point to direct the eye, and so on.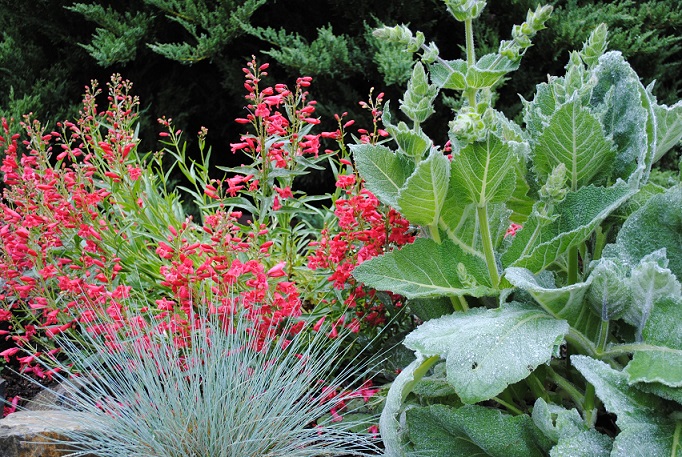 She breaks down design elements into three parts and devotes a section of the book to each: Color — for example, mixing warm and cool colors, as in this photo…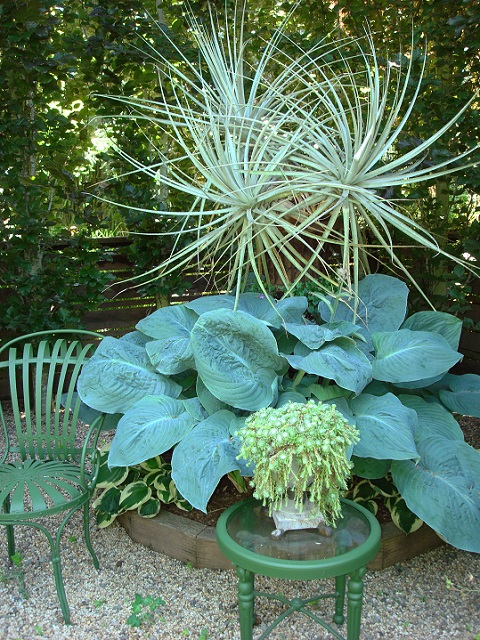 …Form — perhaps going bold with a tapestry of strong shapes…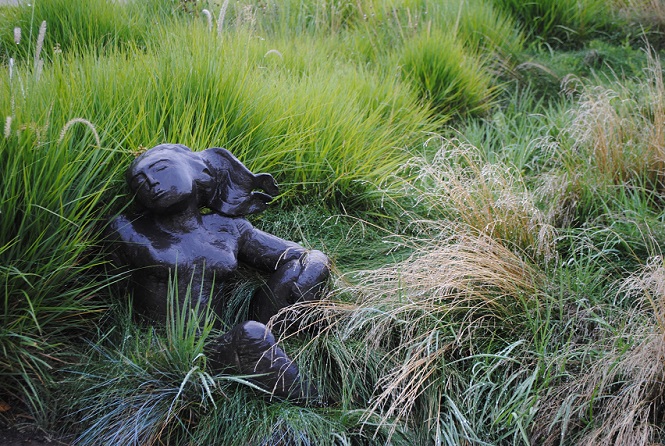 …and Texture — perfectly illustrated here by a soft-textured mass of grasses.
From my quick glance through the book, I noticed that many of the photos appear to be of mild-climate West Coast gardens, the region in which Rebecca lives and works. I now know from personal experience just how hard it is to fill a book with pictures from all over our vast country when you're providing the majority of the photos yourself; after all, one tends to visit and photograph gardens close to home. That need not discourage readers from other regions, however. The key to reading any general-interest gardening book is to use the pictures as inspiration, choosing plants appropriate to your own region that can provide similar effects. And as it happens, that's what Rebecca's book is all about: teaching design ideas that you can use in your own garden, wherever you live.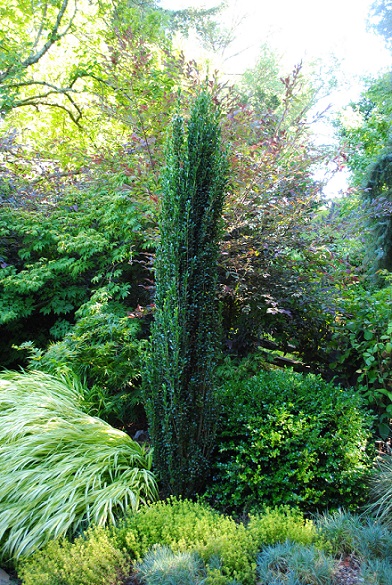 On top of that, her photos are gorgeous, and for me half the pleasure of a gardening book is being inspired by the images.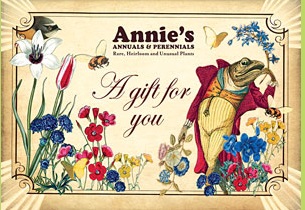 GIVEAWAY
And now, on to the giveaway! All seven of the prizes for Rebecca's book party are designed to help you refresh your own garden. I'm pleased to offer a $50 gift certificate to Annie's Annuals & Perennials. Annie's specializes in rare and unusual plants as well as cottage garden heirlooms and wildflowers — and they'll ship plants to you, so no worries if you don't live nearby. Regular readers may remember that I visited Annie's while I was in San Francisco last June; click for pictures of this fun plant-lover's nursery. (I also visited Rebecca's personal garden on that trip. One word: beautiful!) And be sure to leave a comment on this post to be entered for your chance to win!
This giveaway runs through Sunday, November 10, at 11:59 pm, and I'll announce the winner here on Monday the 11th. Please note that because of shipping costs, this giveaway is restricted to residents of the continental U.S. Check back next Monday to see if you won.
WE HAVE A WINNER!
Update 11/11/13: Congratulations to Deborah, who commented on 11/3 — you're the winner! I'll send you an email confirmation, Deborah.
Don't forget to visit the other 6 participating bloggers and enter their giveaways too. Just follow the links below, and leave a comment on each blog's giveaway post to enter:
All photos courtesy of Rebecca Sweet
All material © 2006-2013 by Pam Penick for Digging. Unauthorized reproduction prohibited.