October 16th, 2013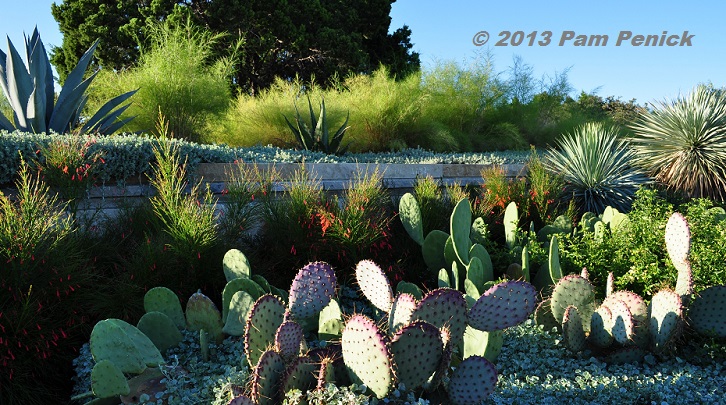 Billowy, chartreuse clouds of bamboo muhly (Muhlenbergia dumosa), shimmering balls of Yucca rostrata, Mickey Mouse-eared prickly pears, feathery firecracker fern (Russelia equisetiformis), and a silver carpet of ponyfoot (Dichondra argentea): could you ask for a more striking, drought-tolerant garden for a full-sun, fast-draining site in central Texas?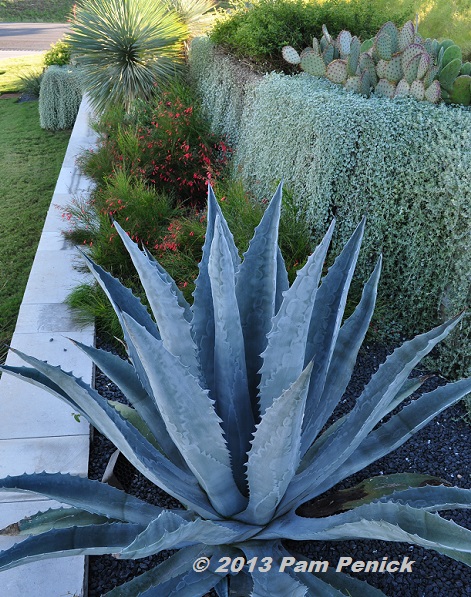 Believe it or not, this is the entry garden for the Serene Hills neighborhood in Lakeway, just west of Austin. Designed by Curt Arnette of Sitio Design, the plant combos are ripe for emulation by any central Texan with a hot, sunny, rocky slope where traditional lawn grass fails to thrive.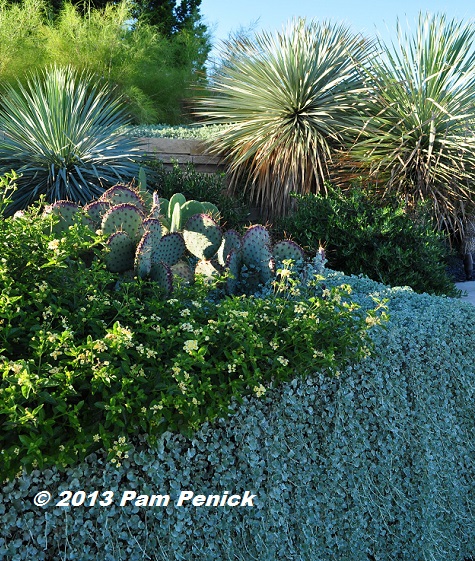 Aside from summer color provided by the firecracker fern, a creamy yellow lantana, and red yucca (below), all the color and interest in this bed comes from foliage.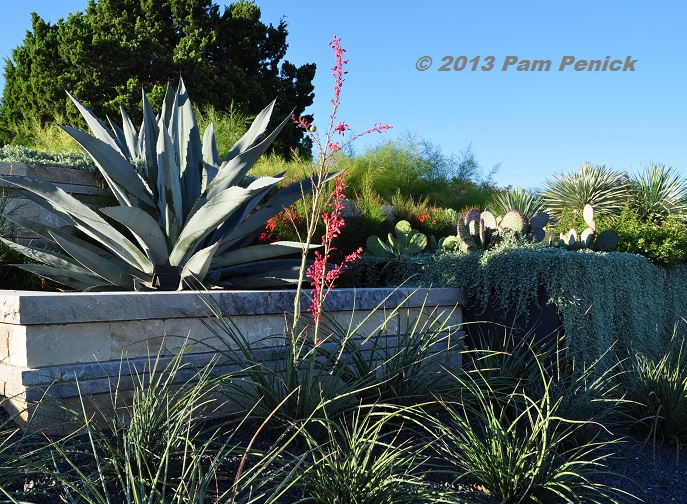 Spiky or feathery, stiff-leaved or cascading, blue-green, olive-green, chartreuse, or silver — leaves are the show-stoppers here.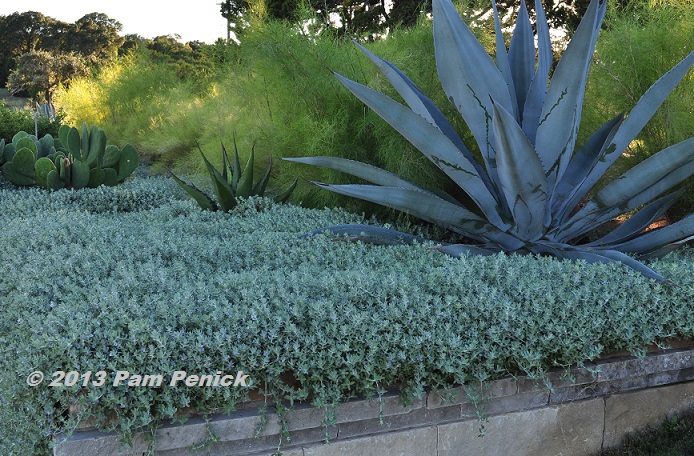 One of my favorite vignettes is also one of the simplest: Agave (americana?), 'Green Goblet' agave, and spineless prickly pear (Opuntia), backed by bamboo muhly (Muhlenbergia dumosa) and underplanted with woolly stemodia (Stemodia lanata).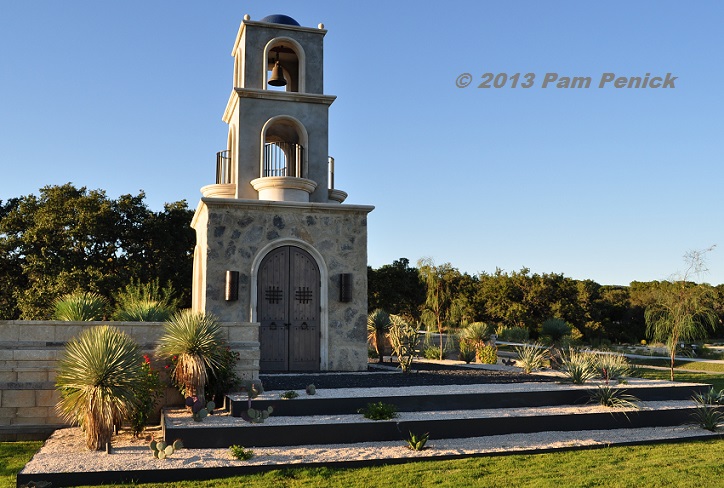 Curt also designed this contemporary re-imagining of a mission bell tower, a focal point along the neighborhood's main drive. Broad, terraced steps edged with Corten steel and paved in pale gravel are punctuated by a desert-style landscape of Yucca rostrata, red yucca, cholla, and prickly pear — all foliage plants with bold forms and extremely low water needs.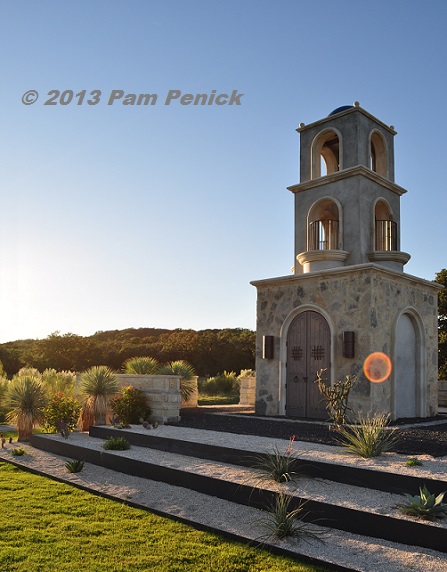 Another view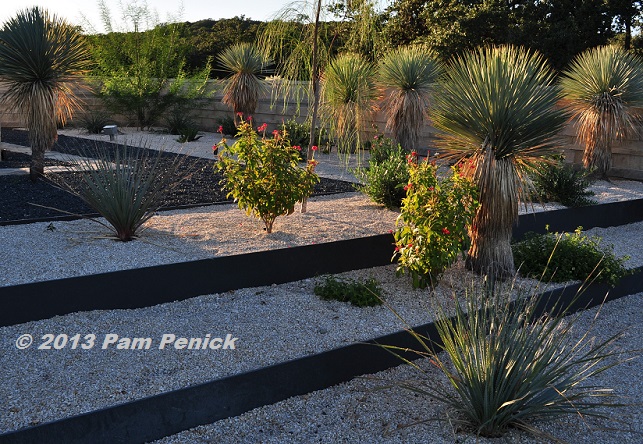 Annual spicy jatropha (Jatropha integerrima 'Compacta') and perennial lantana offer spots of seasonal color, but they can't eclipse the shimmering yucca heads as they catch the last light of sunset.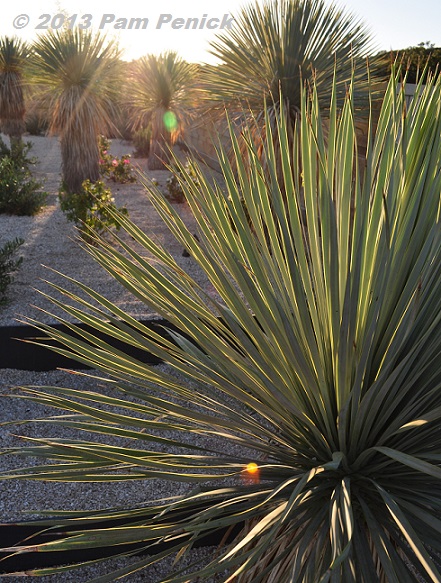 Gotta love that fab foliage!
Please join me in posting about your lovely leaves of October for Foliage Follow-Up, a way to remind ourselves of the importance of foliage in the garden on the day after Bloom Day. Leave your link to your Foliage Follow-Up post in a comment. I really appreciate it if you'll also include a link to this post in your own post (sharing link love!). If you can't post so soon after Bloom Day, no worries. Just leave your link when you get to it.
All material © 2006-2013 by Pam Penick for Digging. Unauthorized reproduction prohibited.
posted in
Agaves
,
Cactus
,
Drive-By Gardens
,
Foliage Follow-Up
,
Garden structures
,
Grasses
,
Groundcovers
,
Succulents
,
Texas natives
,
Walls
,
Xeric plants
,
Yuccas