October 10th, 2013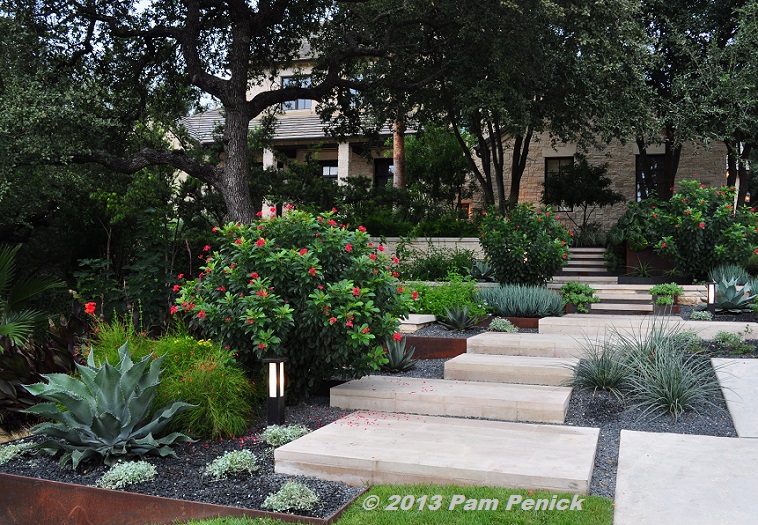 When you follow your same route day after day, it's easy to miss out on some cool gardens in your hometown. Garden tours will introduce you to some. Taking photos for a friend's design portfolio will introduce you to some very nice ones too.
I had the pleasure of visiting this striking garden in Austin's upscale Westlake neighborhood last week with the designer, landscape architect Curt Arnette of Sitio Design. You may remember that I've blogged about Curt's personal garden as well as the Bonnell Drive Garden that he designed.
This house, he told me, was originally hedged off from the street by a line of shrubs close to the house. The owner wanted to open it up and make it more inviting without sacrificing privacy. So Curt designed a cascading, meandering series of steps of creamy Lueders limestone that leads halfway down the front yard toward the street.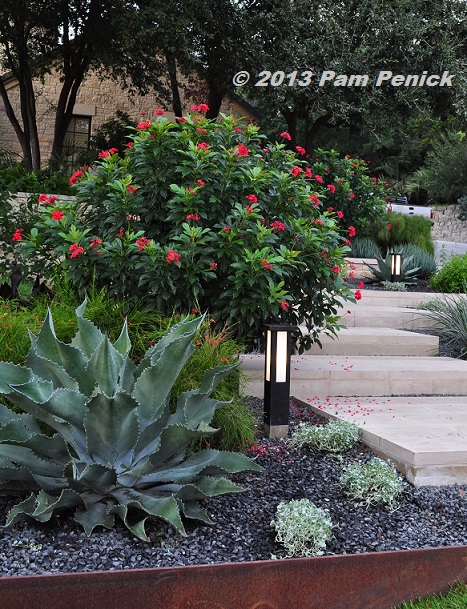 Corten steel-edged beds, mulched with Texas Black gravel and filled with agaves, aloes, silver ponyfoot, and flowering perennials, soften the paving and make the white path glow in contrast. Here is 'Mr. Ripple' agave, silver ponyfoot, firecracker fern, and something I'd never seen before — spicy jatropha (Jatropha integerrima 'Compacta'), which is likely an annual for Austin but perennial in South Texas.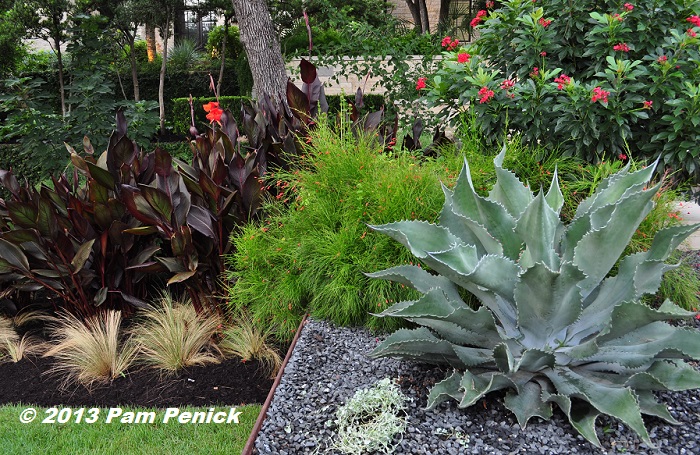 Looking left you see bronze canna paired with Mexican feathergrass, with firecracker fern and spicy jatropha adding more red.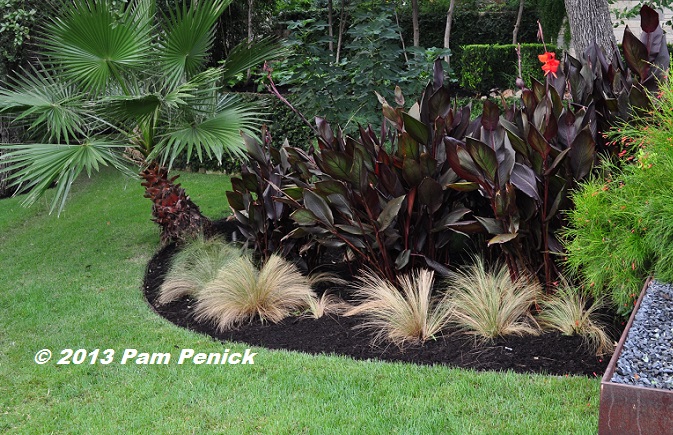 There's a palm in there too.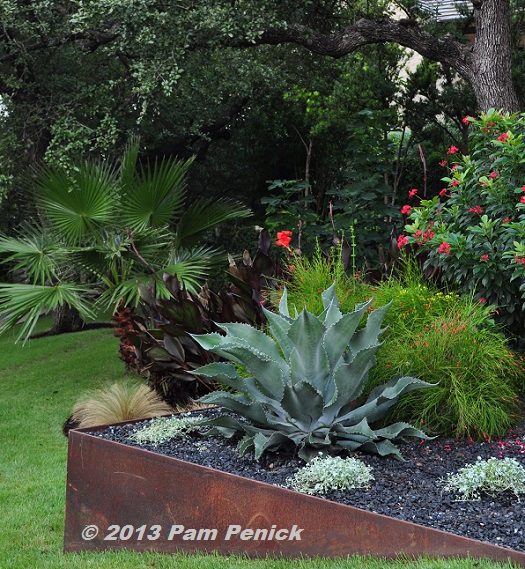 How do you like that Corten retaining wall? Like the prow of an ocean liner cutting through the sea. I love it.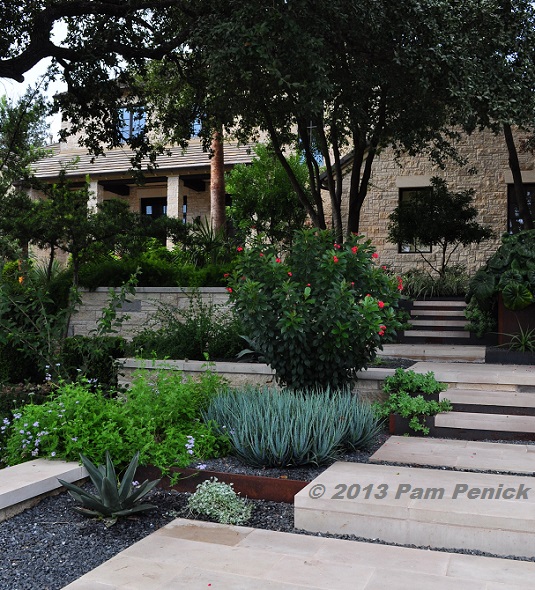 Heading up the steps…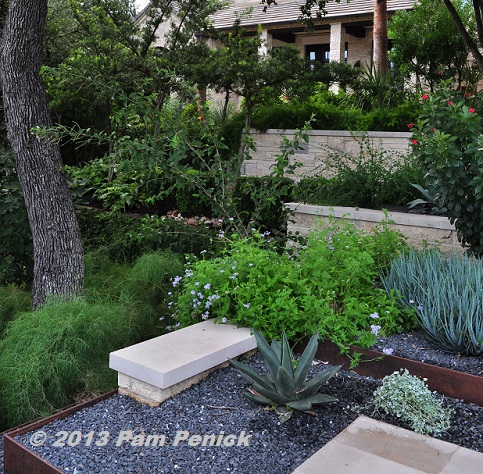 …you see a 'Sharkskin' agave anchoring another tiered bed, with what looks like blue mistflower and 'Blue Elf' aloe behind it.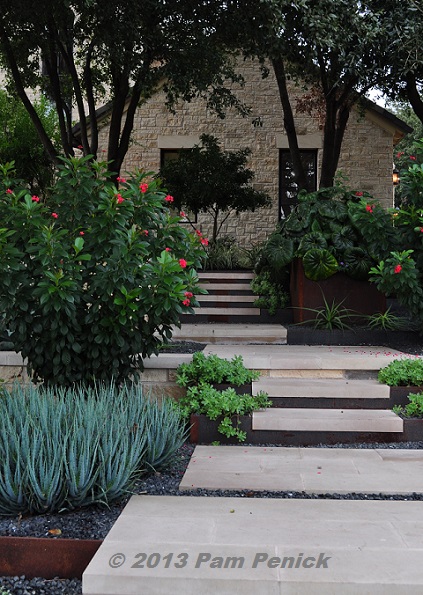 Powder-blue 'Blue Elf' aloe and red-hot spicy jatropha — yum! Ahead on the right, a raised planter of Corten steel holds…

…the shiny, round leaves of ligularia. A matched set of squid agave grows at the planter's base.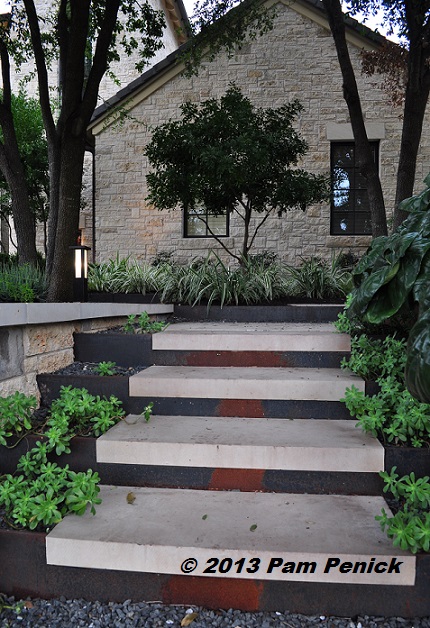 Near the top, a short flight of stairs leads…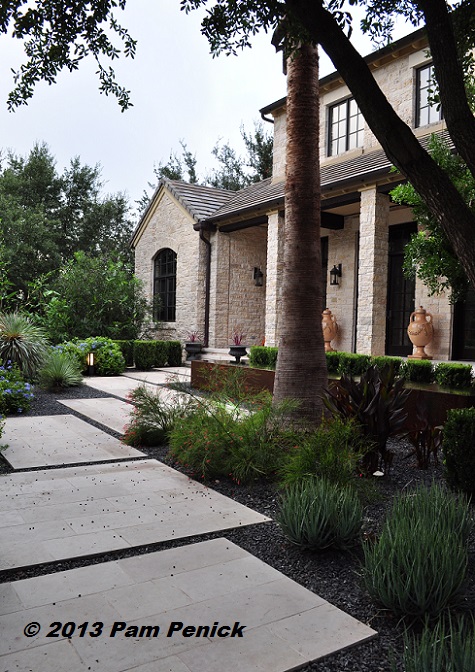 …to a Lueders limestone-paved "courtyard" — essentially a widening of the walk that creates an open, inviting place to pause at house level.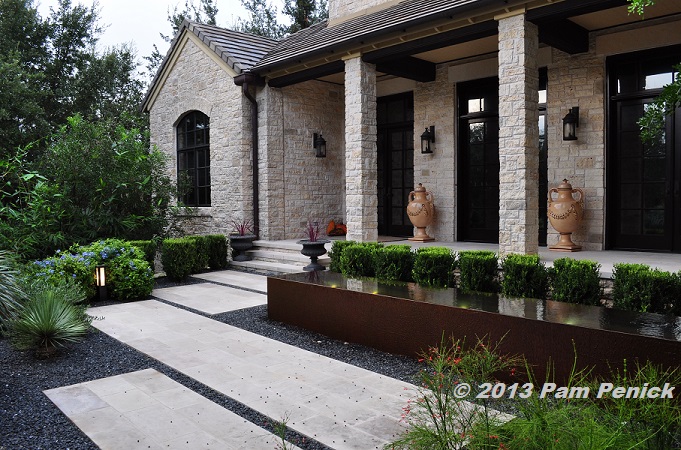 It's a bit more formal here, with a clipped line of boxwood along the foundation and a long, mirror-like water feature made of Corten.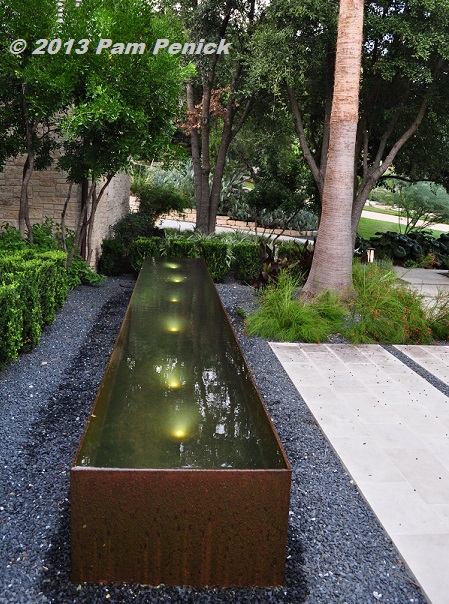 Lights illuminate this striking focal point. I believe Curt said the palm tree — the pale trunk to the right of the raised pond — is the only plant that survived the redo. Well, and the live oaks, of course.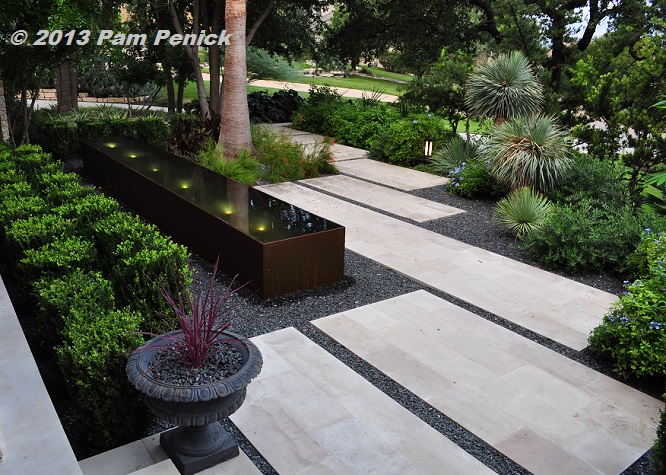 The view from the front porch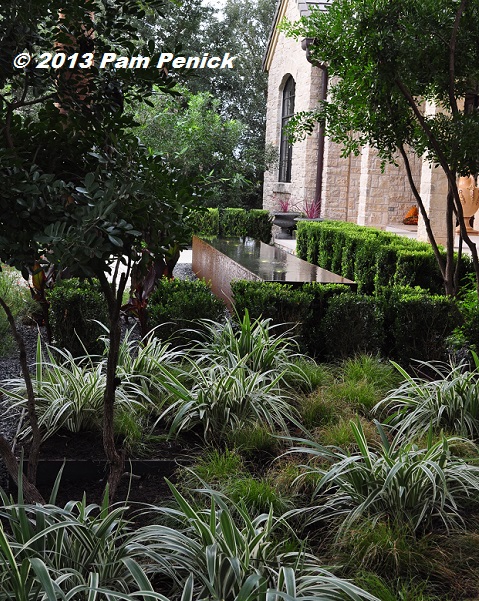 A side path of Lueders pavers cuts through a shady space under a cluster of live oaks and leads to the driveway. You get a glimpse of the raised pond and courtyard garden from here. That's variegated flax lily mingling with Berkeley sedge in the foreground.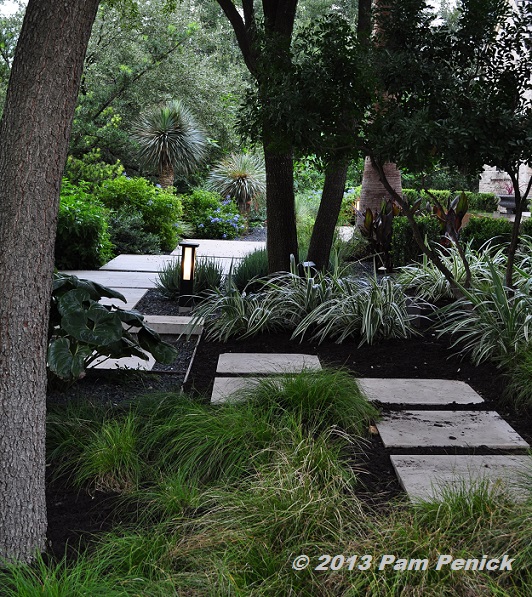 Another angle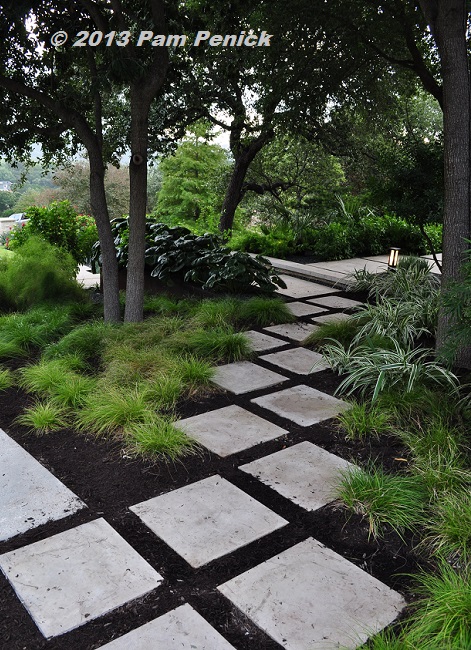 I love this — diagonal pavers through a shade garden planted simply with Berkeley sedge and variegated flax lily.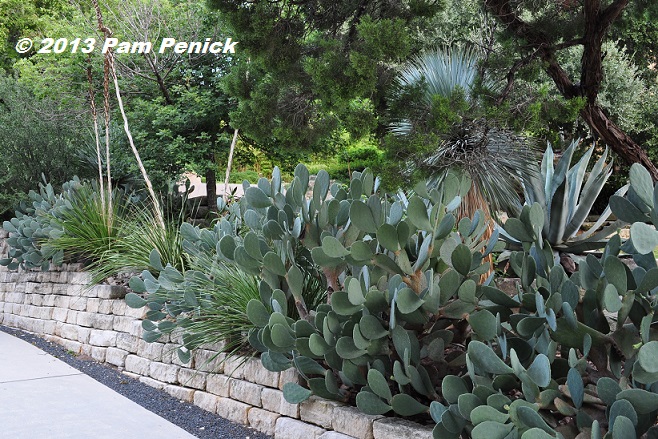 I don't know if this is part of Curt's design or not — the owner is a gardener who also has extensive beds in the back yard — but I like the drama of it. A thicket of spineless prickly pear, sotols, and Yucca rostrata line the top of a retaining wall along the driveway, giving privacy from the house next door but requiring little care and probably no supplemental water.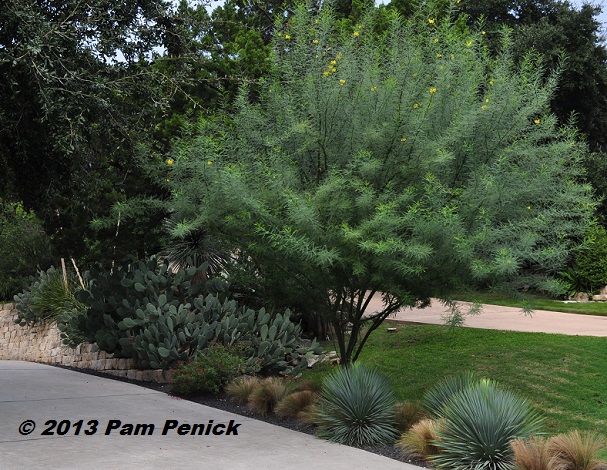 A yellow-flowering retama adds height and light shade at the base of the wall, with Mexican feathergrass and Yucca rostrata at its feet.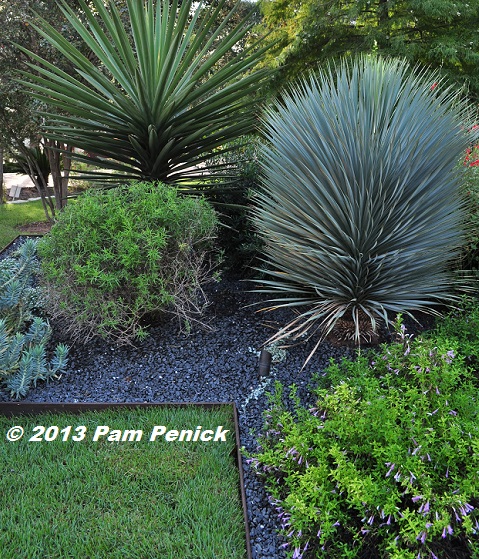 Near the street, an L-shaped bed edged in Corten is showy with tall yuccas, Mexican oregano, gopher plant, and other xeric perennials.

What a beautiful garden, with expertly crafted hardscaping set off perfectly with water-thrifty and architectural succulents accented with tough, flowering perennials.
All material © 2006-2013 by Pam Penick for Digging. Unauthorized reproduction prohibited.
posted in
Agaves
,
Aloes
,
Design
,
Fountains
,
Garden tours 2013
,
Grasses
,
Groundcovers
,
Lawn Gone!
,
Palms/Cycads
,
Paths
,
Patios & decks
,
Succulents
,
Trees
,
Walls
,
Water features
,
Xeric plants
,
Yuccas