September 5th, 2013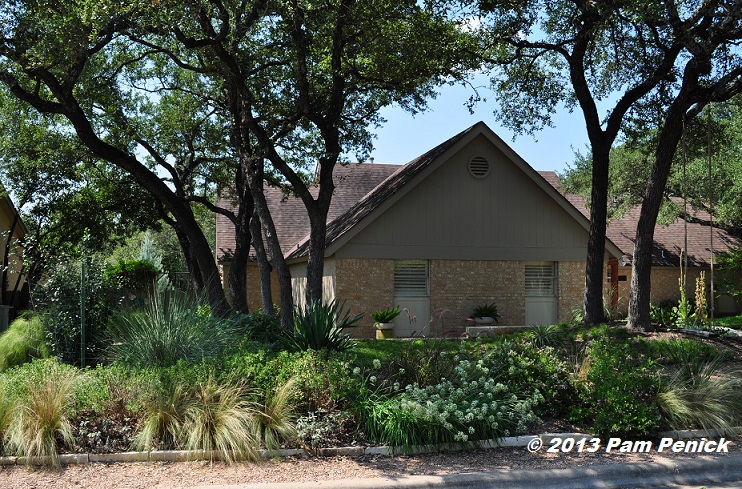 Jumping on board a few days late with Heather's new meme at Xericstyle — "Wide Shot," for posting on the first of the month — I went out at high noon to take a few wide-angle snaps of the front garden. Although midday is not the best time of day for garden images, that's when I had a free half-hour over lunch to get it done.
At top is the street view of my front garden, with flopping-over garlic chives (Allium tuberosum) providing pretty much the only blooms right now as summer crawls to an end. Repeating swaths of tawny Mexican feathergrass (Nassella tenuissima) and evergreens like Autumn sage (Salvia greggii), Texas sotol (Dasylirion texana), Mexican oregano (Poliomintha longiflora), and purple sage (Salvia officinalis) keep it interesting even during the dog days of drought and heat. Solitary accents like softleaf yucca (Y. recurvifolia), possumhaw holly (Ilex decidua), and 'Pink Flamingos' muhly grass add additional interest. Everything is tolerant of part shade, dry conditions, and our ever-present deer.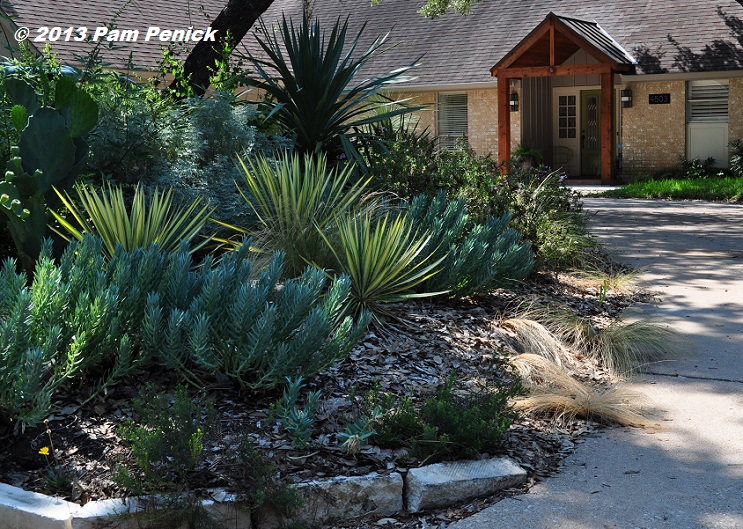 Here's the west side of the bermed island bed in the middle of the circular driveway. As you can see, the plants here must be able to handle a half day of shade as well, plus blazing hot afternoon sun. 'Color Guard' yucca is the star — and more is more, as far as I'm concerned — with gopher plant (Euphorbia rigida), damianita (Chrysactinia mexicana), Mexican feathergrass (flattened by car tires), spineless prickly pear (Opuntia), 'Powis Castle' artemisia, softleaf yucca, and Mexican oregano providing solid, textural backup.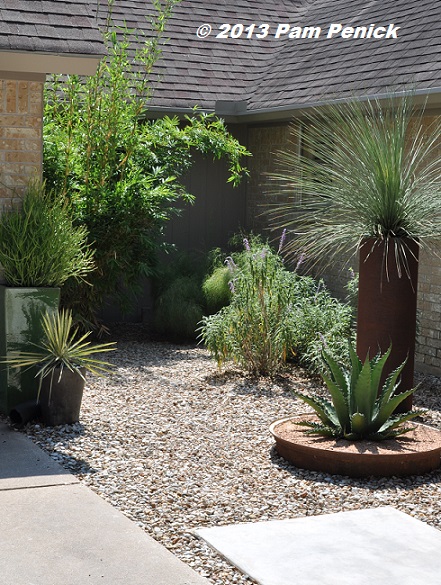 And since I haven't shown it in a while, here's the front courtyard garden, tucked between garage and house (the front door is to the right). This used to be a traditional foundation bed of evergreen shrubs fronted by crispy lawn grass. Now it's a gravel garden with fun specimen plants: 'Alphonse Karr' clumping bamboo, bamboo muhly (Muhlenbergia dumosa), slightly crispy Mexican bush sage (Salvia leucantha), toothless sotol (Dasylirion longissimum) in the tall pipe, and 'Jaws' agave in the low metal ring, with 'Sticks on Fire' euphorbia and 'Color Guard' yucca in pots at the corner. Easy and super drought tolerant except for the Salvia leucantha, which just isn't holding up in this location. It may have to go. But I'll wait until after its fall bloom.
Check out the comments on Xericstyle's Wide Shot post for links to other gardeners' wide shots, which, unlike close-ups, offer a truer sense of a garden's layout and appearance.
All material © 2006-2013 by Pam Penick for Digging. Unauthorized reproduction prohibited.
posted in
2nd garden--2013
,
Agaves
,
Bamboo
,
Containers
,
Grasses
,
Lawn Gone!
,
Succulents
,
Texas natives
,
Trees
,
Xeric plants
,
Yuccas