August 20th, 2013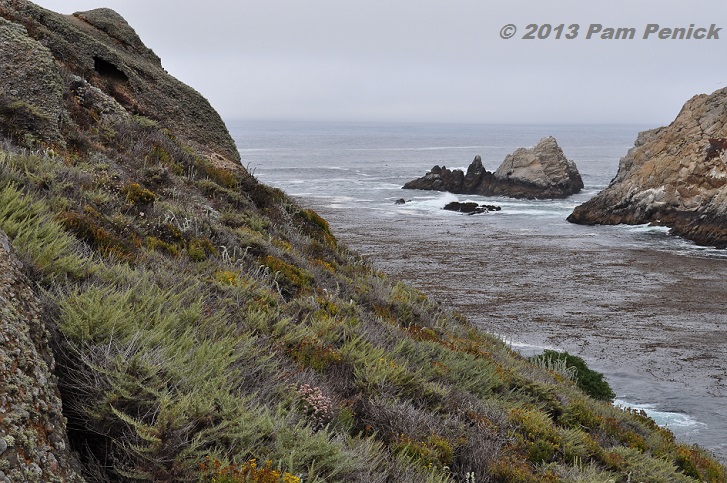 Northern California is home not only to one of the most beautiful cities in the world but also to breathtaking natural scenery. During our family vacation in San Francisco in early July, following the Garden Bloggers Fling, we rented a car on two occasions in order to cruise the scenic coastal highway and see some of the natural areas for which the state is famous.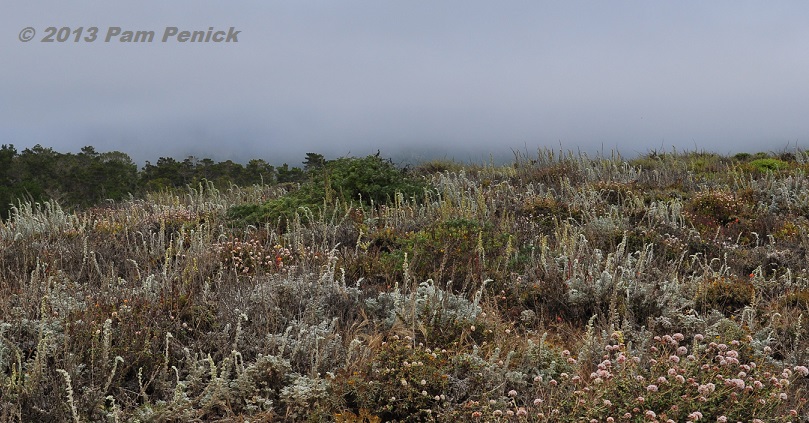 One morning we headed south to Point Lobos State Natural Reserve. Despite the name, you won't see wolves there, but you may see sea lions, or, as they're known in Spanish, lobos marinos (sea wolves). The park is treasured for not only for its spectacular views but its rich marine habitat, popular with scuba divers.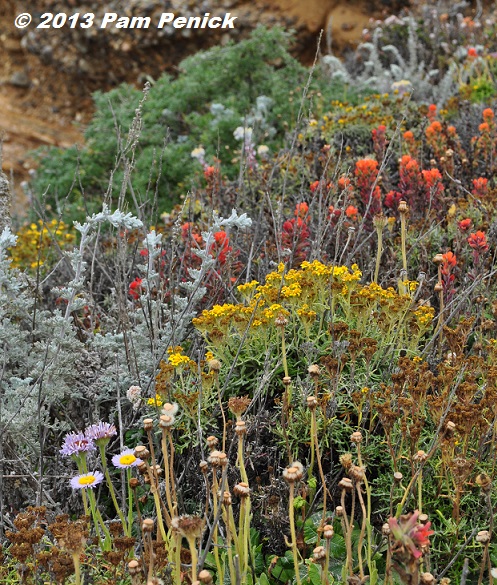 I found its wildflowers to be quite beautiful as well. Clinging to crumbling, windswept cliffs, a tapestry of ground-hugging plants painted the highlands in rich hues…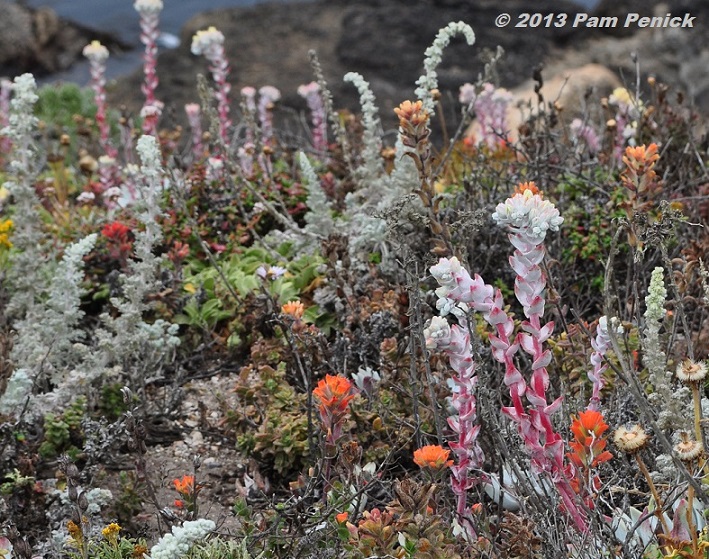 …and ghostly silvers.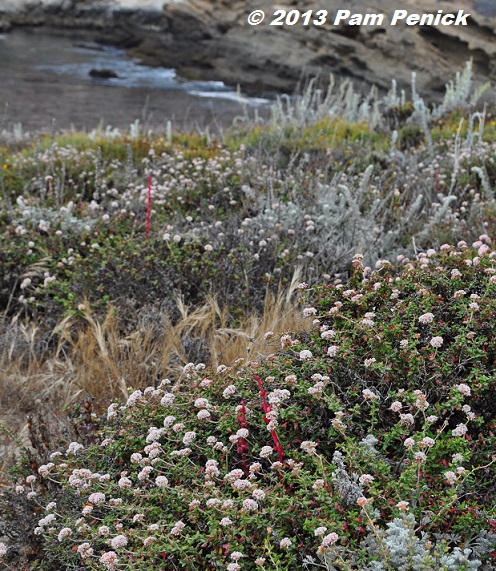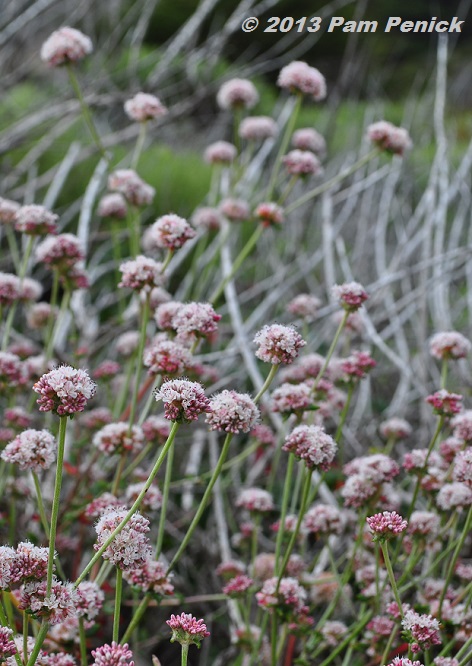 Sea cliff buckwheat (Eriogonum parvifolium)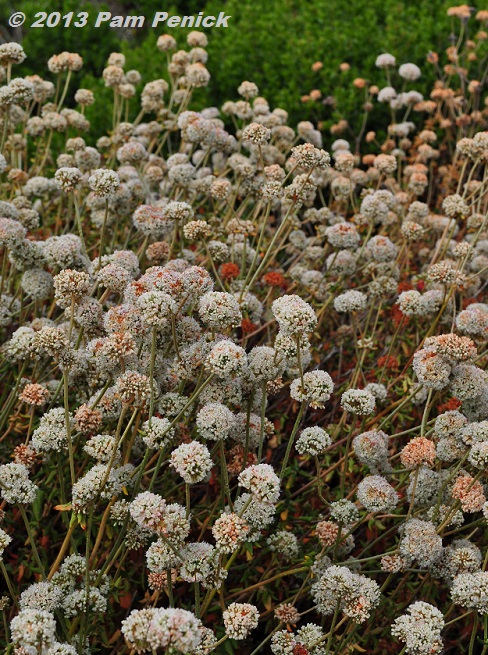 The flowers darken with age.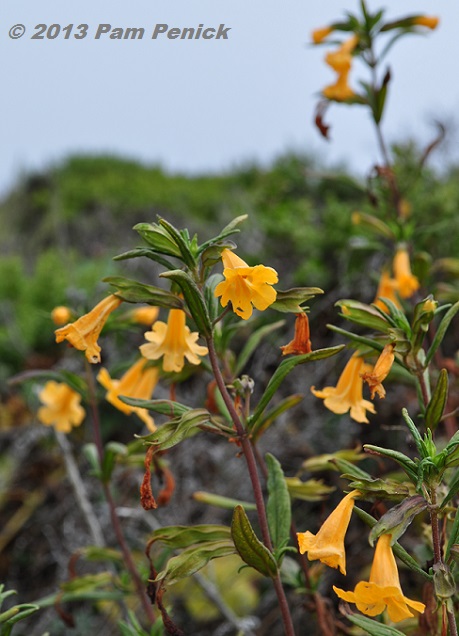 Orange bush monkeyflower (Mimulus aurantiacus), a hummingbird attractor. While I wasn't quick enough to get a photo, I did see a hummer darting among the flowers.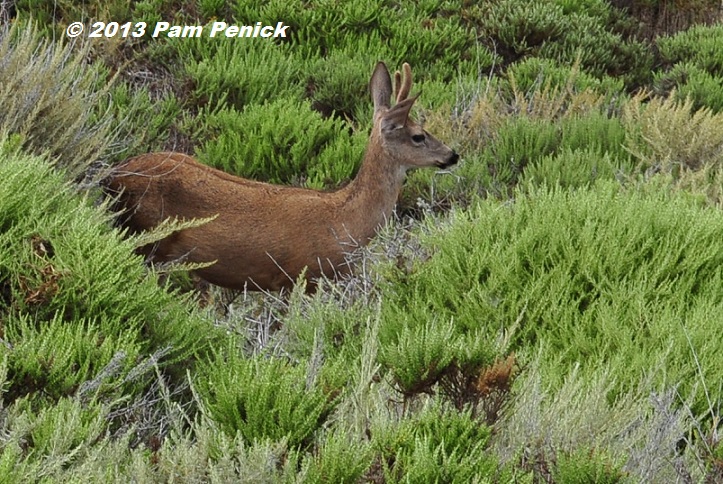 We also spotted a few deer nearly hidden in green, heathery growth along the trail back to our car.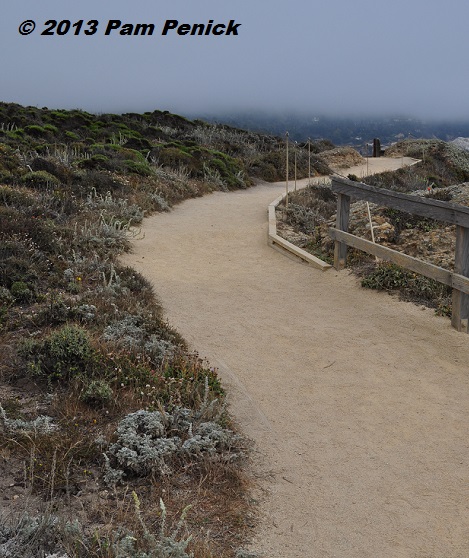 Fog settling like a blanket over the highlands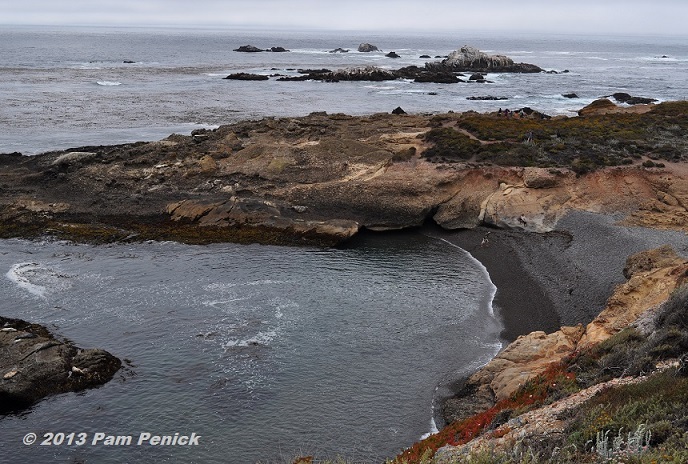 At another point in the park we hiked a rugged trail that leads down to this black-rock beach. For a sense of scale, look for the tiny figure of a man on that beach — in the middle-right of the photo.
Basking on the triangular rock at left…

…were a number of speckled seals. My daughter still enjoys calling them "rock sausages," a term we heard while whale-watching in the San Juan Islands a couple of years ago.


Also that day we spent a few hours in beautiful Monterey, pictured here, and charming Carmel-by-the-Sea. I'd love to spend an entire day in Carmel.
Another day we drove north from San Francisco, stopping wherever we fancied for a view or a stroll. I didn't take a lot of photos but just enjoyed the drive. We stopped for supper in a tiny beach town called Stinson Beach, where we ate a good meal outdoors on the deck at Parkside Cafe, bundled up in our jackets, huddling near a heater — in July! I was in heaven.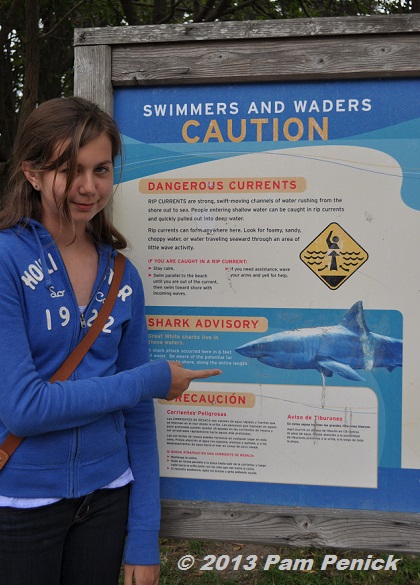 Around sunset we walked down the road to the beach, where we were suitably impressed by this sign warning swimmers of riptides and great whites.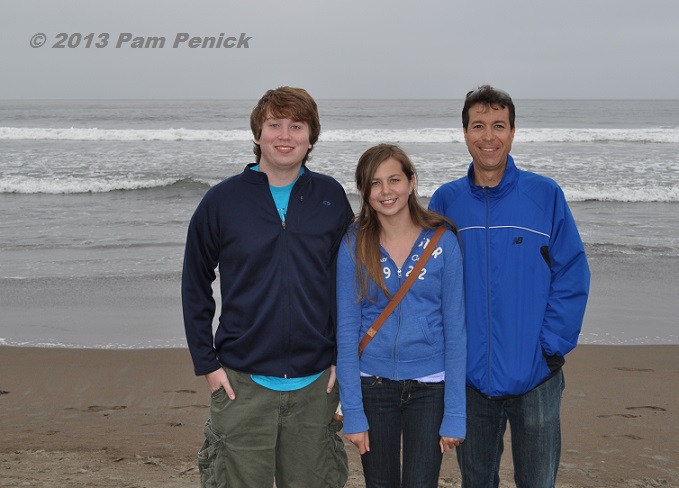 As Texans used to the bathtub temperatures of the Gulf of Mexico, we couldn't fathom why anyone would get into the chilly surf. Plenty of swimmers were playing in the water (despite that sign), but we were content to hang out on the beach. My kids and husband look so cold — in July!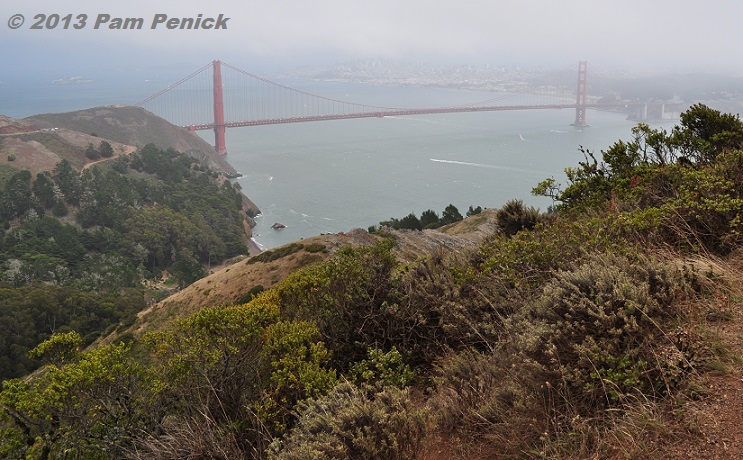 San Francisco's Golden Gate Bridge, softened by fog
So many wonderful natural areas and state parks lie just a short drive from San Francisco. I wonder how many weekends it would take a resident to see all of them. We felt fortunate to have time for two excursions, north and south of the city, but there was so much more to see. All the more reason for another Bay Area trip one day!
By the way, if you want more info and beautiful pics of the northern coast, check out my friend Meredith O'Reilly's blog Great Stems. She and her boys toured the area this summer, and her informative series of posts about their outdoor adventures will inspire you to go as well. (Under Archives on her blog's sidebar, choose July 2013 and August 2013 to find her Pacific Coast travel posts.)
That wraps up my own series of posts about my California vacation. I'm pleased to have gotten through the dullest months of an Austin summer by focusing on a cooler part of the country. But now the garlic chives are blooming, and the American beautyberry is starting to purple. I'm anticipating fall, my happiest gardening season, and it's time to turn my attention to my own garden again.
All material © 2006-2013 by Pam Penick for Digging. Unauthorized reproduction prohibited.