August 6th, 2013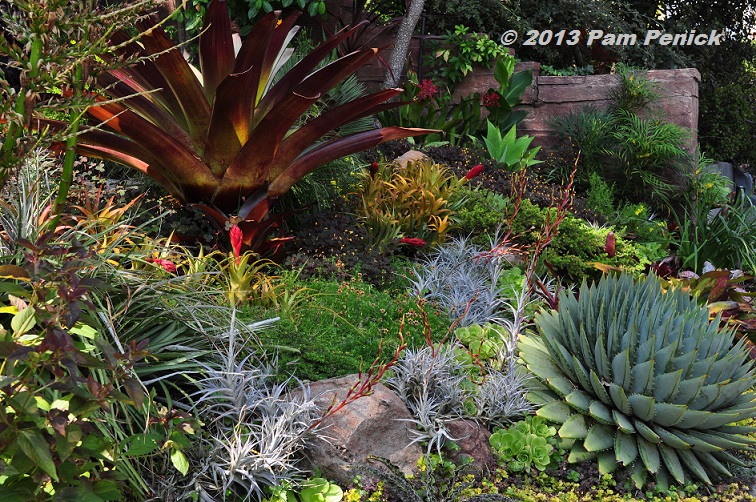 Our 4th stop on the final day of the San Francisco Garden Bloggers Fling was my absolute favorite of the Fling: the Ann Nichols Garden. Gorgeous plants, beautifully combined and meticulously maintained, adorn a series of intimate garden rooms on a hillside lot. A subtropical front garden — a tapestry of bromeliads, aloes, and various other succulents — offers a showy welcome. Lucky neighbors who get to enjoy this view every day!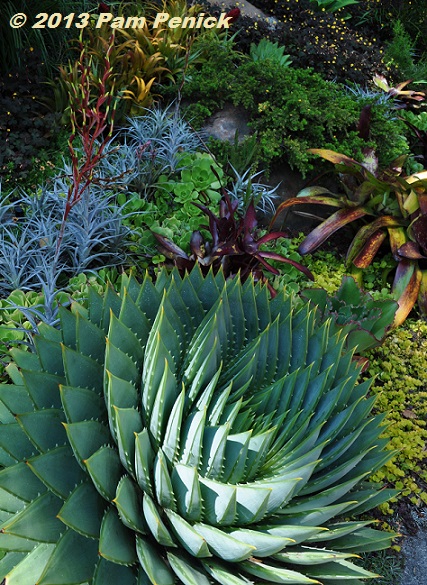 As soon as I stepped off the bus, I made a beeline for a large spiral aloe casually planted by the sidewalk. What a treasure! I covet this aloe, but this species grows best bathed in fog, in mild climates with cool summer nights — not even close to any description of an Austin summer. I was thrilled, however, to see one growing so beautifully here.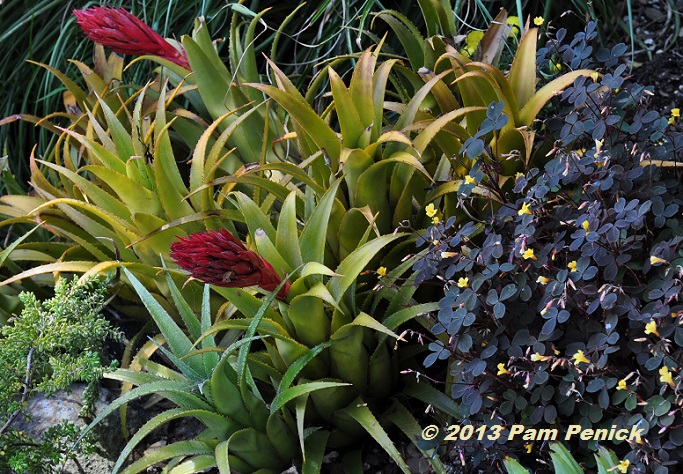 The front garden appears quite tropical, with flowering bromeliads…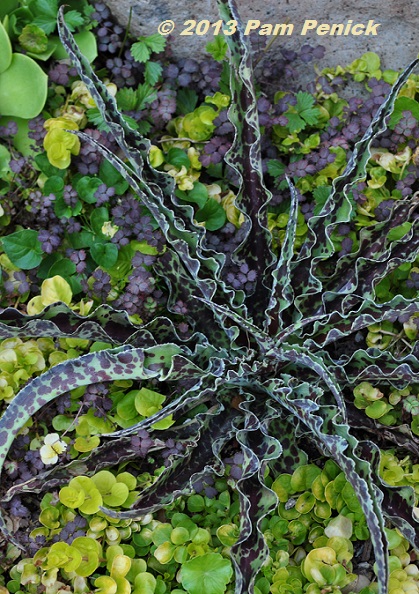 …'Chocolate Chips' manfreda…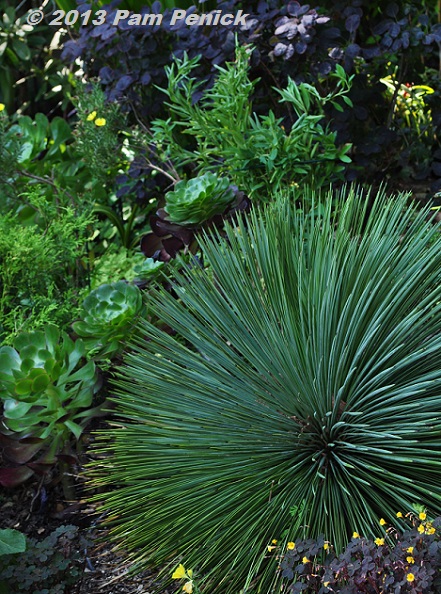 …and agaves and other succulents creating strong silhouettes, underplanted with mats of delicate groundcovers. Not an inch of bare soil is visible, and every plant looks healthy and happy, which indicates a high level of maintenance.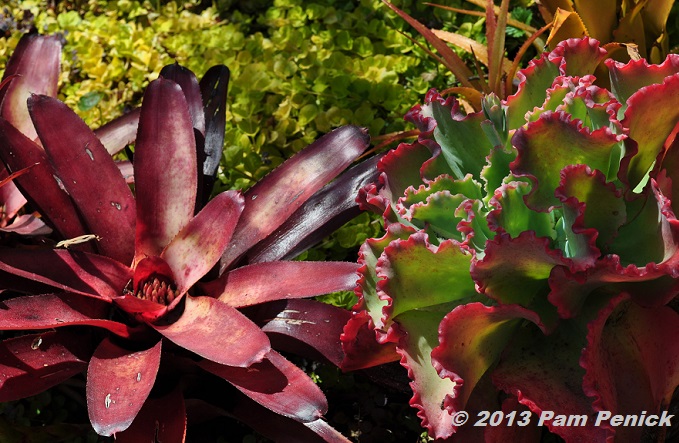 A star-shaped bromeliad and frilly kalanchoe are color-matched.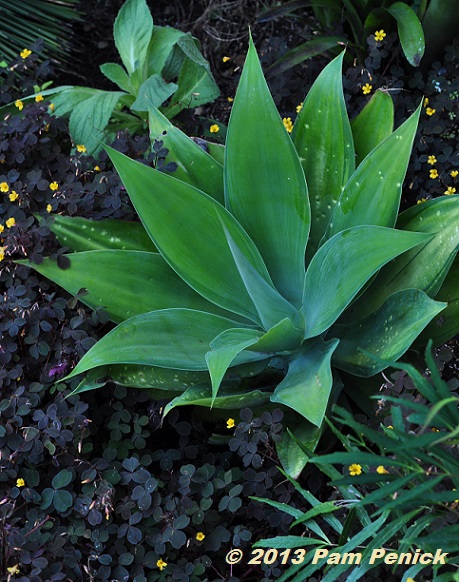 Smooth-skinned Agave attenuata contrasts with an egglant-colored oxalis.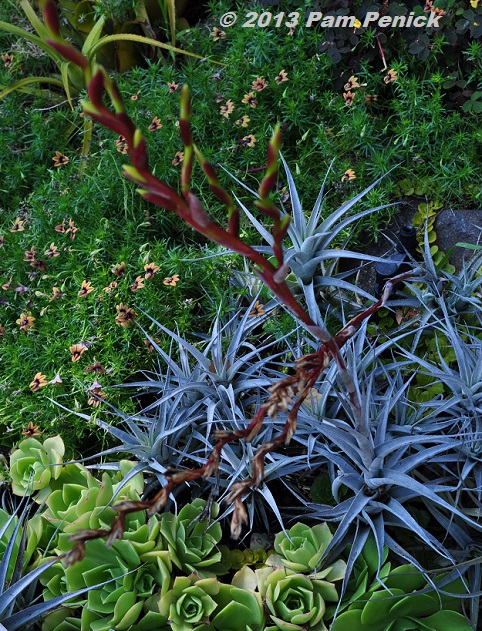 Everywhere I saw wonderful textural and color contrasts. What is the blue plant? Aloe? Dyckia? Something else? Update: It's Tillandsia albida, a terrestrial tillandsia that grows in the canyons of Hidalgo, Mexico.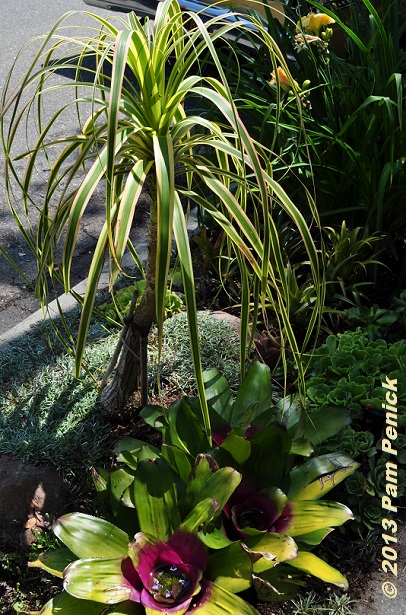 Along the street, I admired this variegated, trunking tropical — a type of ponytail palm maybe? A water-holding bromeliad picks up the yellow-green color.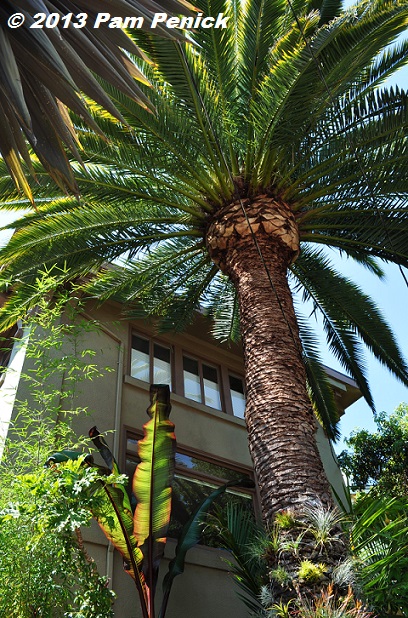 A majestic Canary date palm — all that remains of the original landscaping since the purchase of the house 30 years ago — shades the facade.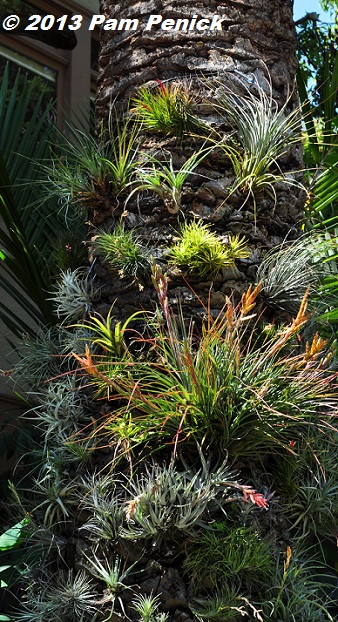 A collection of tillandias colonizes its craggy trunk — so clever!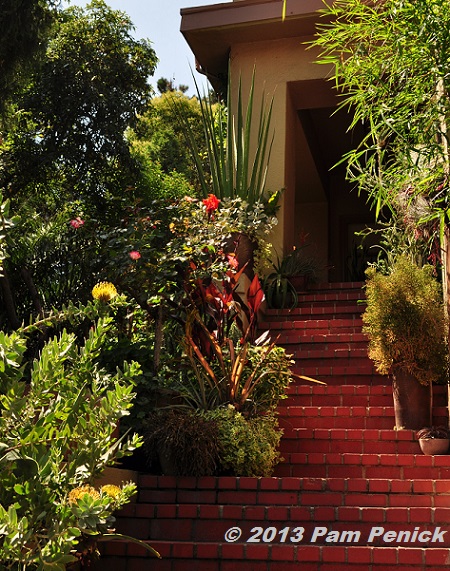 Ascending to the front door, red-brick steps offer display space for a collection of potted plants.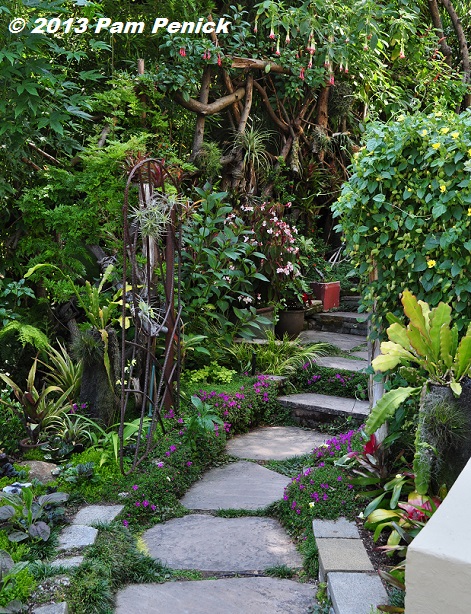 But we're not going through the house. Instead, let's follow a stepping-stone side path to a vine-cloaked fence and bent-rebar gate bejeweled with tillandias.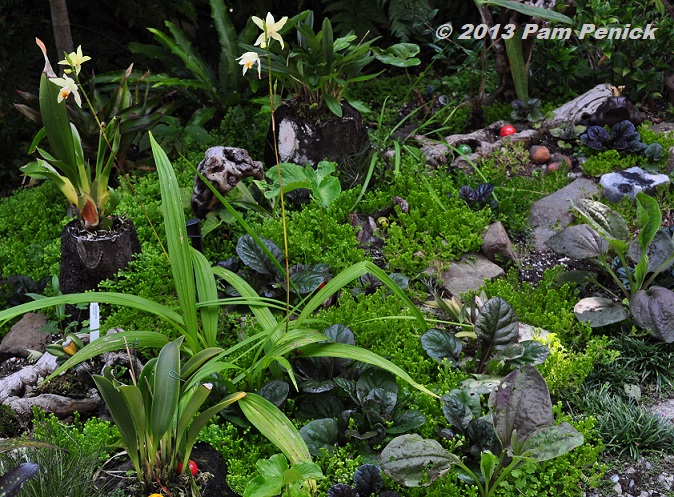 Just before the gate, this ground-covering mix of plants invites close inspection.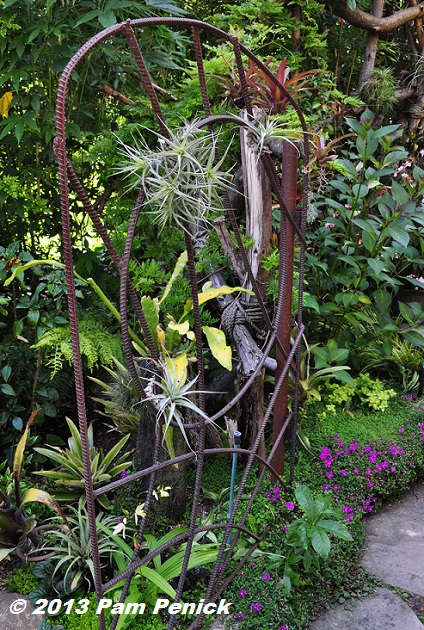 As does the gate itself — an industrial-style work of art.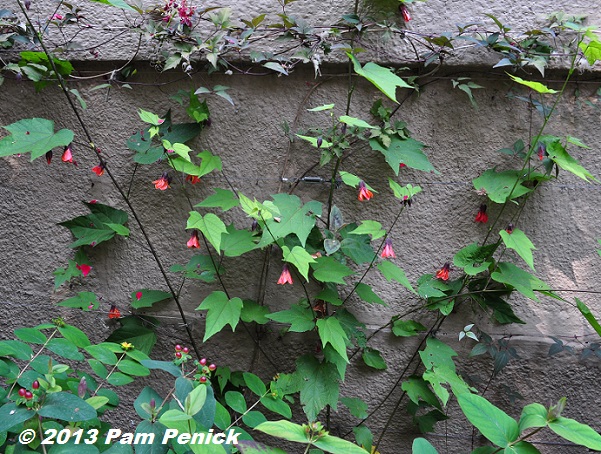 A cheery red abutilon is espaliered against the foundation of the house.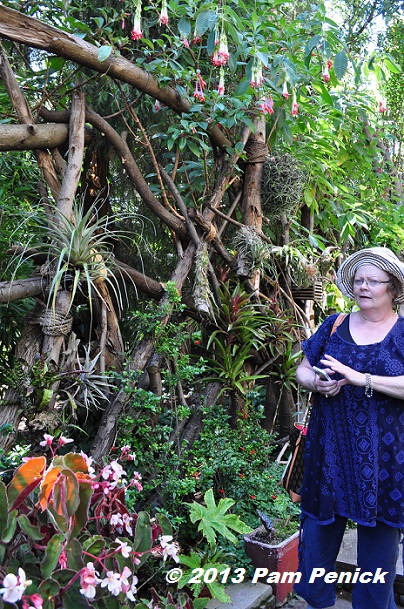 On the left, a tall fence of lashed tree branches — a la the Swiss Family Robinson — studded with more tillandsias and overhung with dangling, trumpet-shaped flowers, promises that this garden will be a treat to explore. Here's Mary Ann Newcomer coming back for a second look.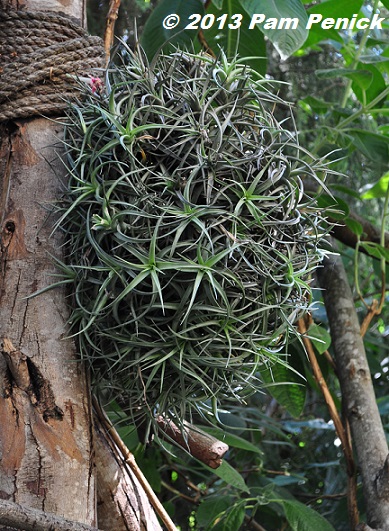 A bundle of tillandsias (I think), shaped like a hornets' nest, is attached to the top of the fence — an unusual living finial.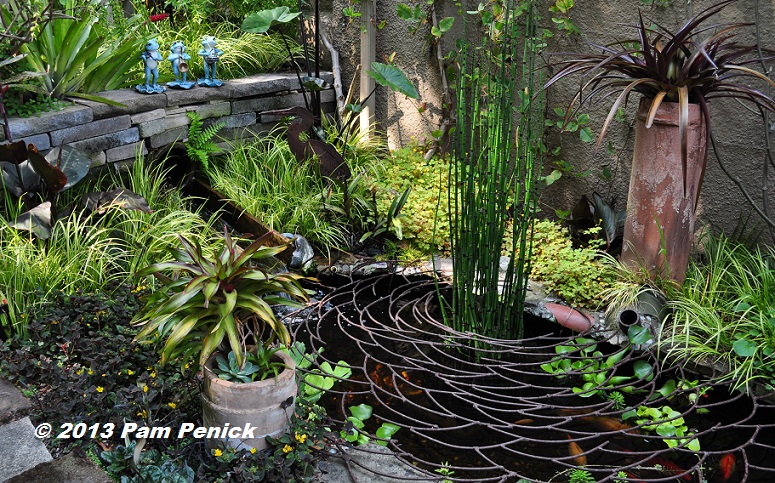 The steeply sloping side garden contained only a "boring narrow walkway" in the late 1990s, when owner Ann Nichols brought in designer Bob Clark to help create a one-of-a-kind garden. Today you climb several short flights of steps broken by landings and intimate patios. A stream flows from the top of the slope through a series of pipes and channels, pooled here and there for your enjoyment, all the way along the stairs to a small pond near the bottom of the hill…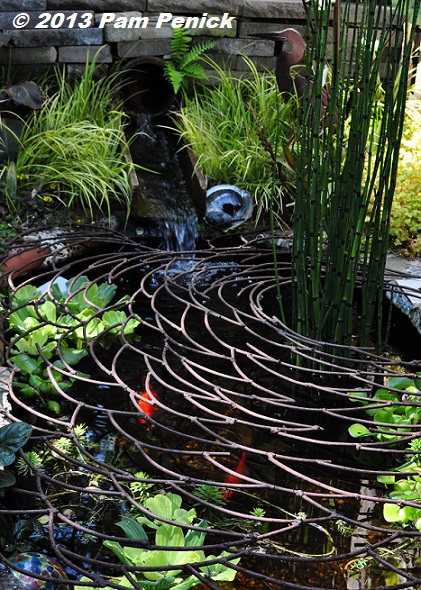 …this pond, in fact, which is transformed into a sculptural piece of art thanks to a raccoon-foiling, ripple-like grate that rests over the water. A gap in the "ripples" leaves room for one upright stand of horsetail to emerge from the pond, while goldfish swim beneath.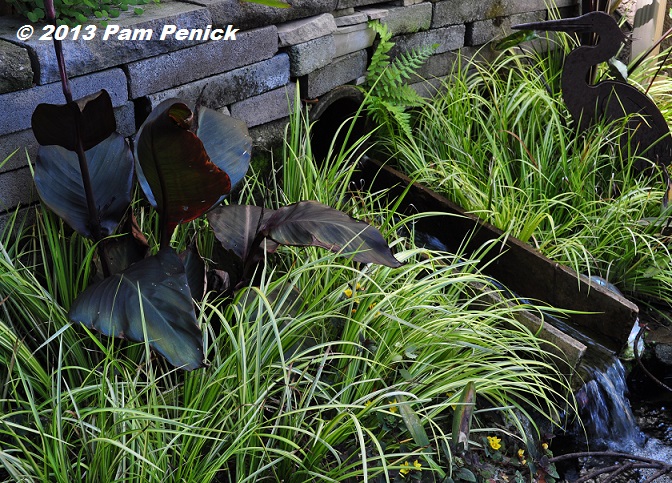 Emerging from under a stacked-paver retaining wall, a U-shaped scupper divides a clump of moisture-loving sedges to spill water into the pond.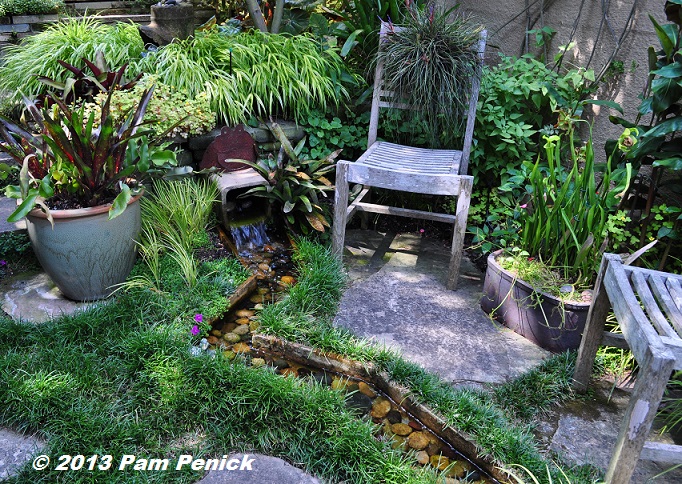 Climbing another short flight of steps, you find the stream zig-zagging in its course through dwarf mondo grass…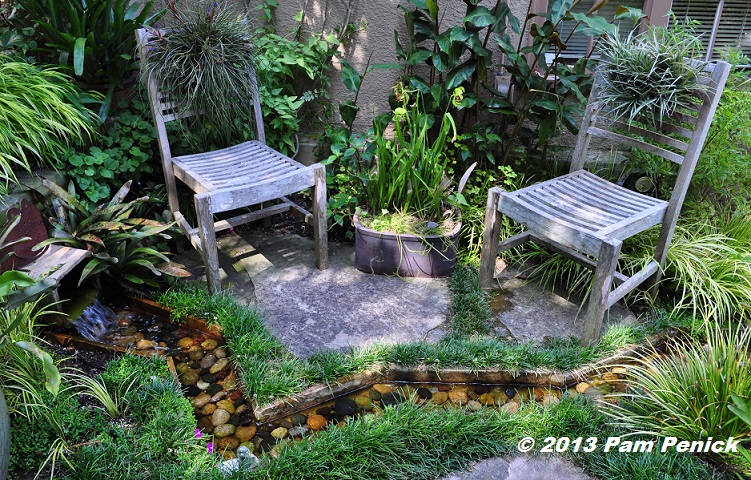 …and past a tiny patio that holds two wooden chairs adorned with tillandsia "bouquets." There's so much to look at here, and it's all put together so beautifully. I loved this section of the garden.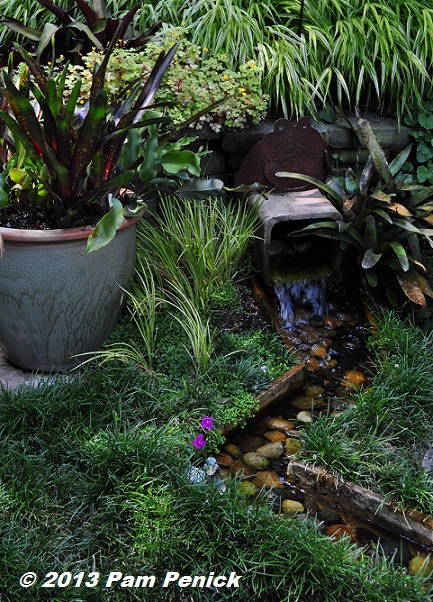 A square pipe spills water into the zig-zag stream.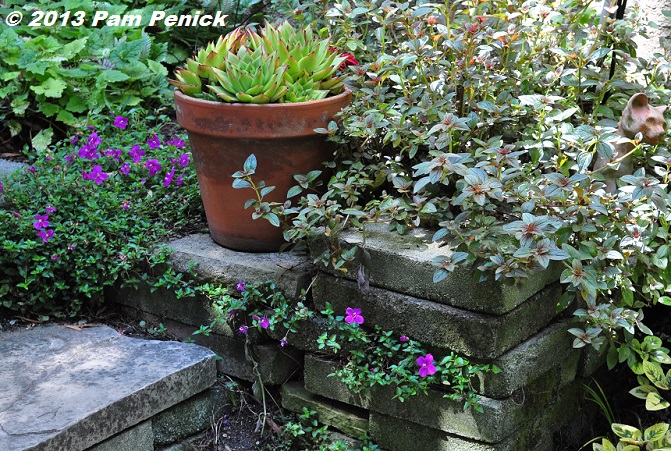 Above, another retaining wall built of concrete pavers is half hidden by lush plants.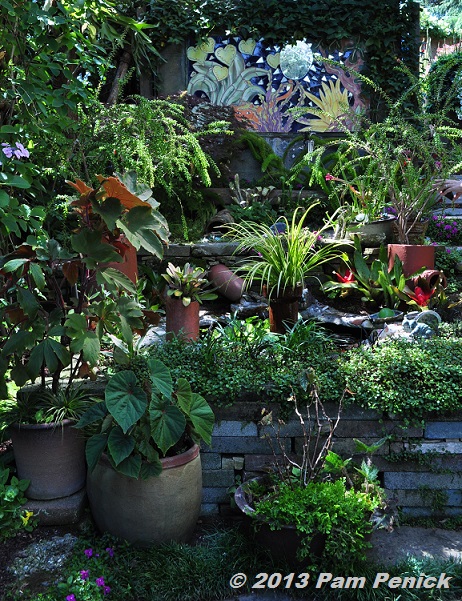 We're now about halfway up the hilly side garden, and a look upward reveals an enticing mosaic mural and mirror adorning a vine-draped wall. The stream crosses under the path here, reappearing on the left side of the steps.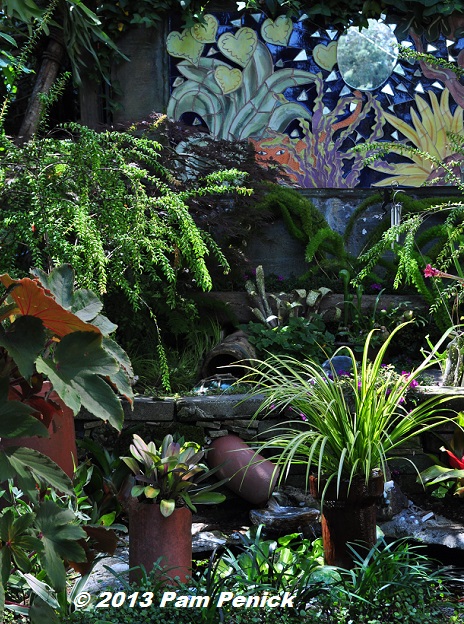 A closer look at the terracing, which contains more small pools, as well as the striking feature of several plants in vertical pipes.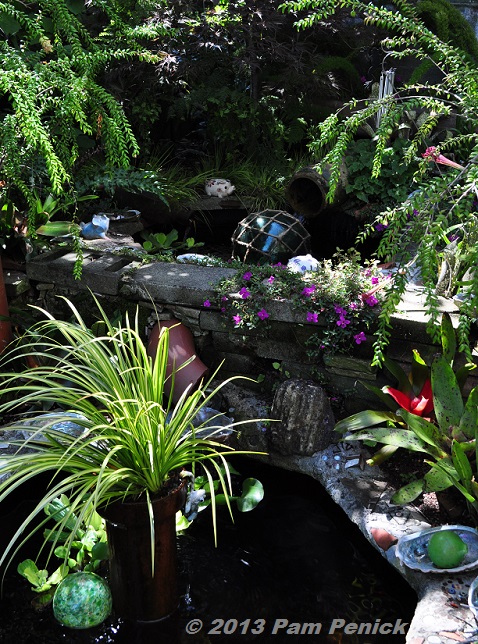 A sedge spills fountain-like over the edge of a vertical pipe in the lower pool. Green glass orbs pick up the fresh color of the sedge.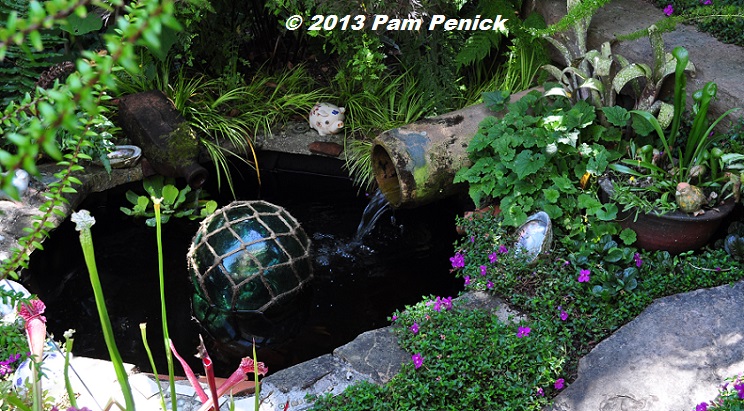 In the next level above, an old bottle and a weathered pipe pour water into a black, octagonal pool decorated with a Japanese fishing float. Again, small groundcovers colonize every available bit of earth, softening the stonework and giving the garden the appearance of having always been here.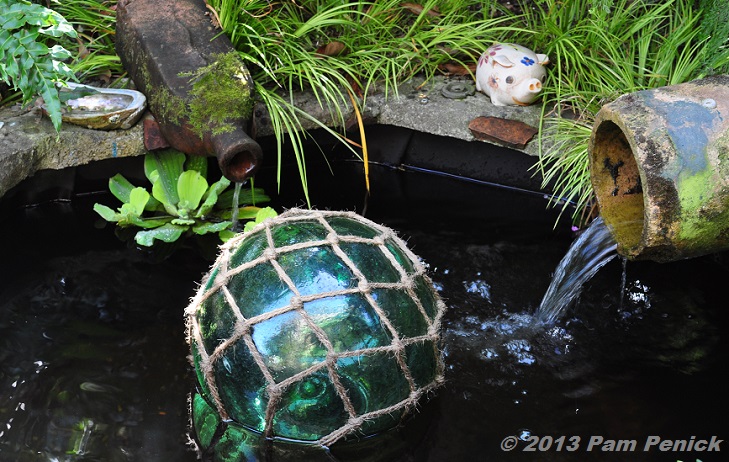 So magical! The owner isn't afraid of placing whimsical, inexpensive garden ornament here and there, giving her garden a very personal feel and eliminating any whiff of pretentiousness.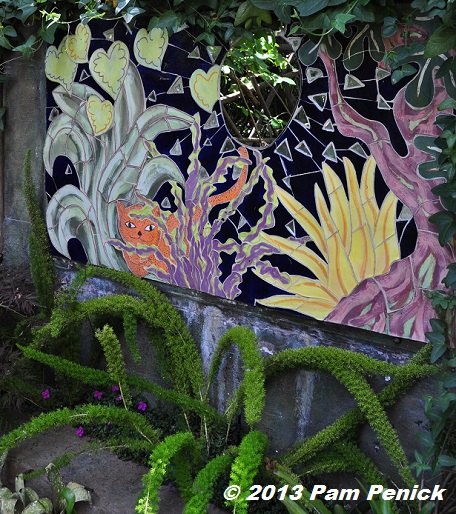 At last you reach the top of the side garden and can admire the mirror mural. Cat images pop up later in the garden as well.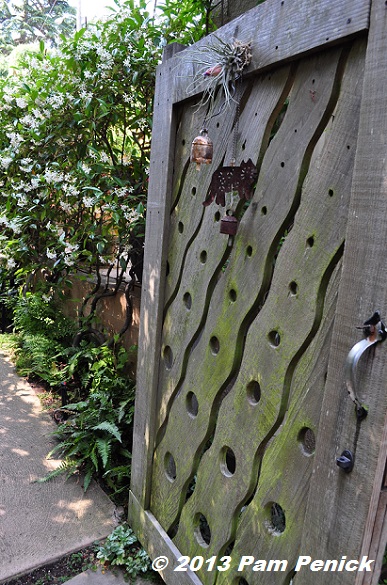 A wavy-paneled wooden gate opens invitingly to reveal…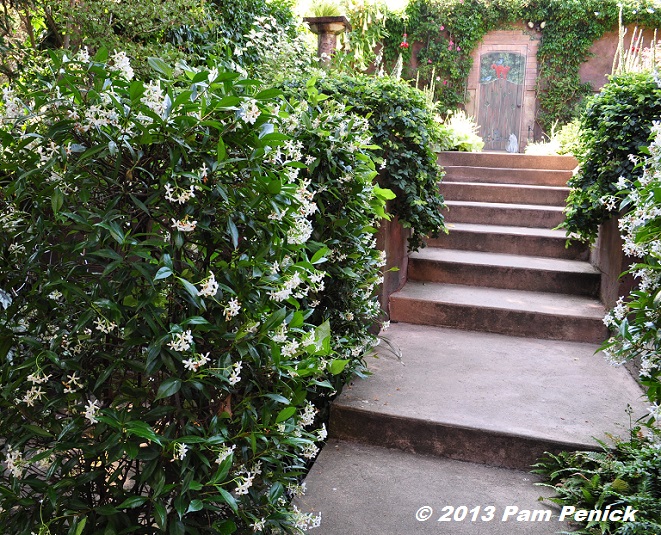 …tinted concrete steps that lead the eye directly to a trompe l'oeil mural on the wall of an outbuilding (a detached garage, perhaps?). The sweet scent of star jasmine in bloom distracts you from charging ahead. Looking left…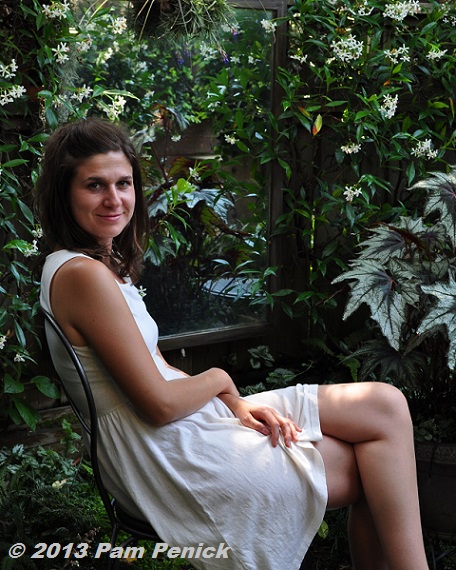 …you see a romantic black-and-silver garden — a tiny space visually enlarged by a mirror — which the owner calls her entry parlor. A frilly, wrought-iron chair enticed fellow Flinger (and appropriately attired in white) Lucy to rest for a moment and enjoy the New Orleans-esque courtyard.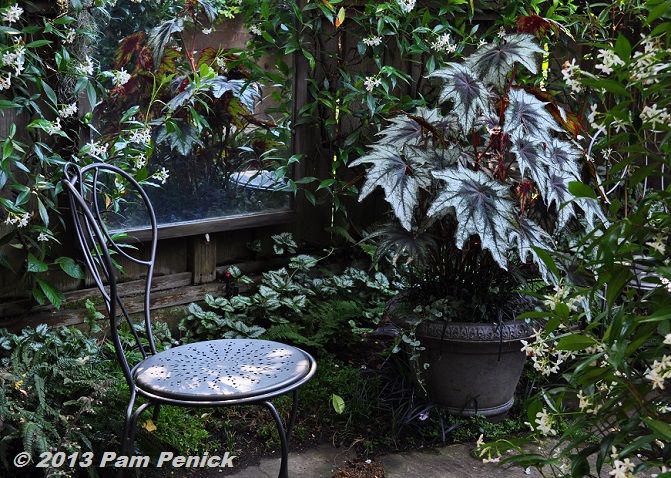 A silvery Begonia 'Gryphon' dramatically underplanted with black mondo grass zings next to the mirror. Creamy white star jasmine blossoms scent the air.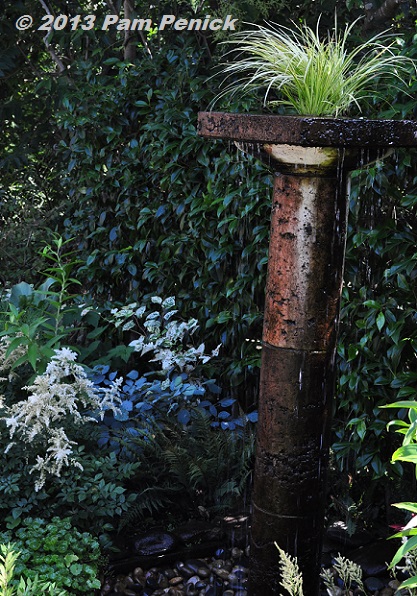 Exiting this garden room and continuing along the concrete steps, you see a Little and Lewis column-fountain, topped with sedge and dripping with water. I'd love to have one of these in my garden.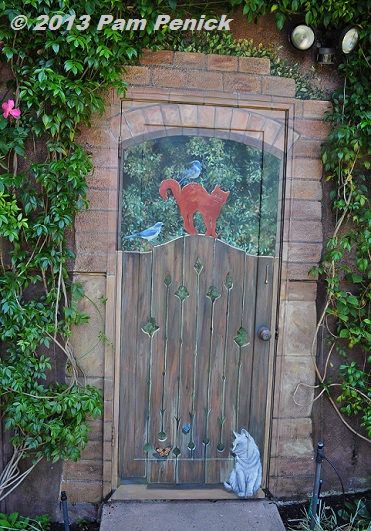 Directly ahead is the trompe l'oeil mural — of a wooden gate topped by a metal cat ornament. The mural is cleverly painted over a door, with the door handle serving as the painted gate's handle as well. Surrounded by vines trained along the wall, it really does create the illusion of more garden where there is only a blank wall.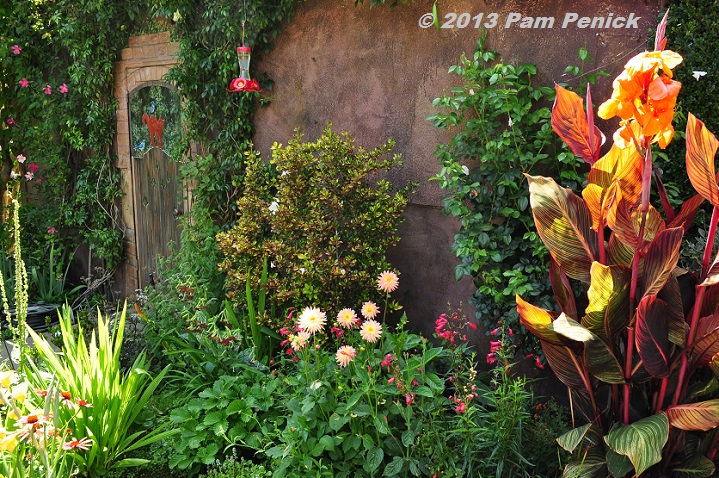 To the right, the garden opens into sun, and flowers and cannas flourish. Strolling to the side of the building…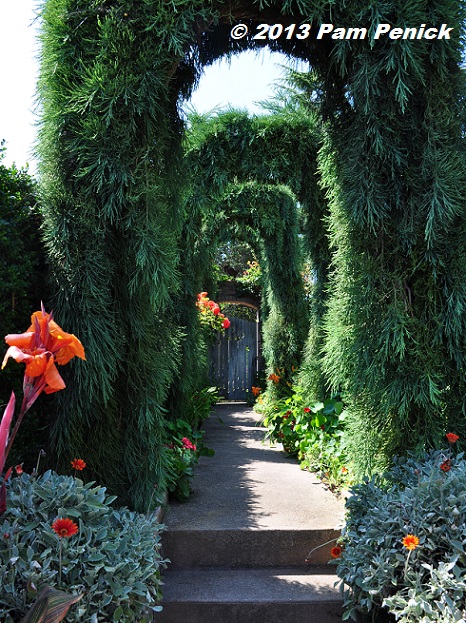 …you see another short flight of steps leading to a dramatic allee of weeping sequoia trees! Like furry arching Christmas trees, the allee leads the eye straight to a wooden gate surmounted by a brick arch.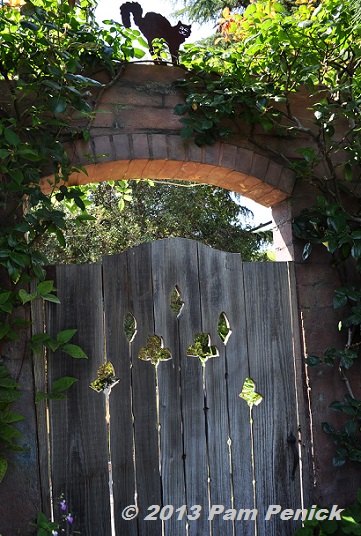 And — surprise! — the gate is identical to the one in the trompe l'oeil mural, except that the cat ornament sits atop the brick arch rather than the gate.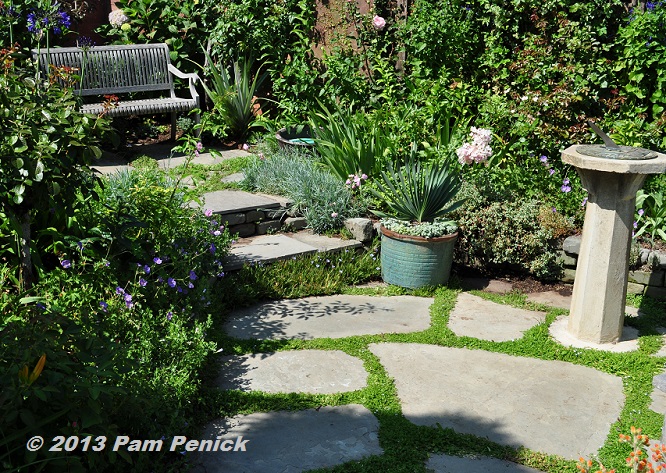 The allee leads to another secret surprise as well — this sunny patio tucked into the very back corner of the garden and hidden from view below by a leafy screen of plants, including espaliered apple trees.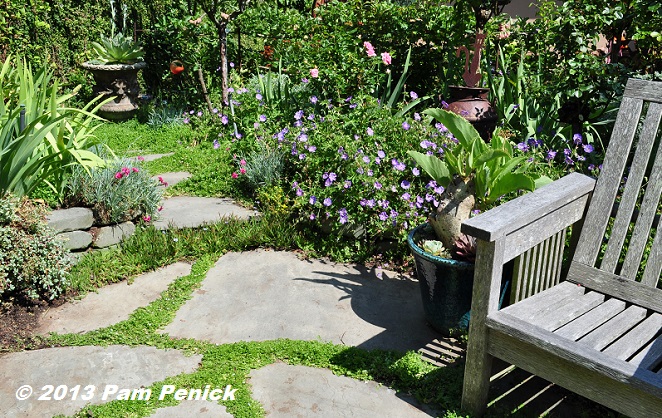 What a charming spot to rest.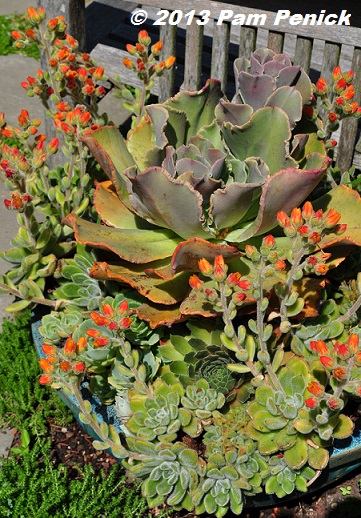 Pots of frilly…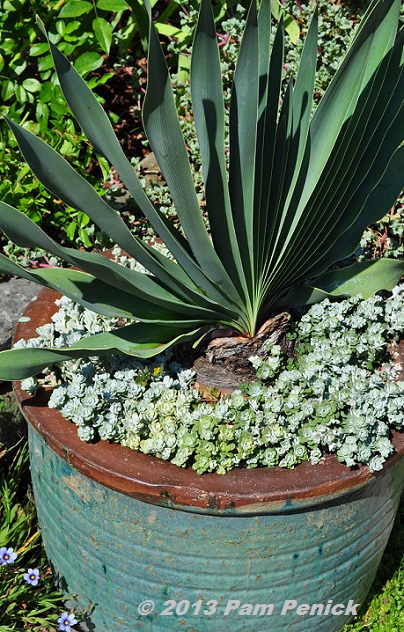 …and fan-like succulents add ornament.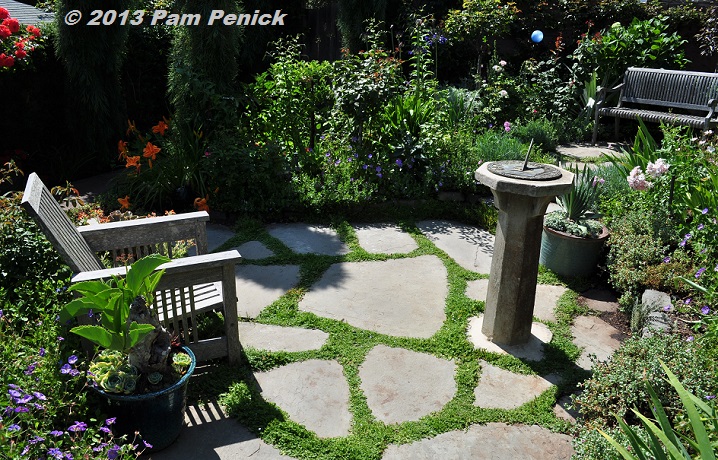 A sundial is a classic accent for a sunny garden patio.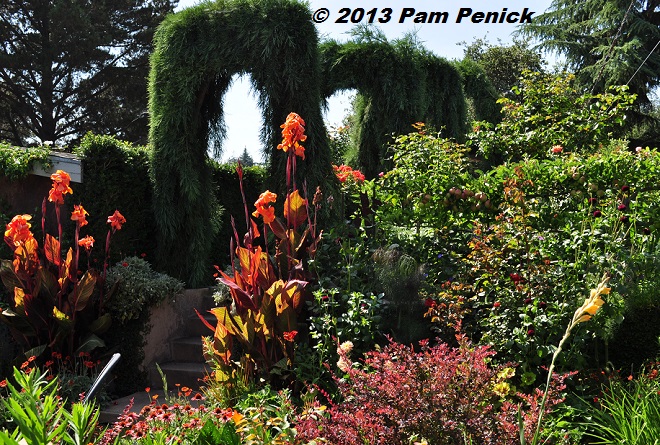 A last look back at the weeping sequoia allee, with blazing orange cannas marking the entrance — cannas that announce a new, hot color scheme…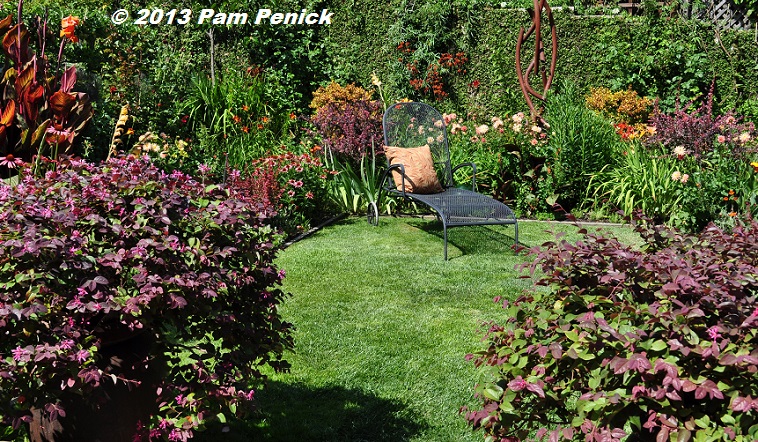 …of orange, burgundy, peach, and bright green. Two large, potted loropetalum mark the entrance to a small, rectangular lawn anchored by a single chaise. An ivied wall provides a lovely, green backdrop for the rich colors of this perennial garden.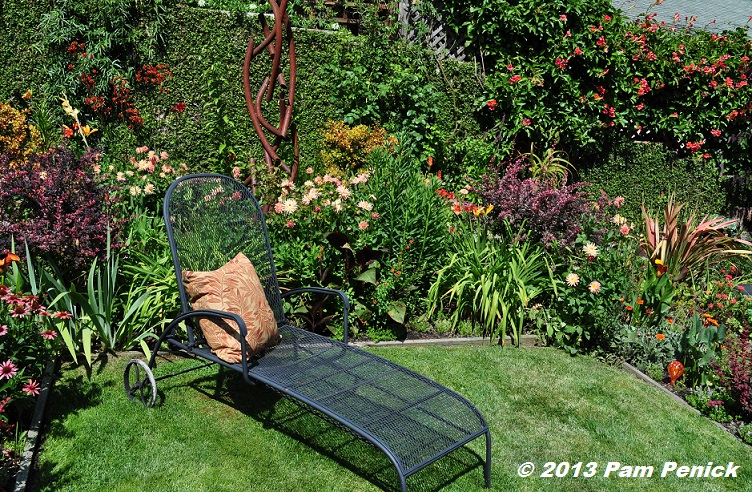 The small lawn provides a green throw rug on which to cool the feet and rest the eye amid a tumble of flowering plants.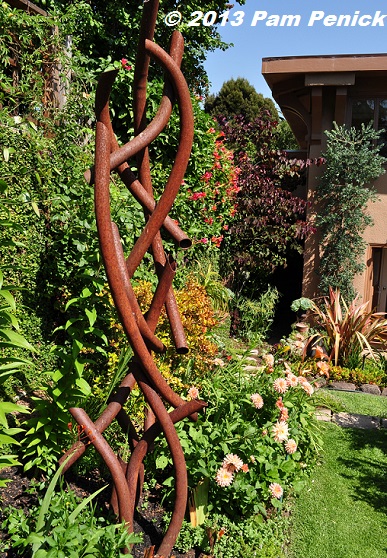 Behind the chaise, in the garden bed, stands a contemporary sculpture made of curving sections of steel pipe. The rusty color harmonizes perfectly with this garden's color scheme, as well as with the soft terracotta of the house itself.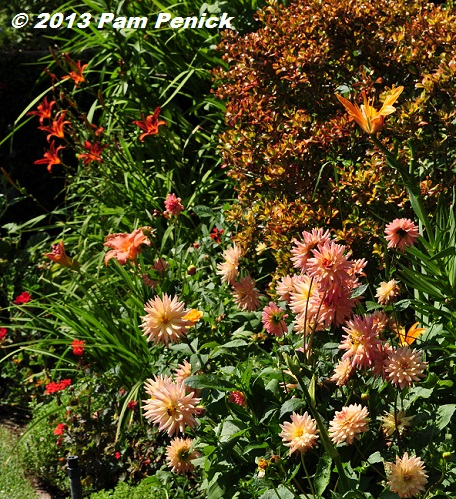 Reddish orange, peach, and a hint of golden yellow — the plants are masterfully blended.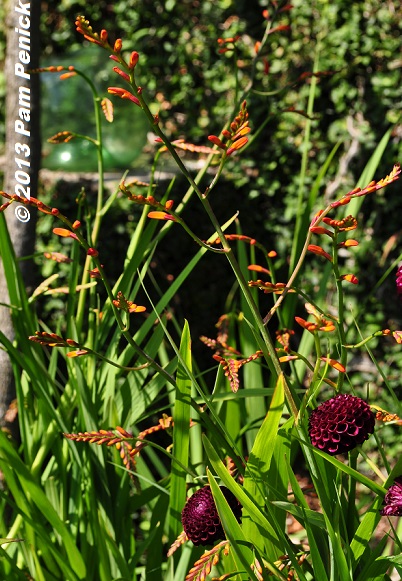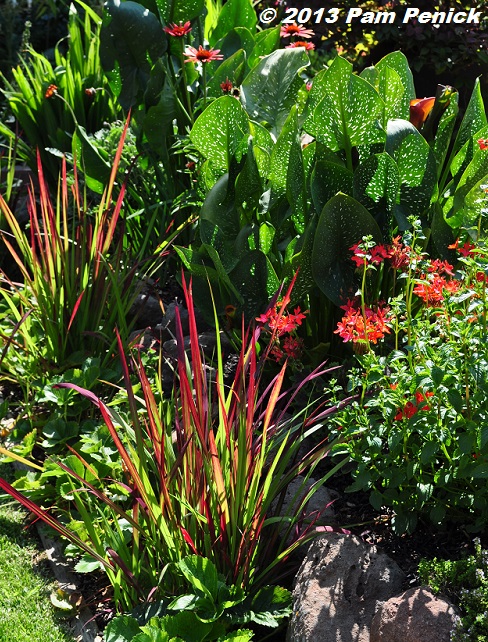 Scrumptious!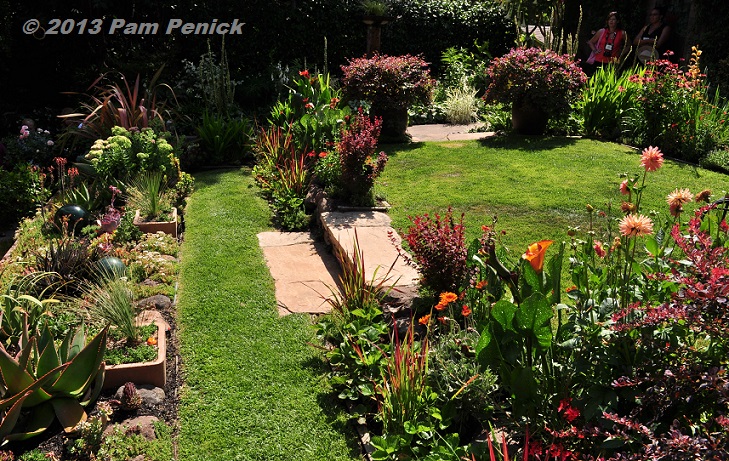 Looking across the lawn from the ivied wall (by the sculpture), you see the full effect. Two shallow steps lead to a skinny lower terrace of lawn and a jazzy border of succulents…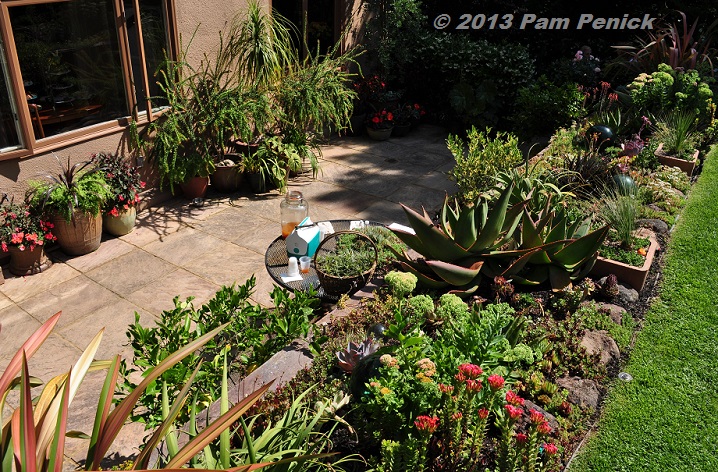 …that sits atop a retaining wall along a terrace at the back of the house.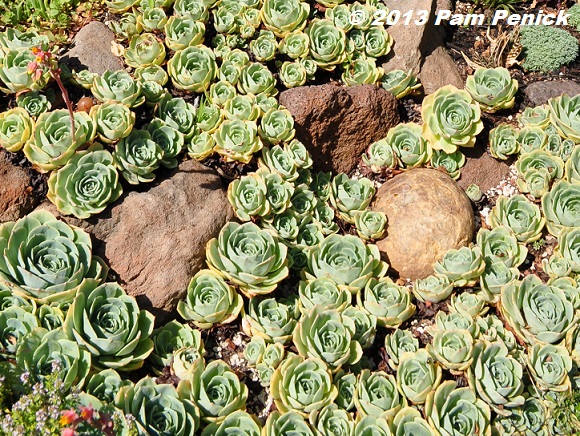 Beautiful details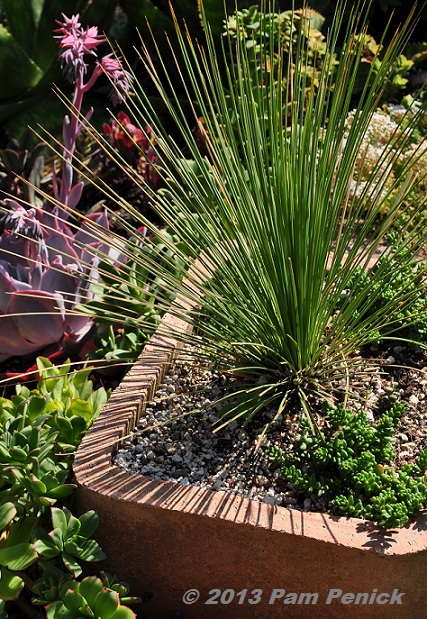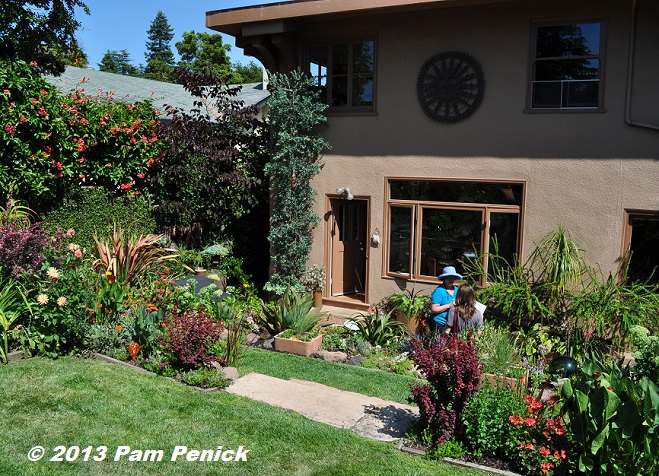 The back of the house, with plenty of windows overlooking the garden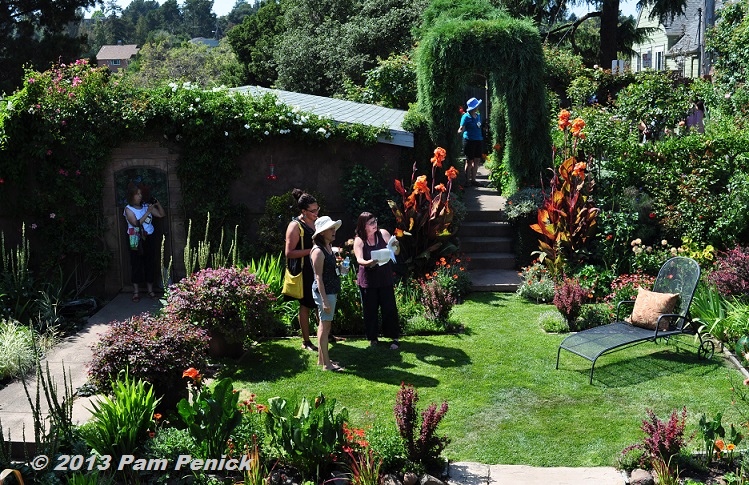 Ann Nichols generously invited us into her home for refreshments and even upstairs to take in a bird's-eye view of the garden, seen here.
A great design for a challenging site transforms purely functional into an extraordinary place of discovery. I found this garden completely enchanting and was grateful to have a lengthy visit here so that I could take in so many of the details that make it unique.
Up next: A happy-hour and Fling-ending visit to Flora Grubb Nursery. For a look back at the color-crazy Keeyla Meadows Garden, click here.
All material © 2006-2013 by Pam Penick for Digging. Unauthorized reproduction prohibited.
posted in
Agaves
,
Aloes
,
Cats
,
Containers
,
Decor
,
Design
,
Doors
,
Fences
,
Fish
,
Fling San Francisco
,
Fountains
,
Garden art
,
Garden tours 2013
,
Gates
,
Grasses
,
Groundcovers
,
Hillside
,
Lawns
,
Murals
,
Palms/Cycads
,
Paths
,
Patios & decks
,
Ponds
,
Sculpture
,
Seating
,
Succulents
,
Tillandsias
,
Travel
,
Trees
,
Trellis
,
Tropicals
,
Vines
,
Walls
,
Water features