July 29th, 2013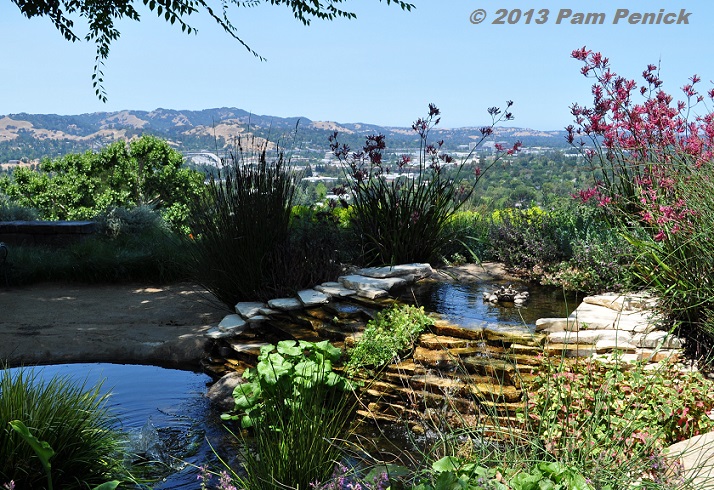 Our 2nd stop on the 3rd and final day of the San Francisco Garden Bloggers Fling was the Dudan Garden, a hilltop residence with a million-dollar view of golden hills and and an emerald valley. With such a view to enjoy, some might wonder why create a garden at all. Luckily the owners are not of that mindset and clearly wanted a garden with close-up views as well; with plenty of intimate patios and larger entertaining spaces that invite you outdoors; and with flowering plants and water features to attract wildlife, particularly hummingbirds, which zipped around us.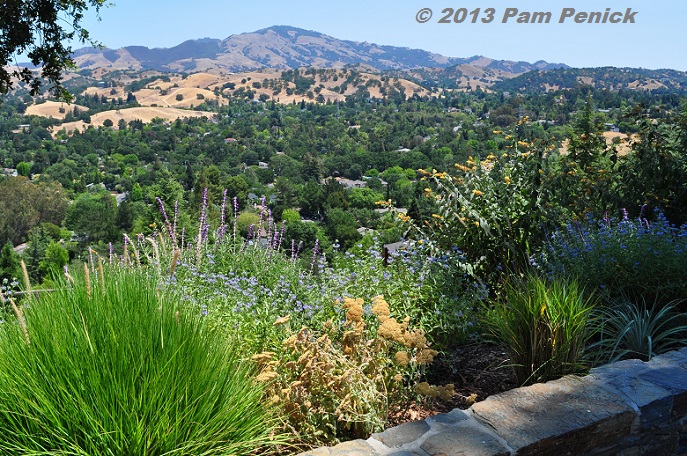 But first take a look at that view.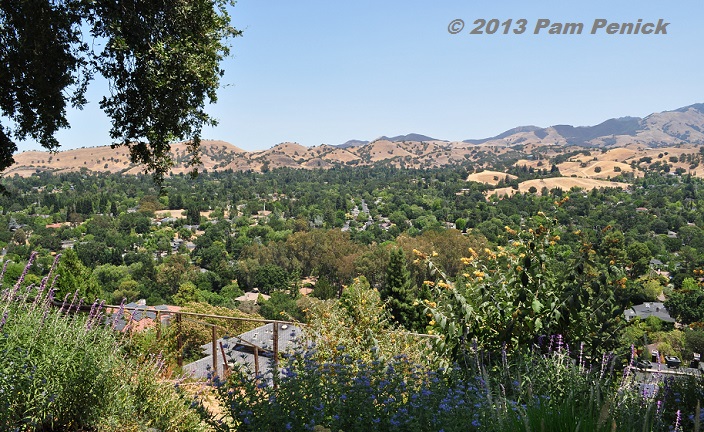 It is stunning.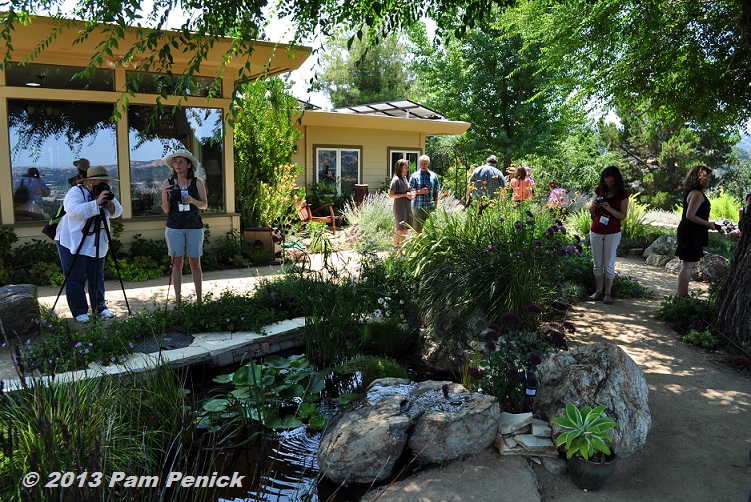 The space between the house and the hilltop's edge is probably about 35 feet. A pond with a built-up, cascading waterfall (see first image) adds reflective beauty to a shady spot beneath a tree. Decomposed-granite paths allow access along the back of the house and around the pond.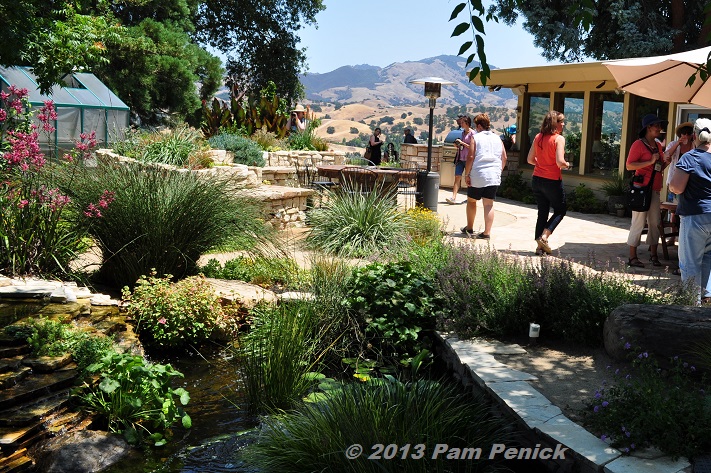 Looking lengthwise across the pond you see the sunnier side of the garden, an open space designed for entertaining, even into the evening as it's furnished with space heaters and a built-in fire pit. The long view to the hills in the distance has been carefully preserved.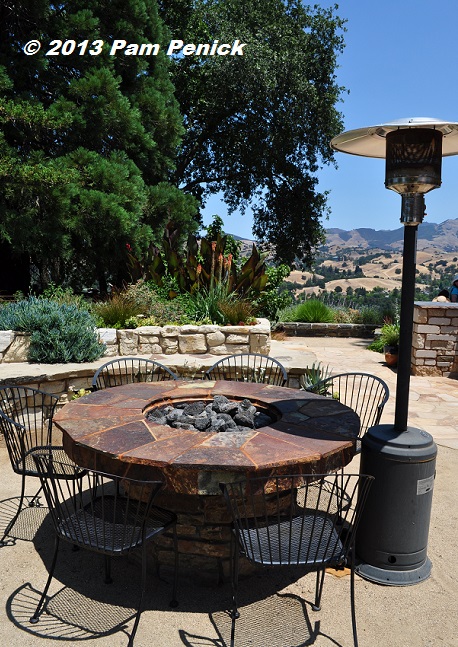 The built-in fire pit is surrounded by a stone table, perfect for enjoying on a cool evening.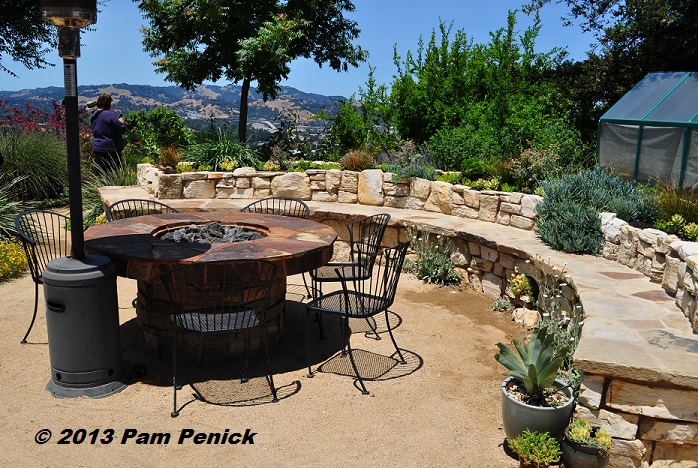 A wider view shows the rugged beauty of a curving stone bench that not only offers seating but defines the space, giving human dimension and sheltering the patio from the precarious drop-off at the edge of the property.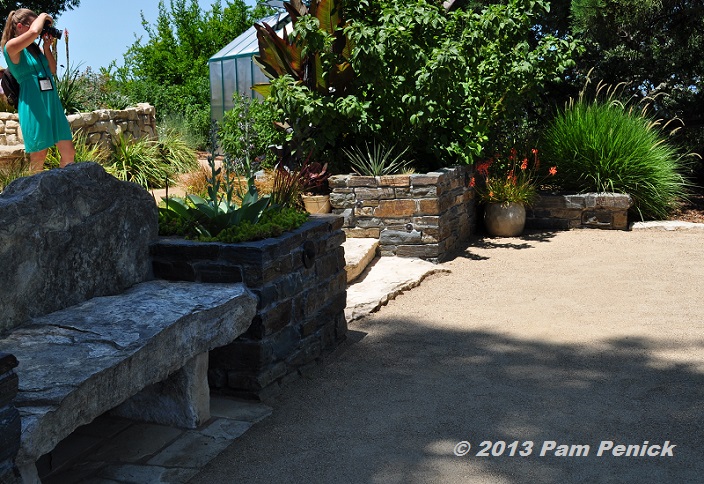 Near the garden's entry, a long overlook floored with decomposed granite and protectively enclosed with low stone walls, with a couple of stone benches built in, is where we bloggers sat and ate our box lunches. We admired the million-dollar view. I admired the beautiful simplicity of the patio space, which would fit just as well with Austin's own vernacular of limestone and DG.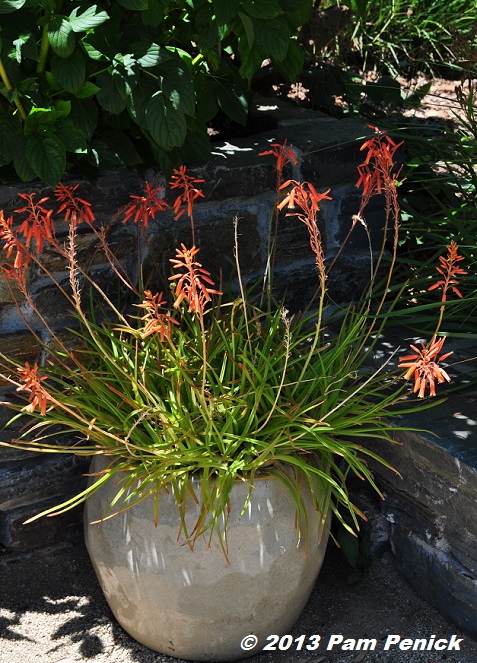 A potted aloe was blooming in the corner.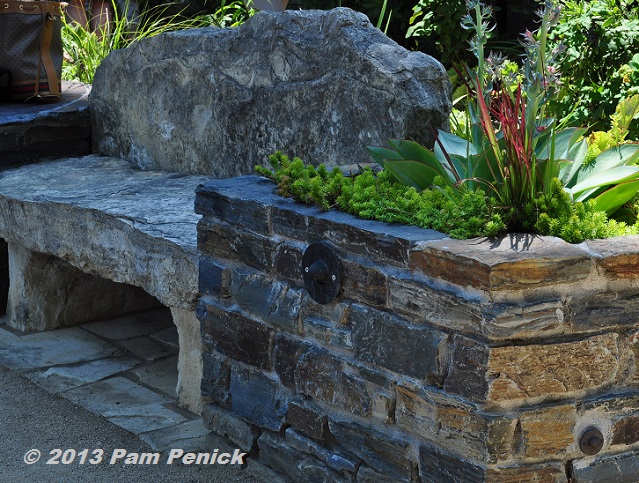 Small succulents were flowering in raised beds flanking the stone benches.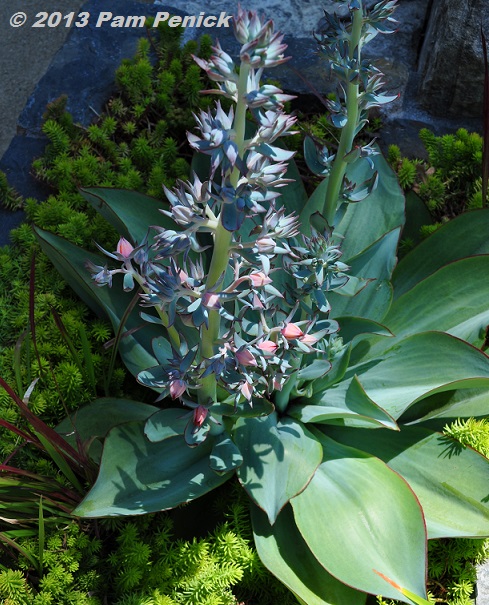 Low plants and a step down into this patio from the main garden keep the view open from the house.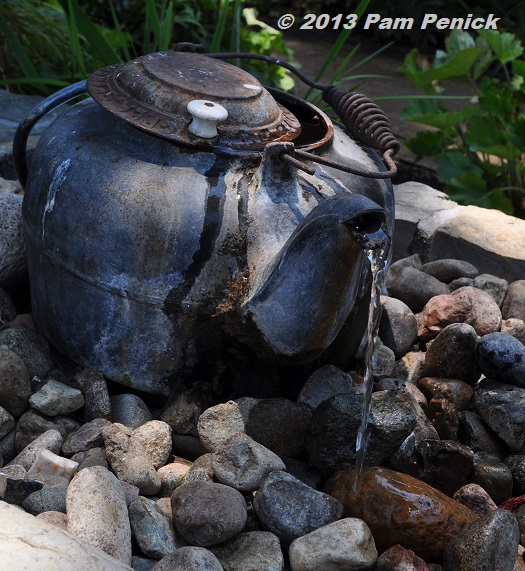 Atop one of the low walls, a tea kettle had been turned into a clever, recirculating water feature.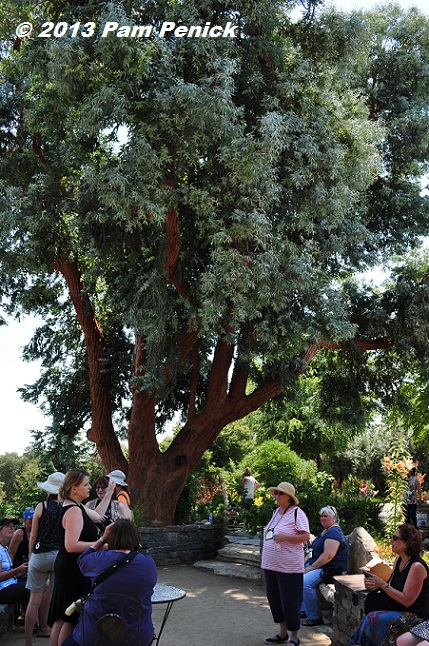 At one end of the patio, an enormous, cinnamon-trunked tree with a silvery green crown provided shade.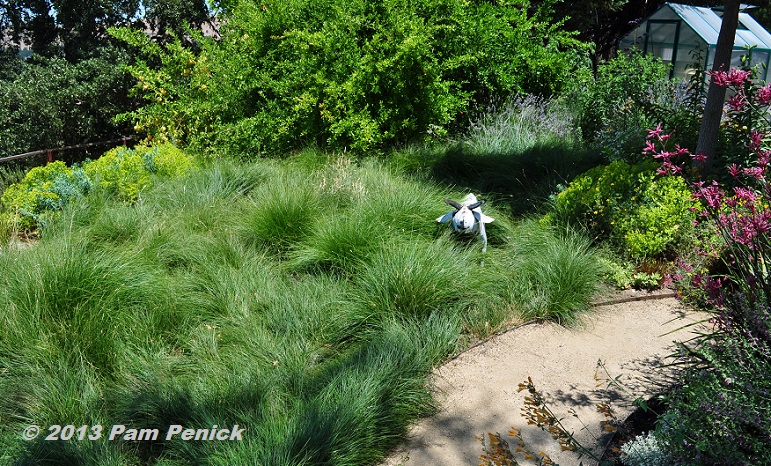 There was even room in this small garden for several meadowy swaths of sedge — perhaps Berkeley sedge (Carex divulsa) Carex pansa. Such "lawns" never need mowing (or can be cut back once or twice a year) and thrive with much less water than traditional lawn.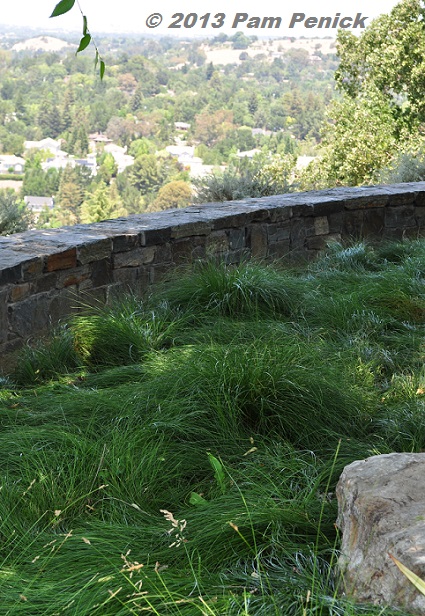 Another swath of sedge surrounds a tree near the edge of the ravine. A low, curving stone wall embraces the space while preserving the view.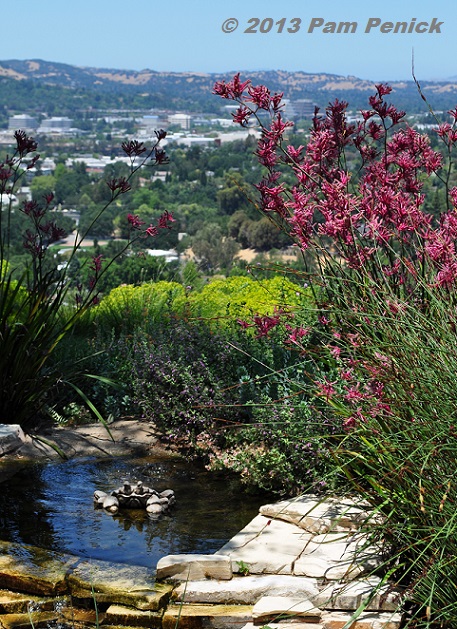 Kelly Kilpatrick of Floradora, head planner of this year's Fling, is one of the plant designers of this lovely garden! BuenoLuna designed the hardscaping. This was such a comfortable garden to hang out in during lunch, one of those you could imagine (if your ship came in) actually living in, which is a tribute to the winning combination of inviting hardscaping and lovely plants — and of course that beautifully framed view.
Up next: The crazy-colorful Keeyla Meadows Garden. For a look back at the agave- and succulent-centric Ruth Bancroft Garden, click here.
All material © 2006-2013 by Pam Penick for Digging. Unauthorized reproduction prohibited.
posted in
Aloes
,
Containers
,
Fling San Francisco
,
Fountains
,
Garden tours 2013
,
Grasses
,
Groundcovers
,
Lawn Gone!
,
Paths
,
Patios & decks
,
Ponds
,
Seating
,
Succulents
,
Travel
,
Trees
,
Water features