July 24th, 2013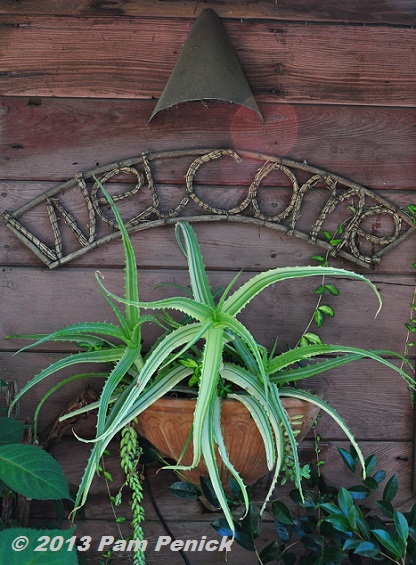 Our 4th stop on the 2nd day of the San Francisco Garden Bloggers Fling was the Los Altos garden of designer, author, and blogger Rebecca Sweet. I've admired her garden not only on her blog, Gossip in the Garden, but in magazines like Sunset, so I already had an idea of the treat we were in for.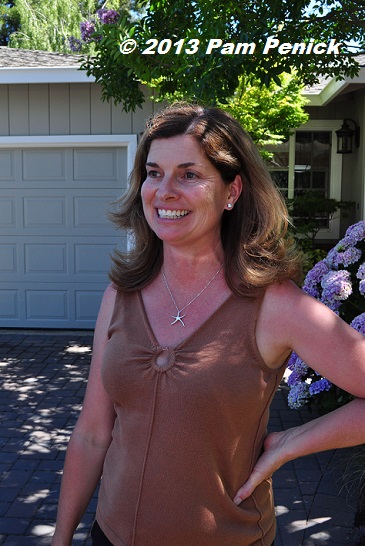 Although most of our conversations have been on Facebook and in the comments of our respective blogs, I count Rebecca as a friend. We met in person last fall at the Garden Writers Association symposium, and I found her to be as sunny as her blog persona and surname suggest, but with a hilariously snarky sense of humor thrown in to surprise you now and then. She greeted us with her trademark smile as we stepped off the bus.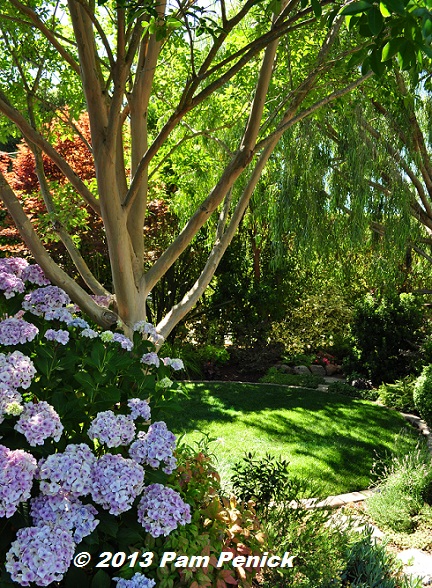 Rebecca grew up in this house, and in 2000 she and her husband, Tom, bought the property from her parents. As she explains on the Fling website, she's spent the past decade and a half "re-inventing the garden…[t]o create a secluded, private and deeply personal garden where one can lose themselves for hours….Consisting of several private spaces, infused with childhood mementos from both my own past as well as my daughter's, my garden is less of a designer showpiece and more like a diary. It's a place to play, experiment and show my personality — and I love it with all my heart."
The first thing you see is a small, circular front lawn enclosed by a scrim of lush plants, which gives privacy to the cottagey ranch house.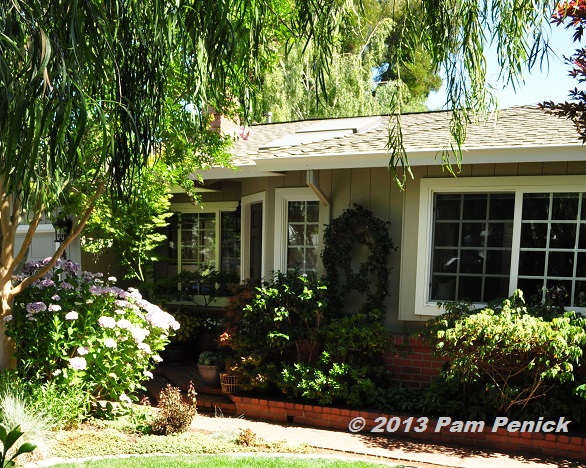 With plenty of windows overlooking the garden, Rebecca and her family enjoy beautiful views.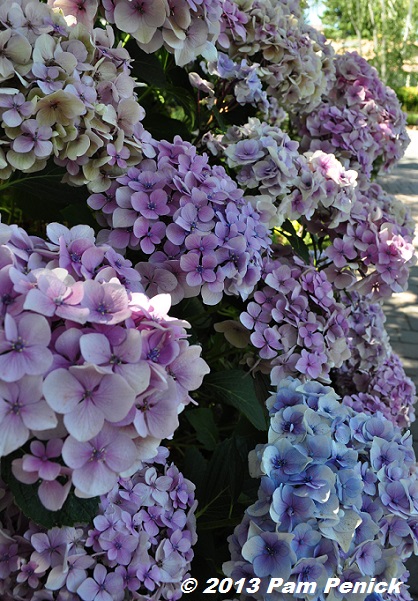 Classic hydrangeas mingle with funky grevillea in the front garden, introducing you to the fun variety of plants Rebecca grows. Like most gardeners, she enjoys shaking things up and confided that she plans to rip out the small front lawn and replace it with a mix of agaves and other spiny, water-thrifty plants. A bold move — I approve! Nothing wrong with that lawnette though; it makes a lovely negative space in the center of a full garden.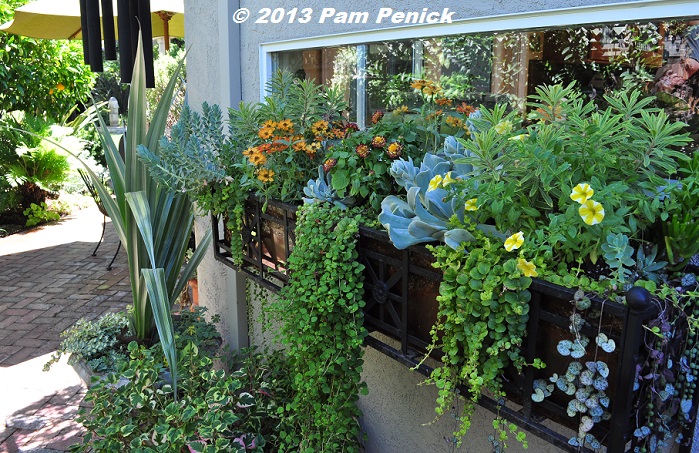 While there was plenty to enjoy out front, Rebecca invited us into the back garden for refreshments on this surprisingly hot day. Strolling through the narrow side yard, I noticed the vertical gardening she's doing, including this charming windowbox, and I recognized certain vignettes from her book Garden Up!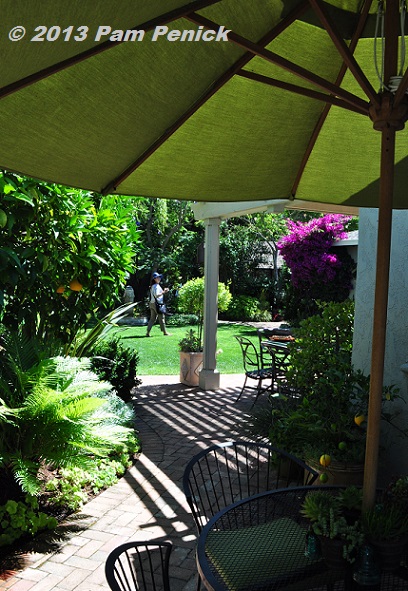 Although narrow, the side garden is as inviting as the main garden thanks to a brick path, eye-level succulent wreaths and windowboxes, and this umbrella-shaded patio set. A glimpse of the back garden, half hidden by shrubbery, beckons you forward.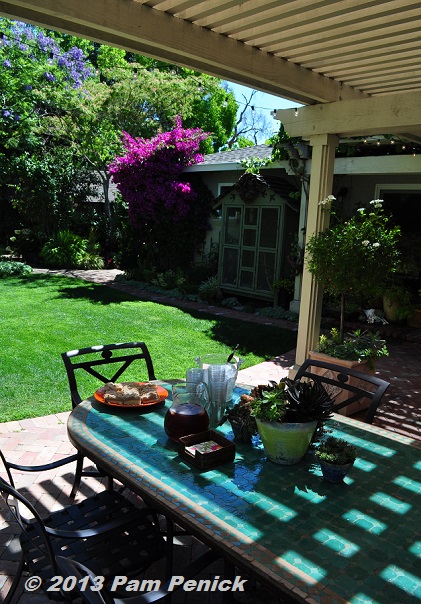 You enter the back garden under a wooden arbor shading a gorgeous, sea-green, tile-top table.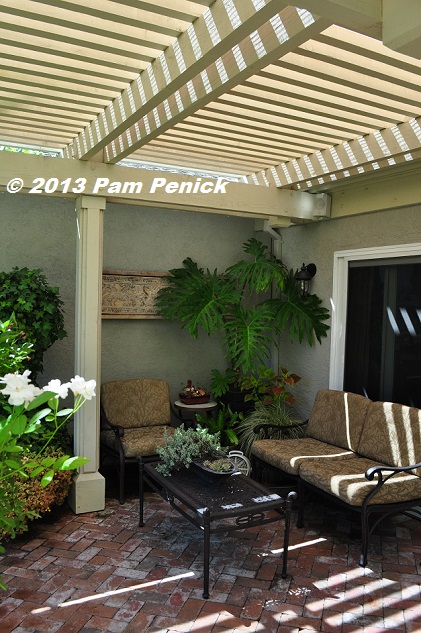 Antique brick laid in a herringbone pattern makes a classic floor for a comfortable seating area near the back door.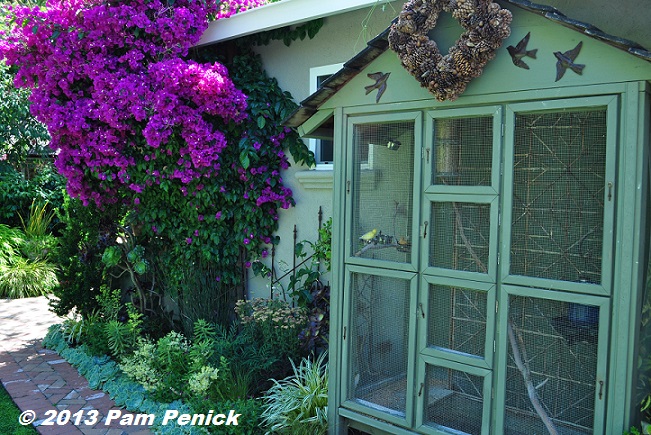 Gazing out on her garden, I was immediately captivated by a mint-green aviary alive with chirping canaries and finches. An enormous, fuchsia bougainvillea clinging to the corner of the house tried its best to steal the show.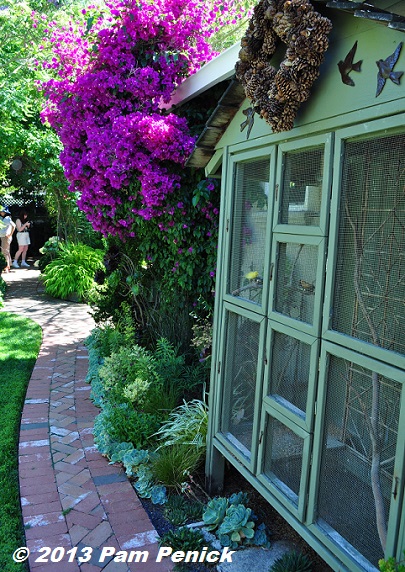 At its feet, along a narrow, gently curving brick path, a line of blue-green echeverias makes a stunning border.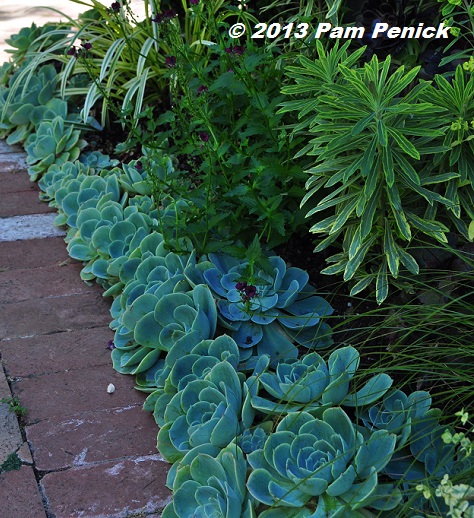 A variegated euphorbia and other yellow-tinged plants harmonize sweetly with the echeverias.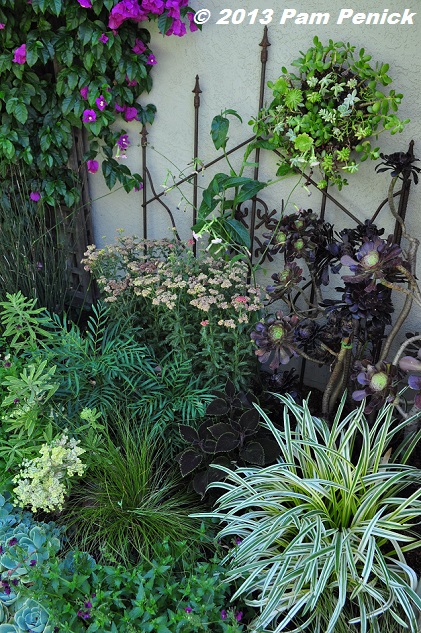 And just look at this vignette: such wonderful texture and color contrasts. And I love the metal gate accent and the succulent wreath on the wall.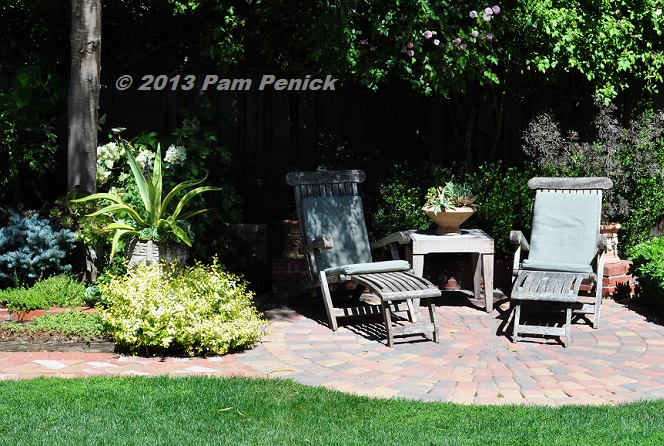 Looking across the rectangular lawn, you see a pair of steamer chairs on a circular paver patio. Intimate seating areas like this abound in Rebecca's garden.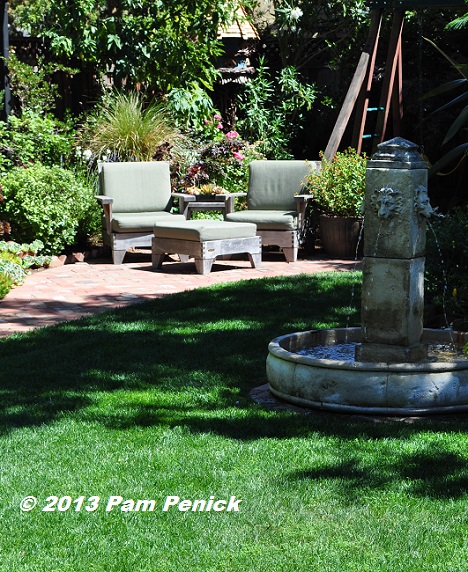 Following that path with your eyes to the far end of the garden, you spy another small patio, even more inviting than the first. The privacy fence here and throughout the garden is completely obscured by shrubs, vertical trees, and vines, making for a green backdrop that psychologically enlarges the garden. Rebecca's daughter's old play set is just visible to the right; Rebecca plans to remove the swing portion and garden up this section.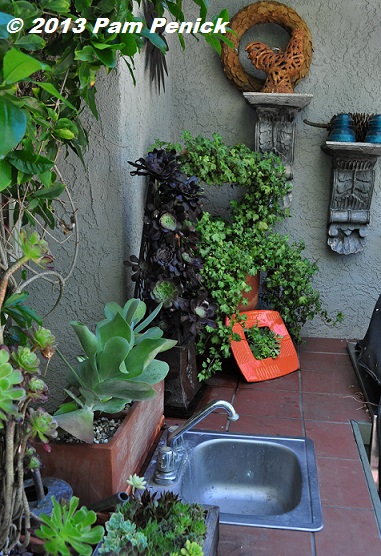 Continuing on the path by the aviary, you come to an outdoor sink and countertop, adorned with a mix of succulent planters.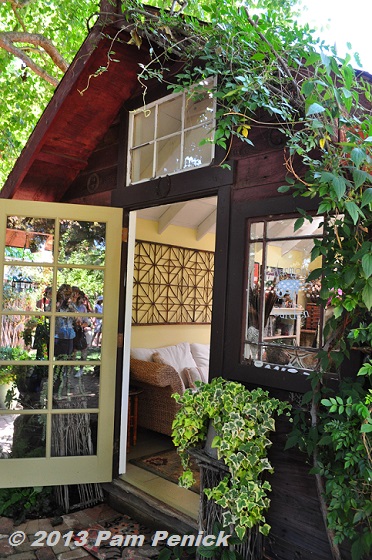 An arbor along the path offers entrance to the back of the garden, largely screened off by shrubs. Passing through the arbor you enter a surprisingly generous patio space anchored by this shed-turned-design-studio. With husband Tom's carpentry expertise, Rebecca transformed her parents' old, slant-roof shed into a dreamy work space that doubles as a "chick shack" for relaxing with friends. (Here's Rebecca's post about the shed remodel.)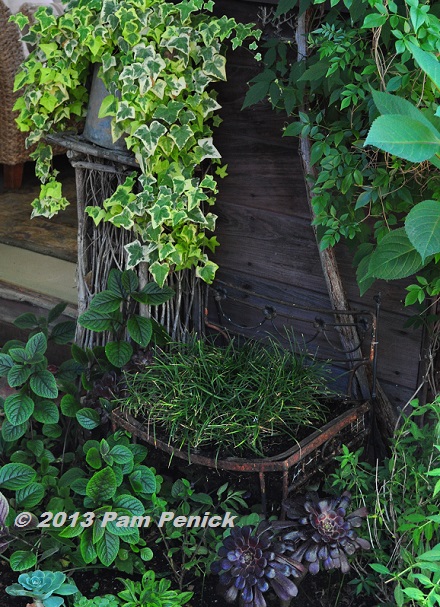 By the door, potted ivy and other plants hug the foundation and brighten the scene.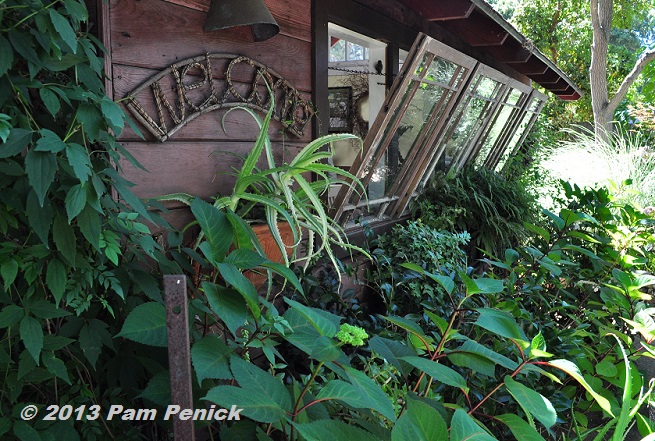 Along the side, recycled windows that open outward add even more charm.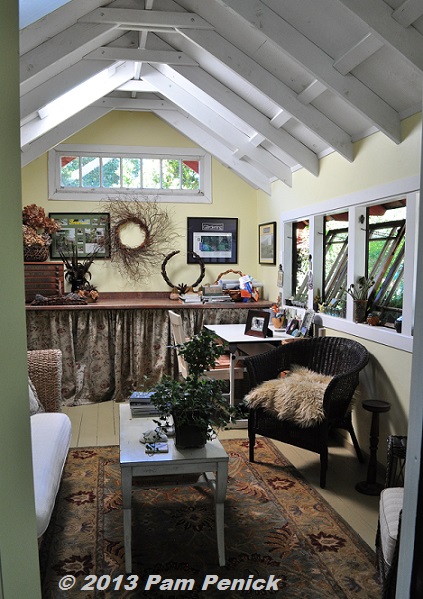 Inside, pale yellow walls and a peaked roof give a sense of airy spaciousness to the tiny room. A cushy sofa, a couple of wicker chairs, and a coffee table provide a place to put your feet up.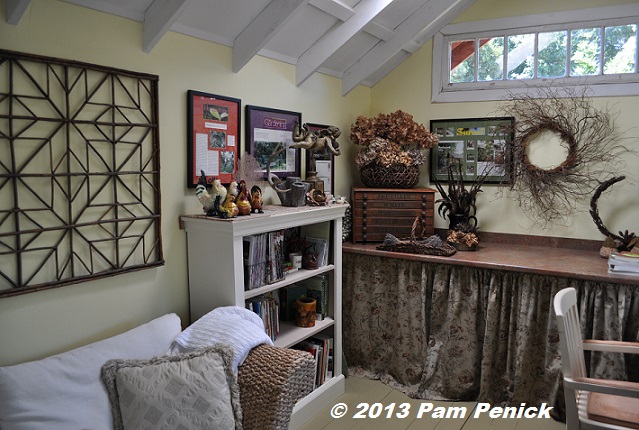 Along the back of the room, a long countertop offers work and display space, with curtained storage beneath.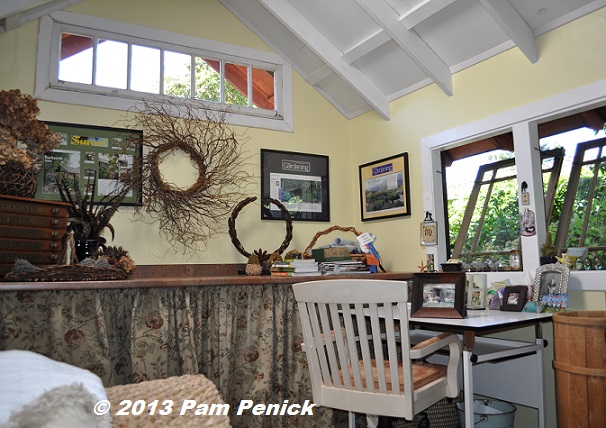 A small desk provides space for Rebecca to draw garden designs for her clients. I don't know how she keeps this room so uncluttered since it serves as a work area. I could take a lesson there.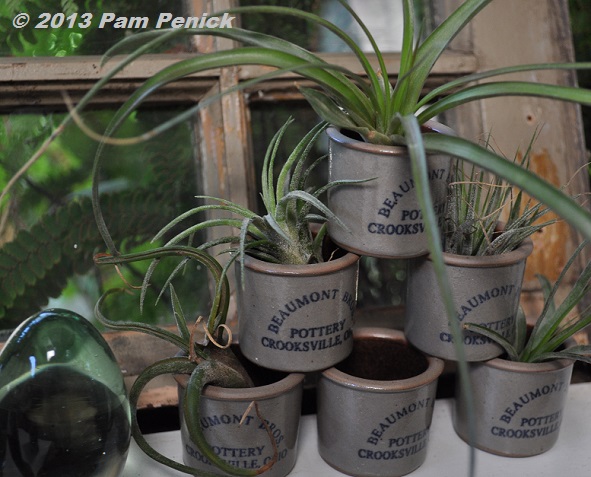 Windowsills serve as artful display space for Rebecca's collections and mementoes, like these tiny crocks filled with tillandsias.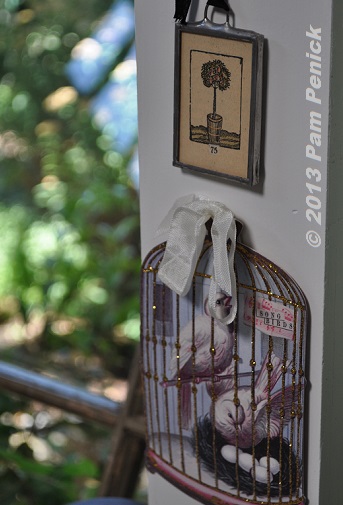 On the wall hang charms and pretty cards, along with framed copies of her magazine articles. Rebecca has an eye for display. You could spend hours discovering all the charming details amid the vignettes she's created.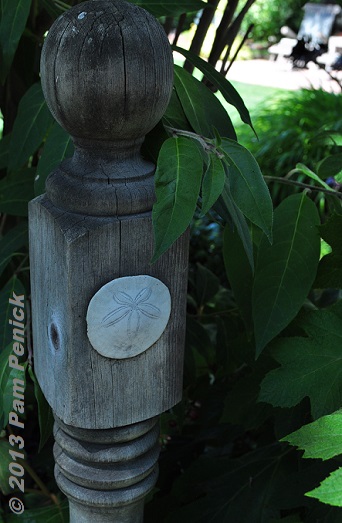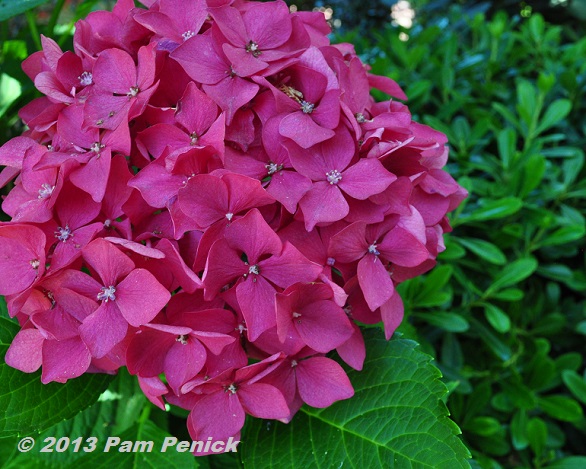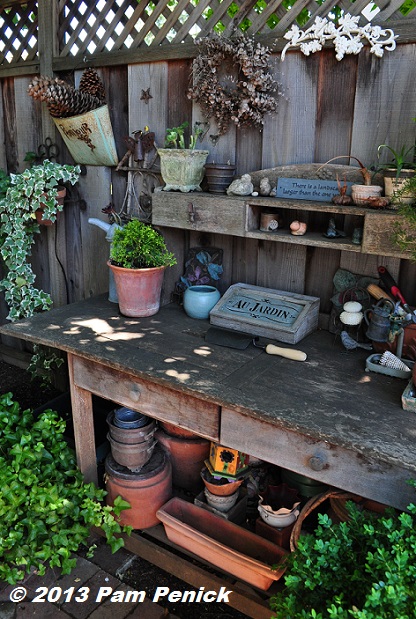 The brick path leads around back of the shed/office, where you find this potting bench all dressed up with more of Rebecca's pretty decor.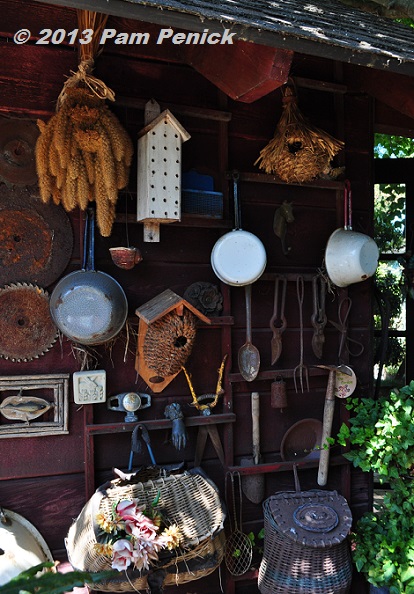 On the back wall of the shed hangs a collection of old tools, some of which belonged to her father, others to her grandfather. What a great display idea and one that can keep a loved one's memory alive. I carry a small measuring tape that belonged to my grandfather, and whenever I pull it out and see his initials on it, I'm reminded of him, though he's been gone for 17 years. So I love that Rebecca has saved her grandfather's tools to remember him by.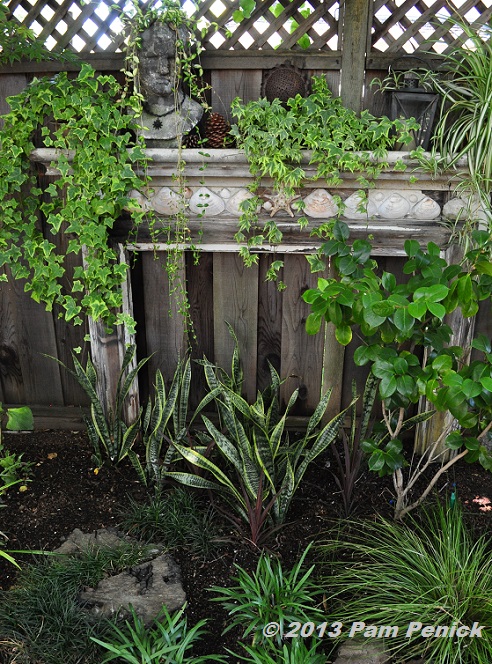 This vignette really grabs me, especially since it's tucked away in the back of the garden, where you have to explore to find it. Rebecca found an old mantel, dressed it up with seashells, and anchored it against the back fence. A plantable head adds gravitas, while potted ivies spill from the mantel shelf. Where the fire would be, were it indoors, Rebecca cleverly planted flame-shaped sanseveria. You can't help exclaiming with delight when you discover it.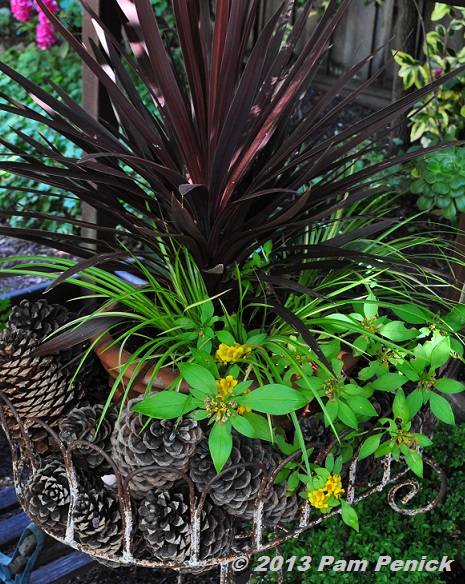 I like this: filling a too-large plant holder with pinecones.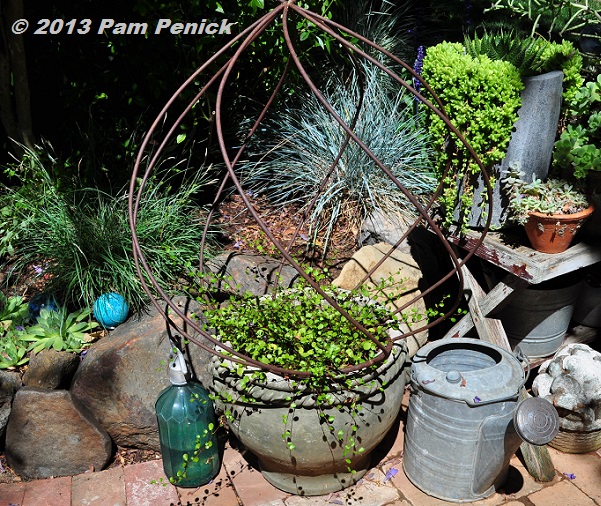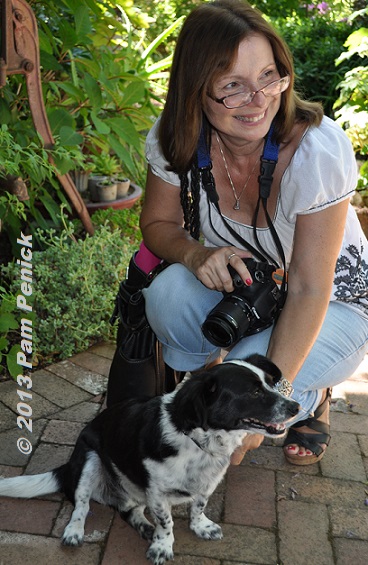 My friend and fellow Austin blogger Diana with Rebecca's cute dog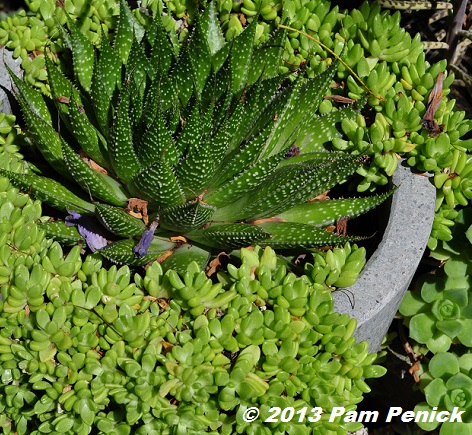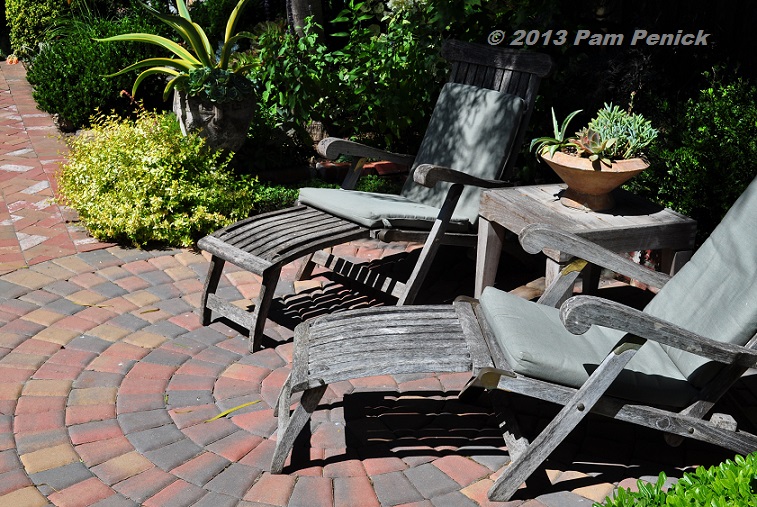 Following the brick path back toward the house, I stopped to admire the steamer chair seating area.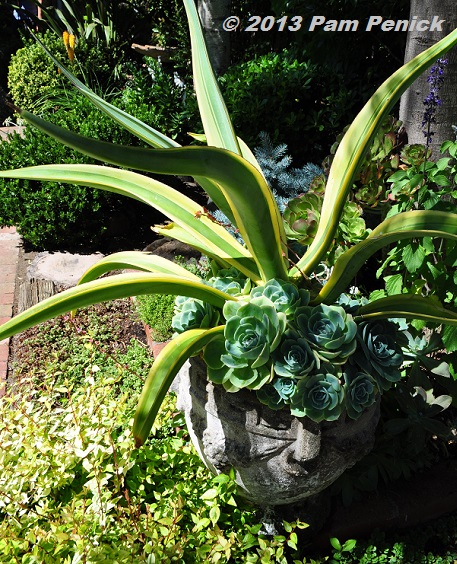 I think this is a variegated octopus agave (Agave vilmoriniana) underplanted with echeveria — fabulous!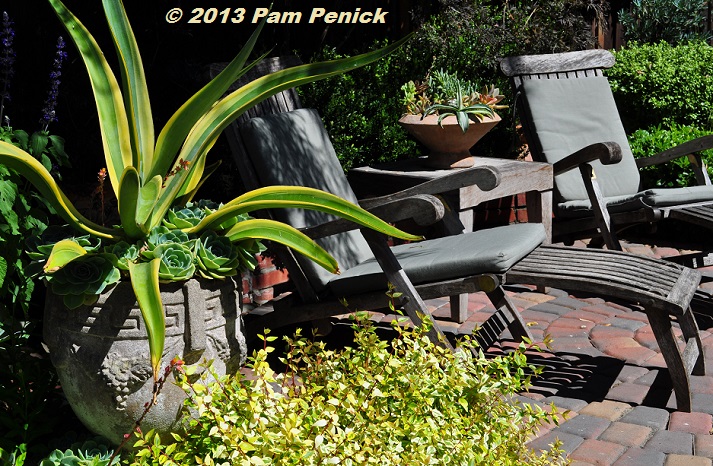 A golden-leaved plant in front picks up the golden stripes of the agave.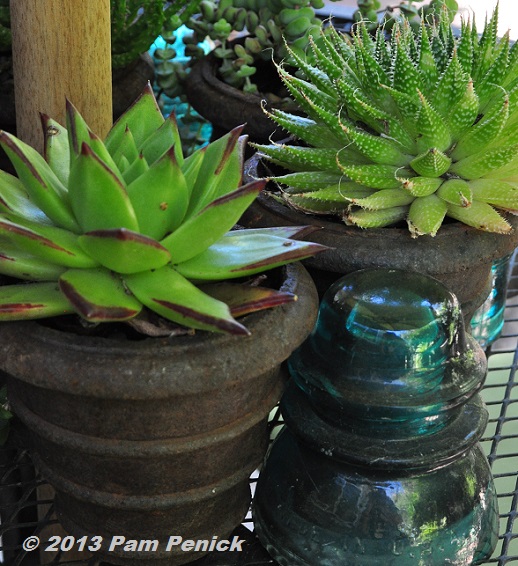 Tiny succulent pots mingle with telephone glass insulators on the side-garden patio table.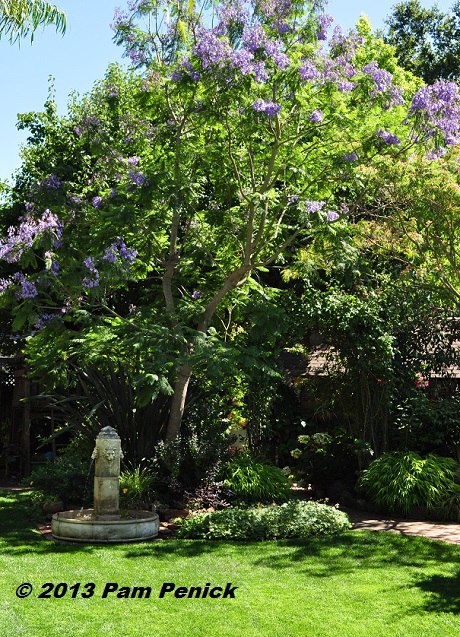 A last look back at Rebecca's garden reveals another beautiful surprise: a jacaranda in full purple bloom. I saw lots of these tropical trees in Santa Barbara earlier this summer, but they're not often found, Rebecca told us, in the Bay Area.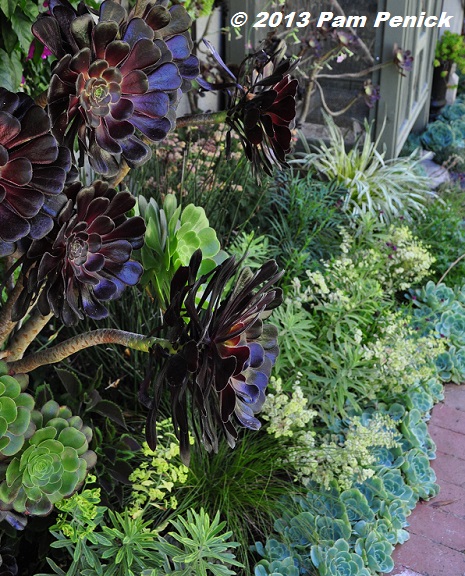 We saw many lovely gardens on the Fling tours, with beautiful plant combinations in every one, but Rebecca's garden is one of my favorites thanks to her talent with vignettes and the personality she's infused into every corner of her garden. Thank you, Rebecca, for sharing your garden with us!
Up next: The Testa-Vought Garden, designed by Bernard Trainor, perfectly designed for outdoor living and entertainment. For a look back at the grand estate garden of Filoli, click here.
All material © 2006-2013 by Pam Penick for Digging. Unauthorized reproduction prohibited.
posted in
Agaves
,
Aloes
,
Arbors
,
Containers
,
Decor
,
Design
,
Dogs
,
Fling San Francisco
,
Fountains
,
Garden art
,
Garden tours 2013
,
Groundcovers
,
Lawns
,
Paths
,
Patios & decks
,
Seating
,
Sheds
,
Succulents
,
Tools
,
Travel
,
Trees
,
Trellis
,
Water features