March 16th, 2007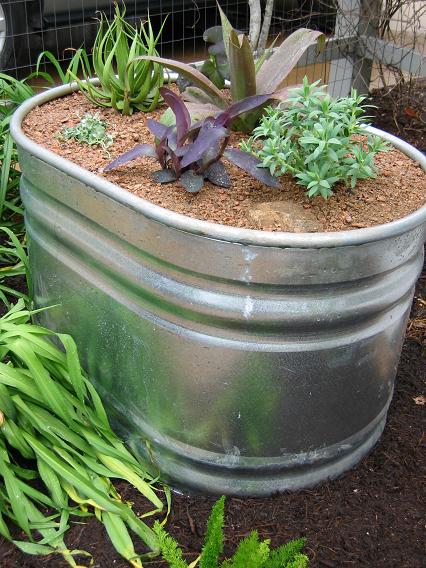 Cattle troughs, or stock tanks, are popping up in public and private gardens all around Austin. They look great in many styles of gardens—informal cottage, sleek contemporary, rustic—and can be planted or filled with water to make container ponds.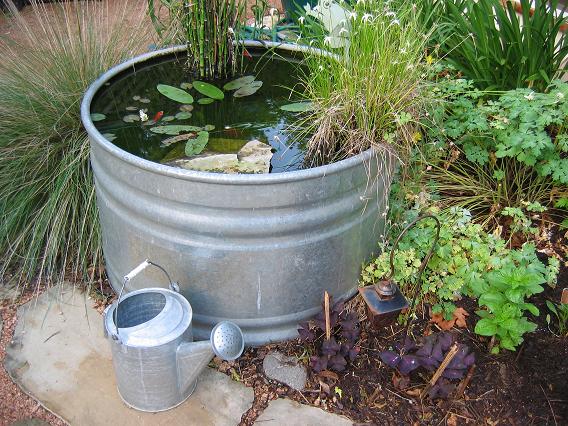 I have a small, round one (3-ft diameter, 2-ft deep) in my back garden that holds a dwarf water lily, horsetail, star grass, and a few goldfish. It's just like one I long admired at the Wildflower Center, only smaller.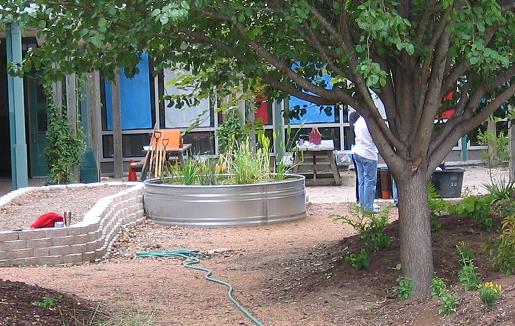 This idea is catching on everywhere. Last year a group of students at my daughter's school installed an 8-ft diameter stock-tank container pond. Cool!
Even gardeners in the distinctly non-Texas-y Pacific Northwest are using cattle troughs. See this month's issue of Fine Gardening and the article on Buell Steelman and Rebecca Sams's garden. To give Austin its due, this creative couple does hail from the River City. In fact, they met while working at Gardens, Austin's premier garden-design firm. They use troughs both as planters on their deck and as a container pond.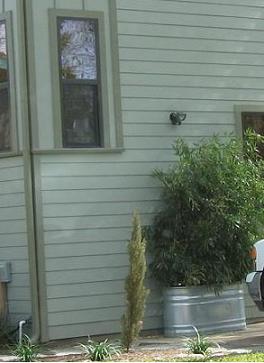 Closer to home, my neighbors down the street have put a cattle trough to good use as a planter for bamboo against their contemporary, two-story addition.
All of this is to say that cattle troughs are hot. So a stock-tank container planting was the first thing that jumped to mind when I removed a huge bicolor iris last weekend and needed something to replace it. The picture at the top of this post shows the planter I finished today. For anyone else wishing to join the herd, here's how I did it.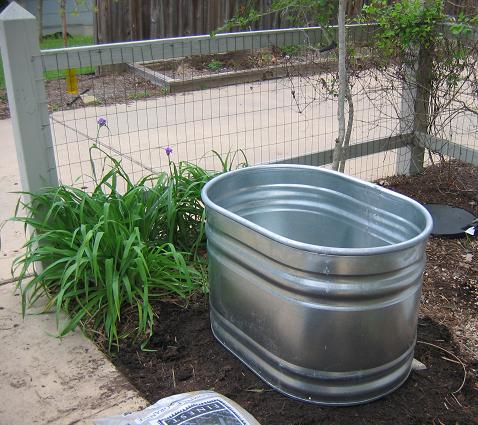 I drove to Callahan's, a local farm-supply store, to look at their selection of stock tanks. They have a bunch of sizes, but I settled on a narrow, oval shape, 2-ft wide x 3-ft long x 2-ft deep. I leveled the ground under the tank, drilled a dozen holes around the base (use a metal bit on your power drill), unscrewed the stopper and covered the hole with a piece of wire mesh for drainage, and dragged the tank into place.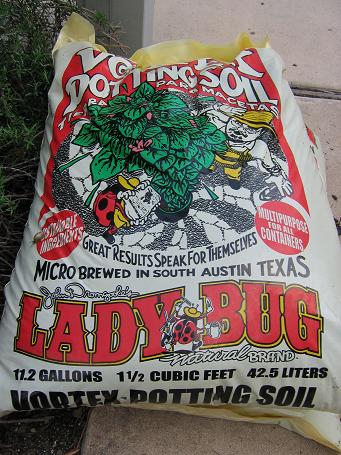 Since I don't have a pickup truck, I can't bring home an economic load of soil, so I bought expensive bagged soil. I needed a cactus mix, soil that drains quickly, because I planned to plant an agave and other xeric plants in it. At the Natural Gardener, where I was advised to mix their already loose, house-mixed potting soil with at least 1/3 decomposed granite for good drainage, I bought 6 bags of this stuff: Votex Potting Soil, "microbrewed in South Austin Texas." Each bag contains 1.5 cu. ft.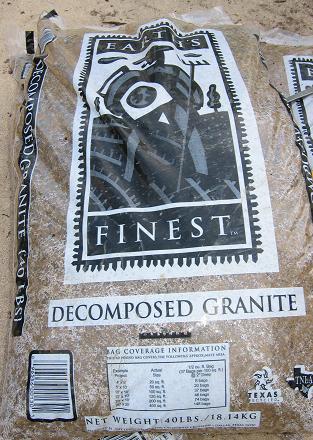 At Lowe's I picked up 9 bags of decomposed granite. Each bag contains .5 cu. ft.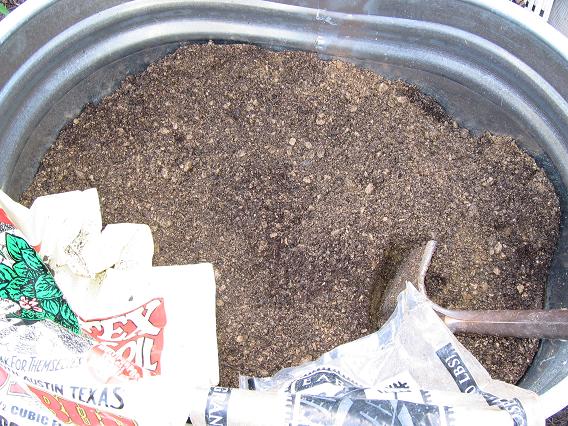 I dumped the contents in and mixed them well with my shovel, turning and turning it until all the Vortex soil had a gravelly texture.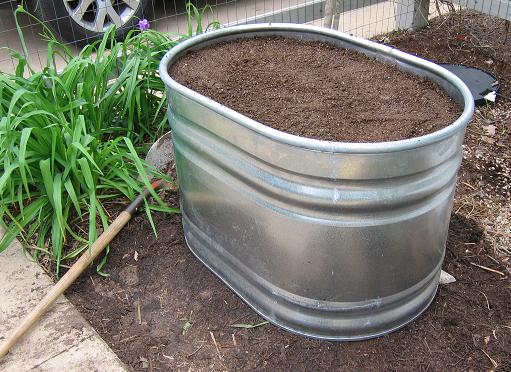 Finally it was ready to plant—the fun part!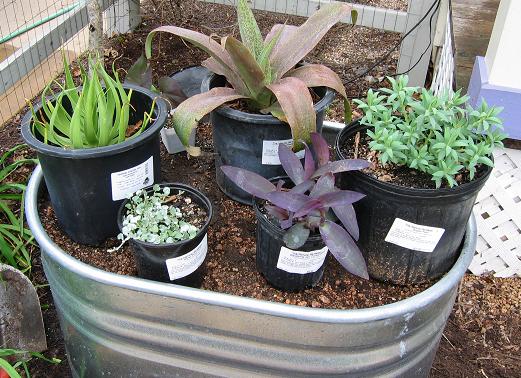 I wanted something different for this planter, something not too tall, tolerant of partial shade, and xeric (not thirsty) because I don't have time to baby container plantings during our brutal summers. By visiting both of my favorite nurseries, Barton Springs Nursery and Natural Gardener, I ended up with some fantastic new plants: a squid agave—love the name!—(Agave bracteosa ), a large manfreda (Manfreda maculosa ), and a euphorbia called Gopher Plant (Euphorbia rigida or E. biglandulosa ), plus a few trailing plants for the edges: purple heart (Setcreasea pallida ), silver ponyfoot (Dichondra argentea ), and black sweet potato vine (Ipomoea batatas 'Black Heart').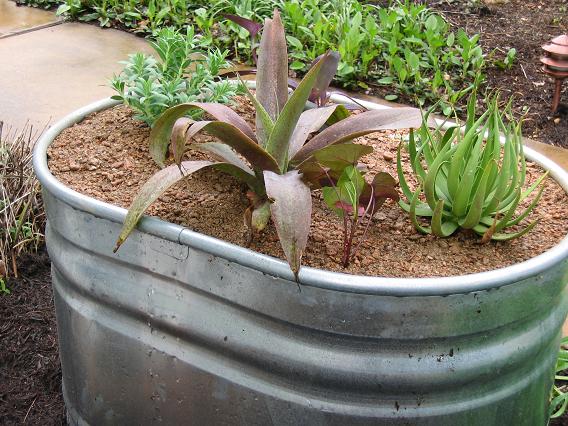 Here's how it looks from the rear, as you walk down the driveway toward the street.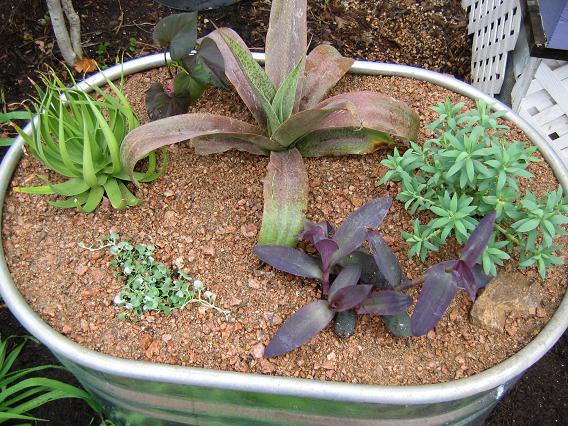 And as seen from above. I mulched the plants in more decomposed granite, watered it well, and voila—a water tank transformed into a dry-plant container. My back is aching, but I love my new planter.