June 25th, 2013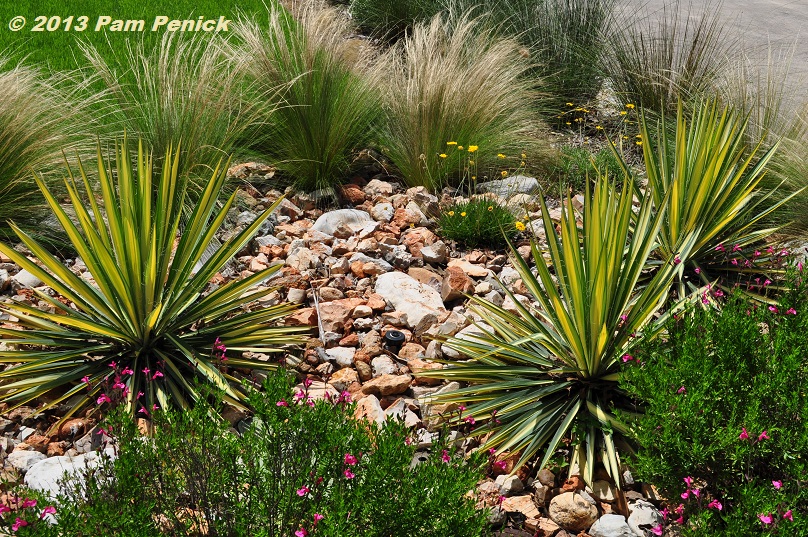 A week ago I traveled to San Antonio to give a public Lawn Gone! talk at the invitation of the Gardening Volunteers of South Texas. Among the 100 or so people in attendance, two Alamo City bloggers I follow, Shirley of Rock-Oak-Deer and Heather of Xericstyle, were also kind enough to come see me. Shirley had invited me to visit her garden while I was in town, so after the book signing wound down I headed over to her north San Antonio home. The golden radiance of 'Color Guard' yucca, four-nerve daisy, and Mexican feathergrass greeted me at the curb.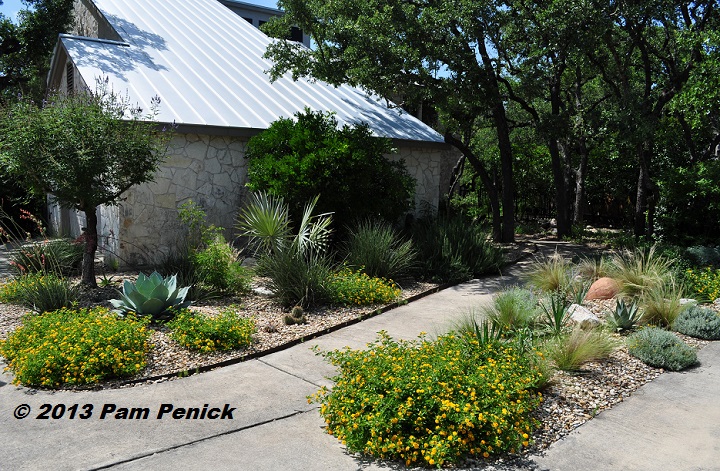 More sunny goodness: 'New Gold' lantana brightening gravel-mulched beds of silver-blue Bismarck palm, 'Whale's Tongue' agave, and santolina. Despite nearly 100-degree temperatures, we strolled around Shirley's garden for close to an hour, and I really appreciated how beautiful her garden looks under the twin annual stresses of Texas heat and drought. Her garden would have made a perfect follow-up visit for the attendees of my talk, enabling them to see firsthand how you go about creating a low-care, xericscape, deer-resistant garden that doesn't rely on a swath of green grass for its appeal.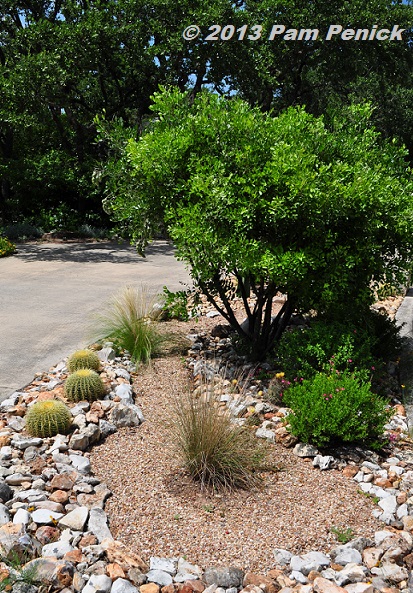 Along the street, in the very toughest conditions, evergreen Texas mountain laurel is a stalwart choice. Below, a trio of golden barrel cacti, salvia, and ornamental grasses are mulched with native river rock, accented by a lake-like space of smaller gravel.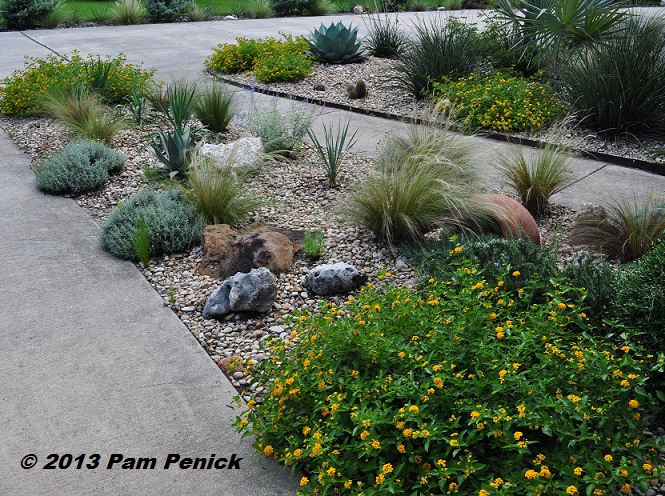 Where her circular drive meets the main driveway, two angular beds express a continuity of plant choices — tough, low-water survivors like gold lantana, agave, santolina, and feathergrass. Evergreen and ever-silver plants keep the garden interesting during the brief San Antonio winter.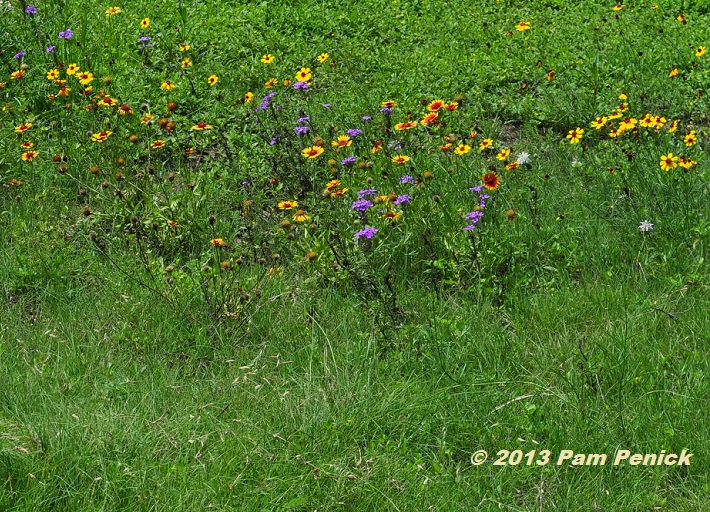 Around back, a sunny meadow appears, or so it seems. Actually, this is a small, native buffalograss lawn Shirley and her husband inherited with the house. She's let wildflowers seed out into the lawn, to charming effect.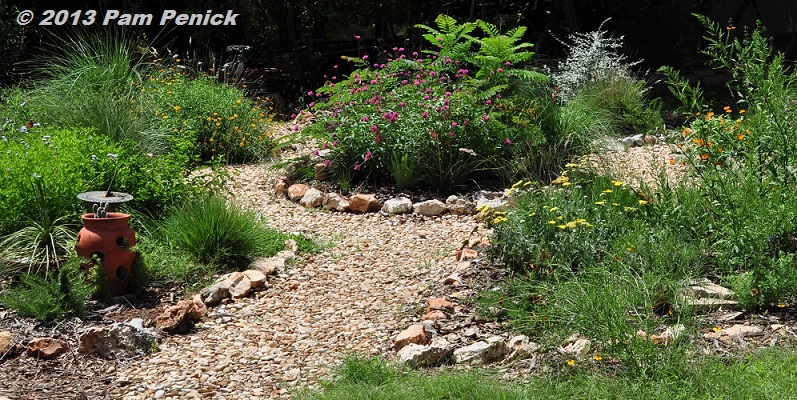 The centerpiece of her back garden is the sunny, butterfly-attracting circle garden. Shirley designed it to cover a bare spot in the lawn, and over time she's expanded it to take up more lawn space. (Click the link to see her post about the circle garden's construction, plus an overhead view that really shows off the pattern she used.)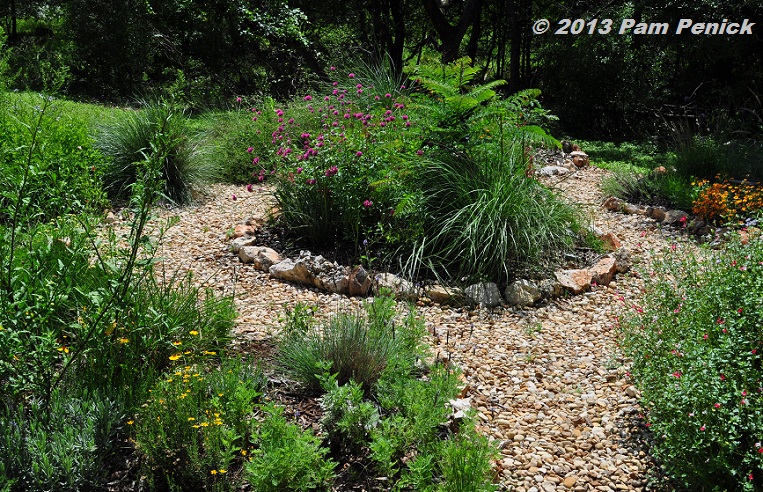 In the center, a stand of hot-pink 'Fireworks' gomphrena blazed.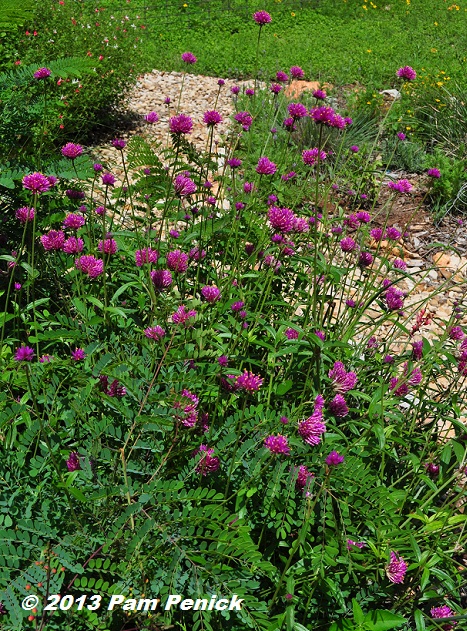 I wish a had a good spot to plant some of these myself.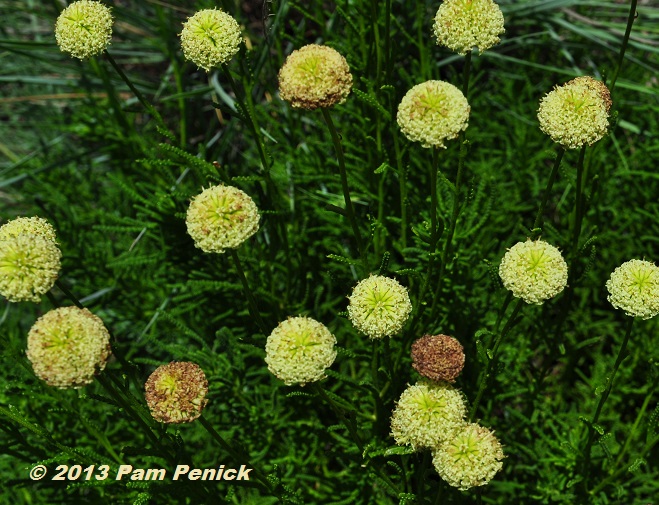 Key lime pie-colored buttons, the flowers of a green santolina, brightened up the scene too.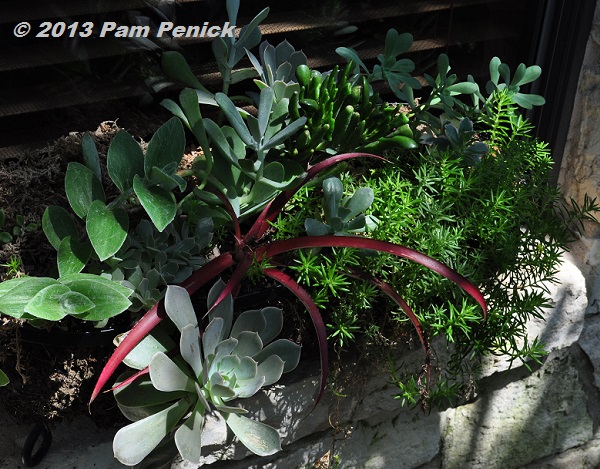 Gardens you read about in a blog always surprise you in some way when you see them in person. Shirley's garden surprised me with a large, shady deck behind the house, the perimeter absolutely filled with potted succulents, cactus, and other tropical and tender plants. I couldn't remember ever seeing her deck garden featured on her blog, and so I had to spend a little time exploring it.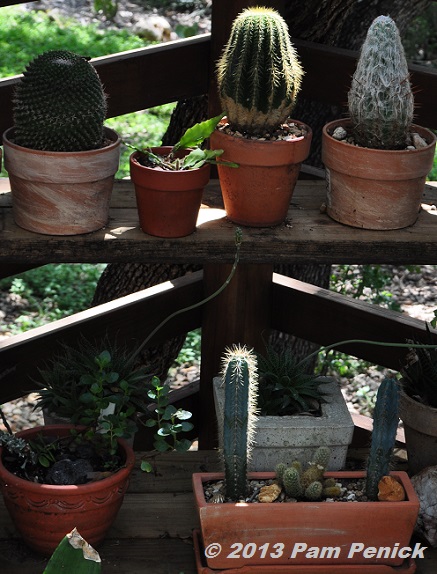 Potted cactus specimens occupy a tiered shelf in one corner.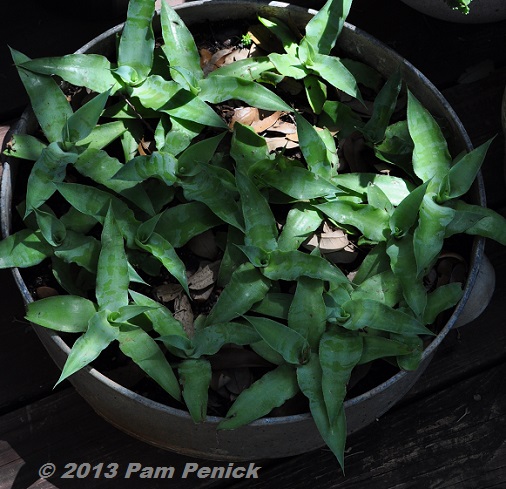 Octopus babies! That is, octopus agave pups (A. vilmoriniana). I like the way Shirley has arranged these in a bowl planter — it's their own little aquarium.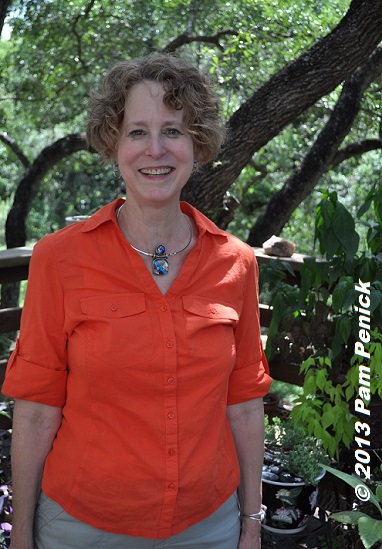 There's a lot more growing on that deck than in some people's gardens, but the bright light and deep shadows under the tree defeated my efforts to capture the scene. Shirley is lucky to have plenty of bright sun for growing agaves, yuccas, and butterfly-attracting plants, plus plenty of shade to sit outdoors and enjoy what she's created.
Thank you, Shirley, for a lovely garden tour and a great end to my San Antonio visit!
_____________________
If you want more DIGGING, please "Like" my Facebook page to enjoy photos of beautiful gardens, get notifications of my blog posts, and just hang out with me and talk plants. I hope to see you there!
All material © 2006-2013 by Pam Penick for Digging. Unauthorized reproduction prohibited.
posted in
Agaves
,
Cactus
,
Containers
,
Garden tours 2013
,
Grasses
,
Lawn Gone!
,
Lawns
,
Paths
,
Patios & decks
,
Sustainable Gardening
,
Texas natives
,
Wildflowers
,
Xeric plants
,
Yuccas