May 30th, 2013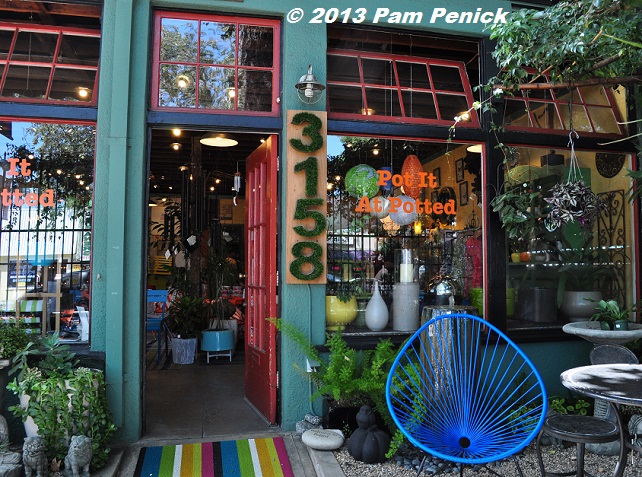 Last Saturday my husband and I flew to Los Angeles, rented a car, and drove to Santa Barbara, where we spent a relaxing 3-day weekend and celebrated our 23rd anniversary. We visited Lotusland and Santa Barbara Botanic Garden (my picks), as well as the historical Old Mission Santa Barbara and courthouse (David's picks). We sat on the beach, watched dolphins, drove through the mountains, walked State Street, and admired the jacarandas in full bloom. We ate seafood on the wharf at Brophy Bros., tri-tip sandwiches at Cold Spring Tavern, and delicious breakfasts and happy hour snacks at the Cheshire Cat Inn, our B&B. In other words, we had a great time.
I'll write about the gardens and a few other things we saw soon, but today I want to treat you to a virtual visit to Potted, an L.A. garden shop (their tagline is "Indoor Style for Outdoor Living") that I've long wanted to see. We popped by for a quick visit on our way to the airport on Tuesday morning.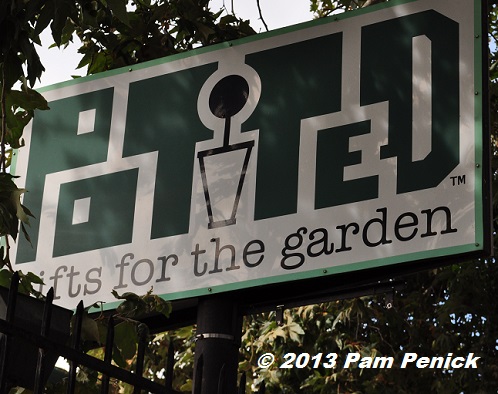 Located on a busy commercial street in a neighborhood of tiny bungalows, Potted has a small street presence.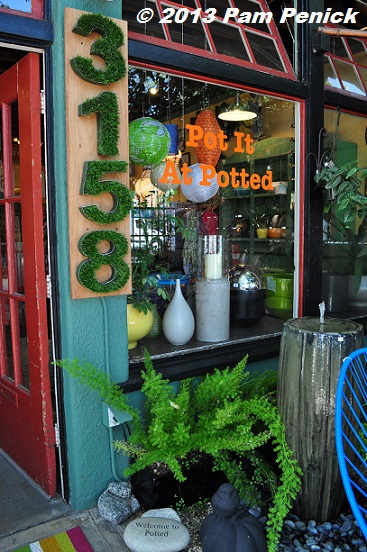 But once you walk through the gate, the place is so chock-full of tempting garden decor, furniture, and potted plants that it seems to double in size.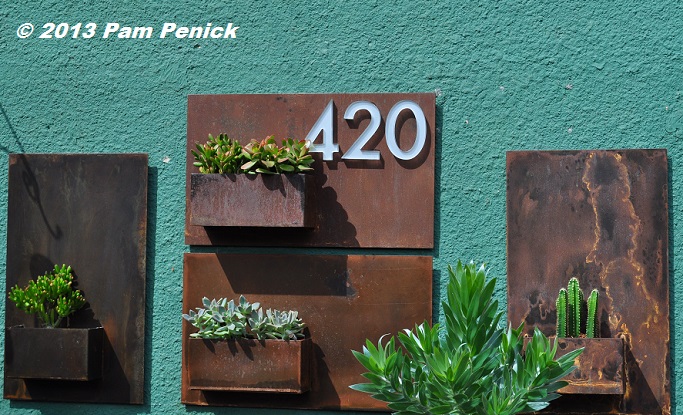 First let's stroll around the outdoor patio displays. I immediately spotted this grouping of Potted's City Planters on a turquoise wall.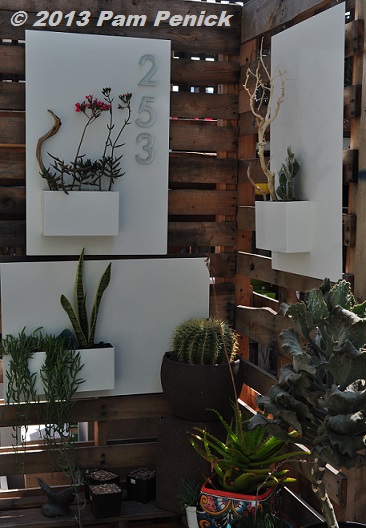 Nearby, on a wood-slat screen, hung several City Planters in white. These are so striking, especially the vertical style.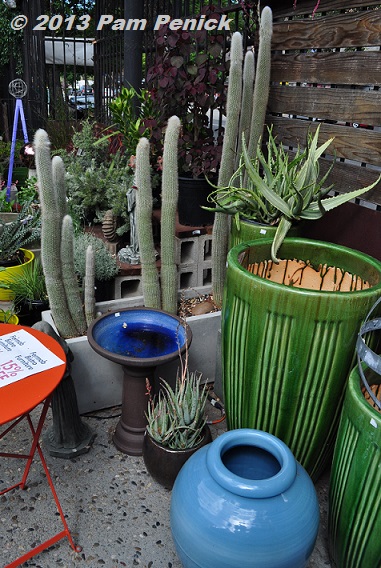 Pretty pots and interesting plants abound.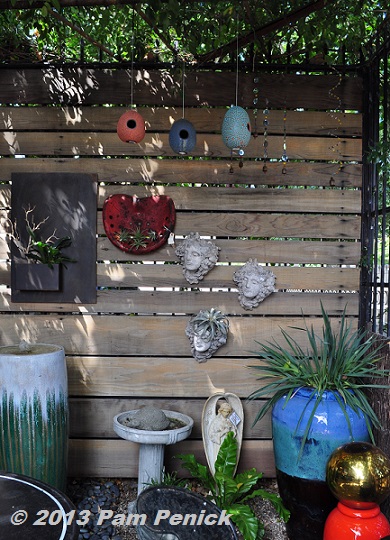 Egg-shaped ModPod birdhouses make a pretty collection. And that's a red tractor seat on the wall, stuffed with tillandsias.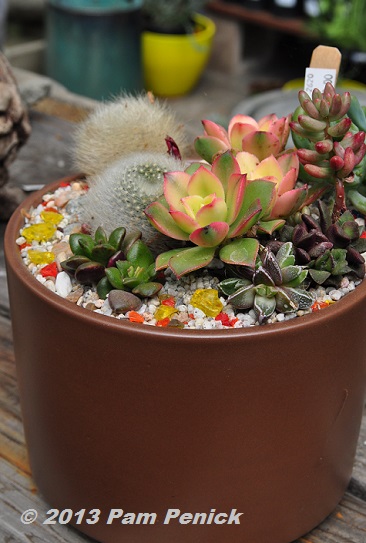 True to its name, Potted is known for its potted succulent arrangements.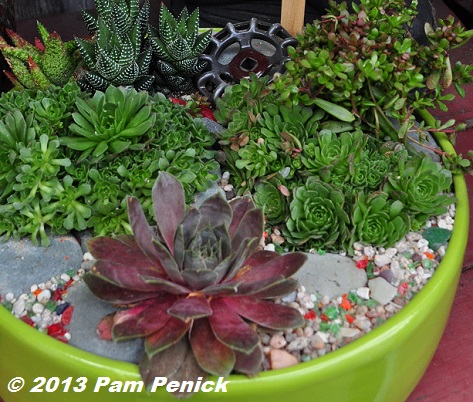 Colorful pots, a smattering of colorful aquarium gravel, and vintage cast-offs, like this faucet handle, give them a playful look.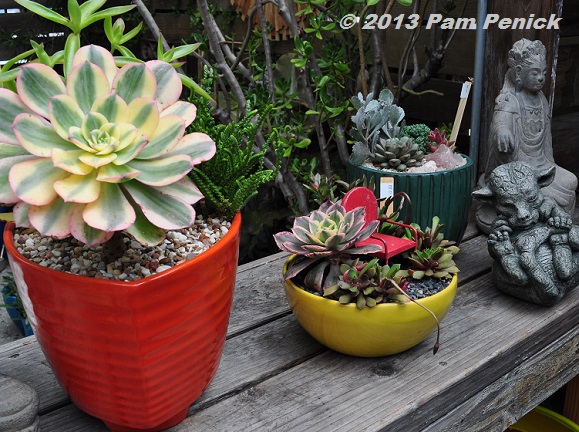 Look closely at this trio of potted plants and you'll notice a small, red motel chair as accent in the middle container.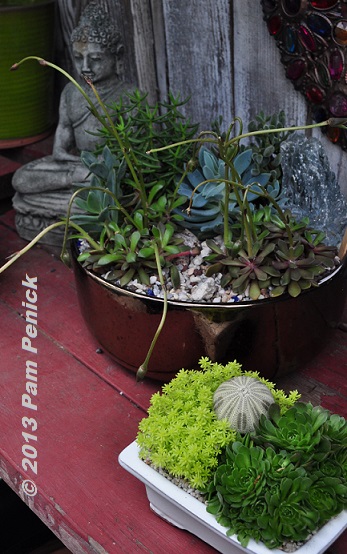 Color-block with sea urchin (bottom right)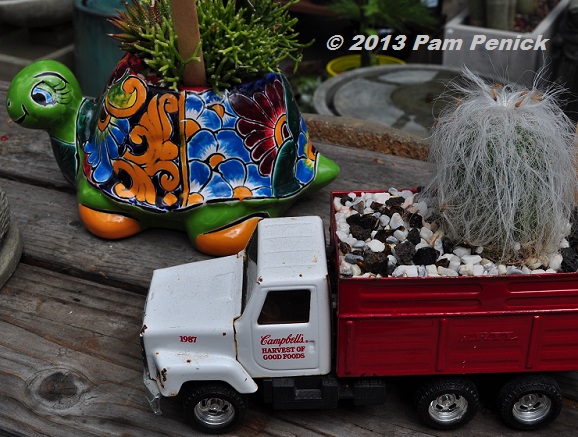 Pure kitsch — I love it.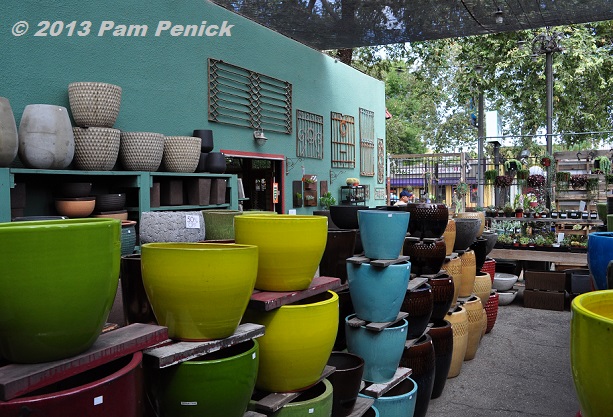 Around the side of the building, a large selection of colorful pots adds a tempting rainbow of color.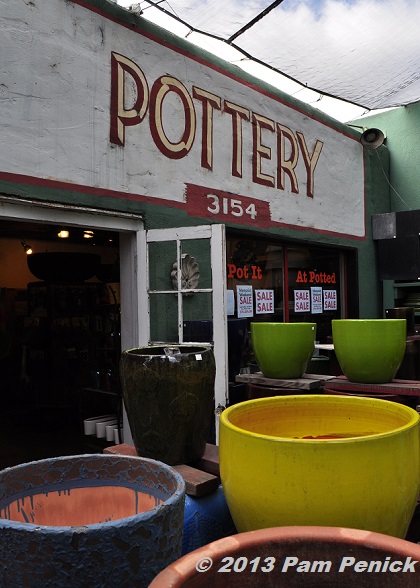 In a potting workshop in back…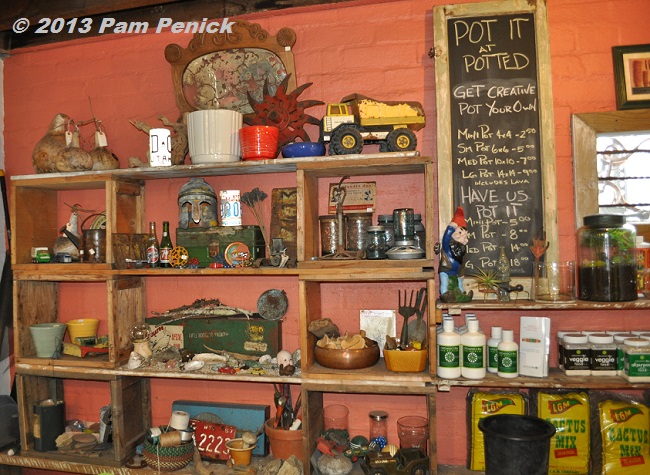 …you can pot your own plants or have a staff member do it for you.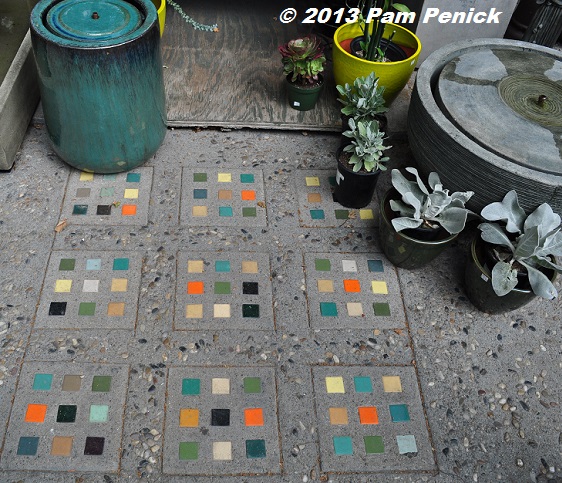 I love these colorful tiled pavers set into the concrete patio.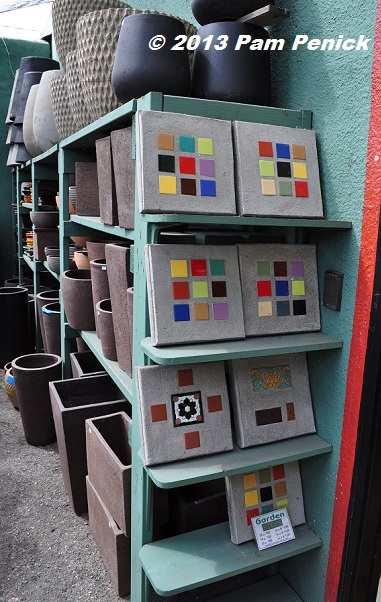 Similar ones are for sale, inviting you to jazz up your own patio space with a little color.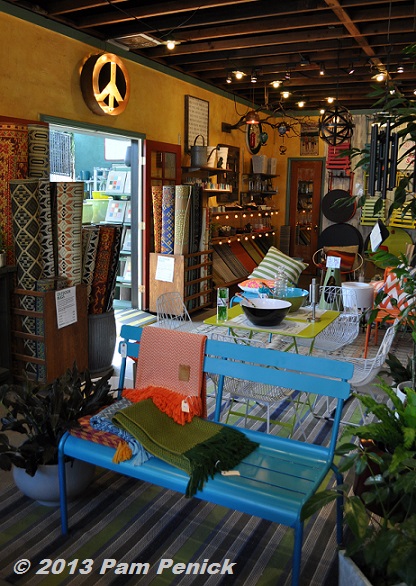 Step inside the store and a colorful mix of furniture and accessories greets you. Doesn't it make you want to slap a fresh coat of paint on all your outdoor furniture — or replace them with these stylish pieces?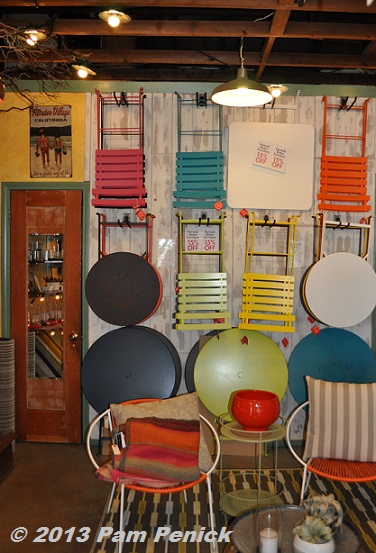 A Crayola box of metal bistro chairs hangs on the wall, while round, retro chairs and a tiered Fermob side table make a cool seating arrangement on the floor.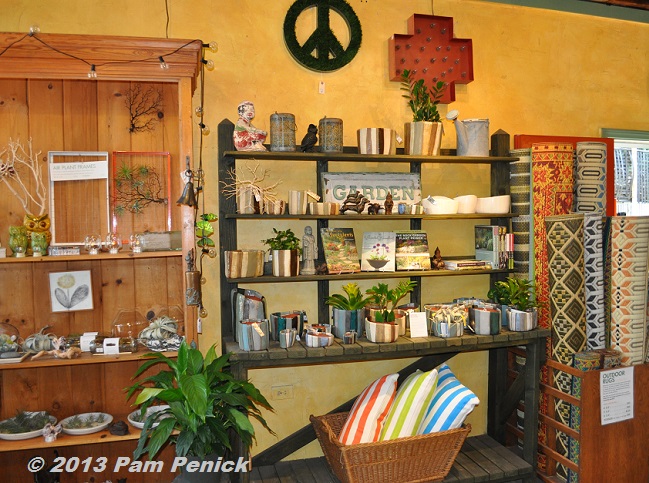 Striped Esther Pottery shares space with books about succulents and houseplants.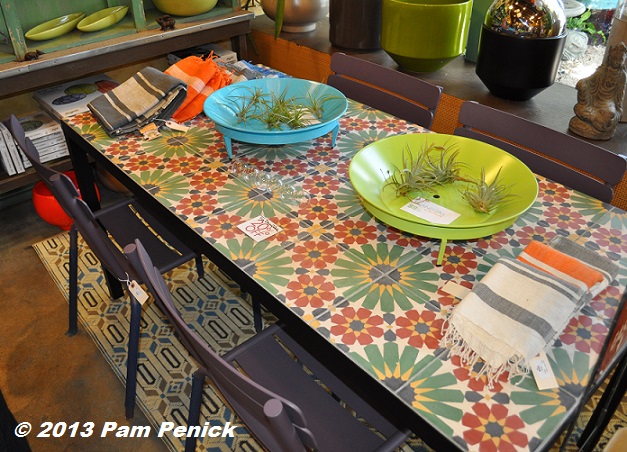 I absolutely coveted this tile-top table — not for my patio or deck but for my kitchen. Colorful Steel Life planters display a few tillandsias but would also make fun fruit bowls.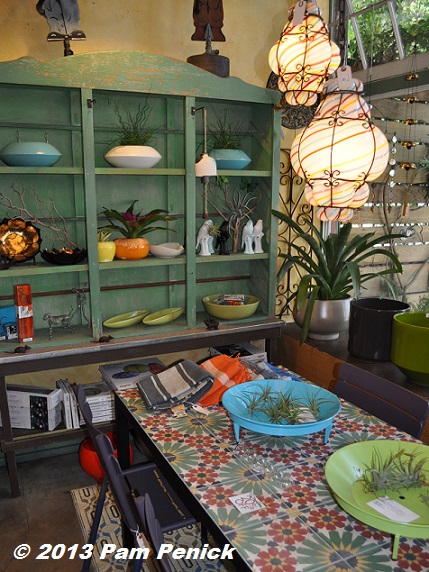 A wider view reveals a green hutch and porcelain, candy-striped hanging lamps. Love! I'd like to see Austin's nursery shops step up their game with more home-and-garden furniture and contemporary-retro pots and decor.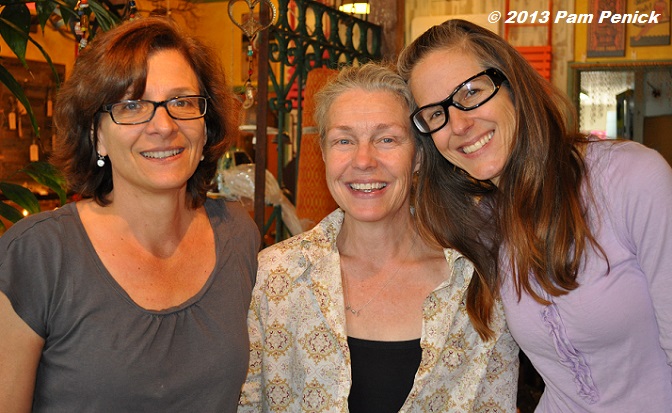 Here's the team that makes Potted such a great shopping experience: Cristina, the potted-plant arranger; Mary, co-owner; and Karen, who was working the register. I missed meeting Annette, Potted's other co-owner and the store's ambassador thanks to her blogging for Potted, but she was out of town the day we visited.
Annette and Mary generously donated a "grass" pillow for my book party giveaway in celebration of Lawn Gone!'s release. Check out their online store if, like me, you live too far away to shop regularly. You might already be familiar with some of their products, like the famous Circle Pot. I have an orange-red one myself, and I would have been tempted by the new chartreuse color that's on order, but it wasn't in yet. Ah well, next time!
All material © 2006-2013 by Pam Penick for Digging. Unauthorized reproduction prohibited.
posted in
Cactus
,
Containers
,
Decor
,
Fences
,
Fountains
,
Garden art
,
Nurseries & Shops
,
Patios & decks
,
Seating
,
Succulents
,
Travel
,
Walls
,
Xeric plants