May 15th, 2013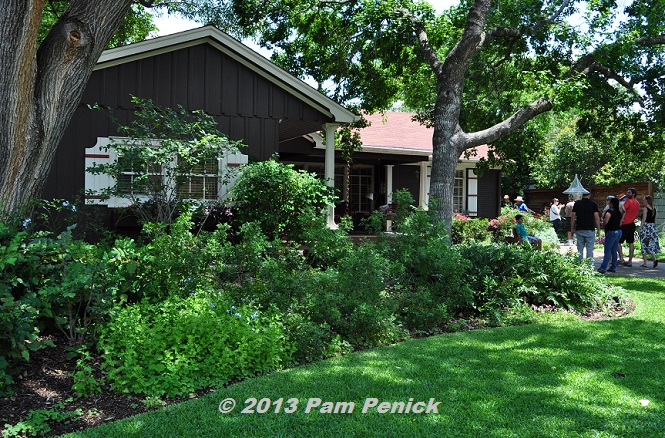 I used to walk by this house every day while picking up my son from kindergarten, and each time I'd gape at the lush, shade garden fronting the charming cottage with the welcoming front porch, wondering what the rest of the place looked like. Twelve years later, I finally found out. The Highland Terrace West garden, located in north-central Austin's Highland Park neighborhood, was the fourth we visited on the Wildflower Center-sponsored Gardens on Tour last Saturday. Let's take a tour together, shall we?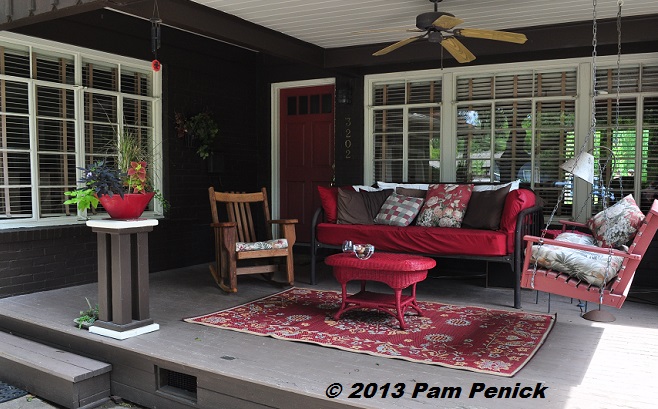 The deep front porch has always called to me. It's so inviting, and I love the cozy, red-and-brown color scheme.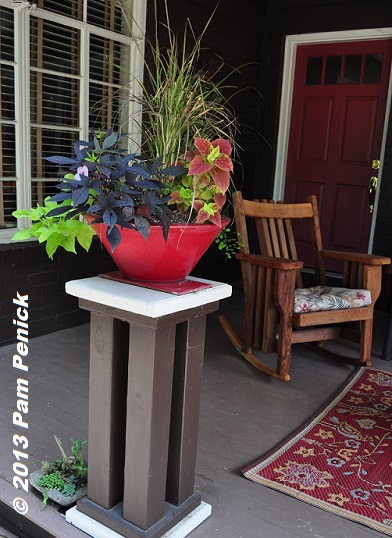 One of the porch columns has been partially removed (I assume it wasn't weight-bearing), and the remaining section now serves as a plant pedestal. For a red pot, of course, with coleus to match, sweet potato vines providing chartreuse and eggplant accents, and a reddish grass adding height.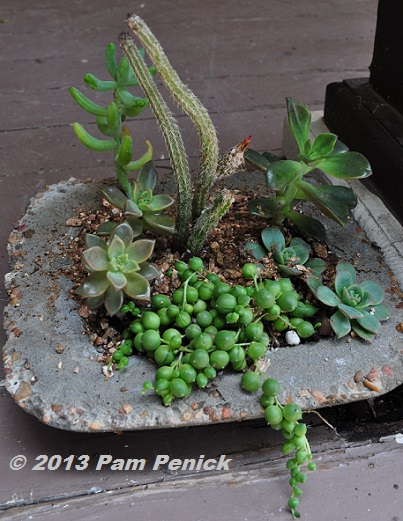 At its base, a homemade concrete dish holds a tiny cactus and succulent collection.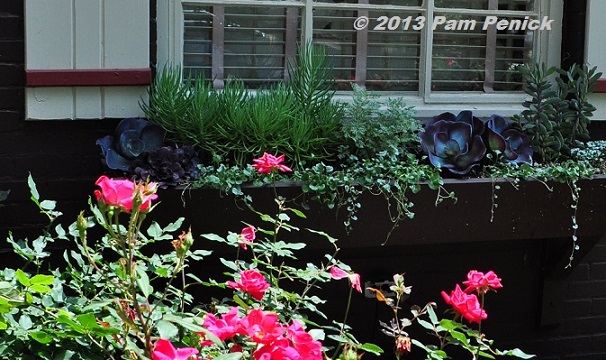 The garden is packed with charming details, with interesting vignettes around every turn. But I knew the owners were fearless when I spotted this window box packed with succulents and my touring buddy Cat leaned in to touch the leaves of the large, purple echeverias. "They're not real," she said. They sure do pass though. I decided on the spot that someone with the chutzpah to pull off a mix-up of real and fake plants was going to be defying expectations in other ways, and I hoisted my camera to be ready.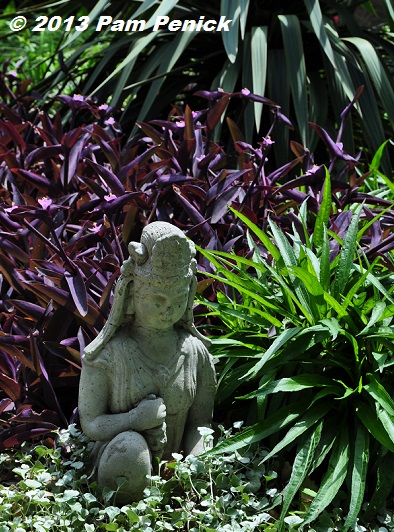 One thing this garden excels at is using commonplace plants in particularly beautiful ways. Here, softleaf yucca, purple heart, and 'Katie' dwarf ruellia combine long, pointy leaf shapes in various hues, making a pretty setting for a piece of garden sculpture. Silver ponyfoot froths at its feet.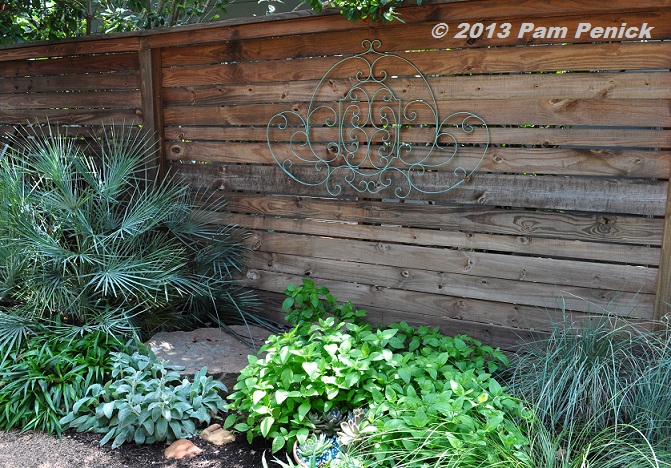 As you walk around the right side of the house, you see another fabulous combination in silvery pale-green, anchored by a silver Mediterranean fan palm (I think). Groundcovers flow around a large boulder set in the bed, and on the fence a frilly metal ornament provides a color echo of the plants.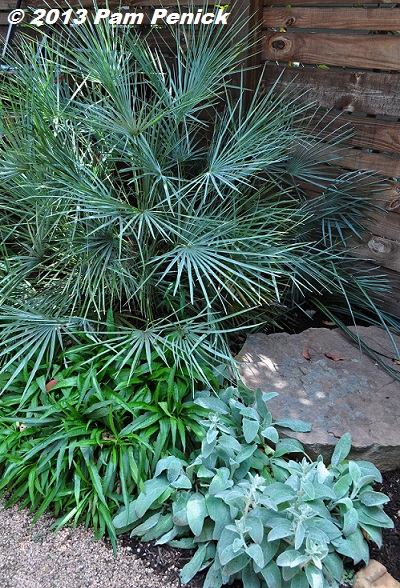 I covet this combo. And to think I used not to care much for palms. Scenes like this have converted me.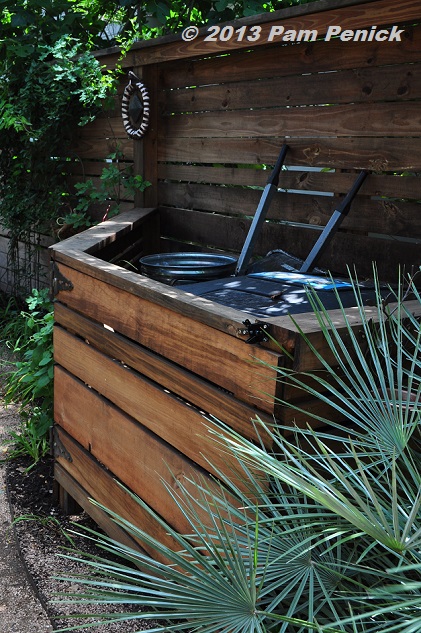 Side yards are often repositories for trash bins and workbenches, and the owners have beautified even these necessaries. The trash bins and wheelbarrow are tucked behind a handsome, gated extension of the board fence.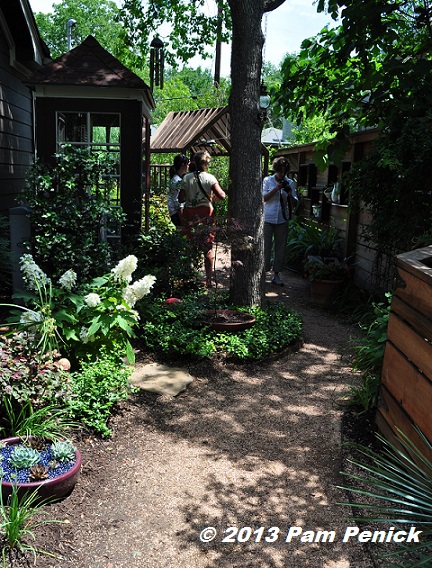 A wider view reveals the gated bin corral on the right and a winding path that ducks around a tree as it leads to the rear garden. Two structures ahead obscure a longer view and entice you forward.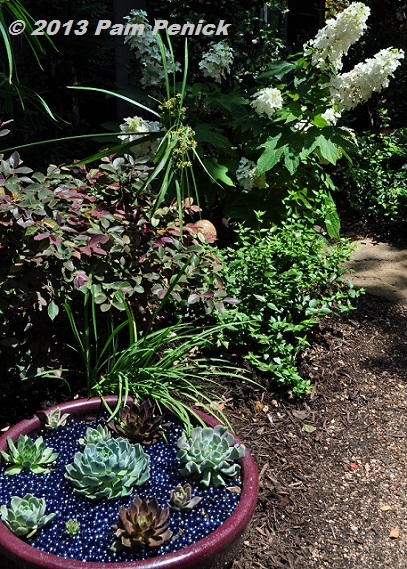 But eye-catching details along the path also grab your attention, like this marble-mulched succulent bowl. Oakleaf hydrangea blooms behind a rusty-leaved loropetalum.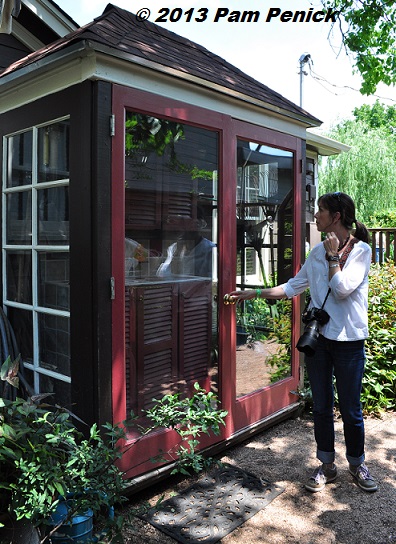 Just past the tree, a glassed-in structure reveals a work sink and storage for potting supplies and tools.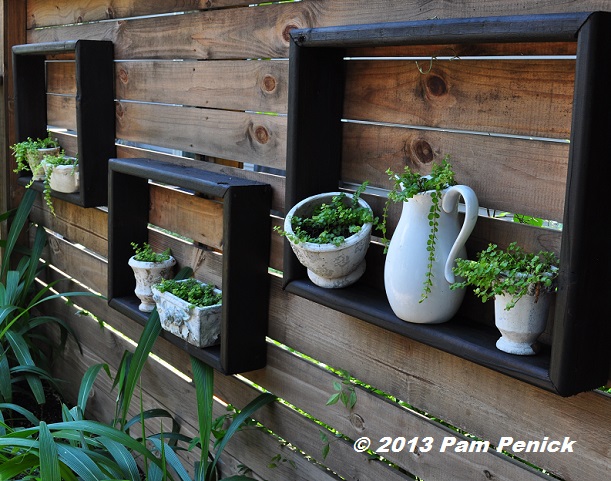 Across the gravel path, on an open stretch of fence, hang three charming "pictures" of white pottery planted up with green ivies and ferns. A living still life.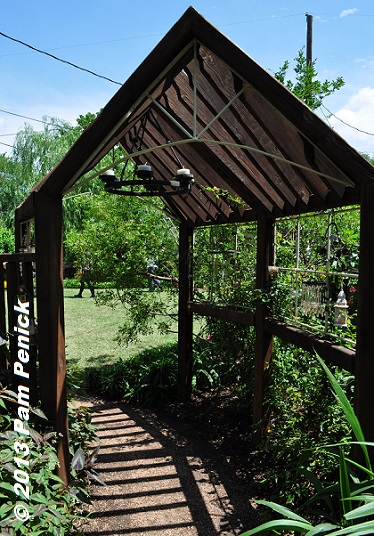 Now you see the sunlit back garden opening up, but first you pass through a shady, peaked arbor hung with crystal decorations and a candelabra. Can you imagine this all lit up for an evening lawn party?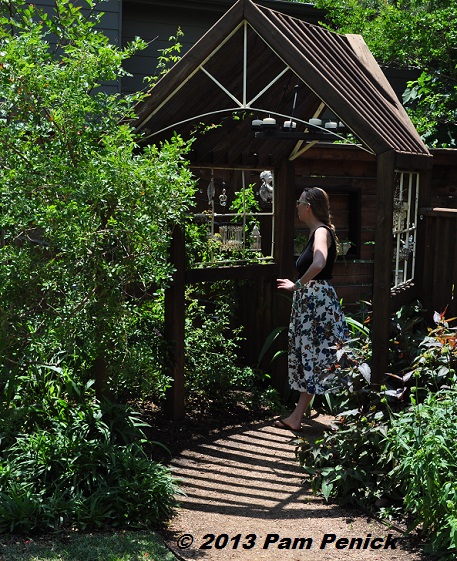 Looking back from the other side. The windows and hanging decor have caught another visitor's eye.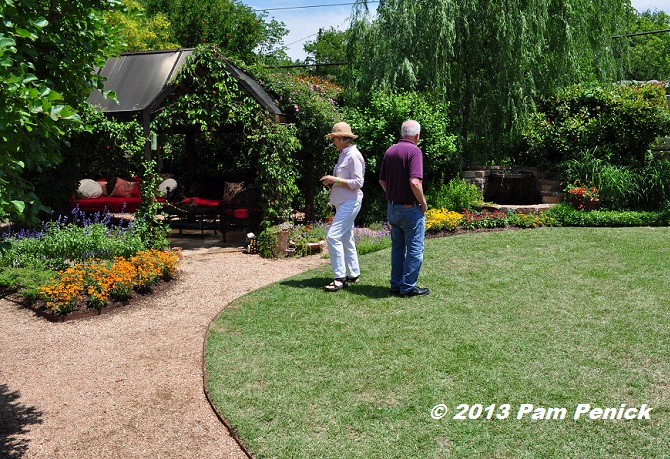 Now you step onto a circular lawn — and you start turning in circles yourself, taking everything in, starting with this vine-draped, roofed seating area on the far side of the garden. Those fiery, red-cushioned chairs attract the eye and brighten up the dark-stained structure. To the right, a weeping willow drapes protectively over a stone fountain and pool.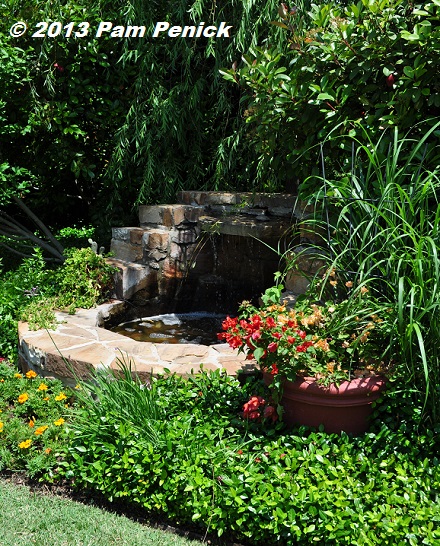 A closer look at the water feature tucked into the garden border.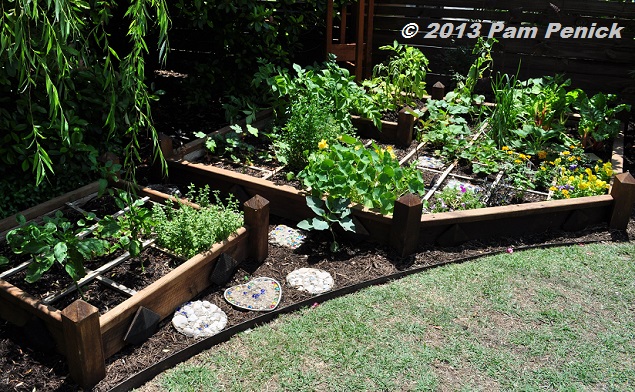 To the right of that, a tidy square-foot garden is situated in a sunny spot.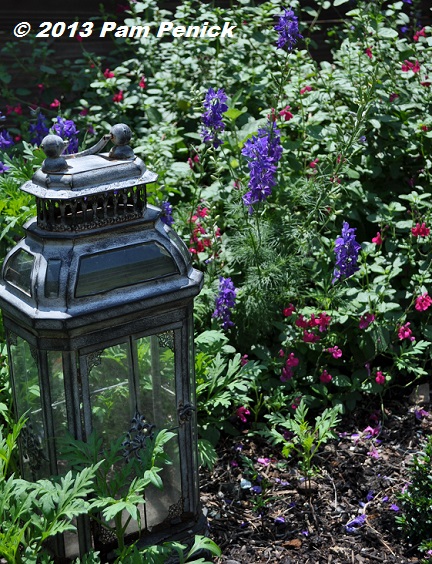 Panning right again, you see a colorful bed of salvia and annual larkspur, accented here with a large lantern.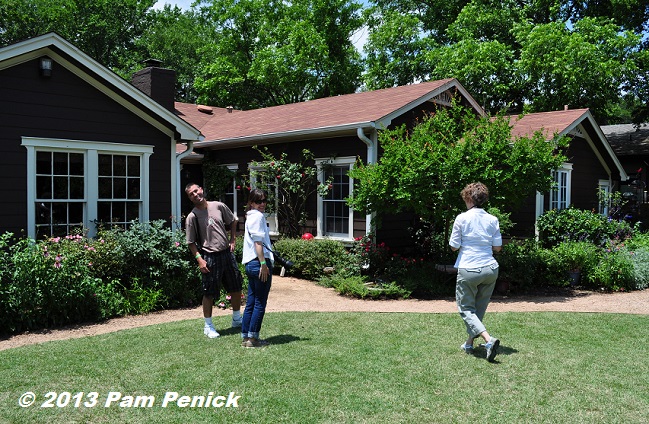 And finishing the 360-degree circuit (skipping past the covered arbor I already showed you), you see the back of the house, painted dark brown with creamy white trim. My touring companions David of The Desert Edge and Cat of The Whimsical Gardener are giving me goofy grins while Shirley from Rock-Oak-Deer is intent upon another shot in a small rear courtyard.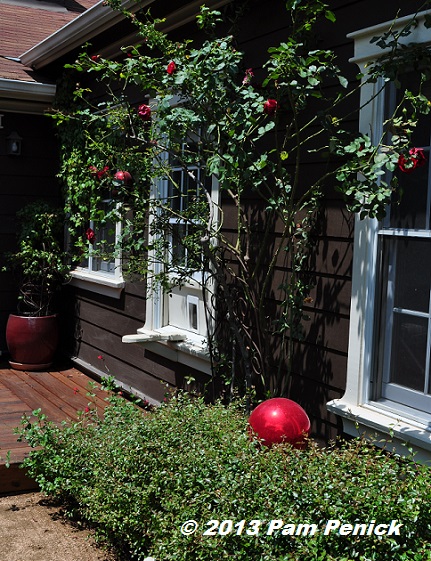 More red! These gardeners love hot color. A crimson rose clambers along the house, accented by a red gazing ball and glazed container on a small deck.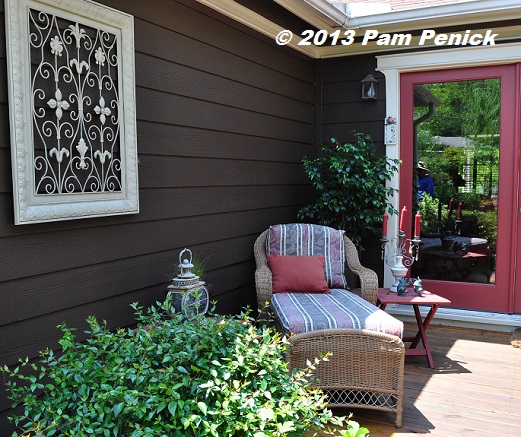 A comfortable lounging spot for one is tucked by the back door.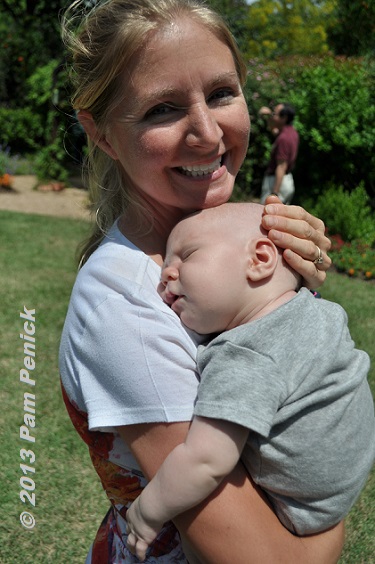 An aside: I think I was stopped at least once, sometimes twice, at every garden on this tour by readers who recognized me. Embarrassingly, I am getting somewhat used to being recognized on area garden tours, but it's still kind of a strange experience for this introvert writer. Plus Cat teased me mercilessly about it. (Gotcha, Cat!) But one big perk about being recognized is a sense of community that you get (Central Texas gardeners unite!), not to mention the gratifying realization that people who aren't even related to you read your blog. More than that, you get to meet lovely individuals like the mom here with her adorable 5-week-old baby. After she introduced herself as a reader, I had to take her baby's picture to share with you. (If you're reading, my friend, thanks for the dose of cuteness!)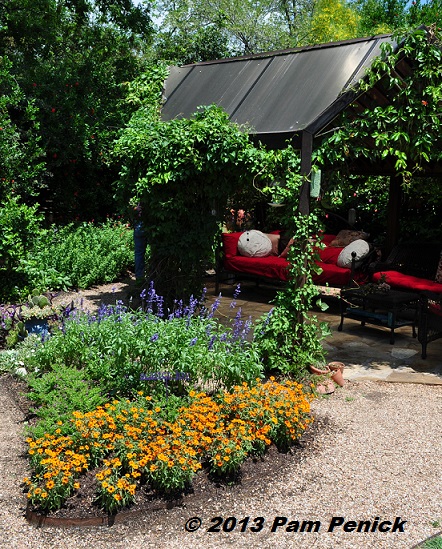 Anyway, while admiring the shade structure on the far side of the garden…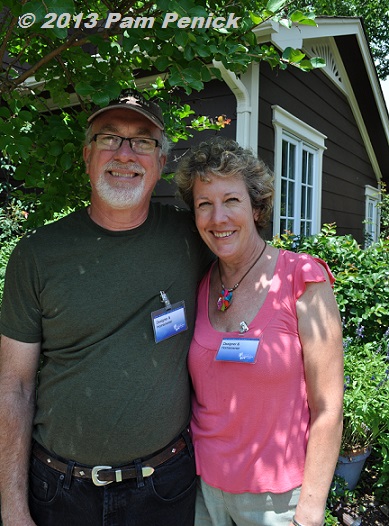 …I was recognized by the owners of the garden, Bruce Baldwin and Colleen Jamison, who came over to introduce themselves. I was thrilled to meet them and told them that I'd been hoping to visit their garden for 12 years, since those long-ago kindergarten pick-up days. Bruce is the builder of the garden structures, and Colleen is the plant designer. Together they make a fine team.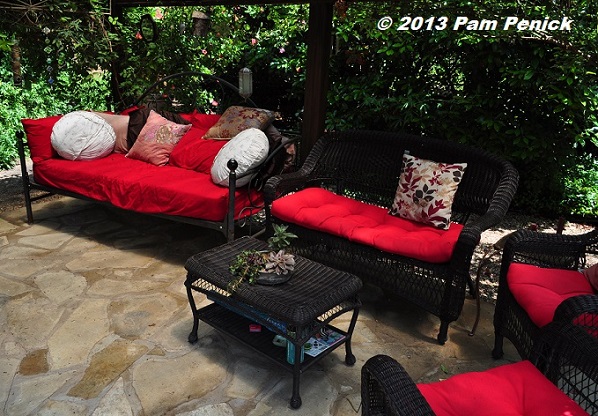 Taking a peek inside the shade structure, I was half-tempted to sink into one of these red-cushioned chairs or sofas, but there was still plenty of garden to see.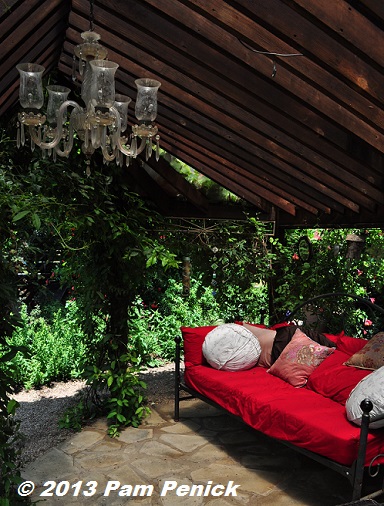 A parting look reveals an electric chandelier hanging from the peaked roof. Clearly this is a garden meant to be used at night as well as during the day.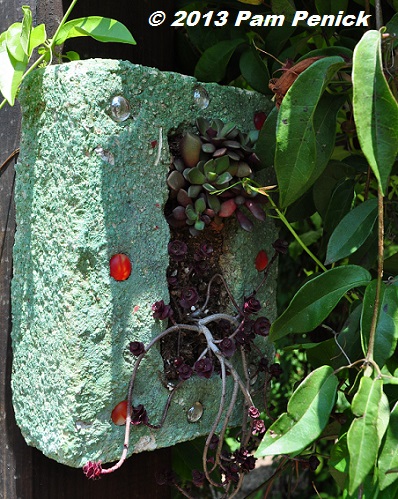 Hung on a post, this vertical succulent planter caught my eye.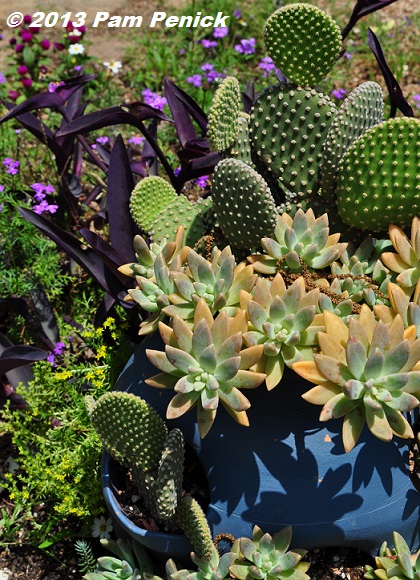 Just outside in a sunny bed, this succulent and cactus planter set amid purple heart and verbena makes a beautiful focal point.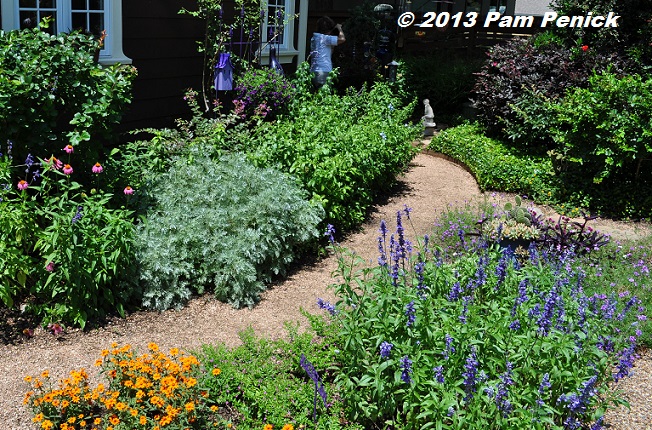 A wider view of a perennial bed with a curving decomposed-granite path cutting through it.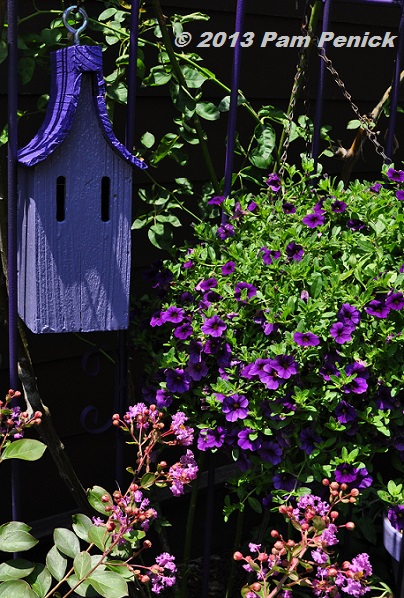 Purple!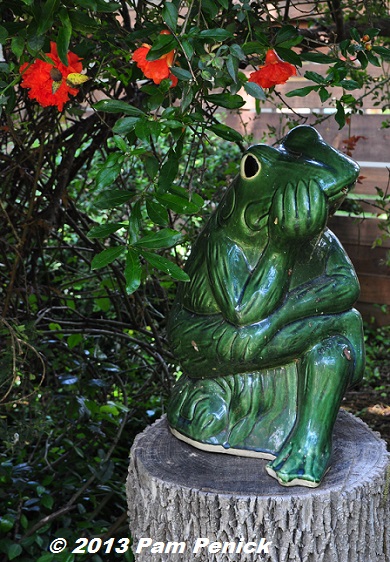 In the back corner, hidden in a screen of pomegranate foliage, a ceramic frog holds court atop an old tree stump.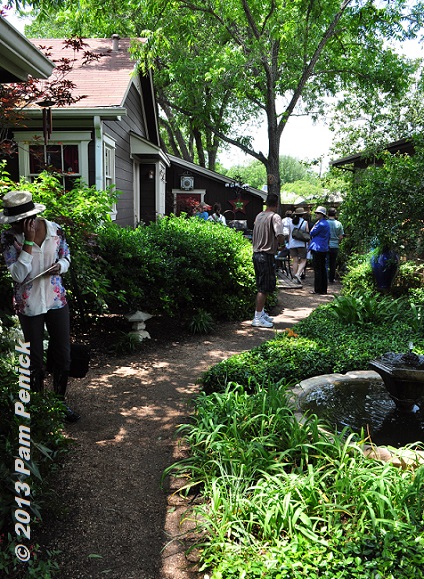 Still with me? Now we venture down the other side of the house. The owners have made appealing gardens even in the tricky side yards. Why tricky? Side yards are notoriously narrow and often deeply shaded and lacking in privacy. A board fence takes care of the privacy issue, and the typical bowling-alley effect is avoided by incorporating curves in the path and large shrubs that obscure the long view. Destinations along the way — a fountain, a bench, an intimate deck — give you reasons to stop and look.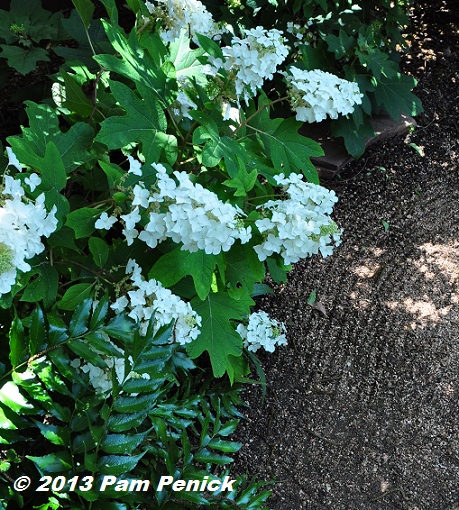 Shade-loving plants like oakleaf hydrangea and glossy-leaved holly fern brighten up dark corners…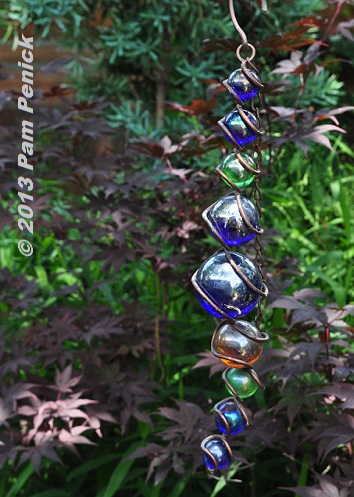 …as do sparkly garden ornaments.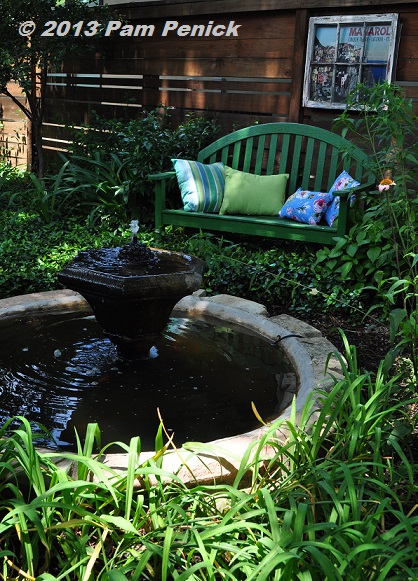 This was one of four water features in the garden, and my favorite. A classic pool and fountain, with a garden bench and "window" on the fence, surrounded by greenery, evokes New Orleans-style courtyards.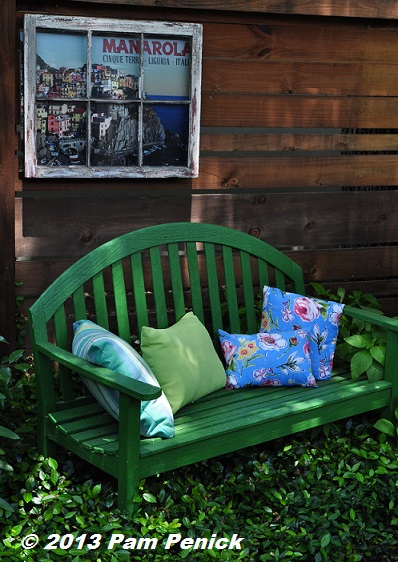 I doubt this bench really gets used, situated amid groundcovering Asian jasmine as it is, but it adds such a welcoming touch to the garden. The owners framed a poster with a cast-off window and hung it on the fence. I don't know how they keep the poster weatherproofed, but I love the idea.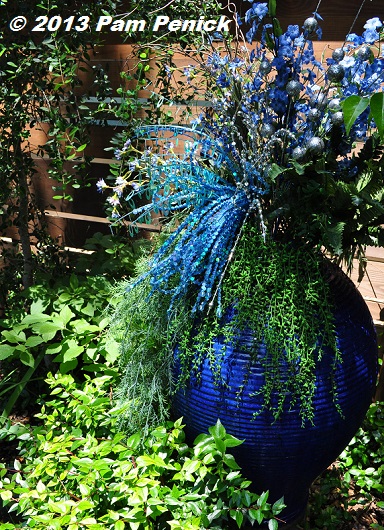 More of their fearlessness on display: a tall blue pot is planted with a few cascading plants and accented with a blue, sparkly floral arrangement.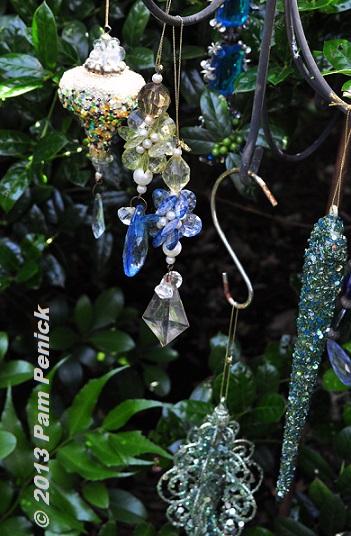 Nearby, sparkling blue ornaments hang from a wire holder.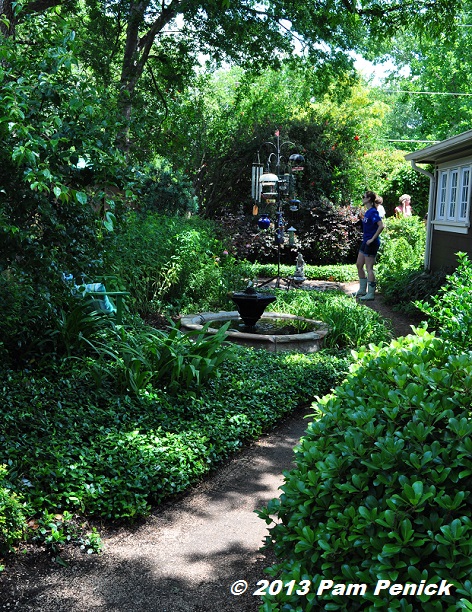 Looking back along the side-garden path. As you can see, ordinary, glossy-leaved shrubs like holly and pittosporum are used liberally but not pushed in a tight line along the foundation. Instead they bow out, adding dimension to the space. Likewise with commonplace (and often reviled) Asian jasmine, which here is put to good use as a shade-tolerant, light-reflecting, evergreen groundcover. Keeping them neatly edged and trimmed is key to their good looks.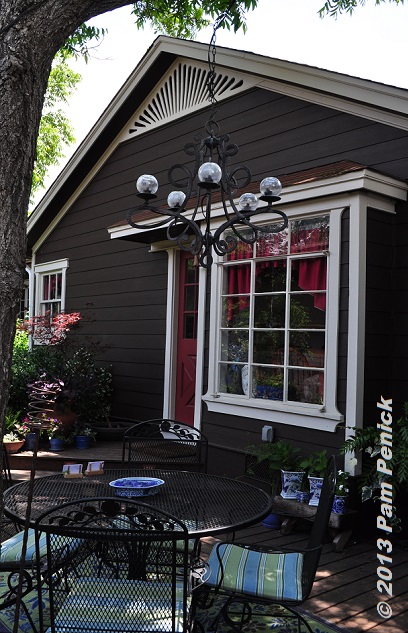 A small deck is shoehorned into the side garden — perfect, I imagine, for breakfast on a summer morning. A wired chandelier hangs above a table and chairs, creating an implied ceiling and also adding to after-dark enjoyment.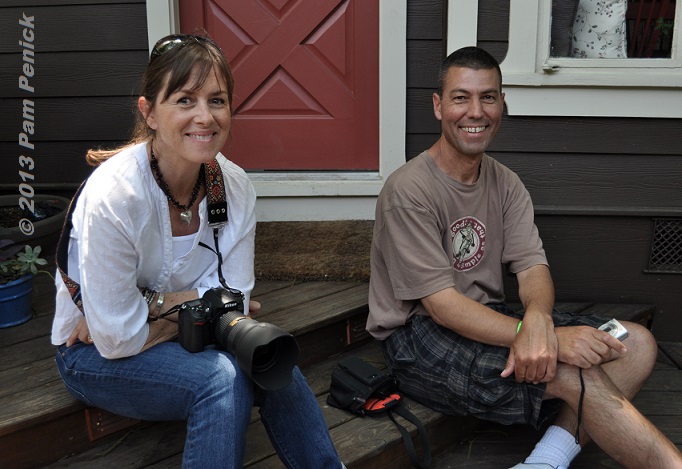 Cat and David take a break on the back steps. David is contemplating a move to Austin from Albuquerque, New Mexico. There's always room for another gardener, garden blogger, and garden designer here, right?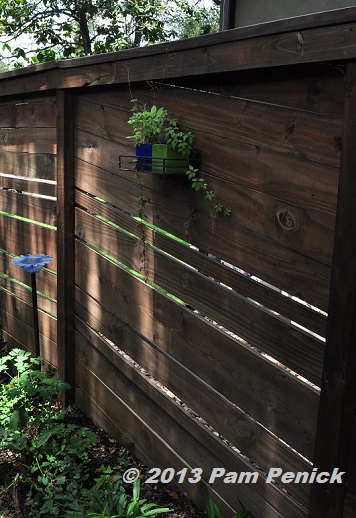 I love the design of the wooden privacy fence, with different-width boards and even a slanting detail on this section.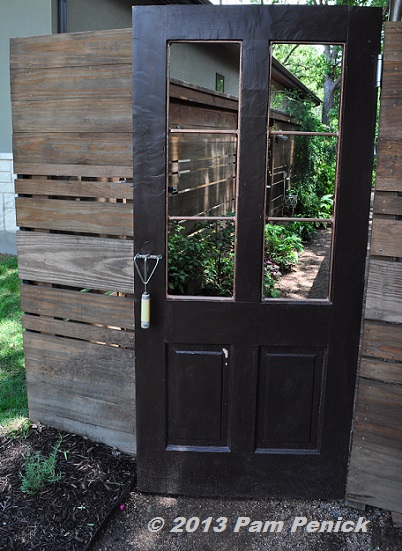 From the outside you can really appreciate the design. Even the gate — a repurposed old door with a hand-cultivator handle — is a work of art.

In front, under a spreading tree, a soft, feathery sweep of yarrow makes an appealing groundcover.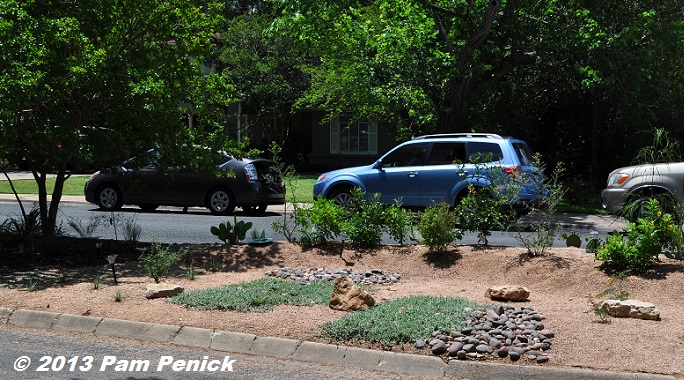 Bruce and Colleen began gardening in the formerly weedy median in front of their house several years ago, creating a very low-water landscape to screen the view of cars parked across the street. Their neighbors along the street have gotten into the spirit as well and have extended the median garden and help maintain it. What a gift the neighbors are giving to each other by creating a shared garden space!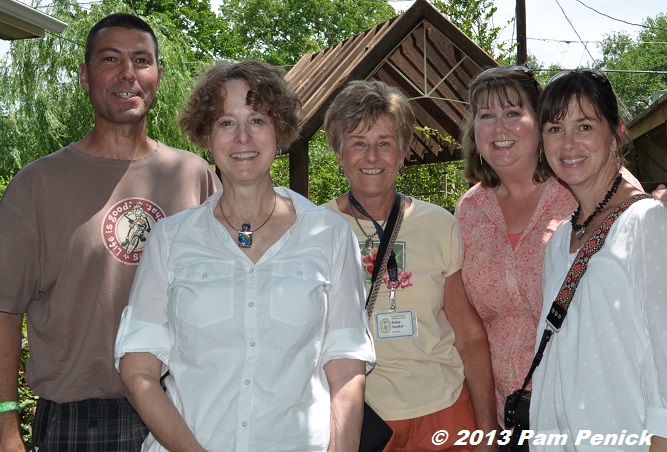 My garden-tour companions: from left, David, Shirley, Jenny, me, and Cat. Check out their blogs for more perspectives on the gardens I've been showing you, especially Jenny's post about this garden. She volunteered in it for several hours during the tour and enjoyed a personal tour with the owners before the crowds arrived.
Next up: The architectural Bonnell Garden. For a look back at the naturalistic Placid Place Garden, click here.
All material © 2006-2013 by Pam Penick for Digging. Unauthorized reproduction prohibited.
posted in
Annuals
,
Arbors
,
Cactus
,
Community gardening
,
Containers
,
Decor
,
Design
,
Doors
,
Edibles
,
Fences
,
Fountains
,
Garden art
,
Garden structures
,
Garden tours 2013
,
Gates
,
Groundcovers
,
Lawns
,
Palms/Cycads
,
Paths
,
Patios & decks
,
Ponds
,
Sculpture
,
Seating
,
Sheds
,
Succulents
,
Texas natives
,
Water features
,
Windows