April 28th, 2013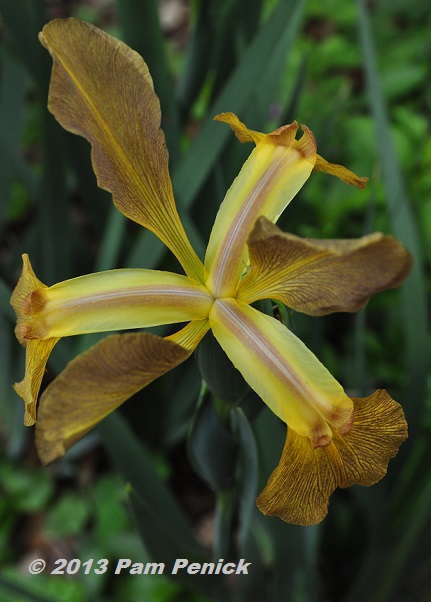 About 4 years after acquiring them, my spuria iris are blooming at last. Passalongs from Linda Lehmusvirta of Central Texas Gardener, who told me she received her divisions from author/designer Scott Ogden, these tall (about 3 feet), beardless irises would send up their slender leaves each winter, attaining a lovely, grassy look by spring, but never bloom. In summer they melted away, going dormant for the season.
Having always been successful growing bearded iris, I was frustrated by the tease of the spurias.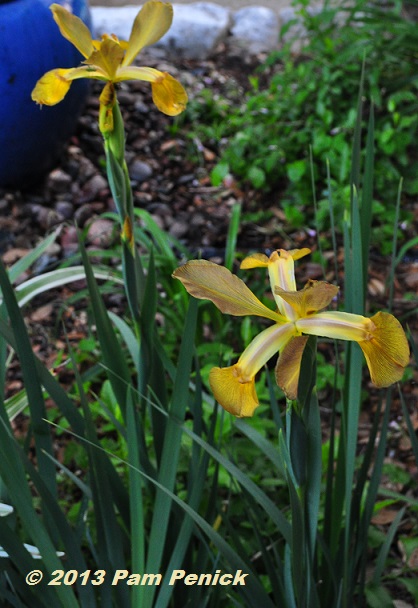 They came up in conversation with Scott and his wife, Lauren, also a designer and author, during a visit to their garden two years ago. Lauren told me not to move them around, as I'd been doing in hopes of finding the right spot for them. Spurias resent being transplanted and divided, she advised. So I put away my shovel and just let them be.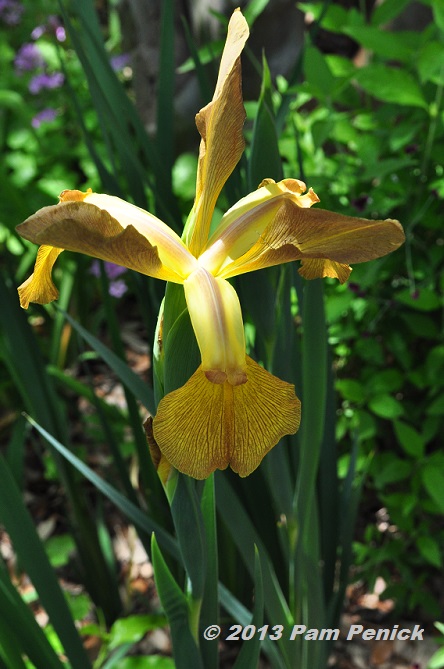 I sat out another bloomless year and became convinced that they were in too much shade, although Linda and Scott both said spurias could take some shade in our hot climate (they need sun in cooler-summer climates). My hands were itching for the shovel. One more year, I promised myself, and then I'll try another spot.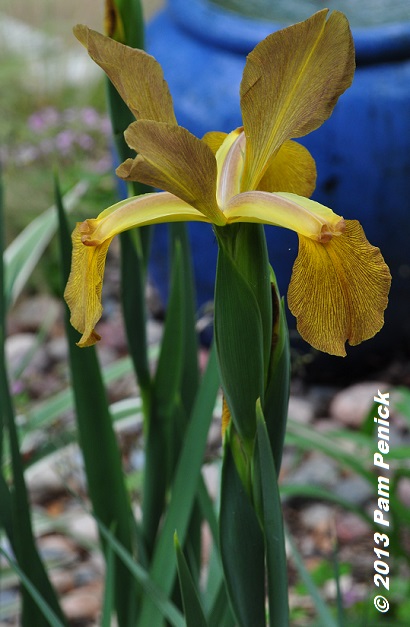 And then, late this spring, I noticed buds. Yay! Now they're blooming—an elegant, burnt-gold flower with chocolate striping on the petals. My shovel is nowhere in sight.
Note: My Plant This posts are written primarily for gardeners in central Texas. The plants I recommend are ones I've grown myself and have direct experience with. I wish I could provide more information about how these plants might perform in other parts of the country, but gardening knowledge is local. Consider checking your local online gardening forums to see if a particular plant might work in your region.
Lawn Gone! News
If you'd like to hear the podcast of my Earth Day appearance on "The Faith Middleton Show," which airs on public radio in Connecticut and New York, visit the link and then hit the black triangle "play" button. Faith and I talked about replacing the lawn with low-care grasses and "people places" and creating an inviting, greener landscape—AND she made my book the station's pledge-drive prize!
You're Invited!
I'll be at BookPeople on Saturday, May 4, at 4 pm , along with author Jenny Peterson, to talk briefly about design tips for losing the lawn or paring it back. Jenny will be sharing styling tips for houseplants. And we newbie authors will BOTH be signing copies of our books! Whether you have a green thumb or a brown one, let's fill up BookPeople with people who care about plants and the earth!
The talk is free and open to the public, and I'd love to see a lot of friendly faces! If you do want an autographed book, BookPeople requires an in-store purchase. Just FYI.
All material © 2006-2013 by Pam Penick for Digging. Unauthorized reproduction prohibited.