March 11th, 2013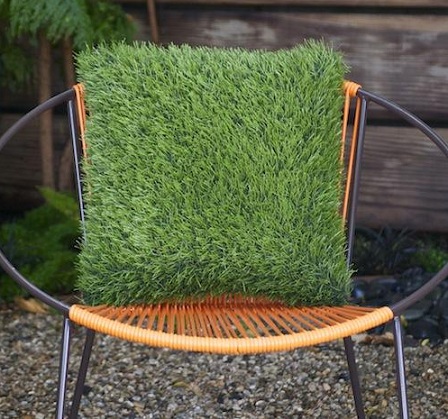 What a party! After a fun week of anticipation over 7 alt-lawn-themed giveaways, the Lawn Gone! Book Party—which included personal stories of going lawnless, before-and-after pictures, and reviews of my book on the other participating blogs—is winding down. Huge thanks to Benjamin, Rebecca, Meems, Dee, Gen, and Loree for hosting with me, and to the fine retailers, listed below, who generously donated the giveaway prizes.
And now it's time to announce the winner of my giveaway. The prize? A fun "grass" pillow from Potted—the only patch of lawn you'll ever need!
And the winner, chosen by a random number generator, is…Kathy Panak. Congratulations, Kathy! I'll be contacting you for your address, so look for my email in your spam folder if you don't see it today.
Thanks to everyone who took the time to comment. To see the winners of the other 6 giveaways in the Lawn Gone! Book Party, click the links below (to be added as they become available):
Hoe & Shovel: Moss Rock, provided by Moss and Stone Gardens
Danger Garden: $50 gift card provided by Plant Delights
Gossip in the Garden: 5-lb. bag of Eco-Lawn seed, provided by Wildflower Farm
Red Dirt Ramblings: Tool package provided by CobraHead
North Coast Gardening: $50 gift certificate provided by Annie's Annuals
The Deep Middle: 5-lb. bag of No Mow Lawn seed mix, provided by Prairie Nursery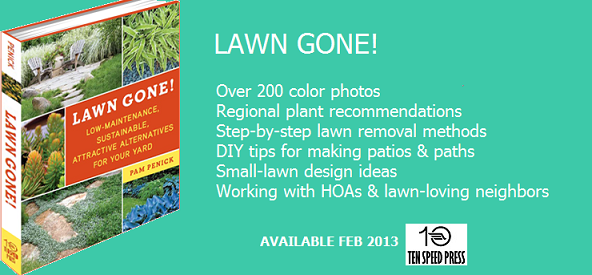 All material © 2006-2013 by Pam Penick for Digging. Unauthorized reproduction prohibited.