February 23rd, 2013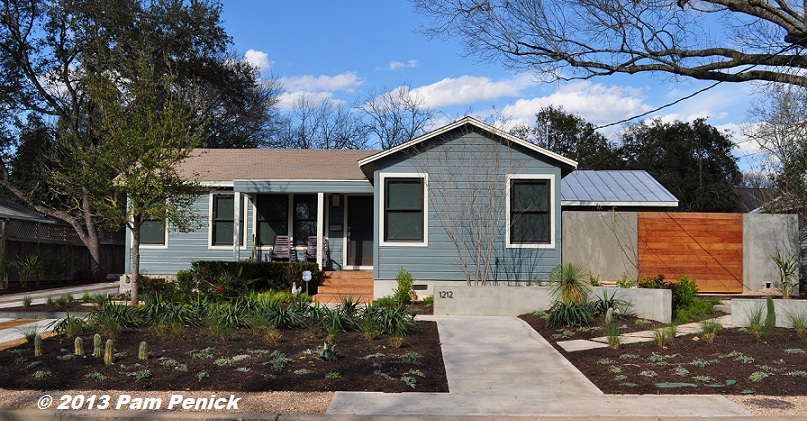 Cruising through north-central Austin's Brentwood neighborhood last week, I rubbernecked at this newly installed lawnless garden, whose contemporary styling really stands out against the cottagey charm of the home. There are a lot of things to admire about the design: the very drought-tolerant plant palette, which includes softleaf yucca, some type of ornamental grass, cactus, and agave, with ground-covering silver ponyfoot poised to fill in the bare spots over time. A new concrete parking strip and front walk are generously proportioned, and care was taken to reduce impervious cover by switching over to a gravel paving along the rest of the curb. Also, the driveway is made more pervious with the use of concrete strips set in gravel.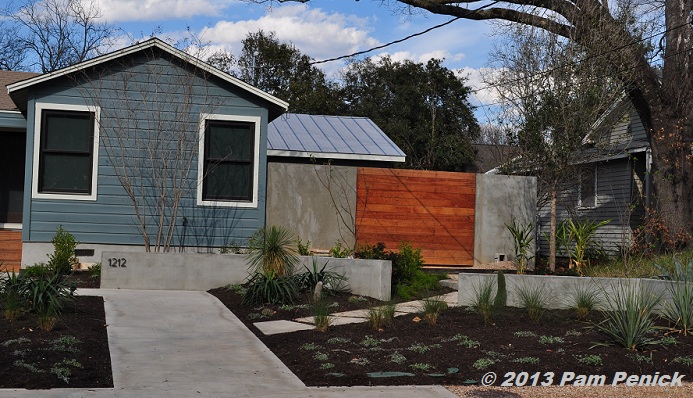 And check out that low concrete wall, creating a sense of garden rooms, providing enclosure, and retaining a slight slope to the right. I also like the placement of the house numbers on the wall that faces the street.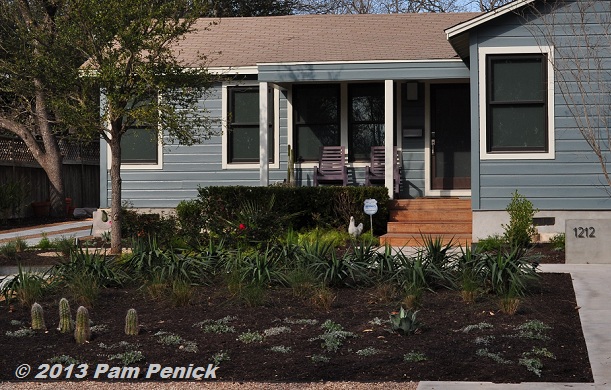 Smart plant choices and creative, contemporary design—a treat to see. One quibble, however. Those softleaf yuccas, so cute now as 1- or 3-gallon sizes, and massed for structural appeal along the rear of the main bed, are going to get really big, really fast. Mine have topped out after only a couple of years at about 4-5 feet tall and 3-4 feet wide. It looks great now, but soon that line of yuccas is going to outgrow its space. A better choice might be twistleaf yucca or even 'Brakelights' red yucca, both of which top out around 2 feet.
At any rate, this is a great-looking example of what you can do in lieu of a boring lawn, bringing in structure, personality, and style. My thanks to Mamaholt at Wabi-Sabi Home and Garden for letting me know about it.
All material © 2006-2013 by Pam Penick for Digging. Unauthorized reproduction prohibited.