February 6th, 2013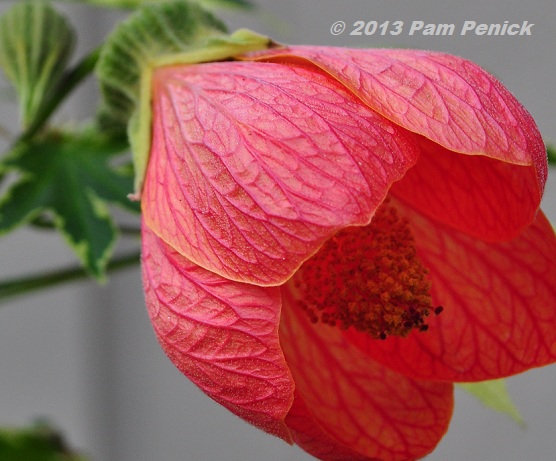 Does your central Texas garden need a boost in late winter? Then add a few flowering maples and enjoy colorful, lantern-like blossoms that either hang pendant or are held horizontally on short stems. Large, maple-shaped leaves are a bonus, especially if you choose a showy, variegated variety.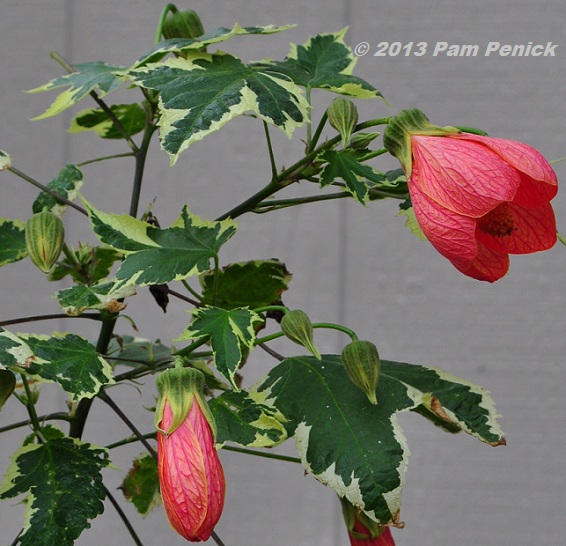 Long thought of strictly as houseplants north of the tropics, abutilons popped up several years ago in local nurseries for outdoor plantings. Here in Austin's hot-summer, mild-winter zone 8b, they seem to do best in dappled shade or brief morning sun. Exceptionally cold weather will kill them, so even in Austin it might be a good idea to grow them close to the house for a little more protection. I wouldn't classify abutilon as drought-tolerant, but it does surprisingly well even in the dry dappled-shade of my live oaks with once-a-week irrigation in summer. Abutilon blooms best in cooler weather—late winter through spring and again in the late fall. Don't look for blossoms during the summer.
I've tried several cultivars or hybrids, including 'Souvenir de Bonn', a veined, orange-blooming abutilon with pale-yellow edging on the leaves. It has grown quite tall (about 5-1/2 feet), and I think I will prune it back by half when blooming slows down with summer's approach.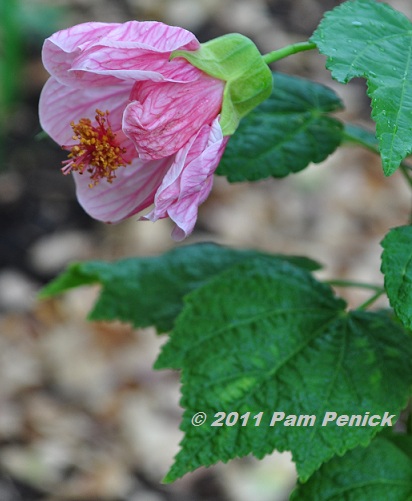 I also have several of this unnamed pink, from Barton Springs Nursery, which tops out at about 2-1/2 feet.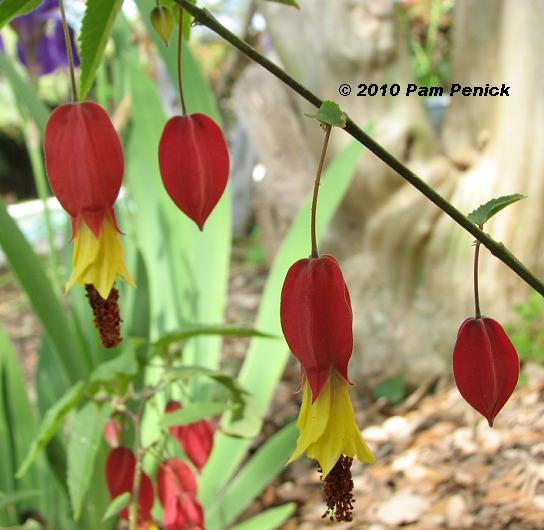 I tried this prostrate, two-toned variety called 'Candy Corn', but it didn't survive the hot, droughty summer of 2011.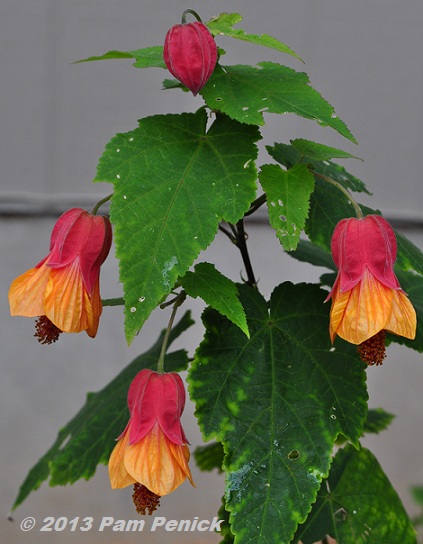 Similar-looking but upright and dependable 'Marilyn's Choice' was my first abutilon, and I still grow several of these.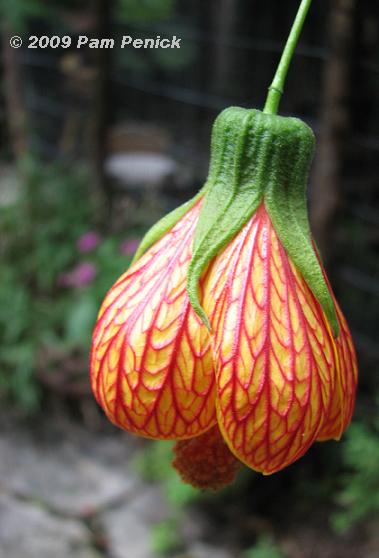 Another commonly seen abutilon in Austin is 'Patrick's', with large, golden-orange blossoms marked with prominent, red-orange veins.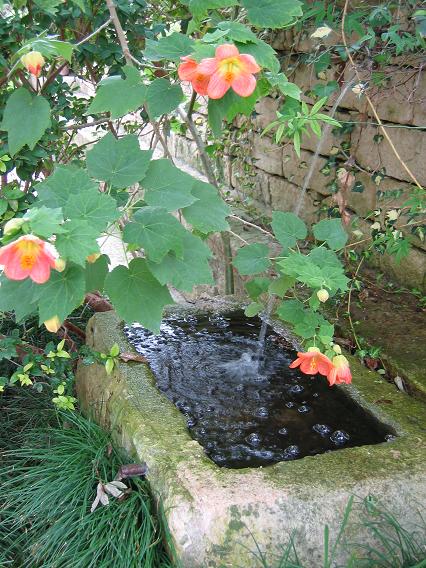 Here's a lovely abutilon, name unknown, that I photographed in James David's garden a number of years ago. As you'd expect, his is sited particularly well, its skinny, flamingo-like "legs" hidden behind a trough fountain, allowing the leaves and blossoms to arch over the top.
I'm trying a new abutilon soon, a salmon-orange hybrid called 'Bartley Schwarz', which I've ordered from Plant Delights. I hope it does well.
Are you growing any abutilons, either indoors or out? If not, what are you waiting for?
Note: My Plant This posts are written primarily for gardeners in central Texas. The plants I recommend are ones I've grown myself and have direct experience with. I wish I could provide more information about how these plants might perform in other parts of the country, but gardening knowledge is local. Consider checking your local online gardening forums to see if a particular plant might work in your region.
All material © 2006-2013 by Pam Penick for Digging. Unauthorized reproduction prohibited.