February 20th, 2009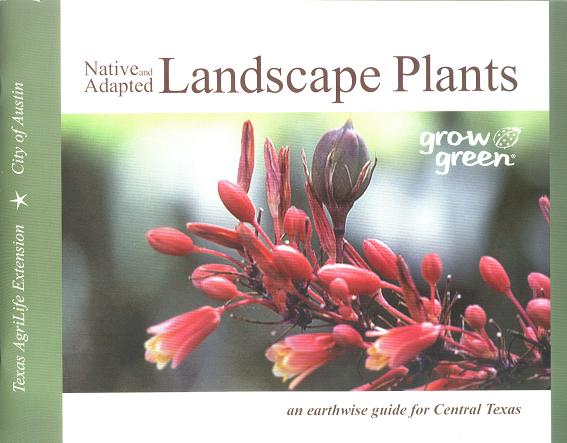 For everyone who has moved to central Texas from more-hospitable gardening climates, who has tried (as I did) to plant azaleas, hostas, or dogwoods because that's what reminds them of home, and who thinks, "Hey, look! This Austin nursery sells this plant, so it must grow well here, right?"—the Grow Green Guide is for you. Actually, the Grow Green Guide—my nickname for the glossy, four-color, extremely useful and FREE brochure called Native and Adapted Landscape Plants: An Earthwise Guide for Central Texas—is for anyone interested in choosing a plant that wants to live here.
Sure, we all know that person who has a border of healthy azaleas, or some other plant that generally prefers a cooler, wetter climate and acid soil instead of alkaline. But most of us soon learn how unhappy those plants are here. Unless you want to be chained to the garden hose, tossing peat moss at your shrubs, you'll soon search out plants that are native to or that adapt well to our climate.
Luckily, this is not a sacrifice. We have lots of choices for flowering perennials, structural agaves and palms, ornamental grasses, shade-loving shrubs and understory trees, shade trees, and annual wildflowers. You can find many of them in the City of Austin's Grow Green Guide, a publication from the Grow Green Program, whose mission is to help citizens conserve water and reduce the use of chemicals in the landscape. At a Green Garden Certification program I recently completed, director Kathy Shay gave us a sneak peek at the latest edition, which will be available to the public this Sunday.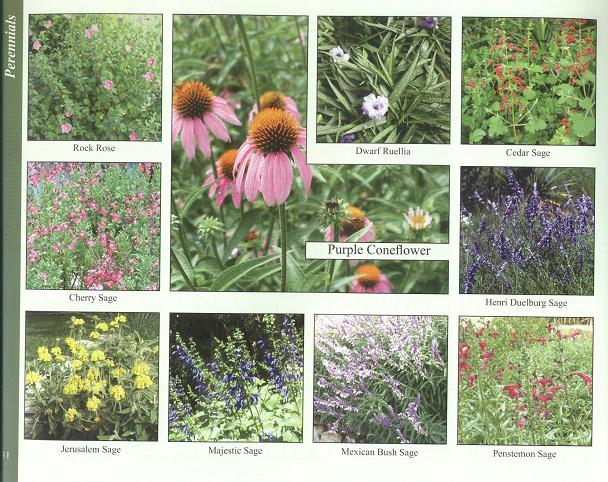 Each plant in the guide is represented with a color photo…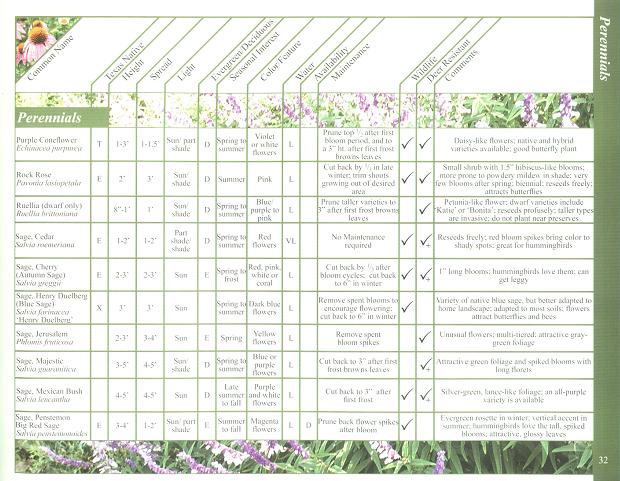 …and helpful growing information, including whether it's a Texas native; whether it prefers the Blackland Prairie clay commonly found east of MoPac or the thin, caliche soil commonly found west of MoPac; water needs; availability; and deer resistance.
The 2009 edition has been overhauled with eight additional pages of plants, including palms, more agaves and yuccas, new shrubs and small trees (like elbow bush, hop tree, Mexican olive, and bottlebrush), additional roses, seasonal native groundcovers like spiderwort and heartleaf skullcap, bulbs, and water plants. There's even a section on plants for a rain garden, a "shallow recessed garden designed to catch and store rainfall for short periods," which helps you keep water on your property rather than shunting this precious resource off to the storm drains.
The back of the guide, as in past editions, contains information on turf and turf alternatives, invasive plants to avoid along with non-invasive alternatives, and indexes by both common and botanical names.
You can pick up your free copy of the newest edition of Native and Adapted Landscape Plants on Sunday, February 22, at the Green Garden Festival held at Zilker Botanical Garden from noon to 4:00 pm. The guide is also widely available at area nurseries and home improvement stores. (I'm not sure when the new edition will be distributed to nurseries, but the old edition is still a good resource.) You can also get the Grow Green plant information online.
Update: Bonnie, who commented below, says that the new edition "should be out at Garden Centers around March 1. They are trying to clear out the old inventory before the new ones go in." Thanks, Bonnie.
All material © 2006-2009 by Pam Penick for Digging. Unauthorized reproduction prohibited.