December 17th, 2012
Why in the world did I save this?
I wondered. Flipping through the yellowing pages, I saw an article about reducing lawn that I forgot I'd ever written. Published in September 2005, before I started this blog or
my garden-design business
, and way before I had any inkling that I'd ever write a
book about alternatives to the traditional lawn
, the article made me realize that losing the lawn has been on my mind for a long time.
As Texas continues to suffer through drought, along with a significant portion of the country, the topic is just as relevant today as 7 years ago. I'm republishing it here in hopes that it may inspire a few people to convert their lawns into more sustainable and enjoyable landscapes.
Less Lawn, Less Water, More Beauty
When T.S. Eliot wrote that April is the cruelest month, he obviously never knew about August or September in our heat-stressed city. Summer in Austin means scorching heat, drought, and sky-high watering bills to keep those water-loving lawns lush and green. It's time to retreat to the air-conditioned house and plan for fall gardening.
If a thirsty St. Augustine lawn dominates your yard, perhaps you're thinking of ways to reduce your water bill next summer and give your landscape a more distinctive and Texas look. Too often we tend to live with the builder's original mix of lawn, solitary shade tree, and overgrown line of evergreens along the front of the house. If you're dreaming of something different, go for it! Carve out a section of your yard that receives blistering sun, and plant a sun-loving xeriscape garden like the one installed by our neighborhood's beautification committee along Hancock Dr. on the east side of the bridge. Or take out the struggling lawn under your live oak, and grow a shady oasis of native woodland plants that will attract songbirds and hummingbirds. Using plants native to central Texas or adapted to our unique conditions will decrease your water bill, require less work than dainty species from other parts of the country, and connect your garden to the beauty of our region.
When my husband and I moved into the neighborhood five years ago, we inherited a yard devoid of shade, interest, or wildlife. I knew I wanted something pretty to look at, plants that could take the heat and drought, and a garden that would be attractive to birds, butterflies, and most important, my family and me.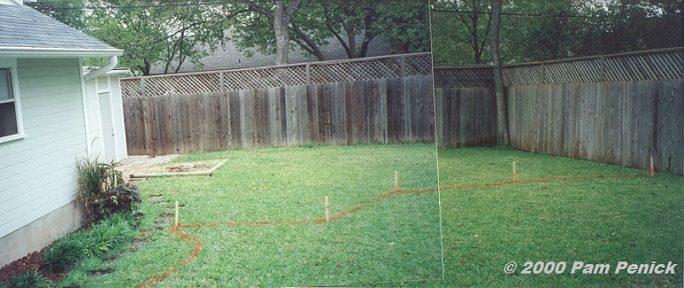 The back yard, like the front, began as an expanse of water-guzzling, boring St. Augustine lawn. As you can see in this "before" photo, taken in the fall of 2000, your eye travels straight across the lawn to the back fence. Great for a game of soccer, maybe, but not what I wanted to look at every day. The markings indicate where we planned to remove grass in order to install a path and a playscape for the kids.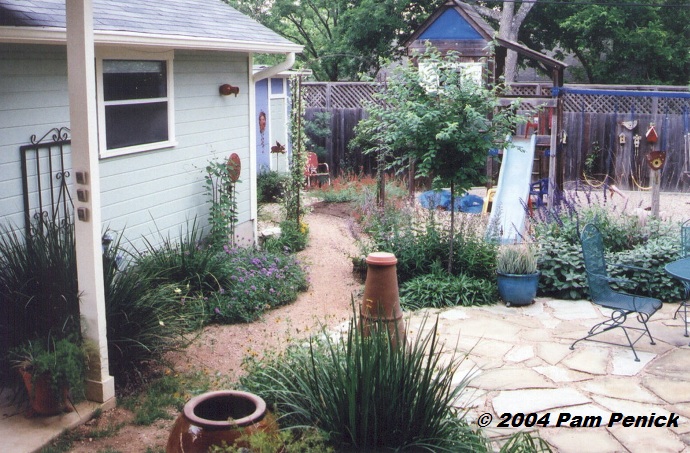 Three years later, in April 2004, this is how our back yard looked. No longer does the lawn dominate—in fact, the lawn is gone. In its place are a stone patio, a play area for the kids, a curvy path, and lots of native and adapted plants. While I sometimes miss having a grassy area for the kids to play on, I don't miss the mowing, fertilizing, edging, or extra watering that a St. Augustine lawn requires. Plus, the variety of plants that grow in its place attract birds, butterflies, toads, and bees, and offers natural beauty.
I didn't tackle these changes all at once. My husband and I installed the playscape first, removing half our lawn in the process. Little by little over the next couple of years, I dug out more garden beds until finally I just ran out of room. This kind of gardening is easier on the back and on the budget than doing it all at once. And not everyone wants to eliminate the lawn completely. Even reducing the size of your lawn by 25 percent can significantly alter the look and watering needs of your yard.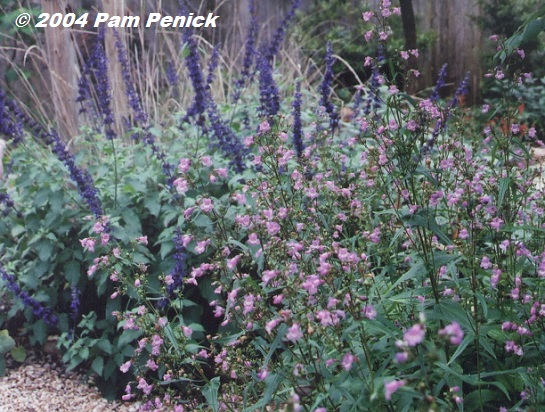 'Indigo Spires' salvia and Gulf Coast penstemon (Penstemon tenuis)
Of course, even a native garden needs to be watered, especially the first year. However, if you plant in the fall (October through December is best) and water regularly, your new plants will grow deep roots all fall and winter. By the following summer, they will be better prepared to survive the heat than specimens planted in the spring. Watering deeply (about 2 inches) every 10 to 14 days during the hot months will ensure your new garden's health and encourage deep root growth.
Growing native plants is rewarding, and it connects you to the land you live on. Next summer, while your lawn crisps and your sprinkler runs, sketch some ideas on paper. Come fall—and it's bound to come eventually—start digging and planting. By spring you'll be enjoying your new native garden and eyeing the rest of your lawn with sketchpad in hand, wondering how much lawn you really need.
Originally published in The HPWBANA News, September 2005
All material © 2006-2012 by Pam Penick for Digging. Unauthorized reproduction prohibited.
While sorting through my filing cabinet this morning, I came across an old newsletter published by my former neighborhood association.