December 16th, 2012
I've had this tall, green pot for a while, previously planted with a 'Red Star' cordyline. But the cordyline was looking ratty, and one day I saw this handsome 'Sticks on Fire' euphorbia for sale at The Great Outdoors, so I snapped it up, dug out some soil in the green pot, and popped in the potted euphorbia. It sits deep enough so that its plastic nursery pot doesn't show. I'll have to lift it out and take it inside when a freeze is forecast, but those are few and far between in a typical Austin winter.
Also, I've decided you can't go wrong with a 'Color Guard' yucca, so I added another one in a smaller, dark-gray pot in front of the green container, and wow, does it pop against that emerald background! Blue-gray Mexican beach pebbles make a pretty mulch, and the yucca, being cold-hardy, needs no winter protection.
In the background, an evergreen 'Alphonse Karr' bamboo softens the corner and adds a vertical accent between the garage and the house.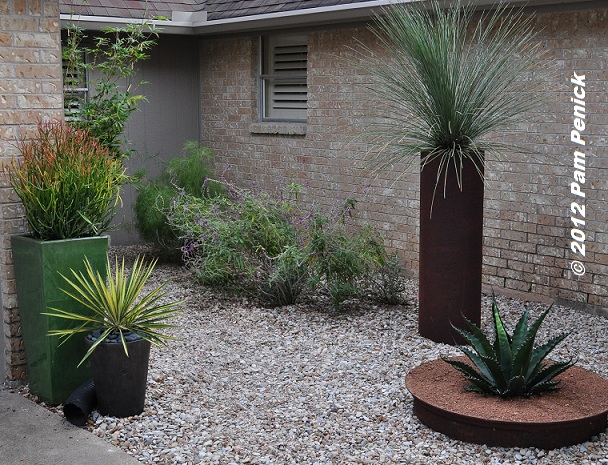 A wider shot: this is my new foundation planting, a gravel garden to the left of the front door. From left to right along the foundation: bamboo muhly (Muhlenbergia dumosa), frost-bitten Mexican bush sage (Salvia leucantha), toothless sotol (Dasylirion longissimum) in the pipe planter, and Agave gentryi 'Jaws' in the circular planter. Bold, architectural, and, except for the salvia, evergreen—it makes me happy.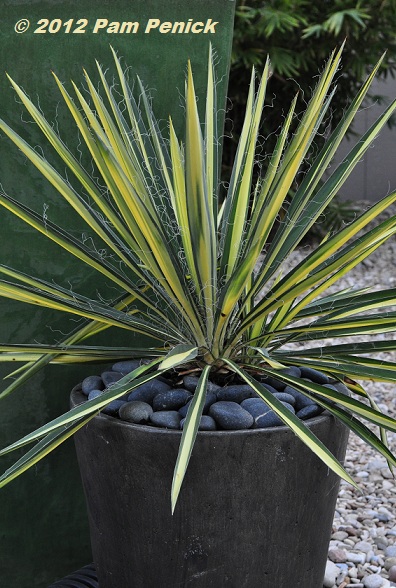 A closer look at the always wonderful 'Color Guard' yucca. 'Color Guard' is hardy to zone 4, and the deer leave it alone in my garden.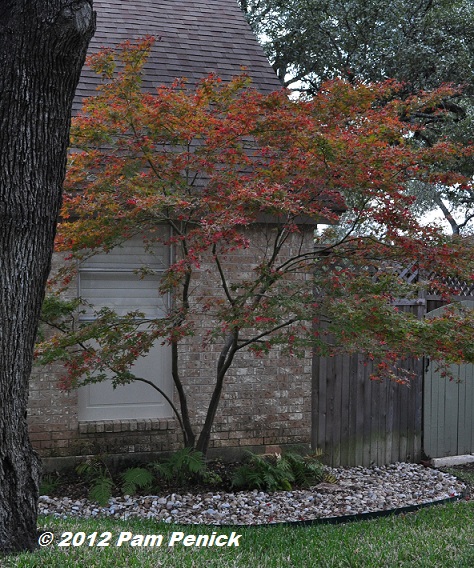 More traditional, and happy in the cool shade of live oaks on the north side of the house, this Japanese maple (a species Acer palmatum) is putting on its usual fall show at Christmastime. Its colors are more subdued this year, but I like how the new dry stream and fringe of transplanted river fern (Thelypteris kunthii) at its feet set it off.
Join me in posting about your lovely leaves of December for Foliage Follow-Up, a way to remind ourselves of the importance of foliage in the garden on the day after Bloom Day. Leave your link to your Foliage Follow-Up post in a comment. I really appreciate it if you'll also include a link to this post in your own post (sharing link love!). If you can't post so soon after Bloom Day, no worries. Just leave your link when you get to it.
All material © 2006-2012 by Pam Penick for Digging. Unauthorized reproduction prohibited.
In the hubbub of the upcoming holiday I nearly forgot to post for Foliage Follow-Up. But recently I've had some fun adding colorful potted plants to my entry garden, and since I chose them for their shape and color, not blooms, here they are.