December 2nd, 2012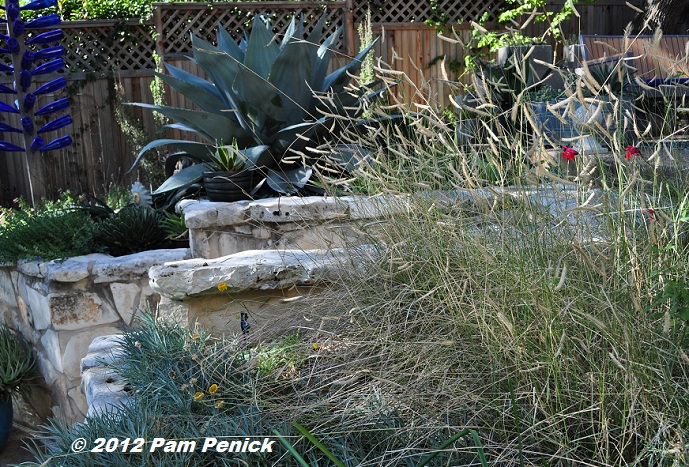 Does the ubiquitous, blonde-maned Mexican feathergrass have a worthy rival at last? I'm beginning to think so. 'Blonde Ambition' grama (Bouteloua gracilis 'Blonde Ambition'), a statuesque cultivar of our native blue grama, is a bunching, blue-green grass that grows to about 12 inches tall and wide. In late summer it blooms on 18-to-24-inch stems—a fireworks-like explosion of pale, comb-shaped flowers with a bent appearance, held as they are on one side of the bloom stem, like flirtatiously winking eyelashes.
Tolerant of hot, dry sites and also cold winters, 'Blonde Ambition' grama is adaptable across a wide range of the country. Here in Austin it'll accept full sun or partial shade, but more sun leads to a fuller shape and better bloom. Planted en masse, it makes a shaggy carpet that can take the place of lawn grass, with a lot less water and no mowing required. One cut-back in late winter is all it requires.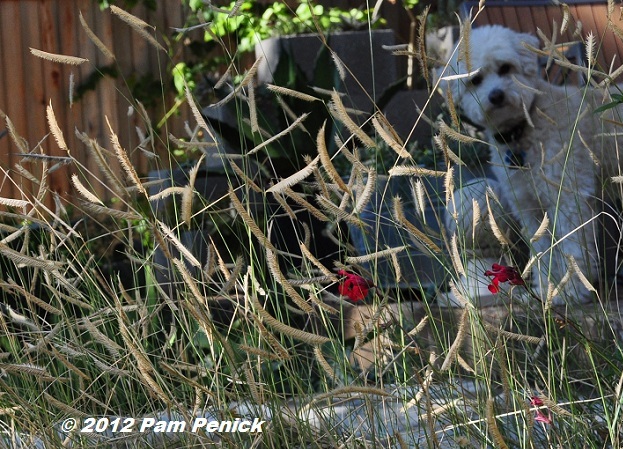 Cosmo wants to know why we aren't growing more 'Blonde Ambition' grama. Well, maybe because it hasn't been as easy to find in nurseries as Mexican feathergrass. But that's changing. I found my three plants at The Great Outdoors a year ago.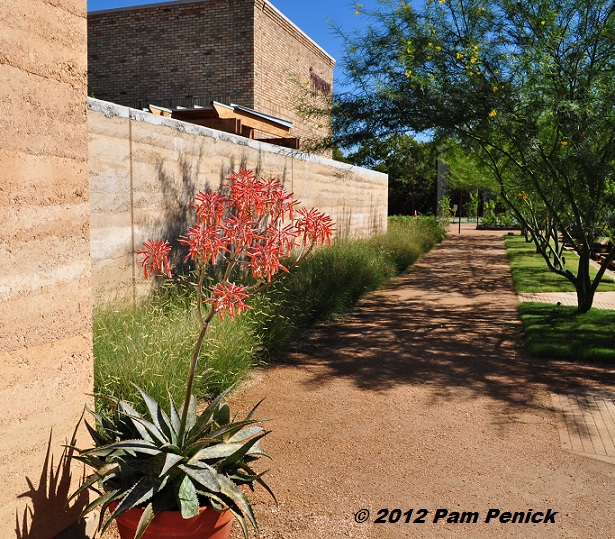 I'm sure other nurseries are carrying it now too, especially since it's getting star treatment by designers like Mark Word, who planted a long line of 'Blonde Ambition' grama along a wall at El Monumento.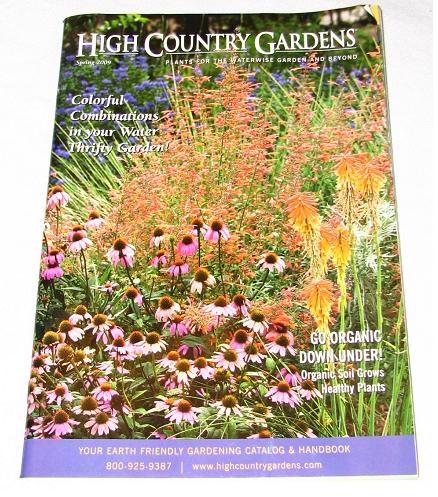 Farewell to High Country Gardens
Plantsman David Salman of mail-order nursery High Country Gardens in Santa Fe, New Mexico, discovered and introduced 'Blonde Ambition' grama to the nursery trade. David is a great guy who's been generous to me over the years with plants to trial (agastaches in particular) and with photos of xeric groundcovers when I needed images for my upcoming book. High Country has for 19 years been an important resource for gardeners of xeric (dry-loving) plants, and so I was saddened to learn last week that High Country has closed. The plant catalog and greenhouses are no longer in operation. David announced on his website that he closed because sales were down for four years due to the bad economy, ongoing drought, and wildfires in New Mexico.
Gardeners in central Texas understand the pain of extreme drought and wildfires, and how these twin natural disasters impact regional gardening habits—or even the desire to garden. More than ever we need plants of the sort that High Country promoted. Its closure is a real loss.
Note: My Plant This posts are written primarily for gardeners in central Texas. The plants I recommend are ones I've grown myself and have direct experience with. I wish I could provide more information about how these plants might perform in other parts of the country, but gardening knowledge is local. Consider checking your local online gardening forums to see if a particular plant might work in your region.
All material © 2006-2012 by Pam Penick for Digging. Unauthorized reproduction prohibited.