November 27th, 2012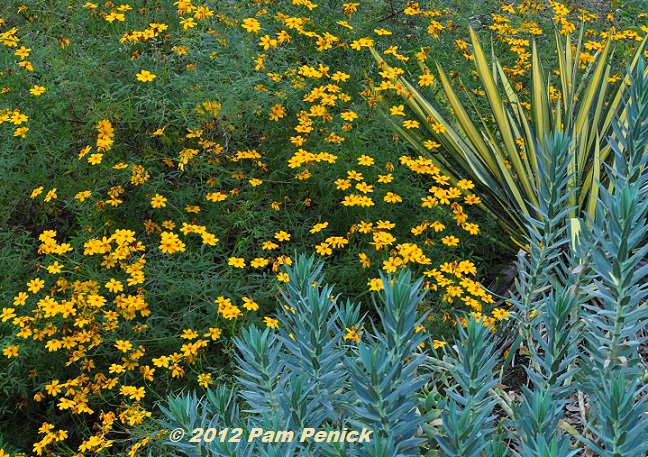 Copper canyon daisy, gopher plant, and 'Color Guard' yucca
Like warm sunshine on a chilly autumn day, copper canyon daisy (Tagetes lemmonii) brightens the garden in late fall, just before the first frost nips central Texas. In full sun the plant becomes a 4 to 6 foot mound of golden daisies, its feathery foliage nearly hidden by the profusion of flowers. In part sun, like mine, it still flowers well but with less of a Midas touch.
Copper canyon daisy also boasts extremely good deer resistance thanks to its fragrant—some say stinky, but not me—leaves, which will perfume you with their distinctive licorice-like smell after the most casual passing brush of the hand or leg.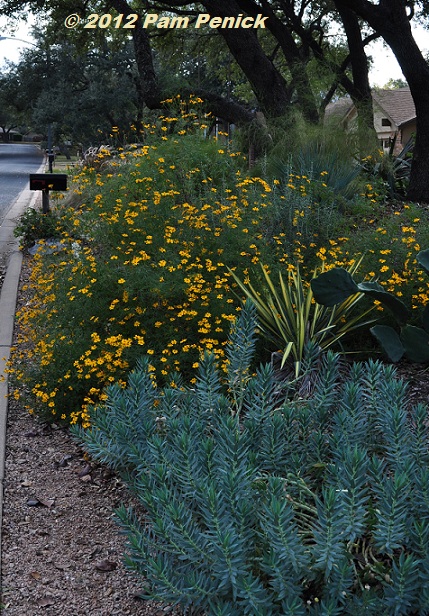 Native to Mexico and Arizona, copper canyon daisy is a tough, drought-tolerant performer (although it did suffer all over town during the terrible drought of 2011). The first hard freeze will be the end of the show. I'll leave the frost-burned foliage standing until mid-February, my cut-back date for most flowering perennials.
Note: My Plant This posts are written primarily for gardeners in central Texas. The plants I recommend are ones I've grown myself and have direct experience with. I wish I could provide more information about how these plants might perform in other parts of the country, but gardening knowledge is local. Consider checking your local online gardening forums to see if a particular plant might work in your region.
All material © 2006-2012 by Pam Penick for Digging. Unauthorized reproduction prohibited.