November 10th, 2012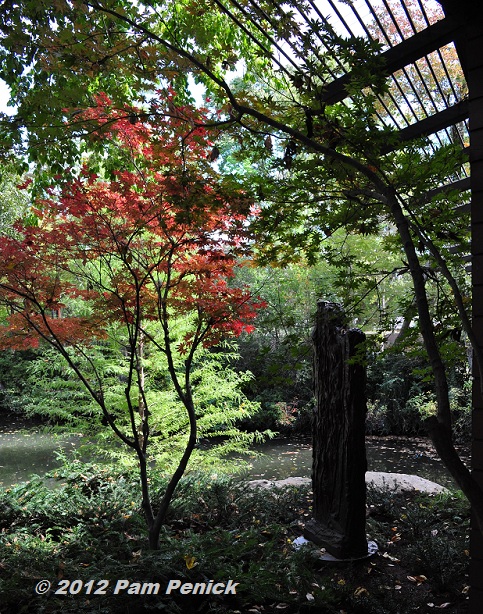 My fifth stop on last Saturday's Open Days tour, the Rockcliff Road Garden, was really more of a sculpture garden. Lots of open space on this lakeside property, graced with a home designed by Lake Flato Architects, gives prominence to many large works of art placed on the grounds. But I couldn't help noticing a devotion to Japanese maples in the entry garden. There were dozens, not all in the best of health, but clearly they were part of a collection, like the art. This one is a beauty, its rusty leaves set off by the chartreuse foliage of the tree behind it.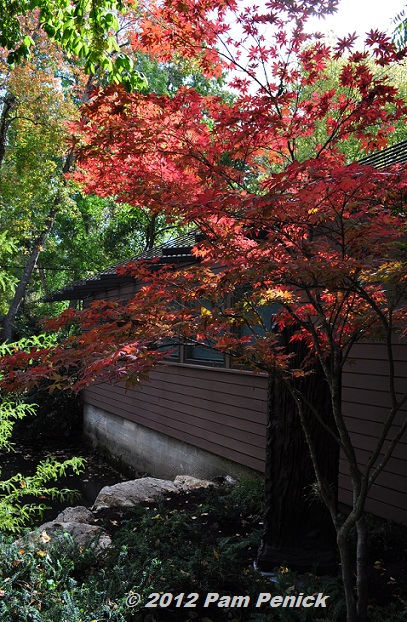 Some glowed red…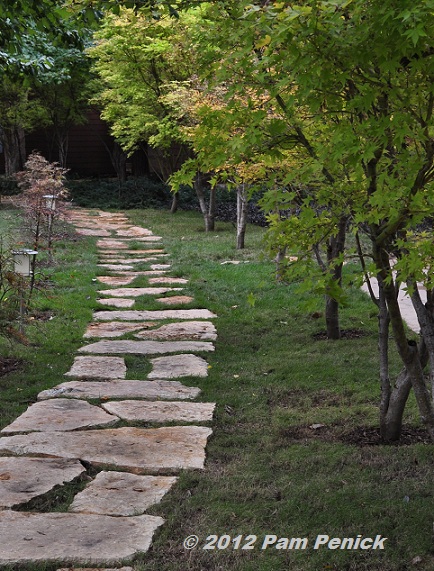 …and some greenish yellow along a curving limestone path. So many Japanese maples lent an Asian vibe to this part of the garden…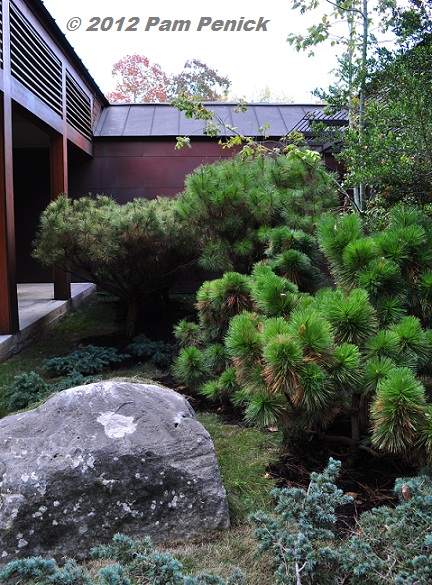 …played up even further with this courtyard combo of pines, junipers, and boulder.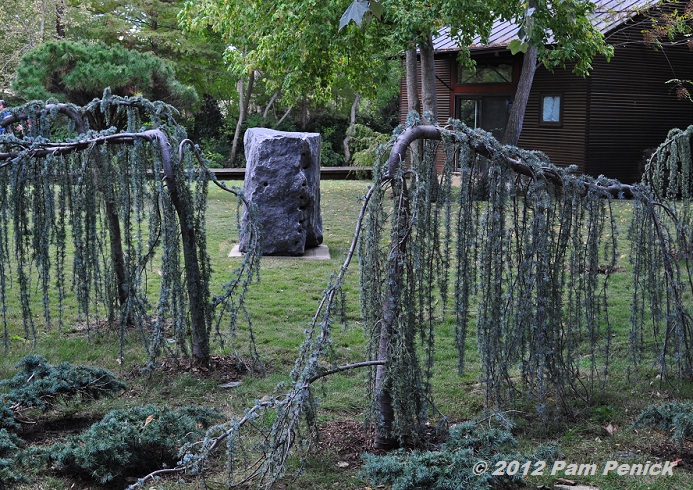 Overall, however, plants seemed chosen for their sculptural qualities more than anything else, like these weeping blue atlas cedars, bent like wizened, gray-haired women and framing a boulder set on a concrete pad—art or nature? And are the plants part of a garden or pieces of art themselves? It was hard to tell.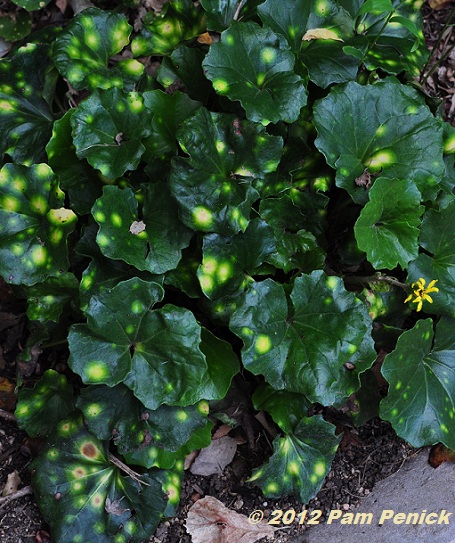 Moisture-loving leopard plant (Farfugium japonicum) brightened a shady spot. Many of the plants in this garden were water lovers, but since the garden sits on the banks of Lake Austin it may well be naturally moist.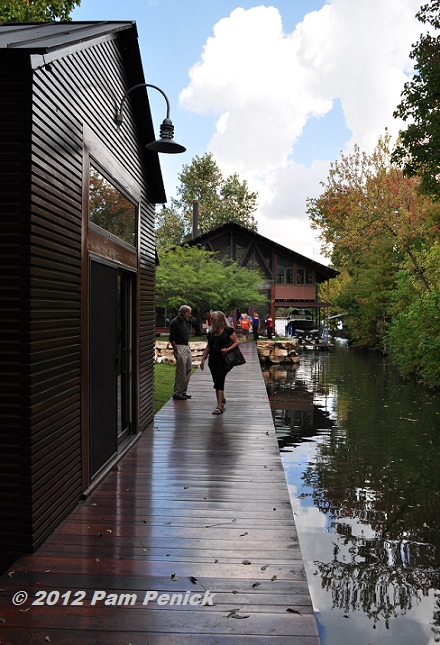 Leaving the entry garden behind, you step onto a railing-less boardwalk edging a small canal. The boardwalk leads in a straight shot toward the main house, set closer to the lake.

As you near the house you see this fascinating sculpture of crouching men stacked in a vanishing line atop the shoulders of an Atlas-like figure.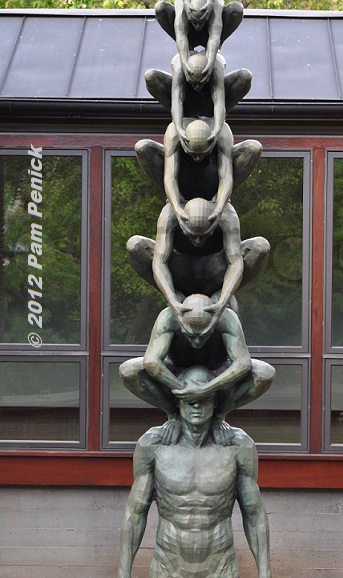 Each figure is blinded by the one above—a somewhat disturbing effect. Talk about a monkey on your back! Now that I think about it, all of the sculptures on the property had a vaguely ominous or unsettling mood, or so it seemed to me. Many were so visually off-putting that I didn't photograph them. The owners obviously have a particular taste in art, and it doesn't involve beauty but provocativeness.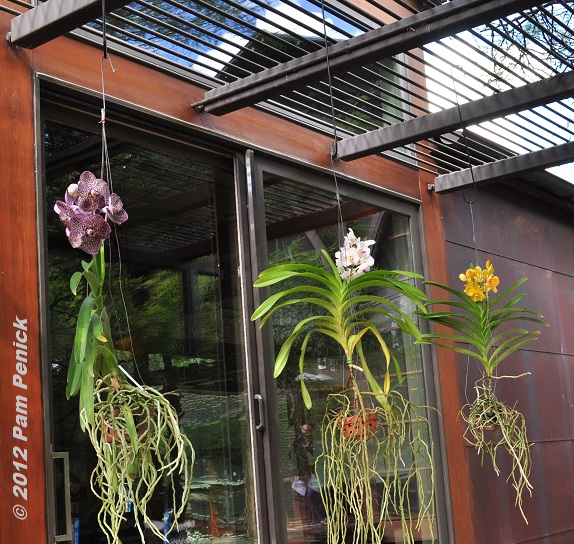 Beauty was to be found in the design of the home itself, the natural lake view, and dramatic accents like these hanging, bare-root orchids.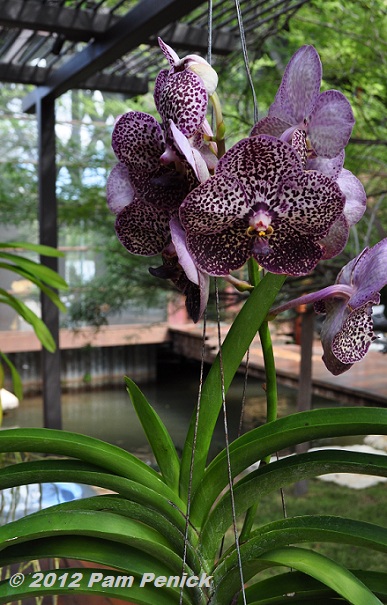 I'm not usually much of an orchid fan, but I found these quite appealing.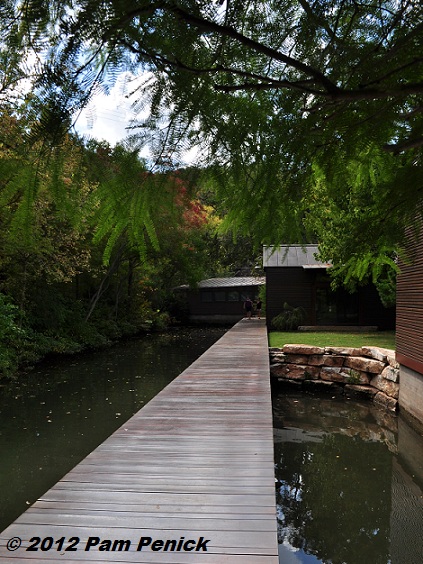 Looking back down the boardwalk we just crossed—long vistas, straight lines, and vanishing points.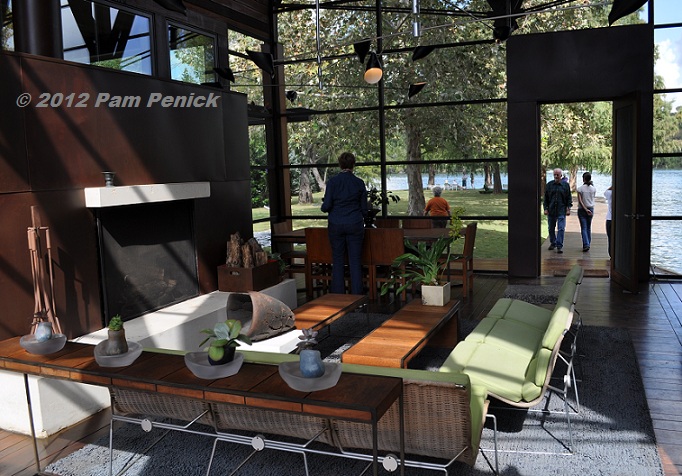 A soaring porch was open to garden visitors. In fact, we passed through the porch to see the rest of the garden along the lake.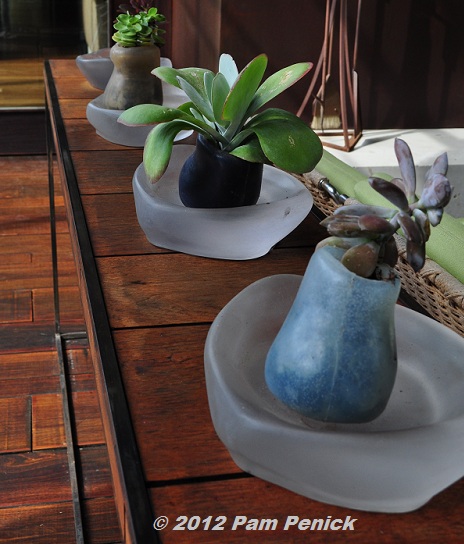 Succulents in organically shaped pots and saucers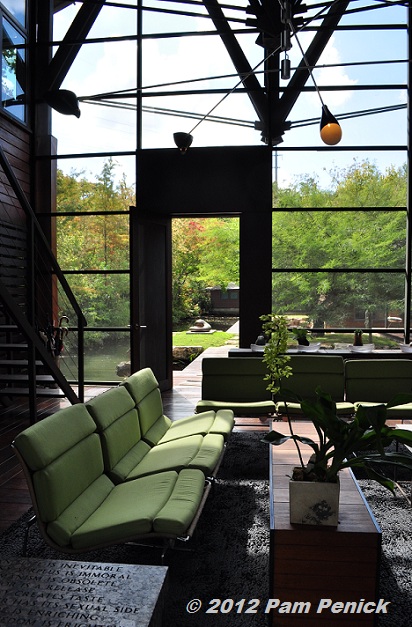 Another look—beautiful framing and craftsmanship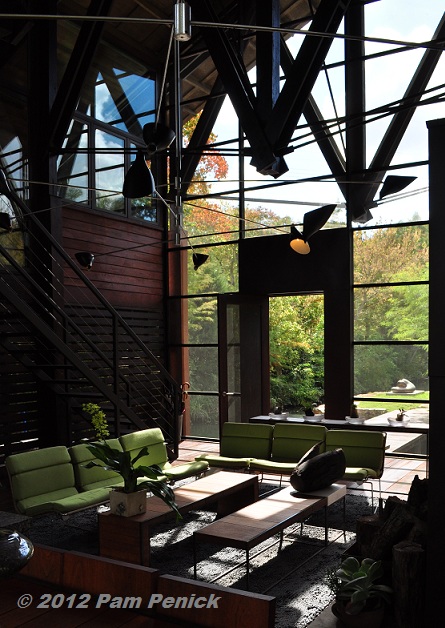 A wider view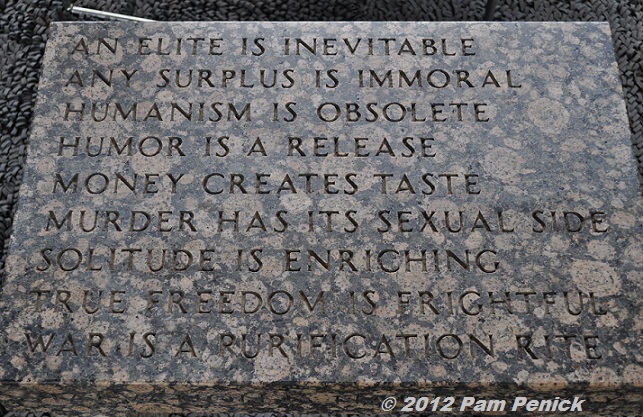 I admired the interior for a bit, and then I noticed that a stone-block side table was engraved with some unsettling declarations. Later I learned that they are from Truisms (1978-1983) by Jenny Holzer. Hmmm. "Murder has its sexual side" is not something I'd want to read every time I set a drink down.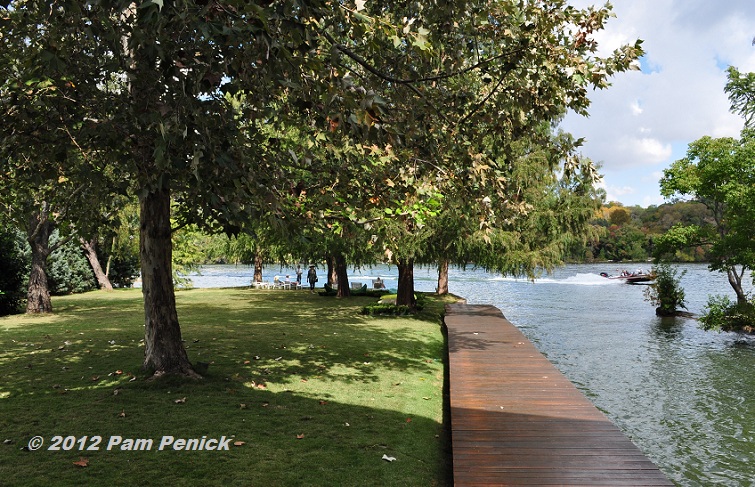 Stepping outside, a green-and-blue vista of lawn and lake greets you.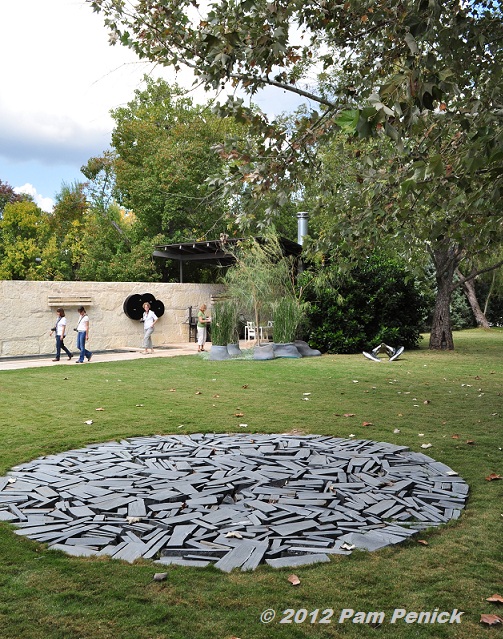 But uh-oh, here's another vaguely creepy piece of art, like a swirling whirlpool, or a black hole ready to swallow you up.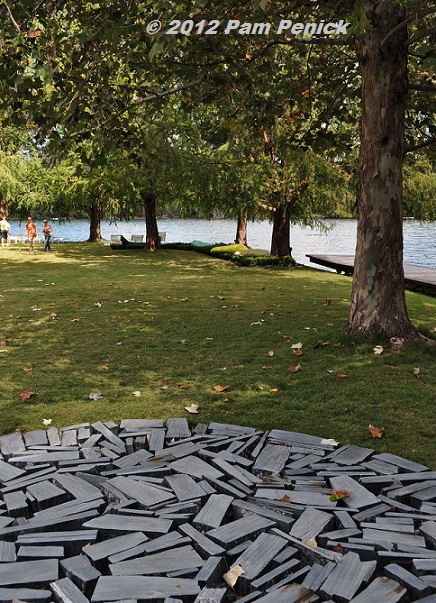 Another look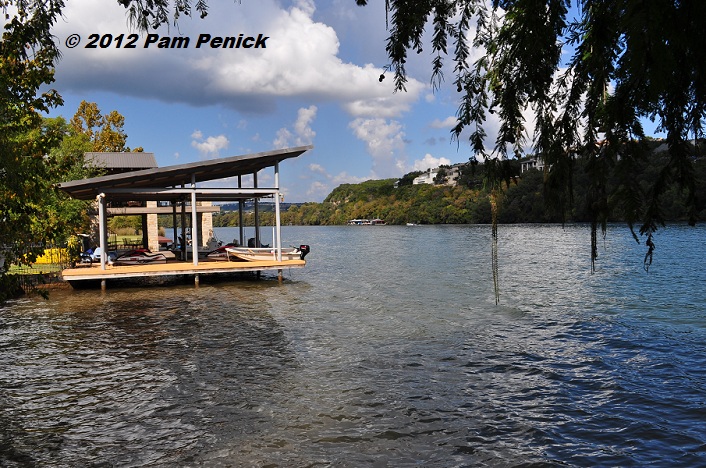 Ah, I much prefer the view of water and green hills.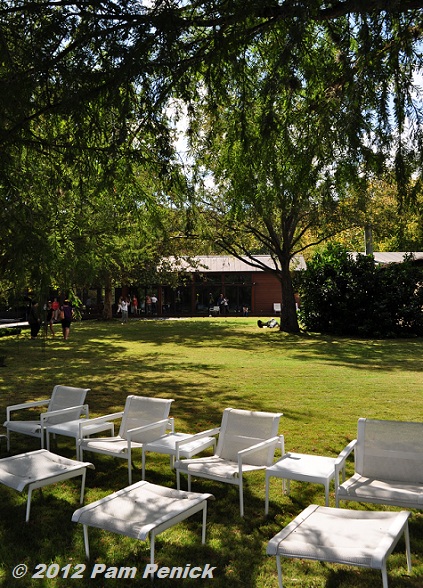 Chairs at the end of the lawn overlook the lake…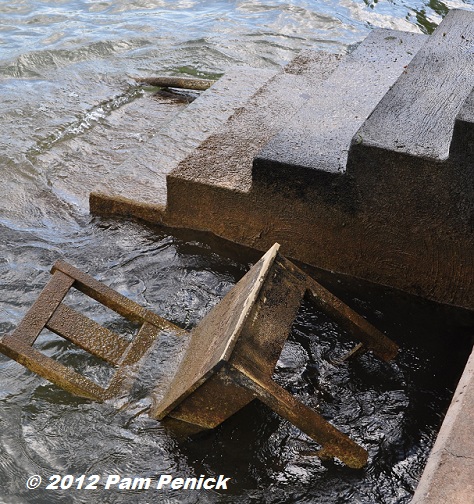 …but mischievously, some of the chairs are cleverly disguised pieces of art, placed in unsettling positions—one leg hanging off the edge of a deck or tilting to one side or, like this one, strewn into the lake as if a really good party had occurred the night before. Well, it was fun to see! This was definitely a garden with a sense of humor and a dark side.
Up next: The cactus and agave collector's garden of Jeff Pavlat and Ray Clayton. For a look back at the contemporary Bonnell Drive Garden, click here.
All material © 2006-2012 by Pam Penick for Digging. Unauthorized reproduction prohibited.
posted in
Arbors
,
Flowers
,
Garden art
,
Garden tours 2012
,
Lakes
,
Lawns
,
Paths
,
Patios & decks
,
Sculpture
,
Seating
,
Trees
,
Views