November 2nd, 2012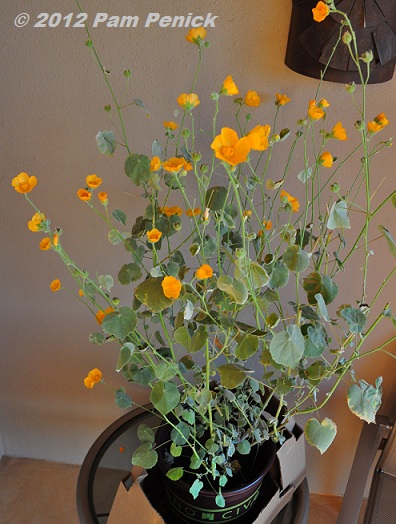 Do you ever visit nurseries when you travel, or the garden of a friend who offers to dig up a few plants for you to take home? Or maybe you fly across the country to the Garden Bloggers Fling, the Garden Writers Association symposium, or one of the big flower shows, and you've gotten some plant swag to take home, too many to carry onto the plane.
This happened to me at the recent Garden Writers symposium in Tucson. The tipping point, when I knew I could no longer just carry my plants onto the plane with me, occurred in the vendor exhibition hall, when Scott Calhoun and the Civano Nursery rep urged me to take a gorgeous 5-gallon Indian mallow (Abutilon palmeri). Look at it! How could I resist a plant with velvety, silver-green leaves and cupped orange blossoms that resemble gray globemallow's — but it's an abutilon?? This Arizona native is a bit touchy about freezing weather, so I don't even know if it'll survive in my Austin garden. But I was willing to give it a try since it was free.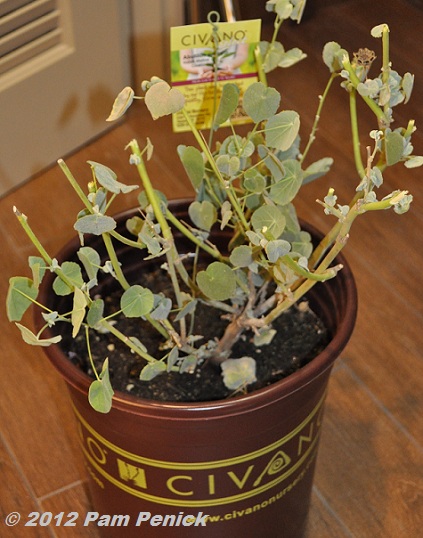 It adorned my hotel room's balcony until the night before my flight. Then it was time to prep it for packing in my suitcase. First I pruned off all those beautiful blooming branches—sob! I didn't have any pruners with me, but the pliable branches were easy to snap and break off.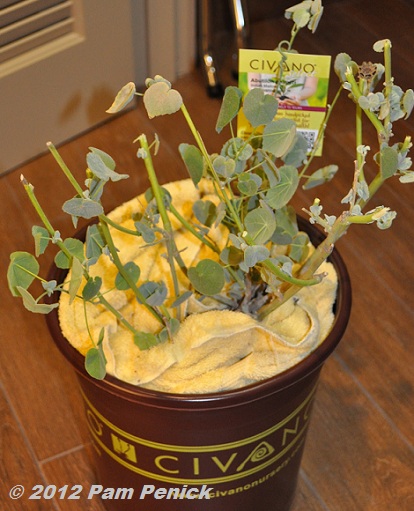 Then I wrapped an old towel (brought for just such an occasion) around the top of the root ball to help hold the soil in place. Twisted coils of newspaper would have worked too.
If the weight of the plant was a concern for checking my bag, I'd been advised to knock all the soil off, wrap the roots in damp newspaper, and put the wrapped roots in a plastic bag, thereby eliminating the weight of the soil. But luckily I'd thought to bring a duffel bag for my clothes, so I moved all my clothes to the duffel, leaving room in my big suitcase for plants and my toiletries bag, which could get wet without harm.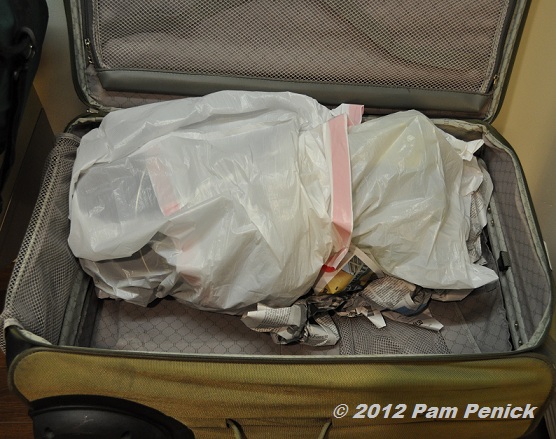 I stuffed the plant in a plastic garbage bag and put another one on top, just to help keep any loose soil from dumping out in my suitcase. Laid on its side, it was a perfect fit.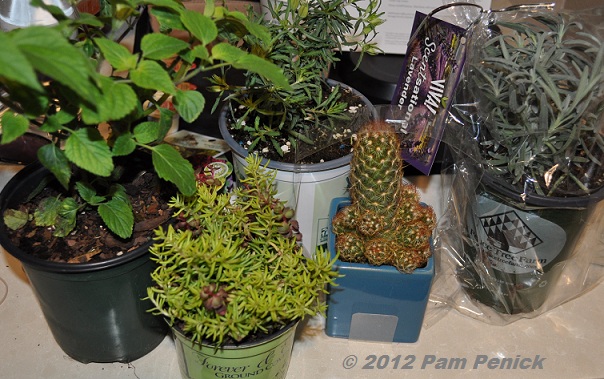 I had all these little freebies to bring home too. I watered them all the morning before my departure so they'd be moist but not sopping when it was time to pack them.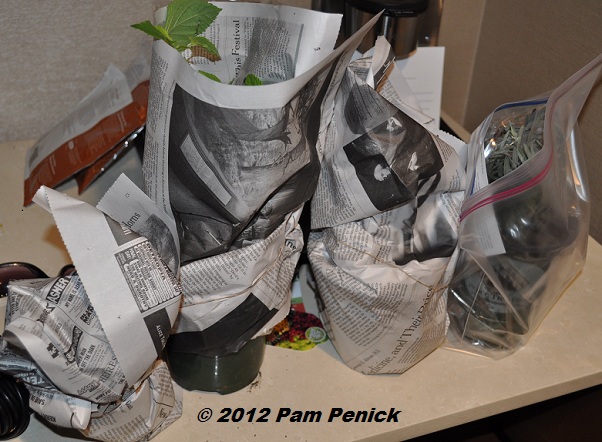 I wrapped newspaper in a cone shape around the pots and secured the sheets with rubberbands. I put one in a plastic zip-top bag that I had brought along.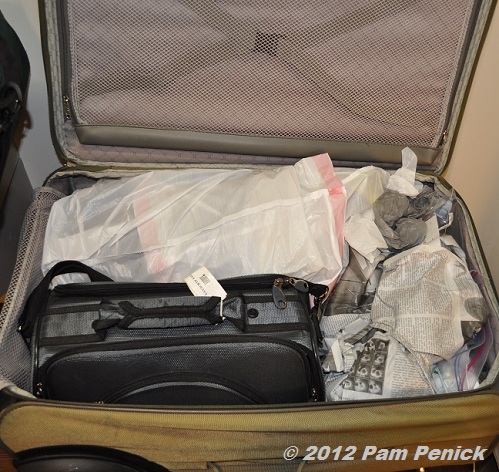 My toiletries bag fit snugly next to the Indian mallow, holding that plant securely in place. I tightly packed the smaller plants at the top of the bag, padding out any gaps with more newspaper.
The next morning I had a momentary fear that I would be over the weight limit with this bag, but all was well. It checked through just fine, and I settled in for a day of travel. Again, if you have any concerns about the weight limit, consider leaving the soil behind and wrapping the plant's bare roots in moist newspaper or towels.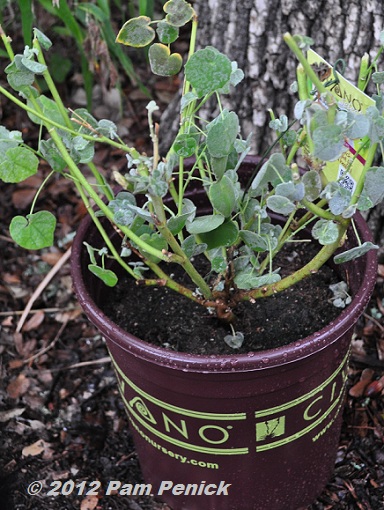 As soon as I got home, I unzipped the bag and pulled out the plants. Thanks to the tight packing job, they were all in place, with just a little loose soil in the suitcase. Here's the Indian mallow, looking just fine.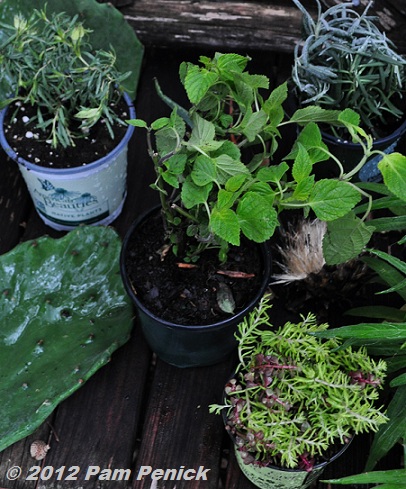 And the smaller plants looked great too. They soon straightened back up and looked none the worse for their flight home in a suitcase.
Remember that certain countries and even U.S. states have rules about bringing plants across the border. Check the legality before bringing any plants on your flight.
All material © 2006-2012 by Pam Penick for Digging. Unauthorized reproduction prohibited.