October 31st, 2012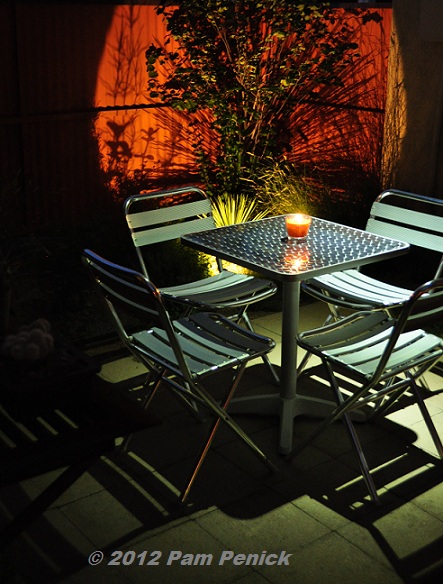 I don't remember how I acquired Yard Full of Sun, Scott Calhoun's 2005 memoir about making a garden that honors its desert setting. As soon as I read the first pages, his story, told with humor, crisp writing, and enticing photos, hooked me. Since then I've read four other books by Scott, reviewing most of them here on my blog, and come to admire not only his writing and photography but his design skills and artistic creativity. Simply put, I'm a fan.
It was partly to meet Scott and hear his scheduled garden talk that I attended the Garden Writers Association symposium in Tucson earlier this month. As I suspected, he turned out to be a great speaker and a really nice guy, generous with his time for this newbie author pumping him for advice on public speaking. I was delighted too to be invited to a gathering at his Zona Gardens design studio one evening.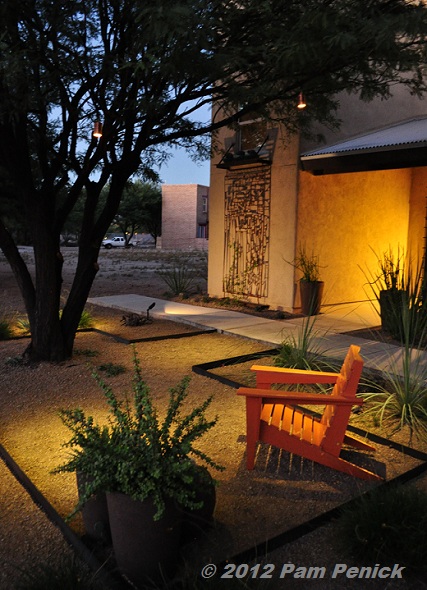 I rode over there with some friends, and as we pulled up to the in-home studio, I had a half-second regret about not seeing the garden by daylight, and then I saw that the sunset light was beautiful and snapped a few pictures as dusk fell, including the geometric entry garden, softly lit from above and below.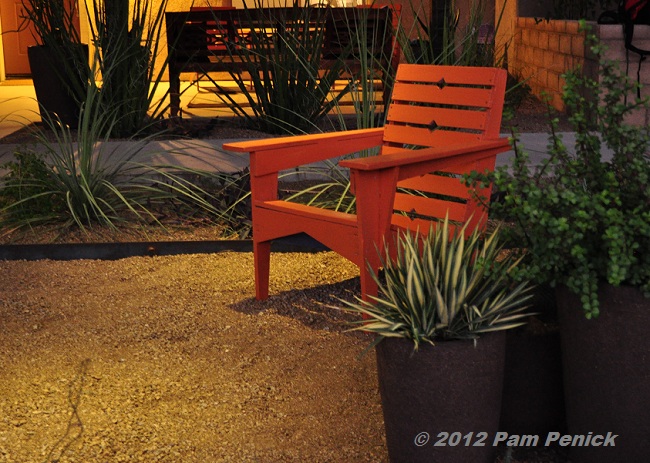 The space is accented by bronze pots of succulents and desert shrubs…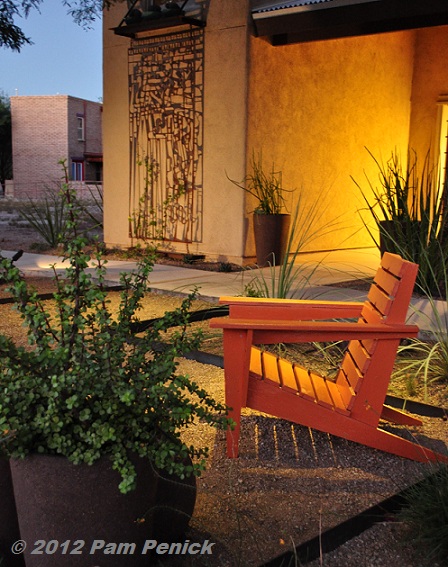 …and orange Adirondack-style chairs that Scott made himself.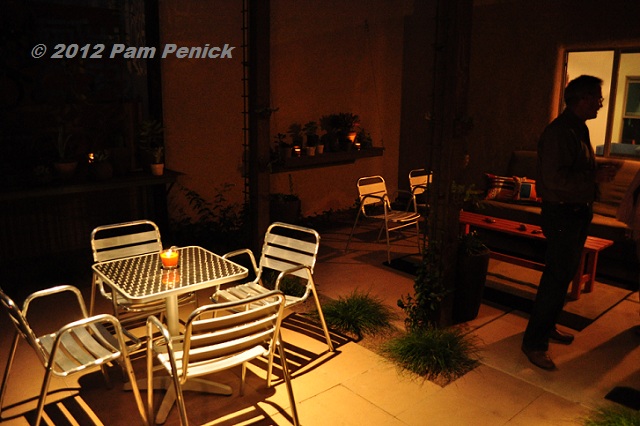 Then I went inside, and I met Scott's wife Deirdre and their other guests, but all I could think was to get into the back courtyard garden, which I could see glowing with candlelight, in order to snap a few more pics before the space filled up. I was literally on the ground at one point, steadying my lens on a chair arm to prevent blurriness in the dim light. Yes, this is apparently the crazed behavior that I am capable of when invited to a civilized party attended by some well-known garden writers, plant experts, and editors and publishers. I'd offer up the vain hope that no one noticed my photography contortions, but at 6 feet tall in heels I'm not exactly a dainty flower. Sigh.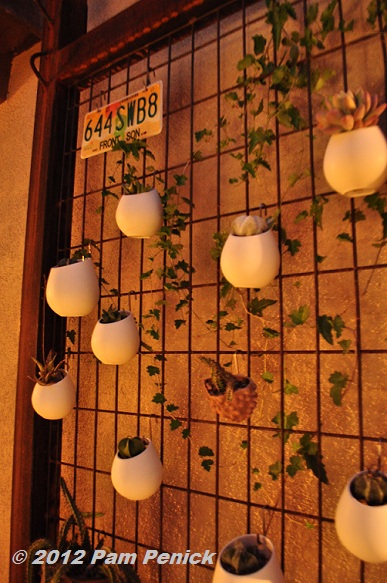 Garden exploration (and accompanying pics) always wins out, however. Before getting a drink and sitting down to talk, I had to admire this wire trellis of hanging egg-shaped pots planted with succulents. A Mexican snapdragon vine winds delicately through the grid.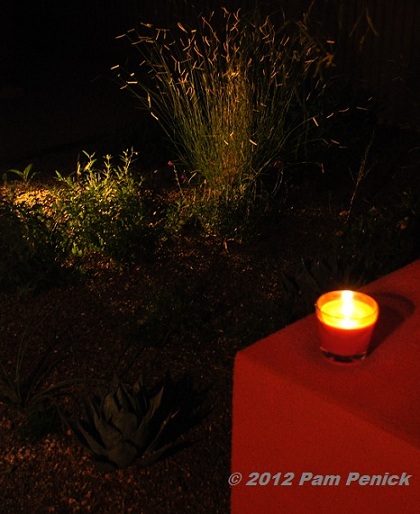 'Blonde Ambition' grama grass sparkled in the soft glow of candlelight.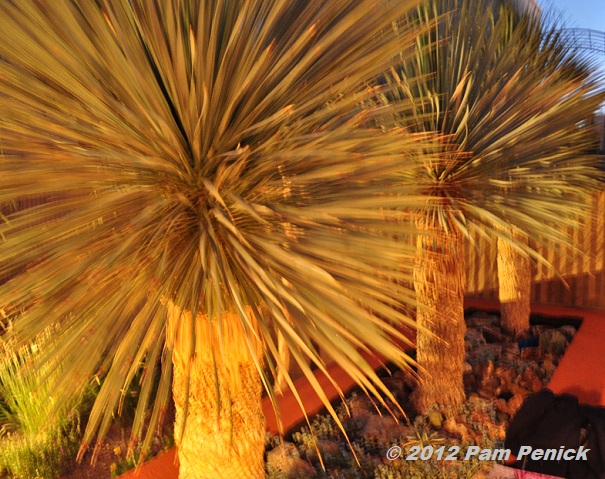 And a trio of Yucca rostrata creates a shimmering blue-green screen in an orange-painted (or red?) wall planter.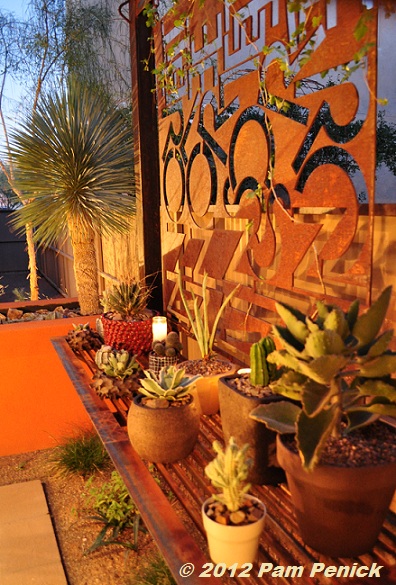 A display of potted succulents on a metal slatted shelf, backed by a steel plaque with letter-shaped cutouts, offers additional space for candles, and perhaps a refreshing drink. Time to go get one! Thanks, Scott and Deirdre, for a wonderful evening in your studio garden.
For a look back at my second post about Tucson Botanical Gardens, click here. Up next: A practical how-to on packing plants in your suitcase to bring home.
All material © 2006-2012 by Pam Penick for Digging. Unauthorized reproduction prohibited.
posted in
Containers
,
Decor
,
Desert
,
Design
,
Garden tours 2012
,
Grasses
,
GWA
,
Lawn Gone!
,
Lighting
,
Paths
,
Patios & decks
,
Seating
,
Succulents
,
Travel
,
Trellis
,
Vines
,
Walls
,
Xeric plants
,
Yuccas