October 13th, 2012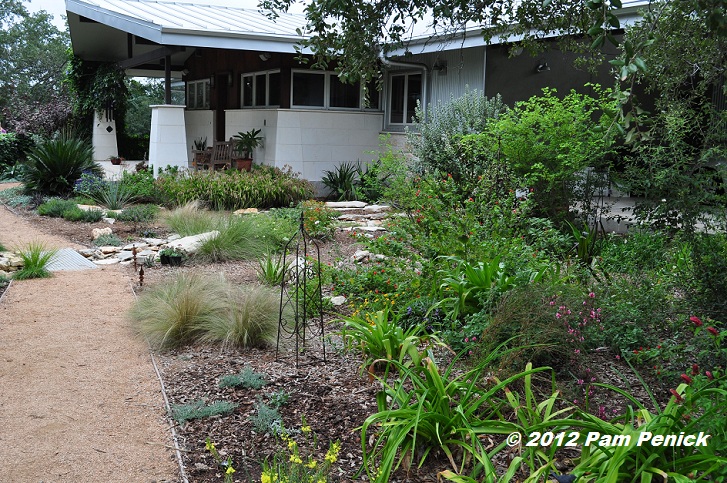 One of the gardens on our sneak preview of the upcoming Inside Austin Gardens Tour, hosted by the Travis County Master Gardeners, was a newly constructed 5-star green home on a caliche-rugged property in West Austin. The design of the house was appealing (one blogger pointed out that it's a modern version of an Arts and Crafts-style bungalow), and fit in well with the naturalistic style of the gardens that spread out around it.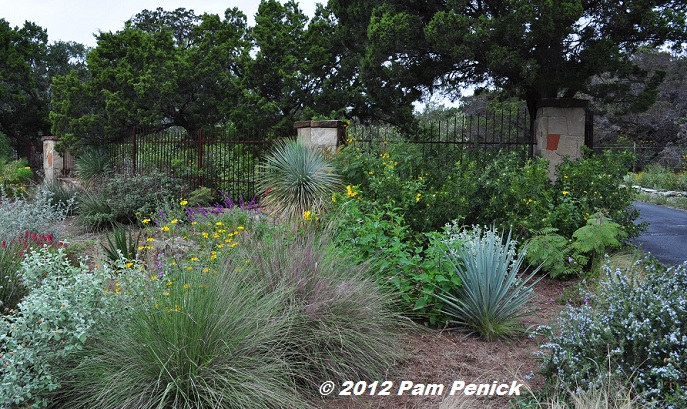 From the street you're greeted by a xeric garden of yuccas, grasses, rosemary, and other fragrant-leaved perennials, doubtless planted for their deer resistance.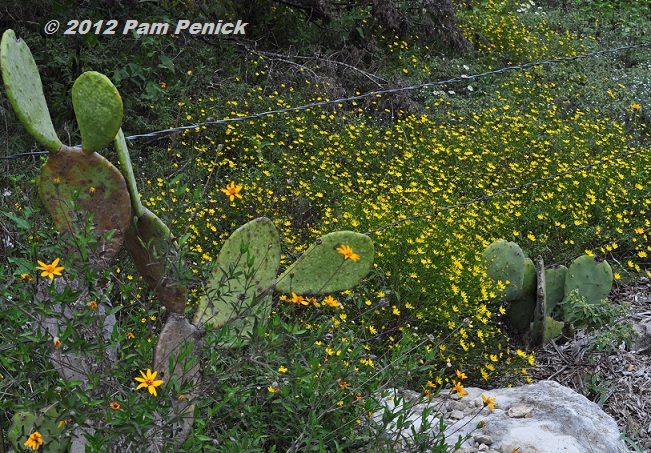 The driveway is edged on each side by native vegetation, including prickly pear, yellow-flowering broomweed (Amphiachyris dracunculoides, I think), and fragrant, white-flowering kidneywood (not pictured).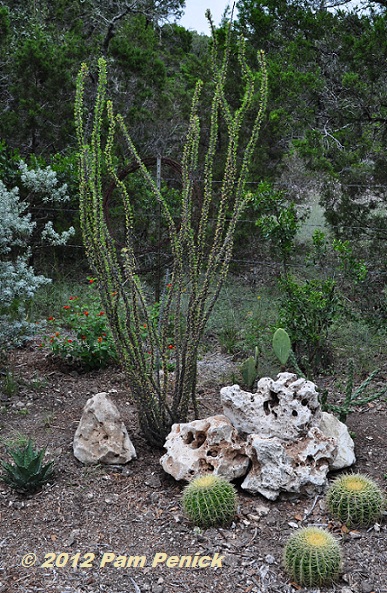 An ocotillo (surprisingly healthy looking, despite our humidity and higher rainfall levels than its native desert climate), golden barrel cactus, and small boulders make a striking vignette closer to the house.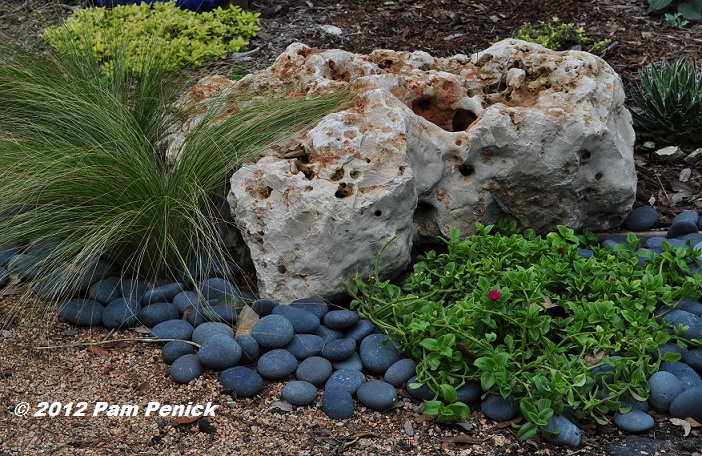 Smaller details are not overlooked either.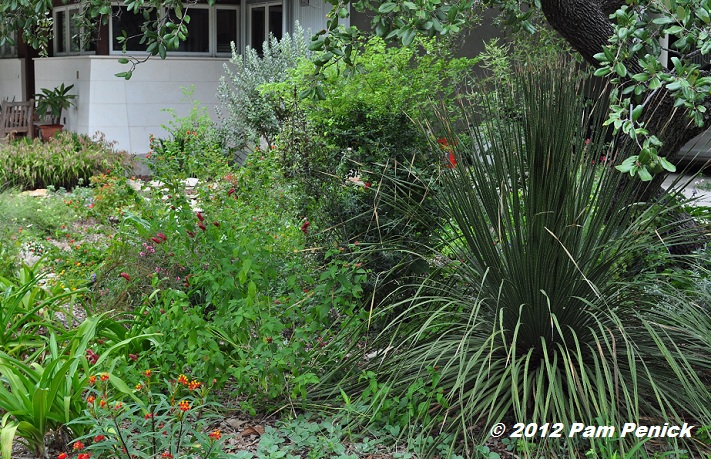 A partly shady garden under live oaks welcomes you at the front walk, with sotol (Dasylirion texana) and flowering perennials.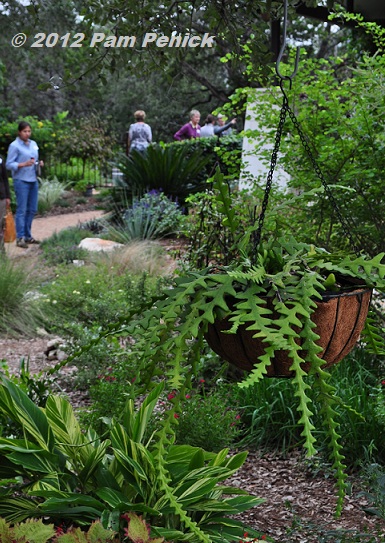 A semi-tropical lushness is achieved with the addition of hanging baskets and variegated ginger. Update: That's fishbone cactus (Epiphyllum anguliger) in the hanging basket.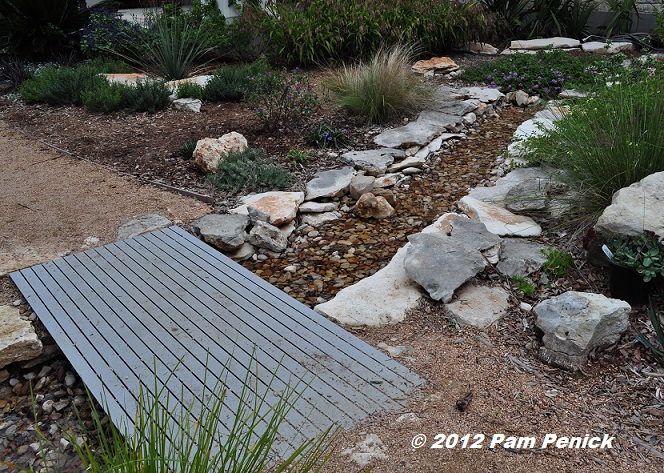 A small stream runs across the path, crossed by a clean-lined plank bridge.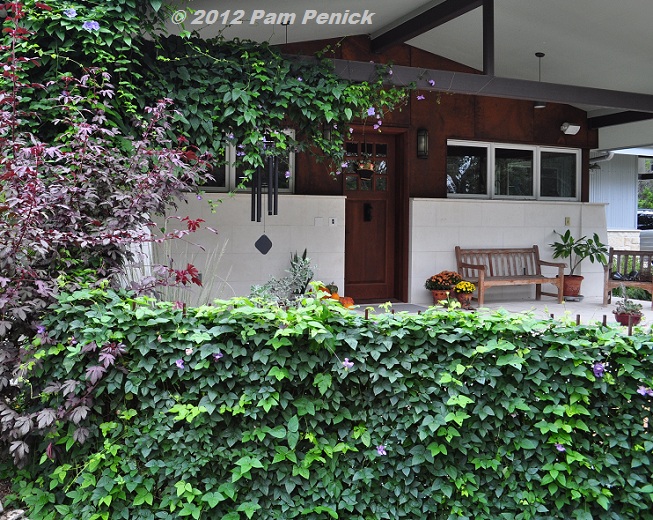 Vines clamber along a fence and the support structure of the deep front porch, softening the modern structure.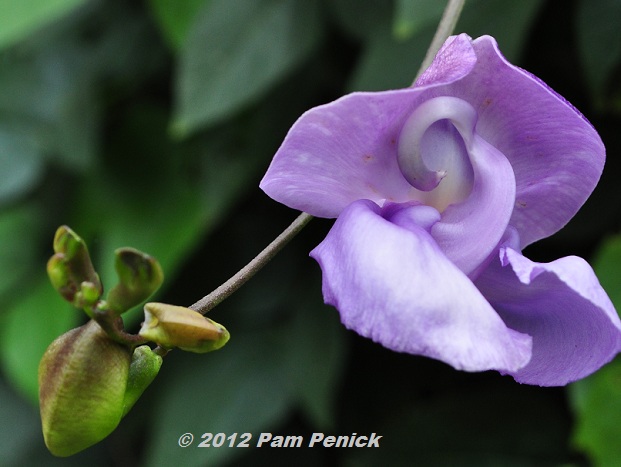 Snail vine (Vigna caracalla), a pretty annual, crawls along the fence…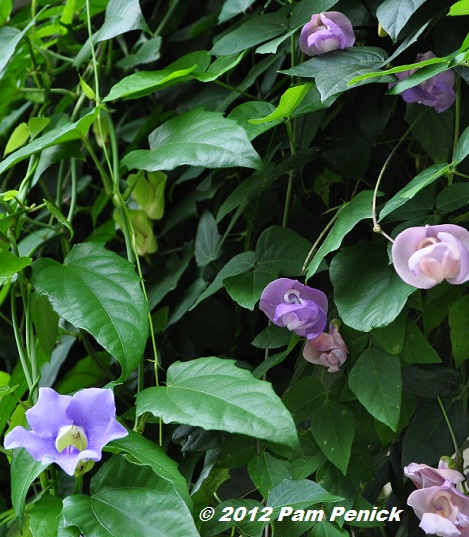 …while an appealing combination of snail vine and blue sky vine (Thunbergia grandiflora) climb into the rafters.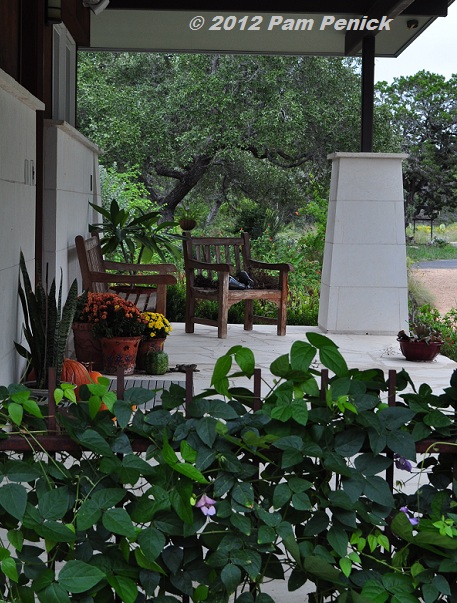 A pretty spot to stop and take in the Hill Country view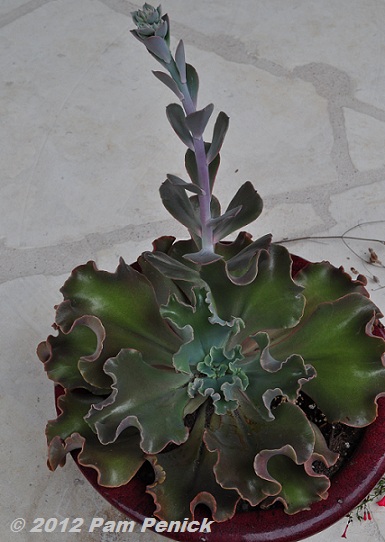 On the porch, a single potted succulent prepares to flower.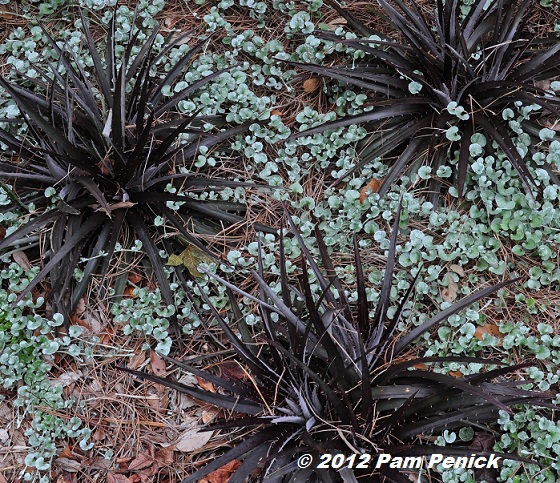 Dyckia and silver ponyfoot (Dichondra argentea), a combo I have in my own garden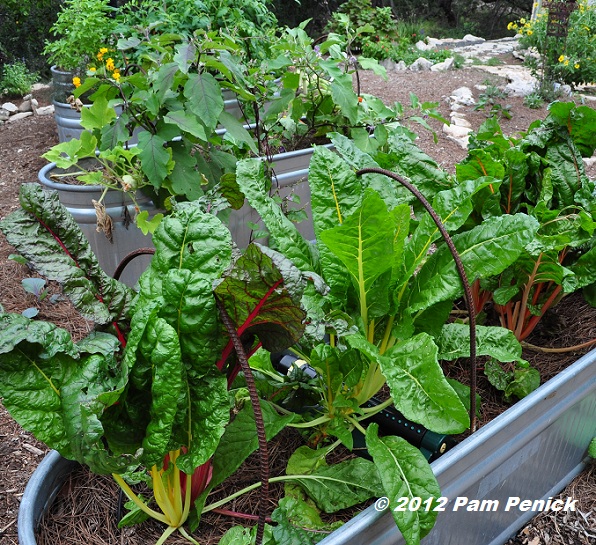 A collection of stock tanks houses a vegetable garden, fenced off from the entry garden but visible from the front porch. Thin soil over caliche makes planting in the ground difficult, so owner Jennifer Phillips solved that problem here with raised beds.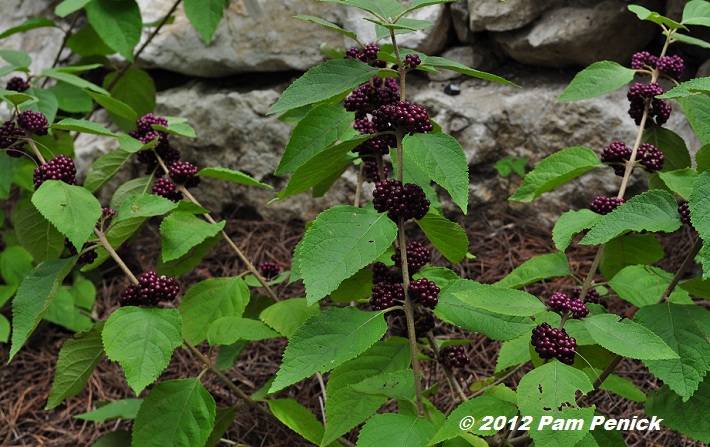 I've been coveting a black beautyberry, also known as Mexican beautyberry (Callicarpa acuminata), since spotting one at San Antonio Botanical Garden a few years ago. Jennifer has two, which she told me she found with the help of her designer at a wholesale nursery. I would love to find this at a retail nursery next spring.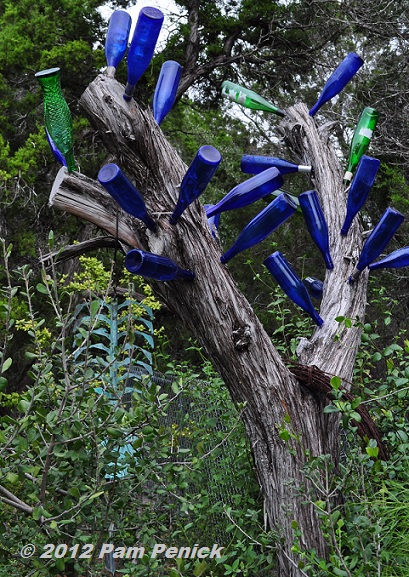 Almost every garden on tour had a bottle tree of some kind. Jennifer made hers by attaching bottles to an old cedar stump.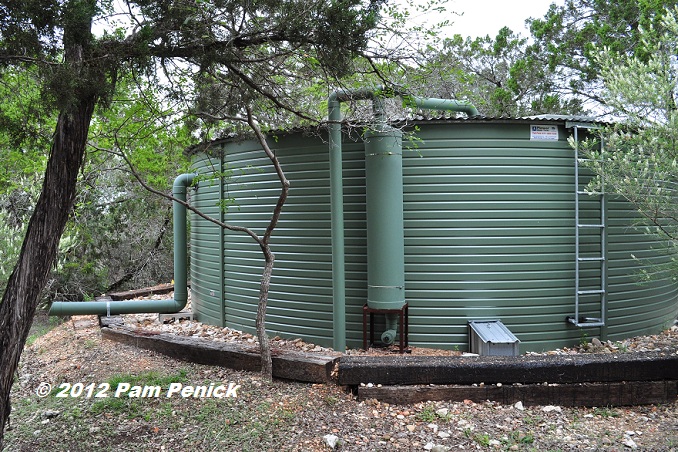 She has a massive water-collection tank in the back yard. I wonder how many gallons it holds? I should have asked.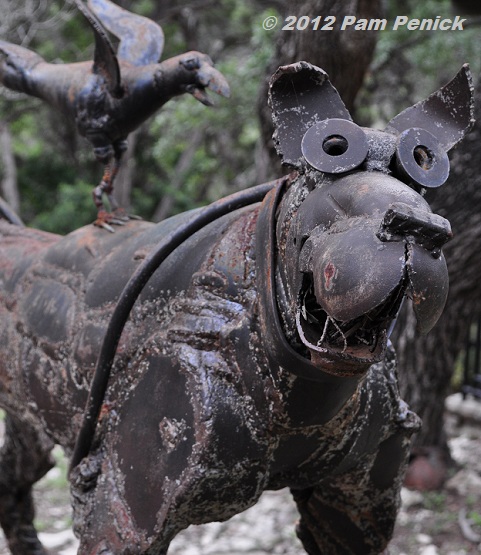 We heard a dog barking in the house, wanting to meet us, and Jennifer's love of dogs is apparent in her choice of garden art. Two happy-go-lucky dog-and-bird sculptures adorn the garden, looking as playful as the real thing.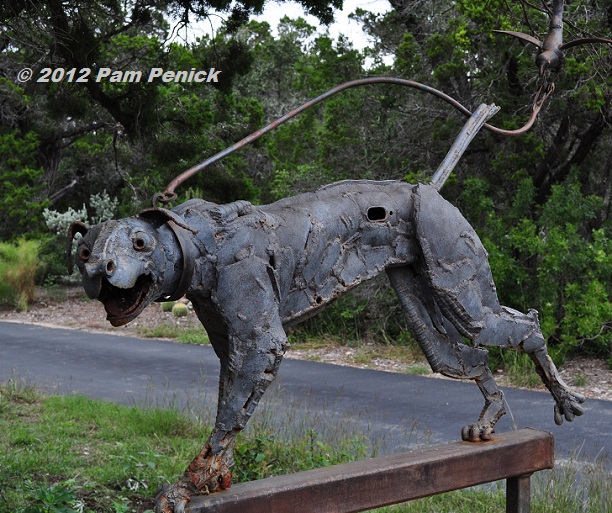 Tour Info
Date: October 20
Time: 9 am to 4 pm
Tickets for the tour (all of the gardens) are $15 in advance, or $20 on the day of the tour ($5 for individual gardens).
Gardening Demonstrations/Education Sessions at the Phillips Garden
10:30 am – Spice Up Your Food with Herbs with Holly Plotner
1 pm – Eat the Fruits of Your Labor with Ratna & Venkappa Gani
All Day – Treehouse: Smart Building, Better Living with Russell Hill
For a look back at my post about the herb-a-licious Studebaker Garden, click here. Tomorrow join me for a tour of the inviting Williams Garden.
All material © 2006-2012 by Pam Penick for Digging. Unauthorized reproduction prohibited.