October 22nd, 2012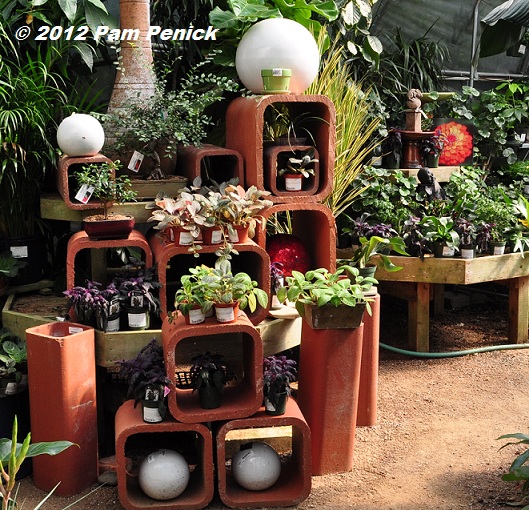 Each week in October, which is Support Your Independent Nursery Month, I am featuring one of my favorite Austin-area nurseries here at Digging. To make things even more interesting, I'm also hosting a giveaway every week—one from each nursery! This week I'm shining a spotlight on The Great Outdoors.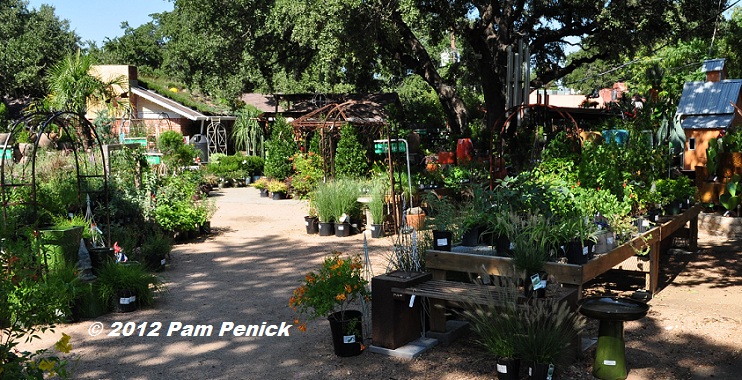 The Great Outdoors is located in the South-Austin-hippie-meets-hipster zone of Congress Avenue just south of downtown. It carries a good selection of annuals and perennials, including plenty of natives, plus lots of succulents, bamboos, and edibles.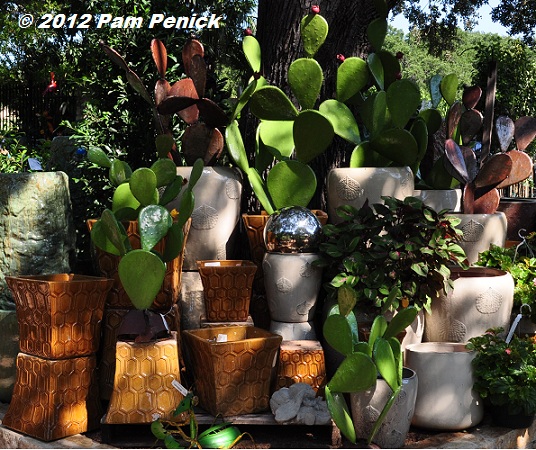 It's also a great spot to find fun garden decor, like these pots and metal prickly pear sculptures.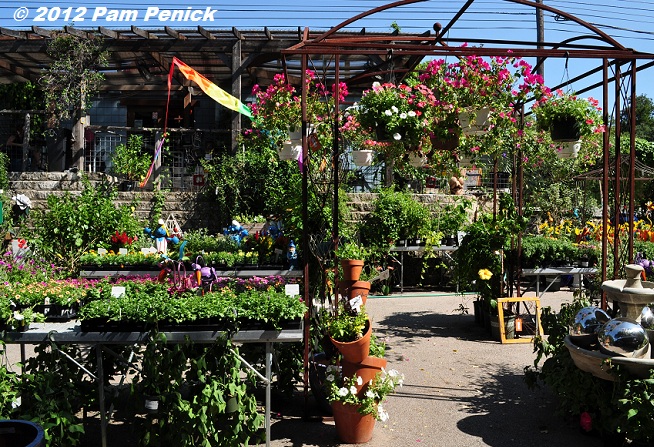 And if shopping makes you hungry or thirsty, you can stop for a refreshment at the cafe located on the grounds, with a deck overlooking the nursery.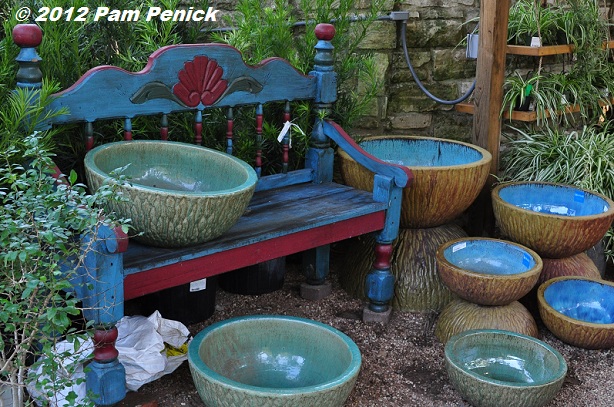 But back to the pot selection—TGO carries beautiful containers you won't find anywhere else, like these…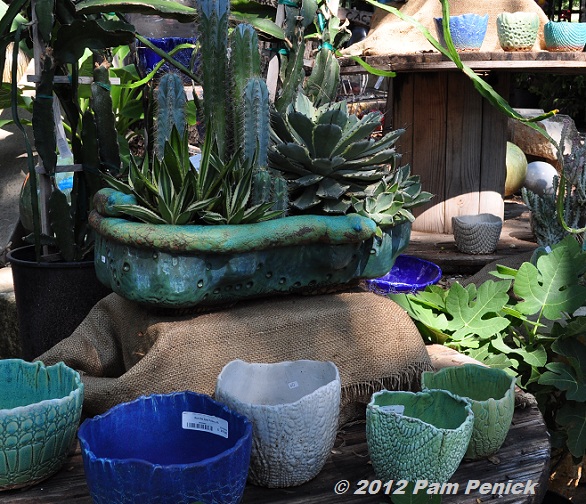 …and these handmade, dino egg-like creations.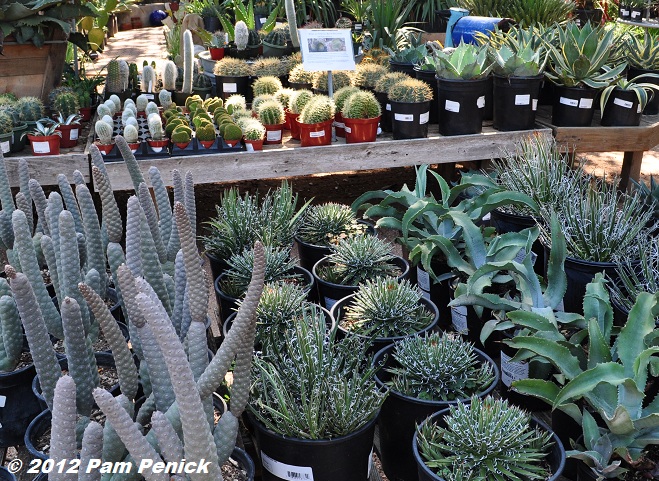 You'll find succulents and cactus galore—perfect for filling seasonal planters.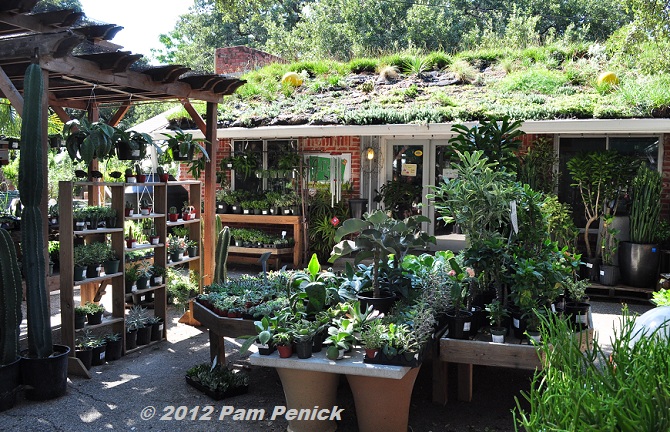 And the garden shop behind the succulent tables, you'll notice, has a green roof.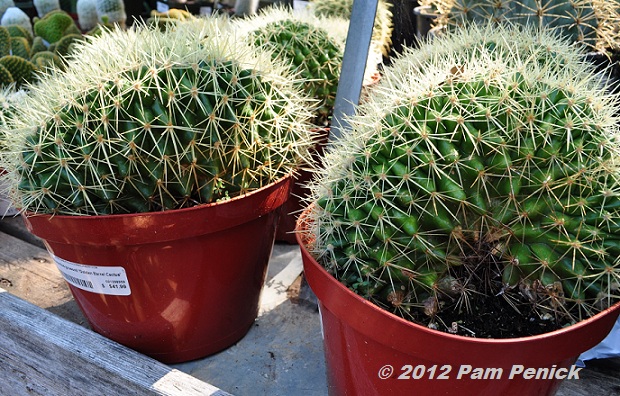 Here's something I've never seen at any other nursery: crested golden barrel cactus.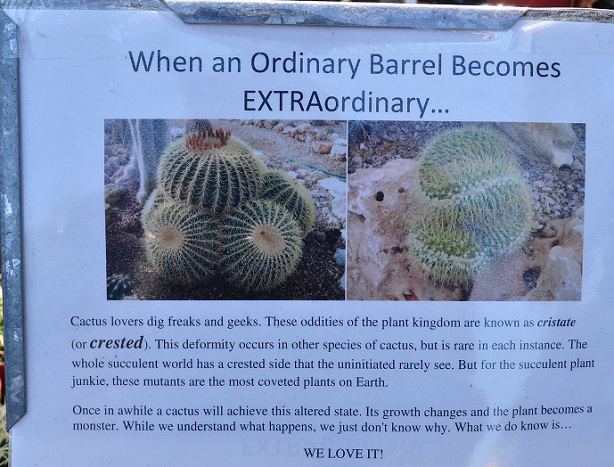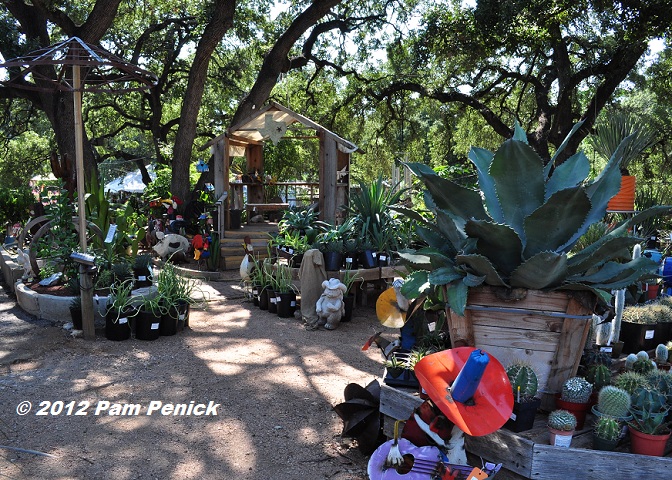 The agave and yucca section at the top of the hill (this is a nursery with some elevation changes) is chock full of larger specimens.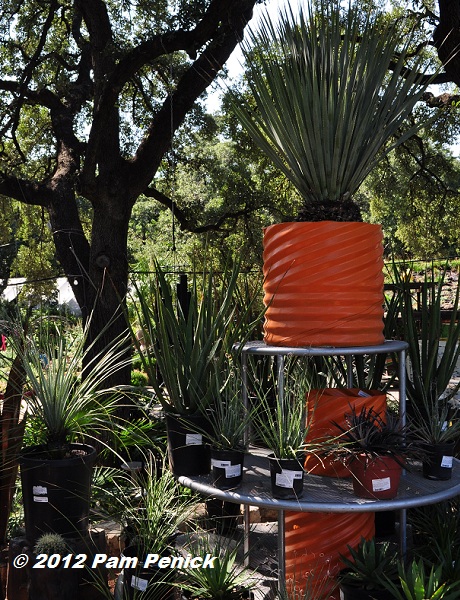 And look—they're into culvert-pipe planters too, but they paint theirs. These orange ones were for sale.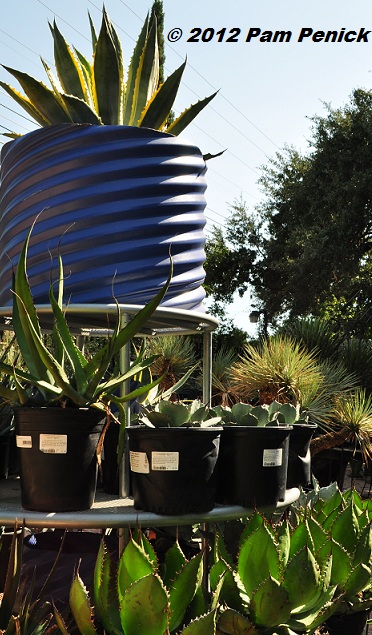 So was this blue one.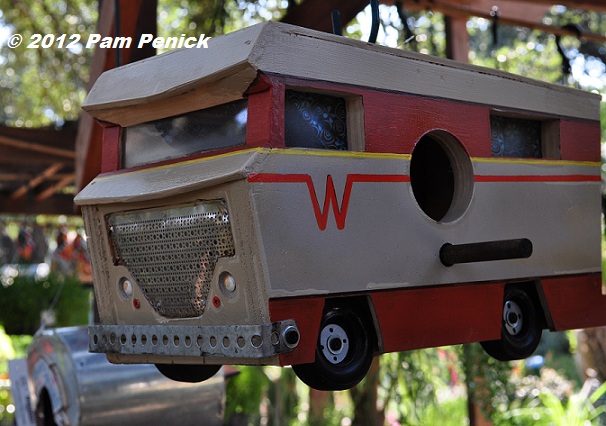 TGO is the place to go for fun or funky, spiritual or ironic garden art, like this Winnebago birdhouse.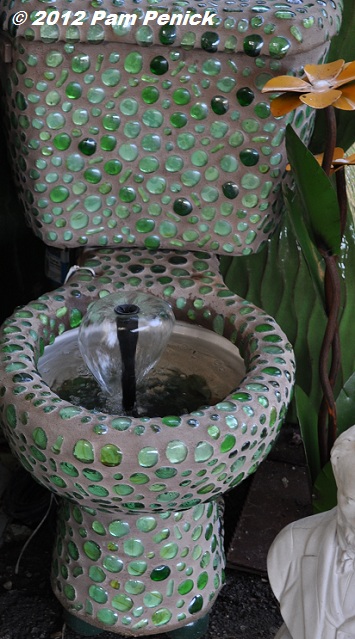 Or a mosaic-tile toilet fountain.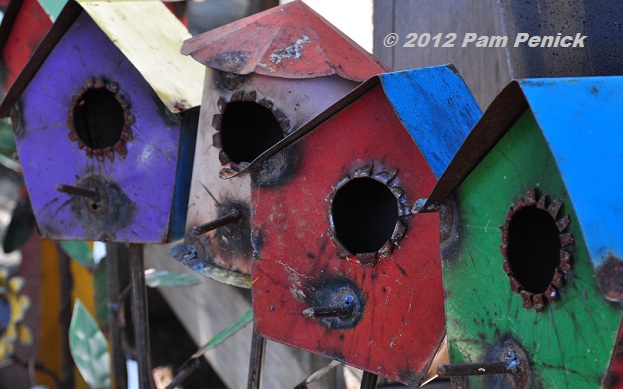 Or painted metal birdhouses and animals.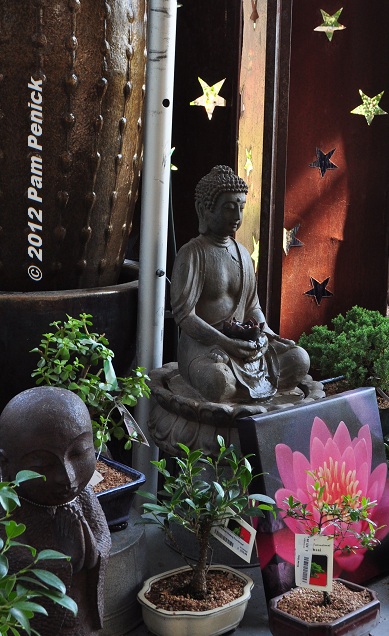 Or Buddhas and bonsai.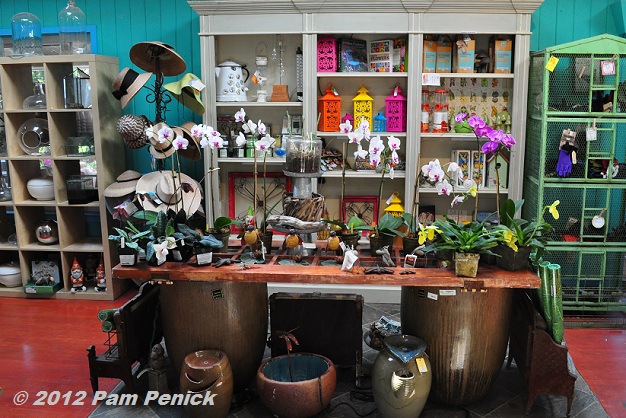 Inside the garden shop you'll find plenty to tempt you as well.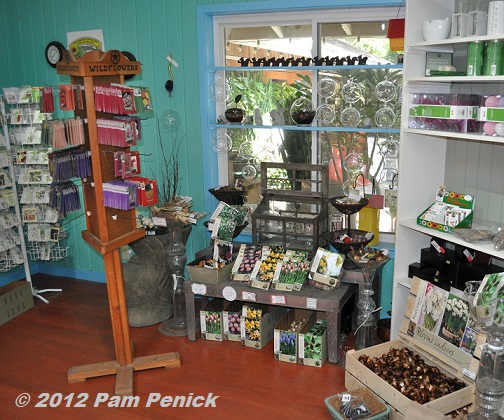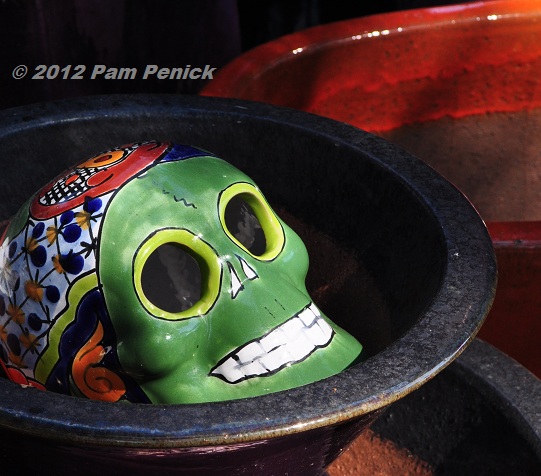 You can spend a good hour strolling the shady grounds to see everything, despite the urban location.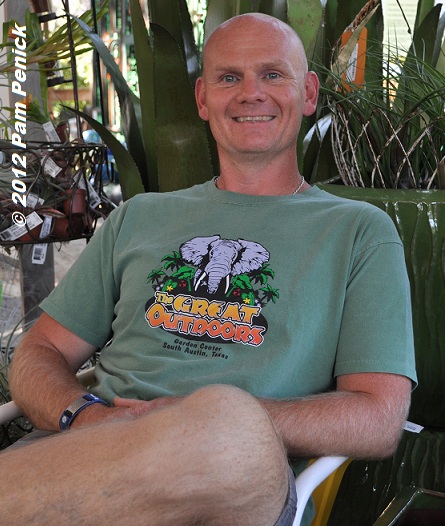 You might even see Merrideth Jiles, the nursery's general manager and an all-around nice guy. He and his staff are always ready to answer your gardening questions and help you find what you're looking for, so check them out the next time you're south of downtown.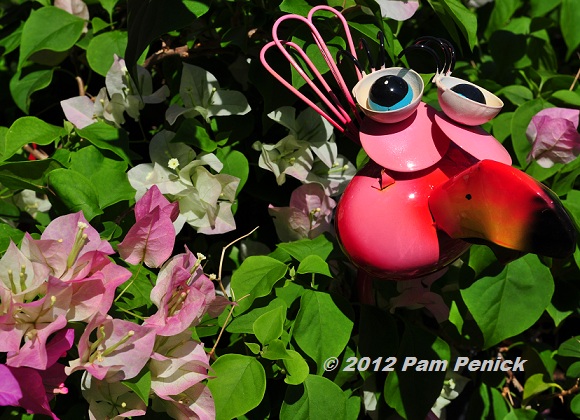 Now for the giveaway! The Great Outdoors is giving away a $50 gift certificate to one of my lucky readers! Just leave a comment on this post to enter, and I'll announce the winner at the end of the week. Update 10/28: The winner is announced here.
Giveaway Rules:
1. You must leave a comment on this post to enter.
2. Only one entry per person is allowed.
3. Giveaway ends at 11:59 pm on October 27th.
4. I'll announce the winner on October 28th.
5. The winner must go to the nursery with a photo ID to claim the prize within two weeks of winning. Prizes will not be mailed.
6. The winner is not eligible to win any other giveaways at Digging for 2012's Support Your Independent Nursery Month.
Remember, win or lose, if you live here in Austin you've already hit the jackpot with a great selection of local nurseries at which to shop, learn, and be inspired.
Disclosure: I've posted about this nursery because it's one I shop at regularly and recommend to others. I invited the owner/manager to participate in a giveaway for my readers, but my post was not conditional on any donation. Plain and simple: I like this nursery and think you will too.
All material © 2006-2012 by Pam Penick for Digging. Unauthorized reproduction prohibited.