October 8th, 2012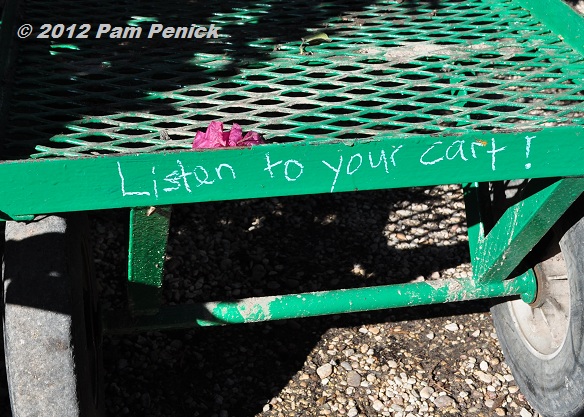 Each week in October, which is Support Your Independent Nursery Month, I am featuring one of my favorite Austin-area nurseries here at Digging. To make things even more interesting, I'm also hosting a giveaway every week—one from each nursery! This week I'm shining a spotlight on Barton Springs Nursery.
Why do I love to shop at Barton Springs Nursery? I listen to my cart, of course! And whenever I'm pulling it around BSN, my cart says things like, "Ooh, look! There's that ______ (fill in the blank with whatever cool native plant you are looking for) you've been wanting to try, and they have it in an affordable 4-inch pot size. Grab three of those!" And "Let's take a detour down the vine aisle. You might see something that'll be perfect for greening up your fence." And "Let's not forget to check out the dyckia selection since you're into those now." You see? My cart knows what I want, even before I do. Plus it totes all my plants around.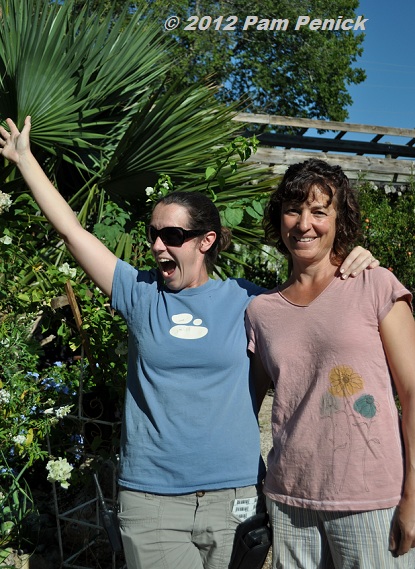 And if my cart and I encounter a plant we're not familiar with, or I'm just popping in to look for something in particular, the friendly, knowledgeable staff members—like Megan and Dora—are always willing to help. The staff will never just say, "Uh, I don't know," in answer to a question. They know a lot about the plants they sell, and if they don't know the answer they'll find out for you. A great staff is second only to a great plant selection, and BSN has both.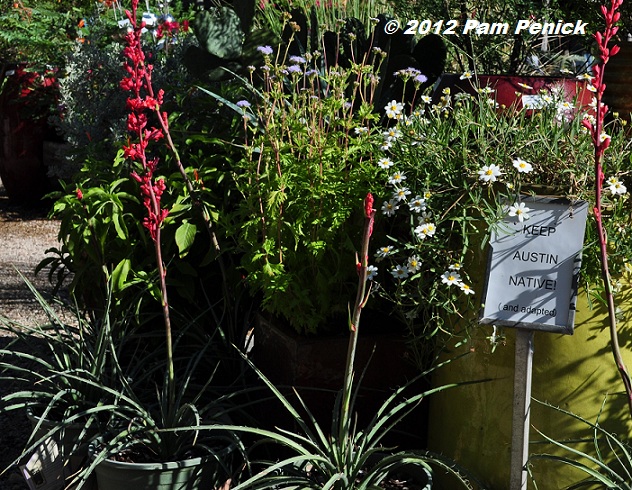 BSN propagates a lot of the plants it sells, which helps them to keep prices low. Native and well-adapted plants are its specialty.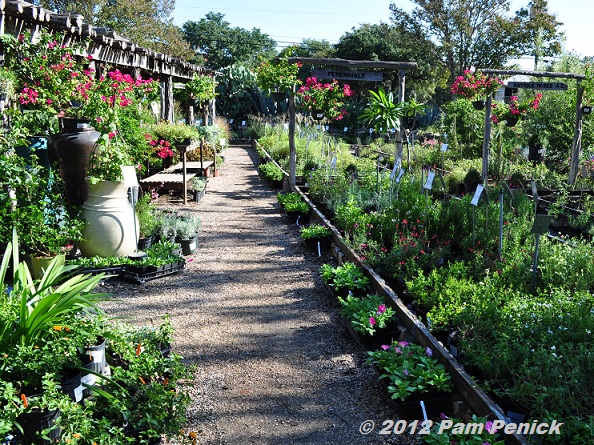 The aisles are inviting and well-stocked.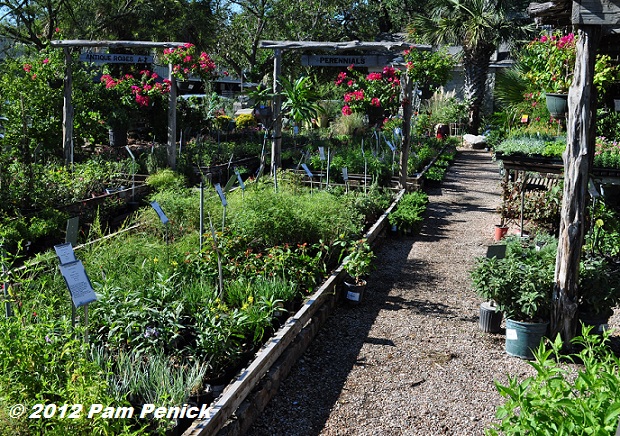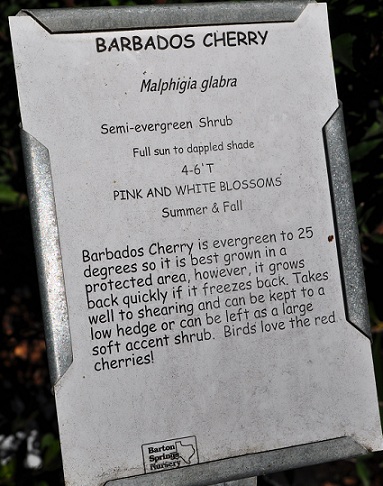 And everything is clearly labeled with the common name, botanical name, size, and growing information. You can get a great tutorial on plants for our area just by reading the labels. Prices are written on the gallon-sized pots, and there are set prices for 4-inch pot sizes, so you never have to wonder how much something costs.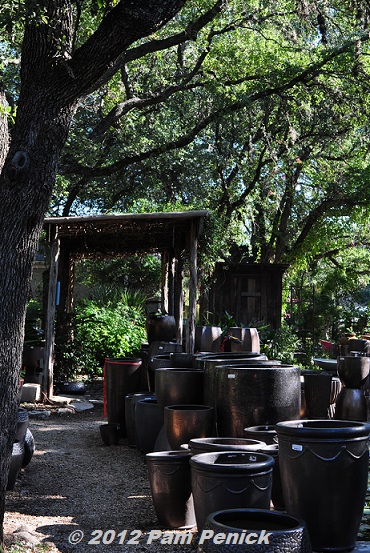 They have a great selection of pots, especially if you like bronze-colored ones, as I do.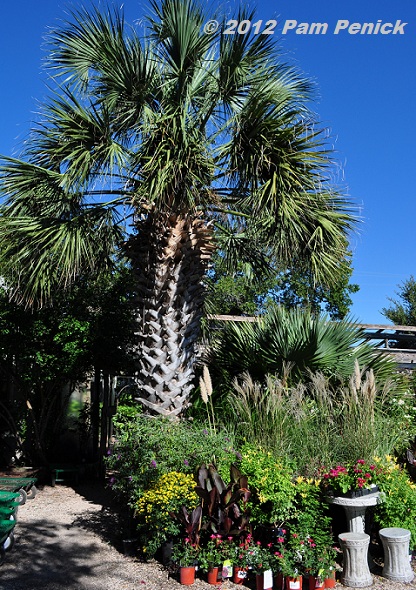 This big palm greets you as you walk in, and in fact they do carry a nice selection of palms, including our native dwarf palmetto.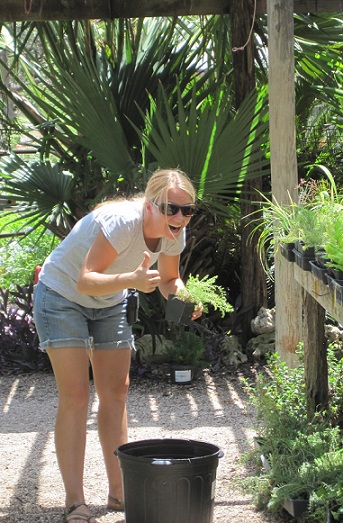 Photo courtesy of BSN
Ro, one of the staff members, having fun while she works.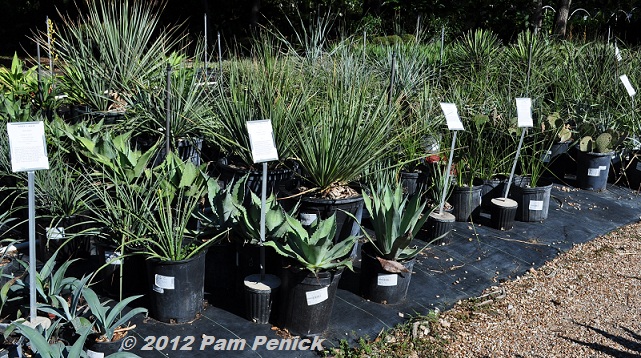 Even if I come in for something particular, I nearly always peruse the entire nursery (just to see if anything catches my eye, you know). I always end up in the succulent and cactus section in the very back.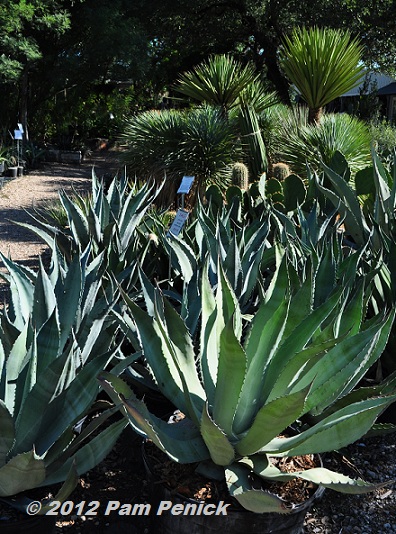 Just look at those shapely plants…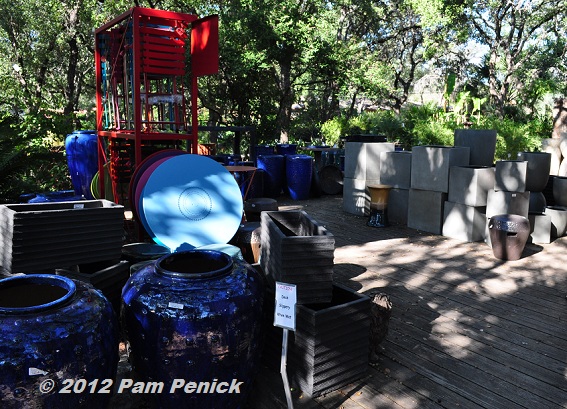 …and those fabulous gray, cube-shaped pots.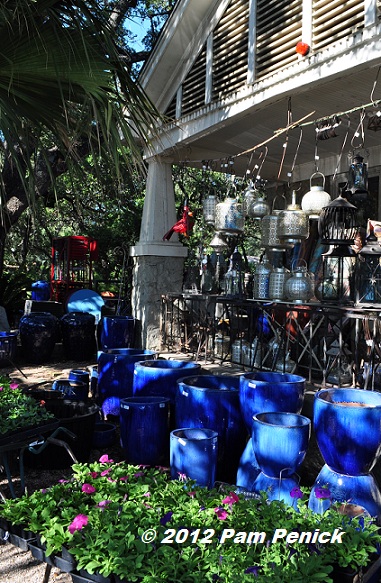 I like blue pots too.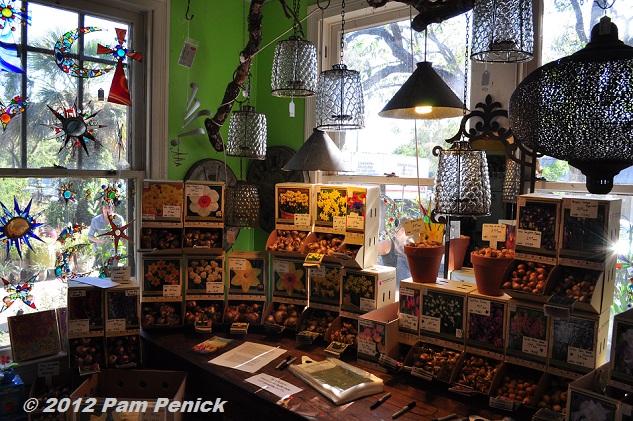 Inside the garden shop you'll find seasonal bulbs for sale, seeds, and tools, as well as beautiful accessories for the home and garden. Whether plants, gifts, or information about plants, you'll find what you're looking for at Barton Springs Nursery. To read more about this excellent nursery, check out an earlier post I wrote about BSN.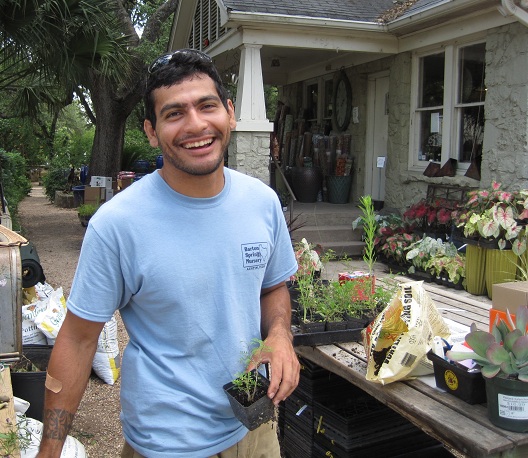 Photo of Joe courtesy of BSN
Now for the giveaway! Barton Springs Nursery is giving away a package worth $125—their Fall Power Pack—to one of my lucky readers! Here's the scoop from Mae at Barton Springs Nursery:
Fall Power Pack (Packs a Texas-Sized Punch!)
Our goody bag is comprised of a sampling of great products that will benefit any soils or plants that are lucky enough to receive them. Use a combination of these staff-recommended products to ensure a quickly established, healthy root system and an overall more robust garden! Ask one of our helpful salespeople how and when they suggest using these goods when you come in to Support Your Local Nursery! The Fall Power Pack contains:

Barton Springs Nursery T-Shirt: An Austin original since 1986. Be as stylish as one of our hard-working staff members.
Gardenville Potting Soil: A locally crafted, organic soil mix, great for container gardening and starting seedlings.
Bio-tone Starter Plus: An organic fertilizer, loaded with beneficial microbes, proven to help new plants establish faster. It will increase root mass to avoid transplant loss, as well as increase shoot growth and bloom count. Use at time of planting to ensure success.
Maxicrop Seaweed Plus Iron: A unique combination of pure seaweed extract with readily sequestered iron in an easy-to-use liquid form. This high-iron formulated product, when sprayed directly onto foliage or applied as a root drench, will prevent yellowing of leaves.
Superthrive: World-famous horticultural vitamins/hormones solution. Recommended for transplanting and growing, and as a plant activator and reviver.
Rabbit Hill Farm Minerals Plus: An organic mineral soil amendment which contains three types of paramagnetic volcanic rock, and trace minerals. If your soil is lacking minerals, Minerals Plus is the product for you.
Medina Hasta Gro Plant Food: A biologically based soil conditioner/natural fertilizer. Contains high-quality N-P-K plant food plus Medina Soil Activator to stimulate biological activity, HuMate humic acid to improve the soil structure, and seaweed extracts to stimulate fruiting and blooming.
Medina Grow Green 4-2-3 Organic Fertilizer: A granular fertilizer that is a natural plant food for all of your gardening needs. Slow-release to feed grass, flowerbeds, and gardens for up to 4 months.
That sounds like a great package to win! Just leave a comment on this post to enter, and I'll announce the winner at the end of the week. Update 10/14: Click to see the winner announcement.
Giveaway Rules:
1. You must leave a comment on this post to enter.
2. Only one entry per person is allowed.
3. Giveaway ends at 11:59 pm on October 13th.
4. I'll announce the winner on October 14th.
5. The winner must go to the nursery with a photo ID to claim the prize within two weeks of winning. Prizes will not be mailed.
6. The winner is not eligible to win any other giveaways at Digging for 2012's Support Your Independent Nursery Month.
Remember, win or lose, if you live here in Austin you've already hit the jackpot with a great selection of local nurseries at which to shop, learn, and be inspired.
Disclosure: I've posted about this nursery because it's one I shop at regularly and recommend to others. I invited the owner/manager to participate in a giveaway for my readers, but my post was not conditional on any donation. Plain and simple: I like this nursery and think you will too.
All material © 2006-2012 by Pam Penick for Digging. Unauthorized reproduction prohibited.