October 1st, 2012
Support Your Independent Nursery Month
, I am featuring one of my favorite Austin-area nurseries here at Digging. To make things even more interesting, I'm also hosting a giveaway every week—one from each nursery!
This week I'm shining a spotlight on The Natural Gardener.
The Natural Gardener is one of those nurseries in which you can easily spend an hour or two looking at plants, exploring the display gardens, looking at the donkeys, goats, and chickens with your kids, strolling the labyrinth, investigating the supersized tepee, and shopping in the nursery store. The extensive grounds and rural setting (though the surrounding area is increasingly being built out with homes and apartments) will make you feel as if you're visiting a small farm, with rows of vegetables being tended by staff members, animals fed and cared for, swings in the trees for catching a cool breeze, and garden features meant for contemplative enjoyment.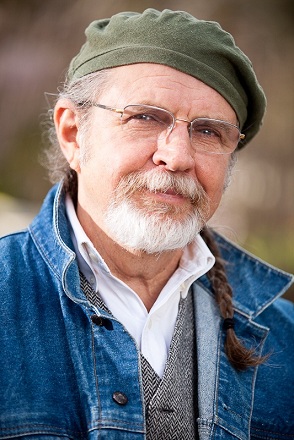 John Dromgoole owns The Natural Gardener, and thanks to his long-running radio show, weekly TV appearances on Central Texas Gardener, and community activism, he's the larger-than-life face of the nursery.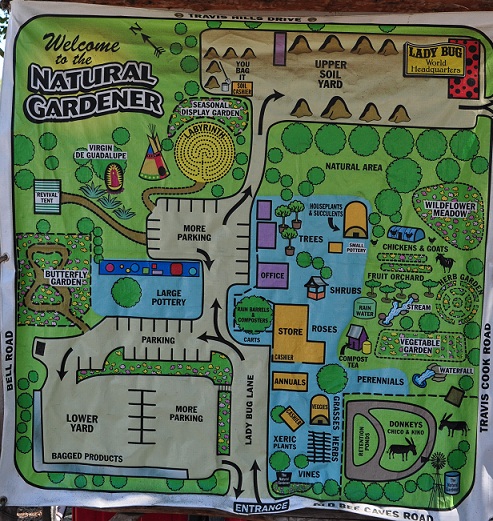 When you visit—and you must visit; this is an iconic nursery in Austin—you'll find plenty to do, as this nursery map illustrates.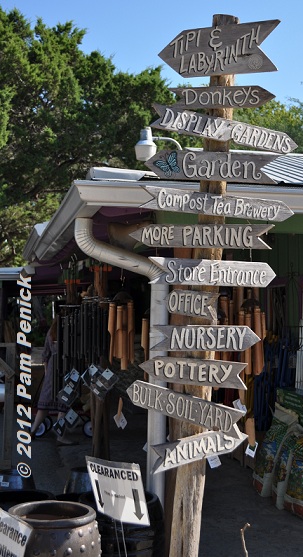 Or use this quirky signpost to get pointed in the right direction.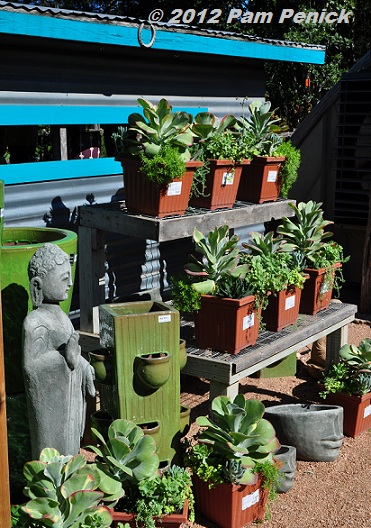 The Natural Gardener has a great selection of plants, including many natives and other adapted plants, succulents, woody lilies, herbs, and edibles.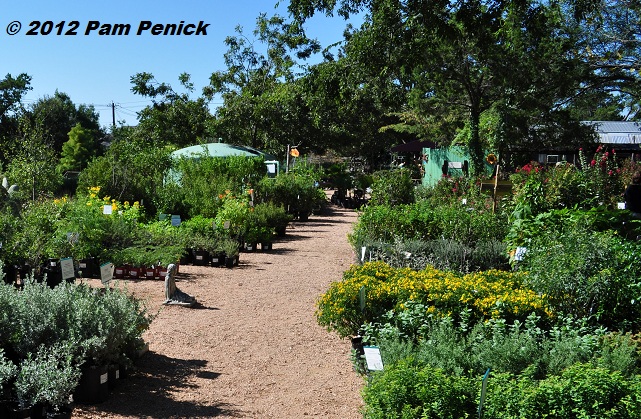 The shrub and tree section is particularly good.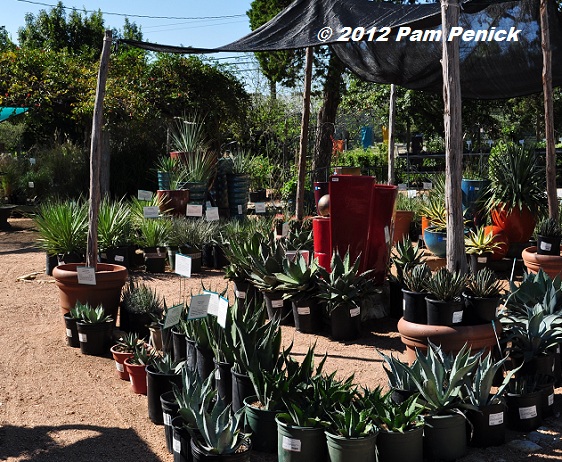 So is the succulent section.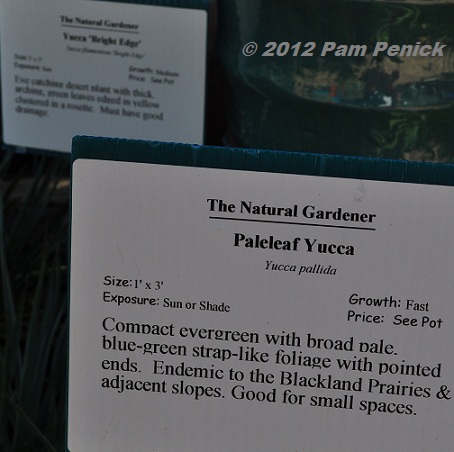 One of my pet peeves at nurseries is bad or missing signage. The Natural Gardener scores extra points for clear signage with helpful growing information.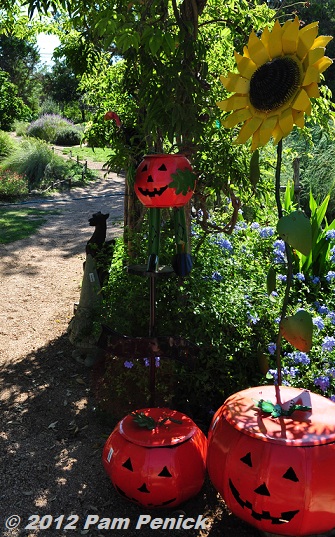 This place is decked out year-round with fun garden decor. Right now it's all pumpkins and sunflowers.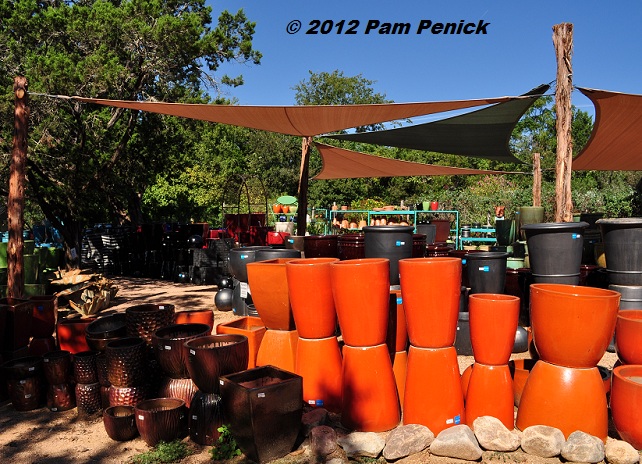 Pots make great decoration too, of course, and N.G. has plenty of them, in all colors.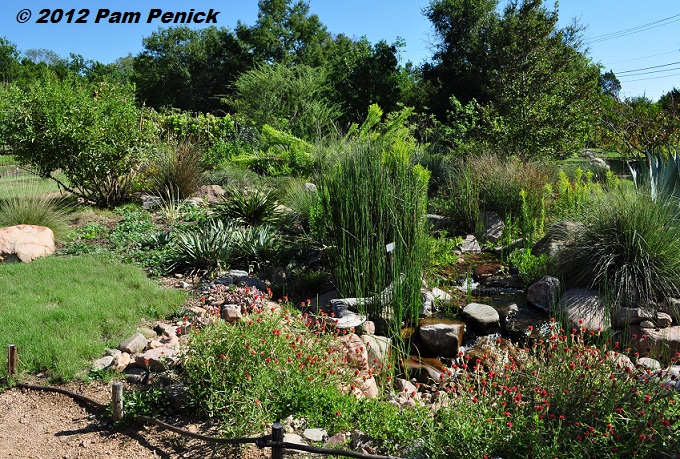 The display gardens just keep growing; each year, it seems, a new garden appears. This is the stream garden.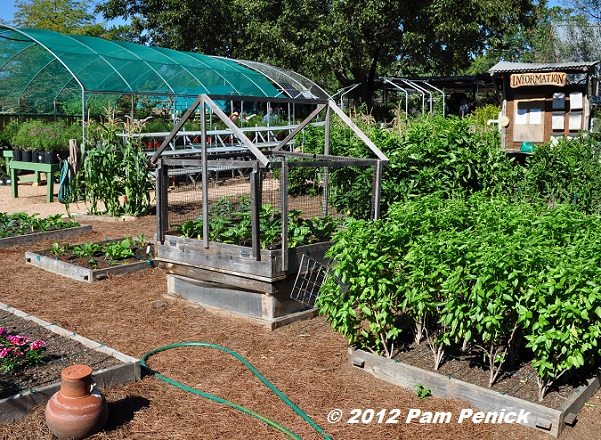 Here's the working vegetable garden. They're even growing corn!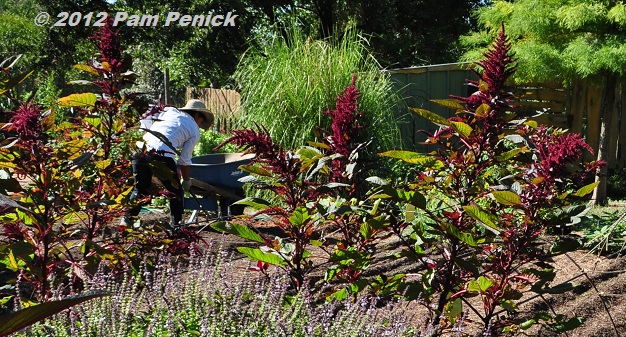 And here's someone hard at work.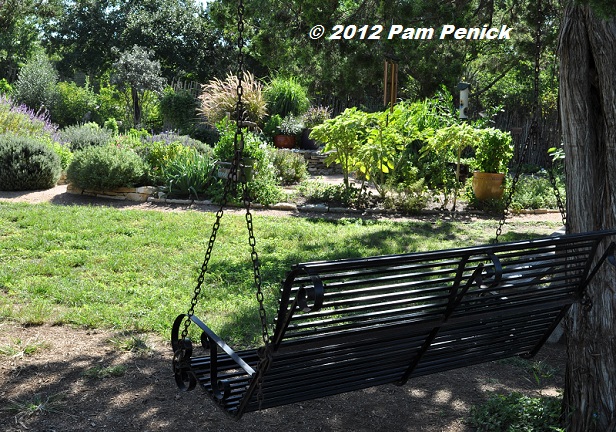 This inviting swing overlooks a pretty herb garden. You'll find a fruit orchard nearby.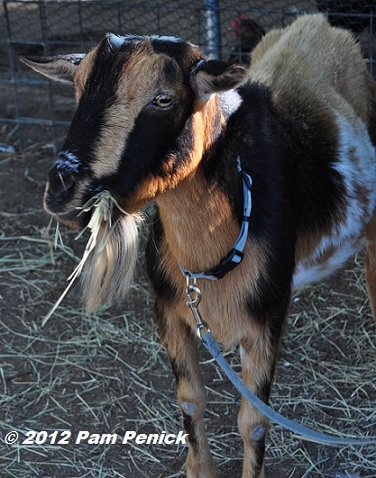 Making the nursery fun for kids to visit are resident goats…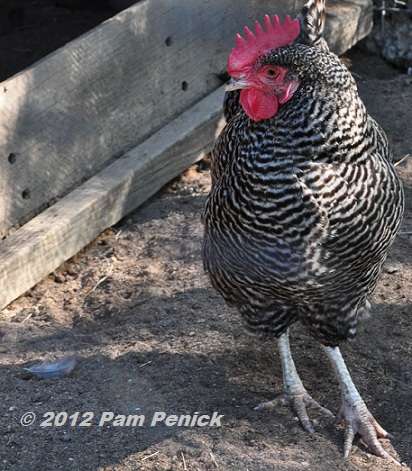 …chickens, and donkeys, whose braying usually tells you where they are.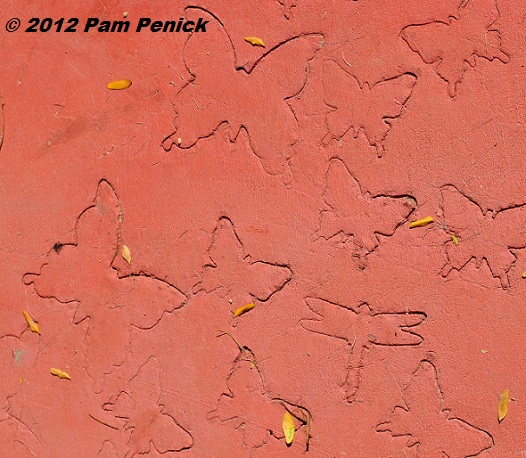 A butterfly- and dragonfly-stamped path leads to a lovely butterfly garden right off the parking lot.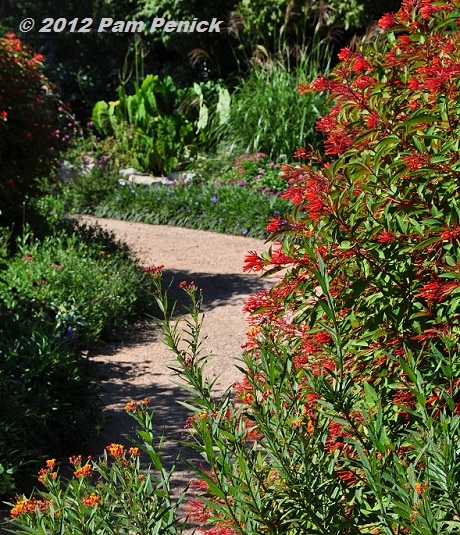 Stroll it for relaxation…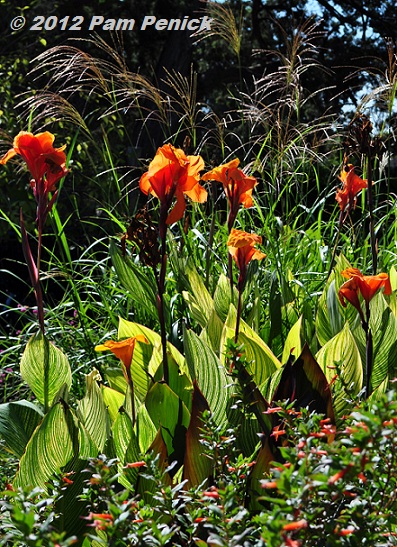 …or to get planting ideas for attracting butterflies to your own garden.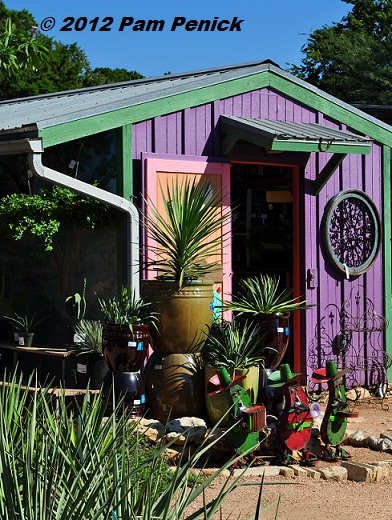 The information shed is where you'll find knowledgeable staff members ready to answer your questions. You'll also find plenty of staffers working the grounds, and they're quick to ask if you need help finding anything.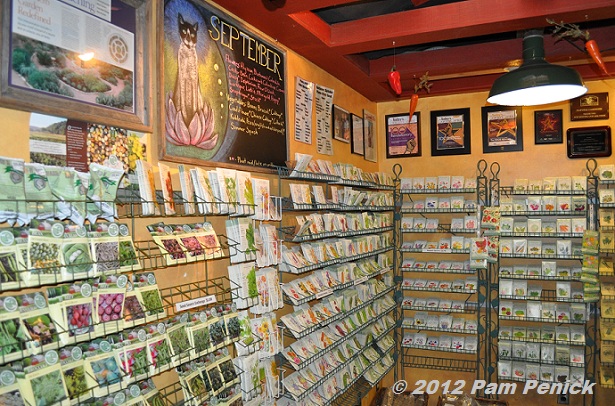 In the nursery shop you'll find nice restrooms (always a plus!) and seeds galore.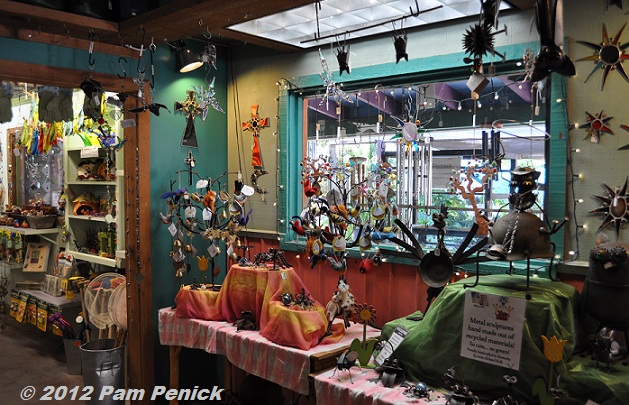 I often come to the nursery just to shop for gifts. I love their handcrafted garden/home decor.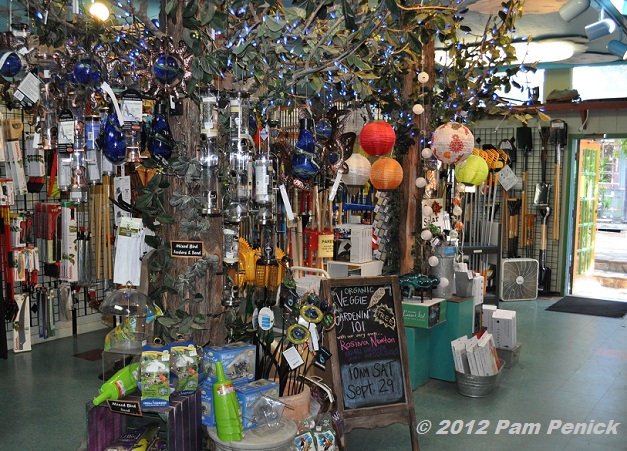 They also have an excellent tool selection as well as garden books and bird feeders. And I haven't even mentioned the educational offerings, like regular garden speakers and classes, or the homemade soil offerings, which include the popular Ladybug brand. There's so much to see here, and you'll find more about this excellent nursery in an earlier post I wrote about The Natural Gardener. I encourage you to visit and see what it has to offer.
Now for the giveaway! The Natural Gardener is giving away a $25 gift certificate to one of my lucky readers! Just leave a comment on this post to enter, and I'll announce the winner at the end of the week. Update 10/7/12: The winner announcement is here.
Giveaway Rules:
1. You must leave a comment on this post to enter.
2. Only one entry per person is allowed.
3. Giveaway ends at 11:59 pm on October 6th.
4. I'll announce the winner on October 7th.
5. The winner must go to the nursery with a photo ID to claim the prize within two weeks of winning. Prizes will not be mailed.
6. The winner is not eligible to win any other giveaways at Digging for 2012's Support Your Independent Nursery Month.
Remember, win or lose, if you live here in Austin you've already hit the jackpot with a great selection of local nurseries at which to shop, learn, and be inspired.
Disclosure: I've posted about this nursery because it's one I shop at regularly and recommend to others. I invited the owner/manager to participate in a giveaway for my readers, but my post was not conditional on any donation. Plain and simple: I like this nursery and think you will too.
All material © 2006-2012 by Pam Penick for Digging. Unauthorized reproduction prohibited.
Each week in October, which is
posted in
Agaves
,
Arbors
,
Butterflies/Moths
,
Chickens
,
Containers
,
Decor
,
Edibles
,
Fall color
,
Farms
,
Garden art
,
Giveaways
,
Grasses
,
Keep Austin Weird
,
Paths
,
Patios & decks
,
Rivers & creeks
,
Seating
,
Shade sails
,
Sheds
,
Succulents
,
Support Indep Nurseries
,
Sustainable Gardening
,
Texas natives
,
Tools
,
Water features