September 16th, 2012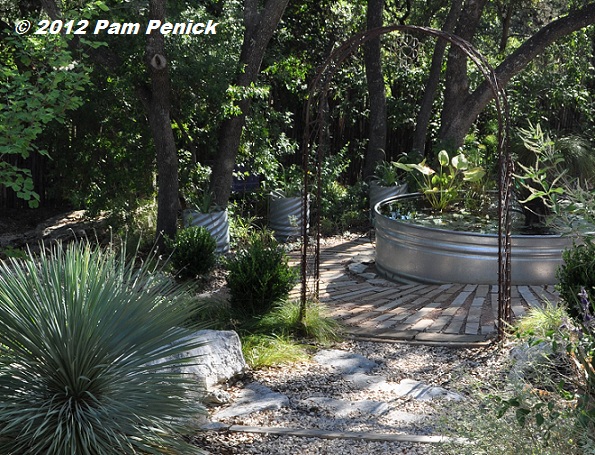 Thanks to our first two cool fronts of the season, I've spent much of the past two weekends cleaning up the garden, ripping out plants that proved not tough enough and adding plants that I've been wanting to try, like little bluestem and a couple of new agaves. Whoo-hoo! While out in the garden I'm also enjoying the bold foliage and evergreen backdrop that carry my garden through the seasons, regardless of whether anything is blooming.
Here we are in the sunny hillside garden, looking downhill through an arbor to the stock-tank pond, which occupies the mid-level of the back garden. I like this view quite a bit. A Koosh ball-shaped Yucca rostrata 'Sapphire Skies' punctuates the end of the path, and a traditional note of twin boxwood spheres ('Winter Gem') flank the entry to the stock-tank pond patio. (Four paths radiate from the pond patio, with boxwoods flanking each entry.) Live oaks filter the sunlight behind the pond, making for a dappled woodland garden in the lowest reaches of our sloping backyard. It's almost entirely populated with foliage plants, with only a few flowering perennials adding seasonal color. The result: lots of evergreen structure and little maintenance aside from cutting back the ever-present oak sprouts.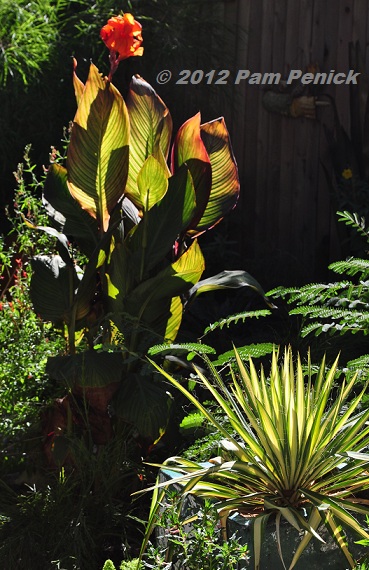 On the other end of the backyard garden, which is hotter with western sun, brighter color prevails but still predominantly through foliage, like this 'Tropicanna' canna and 'Color Guard' yucca.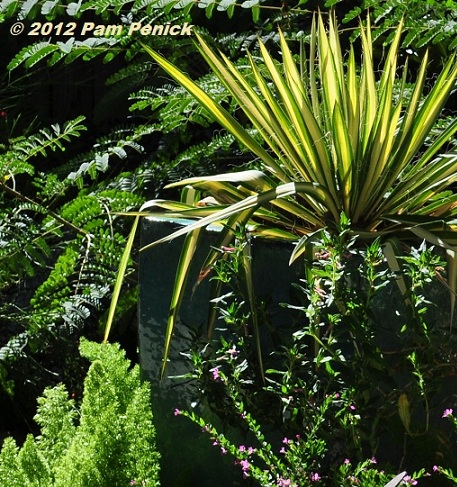 The yucca glows in the afternoon light, surrounded by the quirky spikes of foxtail fern, the feathery leaves of Pride of Barbados, and two cupheas—'Twinkle Pink' and Mexican heather—with their tiny, tubular flowers.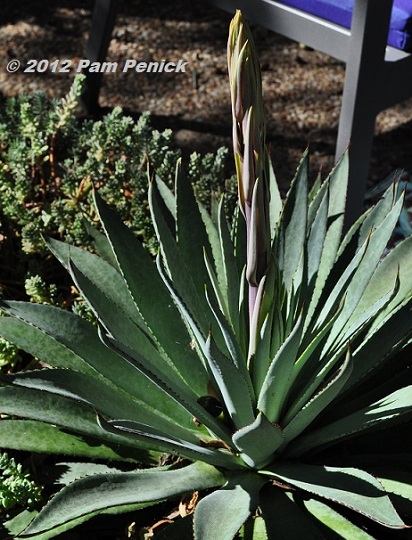 Rounding out my favorite foliage for this month is an old favorite, 'Bloodspot' mangave, which is sending up its first bloom stalk. Exciting!
Join me in posting about your lovely leaves of September for Foliage Follow-Up, a way to remind ourselves of the importance of foliage in the garden. Leave your link to your Foliage Follow-Up post in a comment. I really appreciate it if you'll also include a link to this post in your own post (sharing link love!). If you can't post so soon after Bloom Day, no worries. Just leave your link when you get to it.
All material © 2006-2012 by Pam Penick for Digging. Unauthorized reproduction prohibited.
posted in
2nd garden--2012
,
Agaves
,
Arbors
,
Containers
,
Design
,
Foliage Follow-Up
,
Paths
,
Ponds
,
Stock tanks
,
Trees
,
Yuccas