September 9th, 2012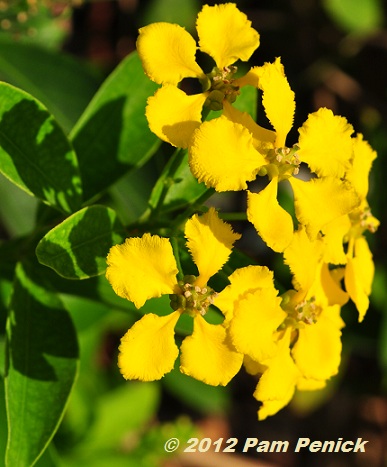 Butterfly vine, also known as gallinita (Mascagnia macroptera), brightens up the midsummer garden with lemon-yellow flowers whose petals look as if they were cut out with pinking shears. Flowering best in full sun, this Mexican native is a wonderful addition to the drought-tolerant garden, able to hold its own when the Death Star sets its beam on high during the summer.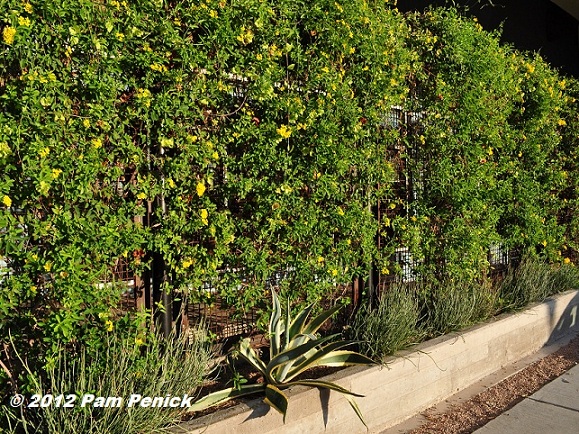 Narrow evergreen leaves keep trellises and fences "greened up" in winter. Although a really hard freeze (into the lower 20s or teens) can burn its leaves or kill it to the ground, during most winters it sails through with no damage in Austin's zone 8b. This is a vigorous climber but safe for wood fences since it climbs by twining. I help it clamber up a wooden fence by stringing thin wires vertically or in a fan shape between eyehooks screwed into the wood.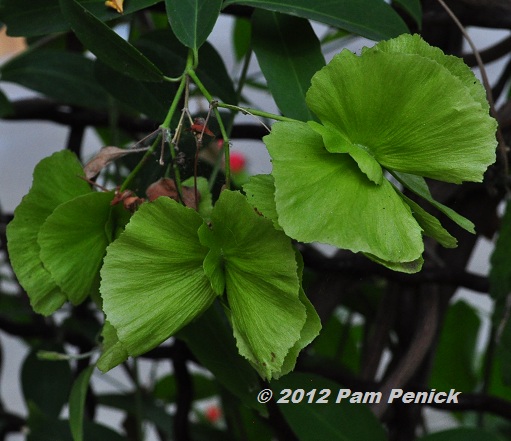 In late summer, lime-green seedheads appear that resemble papery butterflies flitting among the vine. By fall, the "butterflies" turn brown, but they continue to charm small children, as well as this gardener. Perhaps they would charm you too?
Note: My Plant This posts are written primarily for gardeners in central Texas. The plants I recommend are ones I've grown myself and have direct experience with. I wish I could provide more information about how these plants might perform in other parts of the country, but gardening knowledge is local. Consider checking your local online gardening forums to see if a particular plant might work in your region.
All material © 2006-2012 by Pam Penick for Digging. Unauthorized reproduction prohibited.