August 28th, 2012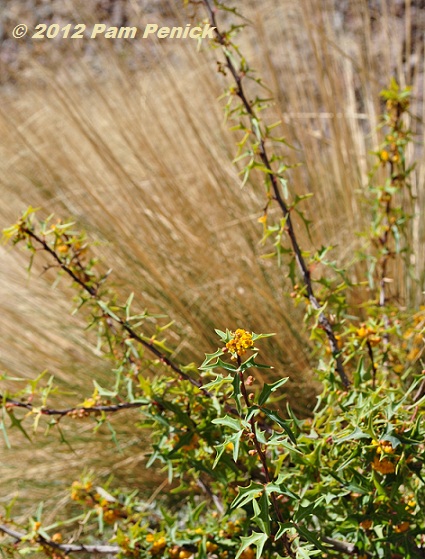 Not that long ago, native plants got little respect. They were considered weeds, inelegant scrub, and surely harbored ticks, chiggers, and rodents. Ahead-of-their-time native-plant enthusiasts faced resistance from neighbors concerned about an unkempt look. And even if you did want to grow these plants, you couldn't find them at your local nursery.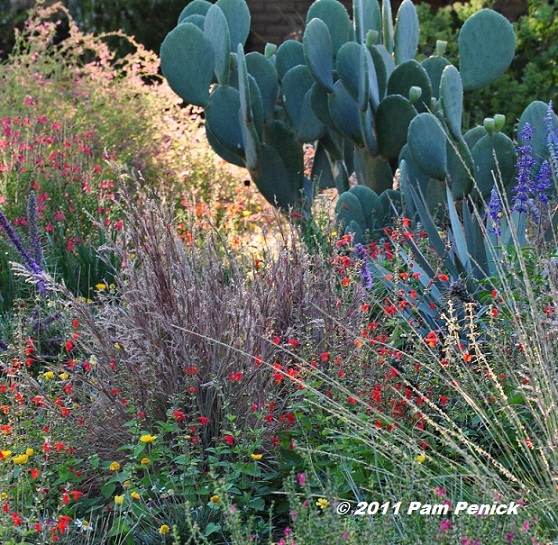 Michael McDowell's Plano Prairie Garden
We've come a long way, baby! Over the past couple of decades, gardening with native plants has achieved not just acceptance but mainstream popularity, driven in some regions by watering restrictions that make gardens full of thirsty exotics unsustainable, as well as a desire to garden with a sense of place. Native plants are now readily available in independent nurseries or online, and shelves of books have been written about gardening with them. Most botanical gardens, it seems, now devote at least some space to native plants, and here in Austin we're fortunate to have an entire botanical garden, the Lady Bird Johnson Wildflower Center, dedicated to education about and the display of native plants.

Tait Moring's Austin garden
One aspect of growing native plants, however, continues to lag behind: design. Natives are often used in naturalistic or wildscaped gardens but less commonly, it seems, in more-structured designs, whether formal, clean-lined contemporary, or simply HOA-friendly. Can natives, in fact, be used effectively in non-naturalistic gardens?
You bet. After all, plants are plants, as far as design goes. But here are some tips to keep in mind when using natives to achieve strong design in a central Texas garden.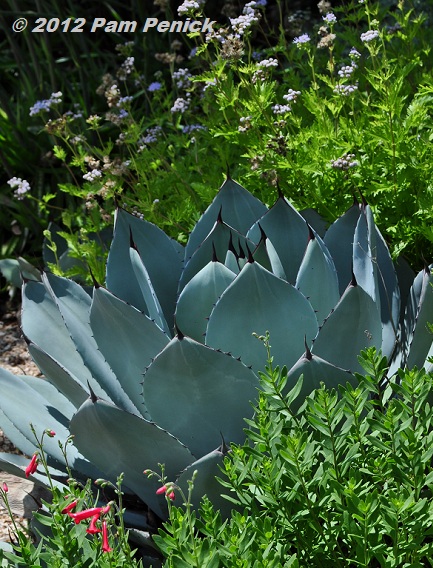 1. Use broad-leaved plants for structure and contrast. So many of our native perennials here in central Texas, especially sun-lovers, are fine-textured. The tiny leaves that help a plant retain moisture become a blur of undifferentiated foliage very easily. Break up that sea of fine texture with broad-leaved and structural plants like agave, yucca, and spineless prickly pear. Don't worry—it won't make your garden look like a desert to have a few of these spiny plants in it. Provided they have good drainage and are grown with other drought-tolerant, sun-loving plants, they mingle quite nicely with flowering perennials and ornamental trees, as in this grouping of Gregg's mistflower (Conoclinium greggii) and rock penstemon (Penstemon baccharifolius) with nonnative artichoke agave (Agave parryi var. truncata) in Curt Arnette's southwest Austin garden.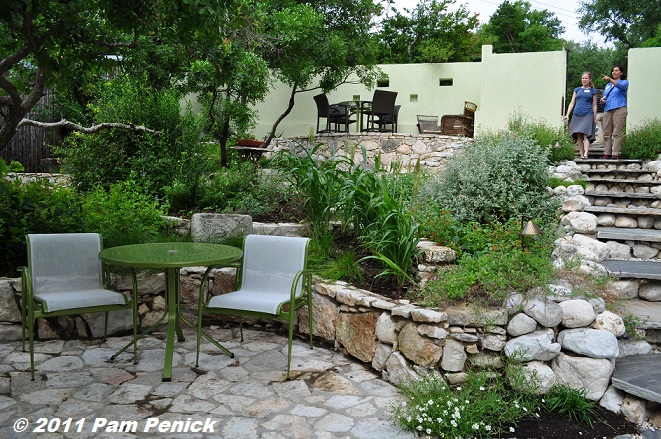 2. Include strong lines in your garden through the use of defined paths, low walls, seating areas, and other hardscape.
A wildscape garden can get by with a stepping-stone path or mulched trail. But if you want a more structured native-plant garden, give it plenty of definition, as in this Glee Ingram-designed garden in west Austin. I don't mean that you have to spend big bucks on fancy stone terraces or high walls (although those are lovely if you have the means). Defined gravel paths and patios work very well too and have the advantage of being less expensive and easy to install yourself.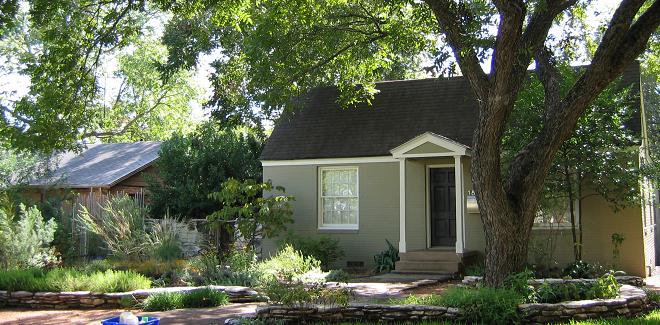 And anyone can build a low retaining wall to create an elevation change that adds interest and definition to the garden, as in the Poth-Gill garden in central Austin.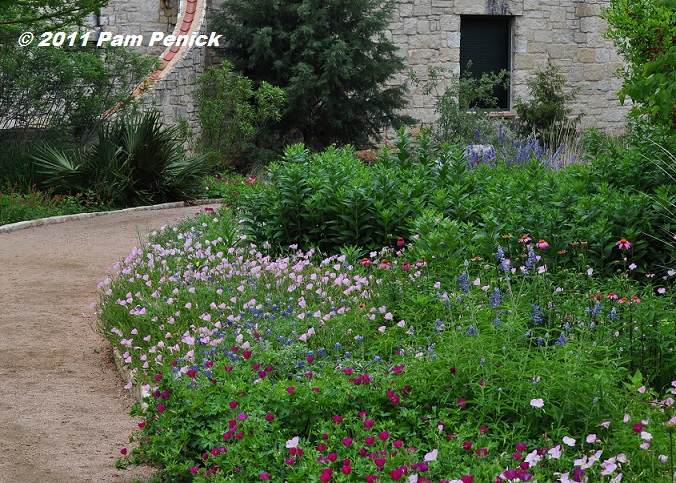 If you need more inspiration, visit the Wildflower Center to see firsthand how to add beautiful structure to native-plant gardens through the use of hardscape.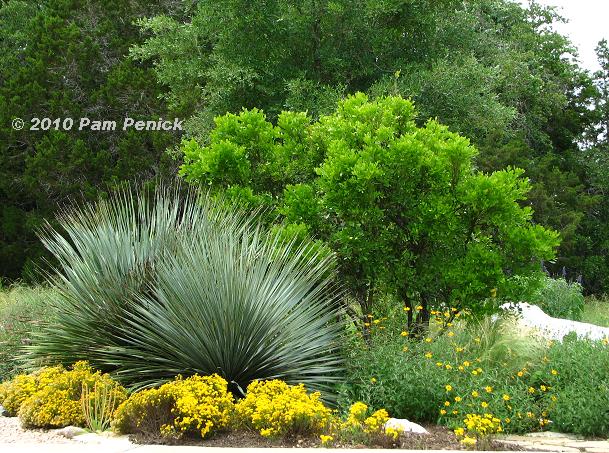 3. Choose native plants with a long season of interest.
The traditional-garden exotics so often used in gardens across the country are popular for a reason: they are sturdy, long-lasting performers. Of course they may also be water guzzlers and intolerant of our Texas summers, so when you turn to native substitutes, look for those that put on a good show for more than just a few glorious weeks. In Roxanne and Ira Yates's garden, pictured above, Texas mountain laurel (Sophora secundiflora), Wheeler sotol (Dasylirion wheeleri), and damianita (Chrysactinia mexicana) combine to form a multi-layered, mostly evergreen garden with seasonal flowering.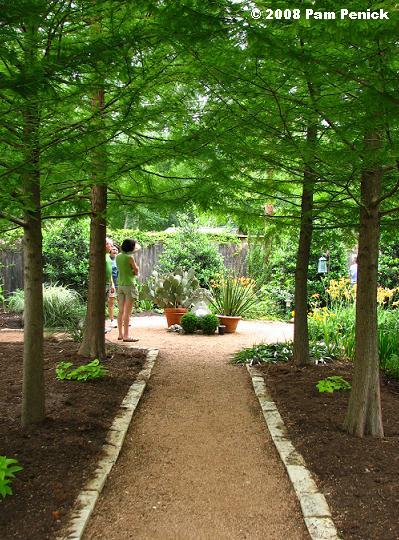 4. Add focal points to your garden along sight lines.
This is a traditional design technique, and it works just as well in a native garden—maybe better because it adds essential structure—to direct the eye to certain features or indicate where one should walk. Plant an allee of native trees, as Austinite Tom Spencer did with bald cypress (Taxodium distichum)—use an ornamental tree like Mexican plum (Prunus mexicana) if your property is small—drawing the eye inevitably toward a focal-point garden ornament.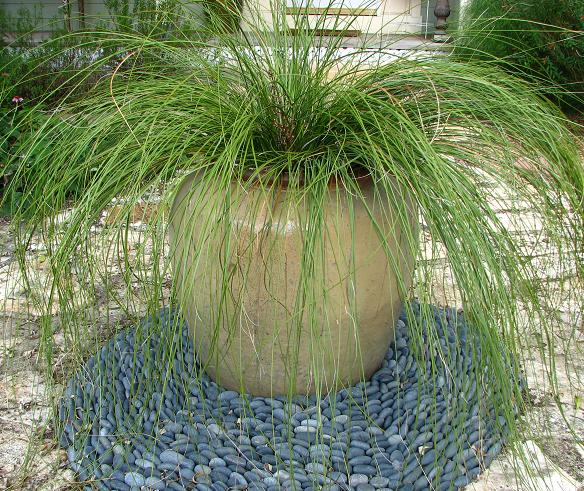 Or plant a large pot with a native plant and place it midway along a path so as to stop the eye and encourage visitors to stop and look, as I did with a Texas nolina (Nolina texana) in my former garden.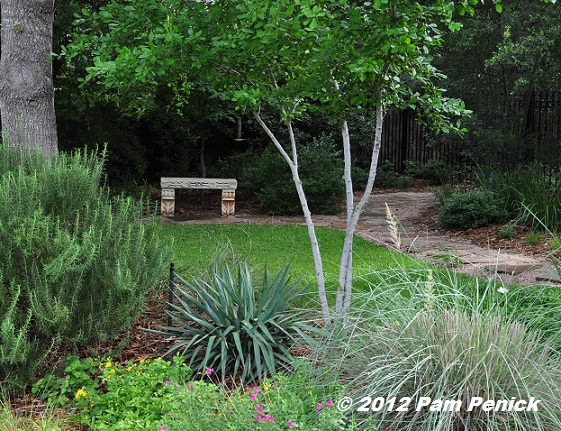 Cathy Nordstrom-designed garden in northwest Austin
5. Remember that native plants require maintenance, just as traditional exotics do, to look their best.
Natives have been sold so well to the public as bulletproof drought survivors that people often think you can just plant them and walk away. Uh-uh. Not only do native plants require some TLC to get established, just as nonnatives do, they also look better in a garden setting with regular grooming. Have you ever gone hiking on the greenbelt and really looked at the landscape? Is that what you want your garden to look like? I'm not saying a wildscape is bad. I'm just saying that's not what most people want in front of their houses, especially in traditional neighborhoods.
Rather than let your natives grow "wild" in your garden, take time to prune them as necessary. I don't mean shearing them into meatballs, mind you, just cutting back dead stems and branches, pruning for shape, pulling up or moving seedlings that are taking over your gravel paths, and giving your garden a cared-for look. Such maintenance is made easier from the start by choosing plants based on their mature sizes, so that you aren't having to continually clip overgrown foundation shrubs or butcher trees that outgrew their placement.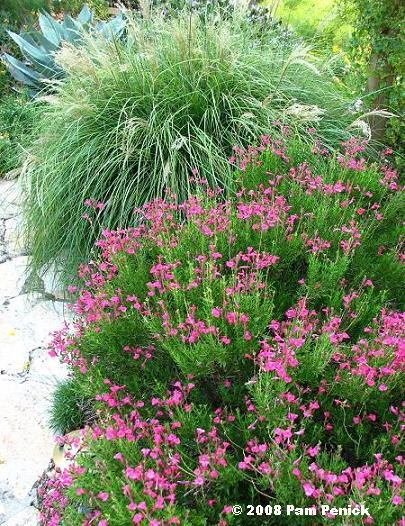 Take Autumn sage (Salvia greggii) for example. This is a beautiful shrub when in bloom, but it has a tendency to get woody and bloom less if you don't take the clippers to it. Whack it back by half in late winter (mid-February), and again by one-third in early summer (after the spring bloom) and in late summer (in preparation for fall bloom). It'll reward you with a tidy shape and a burst of colorful flowers—an asset to your garden.
There you have it—my tricks of the trade for designing with central Texas native plants in a more-structured style of garden. Let me know if you have any other tips that work well too!
This is my contribution to today's posting on Designing with Native Plants by Garden Designers Roundtable. Click for links to other designers' posts from around the U.S. and England.
Thomas Rainer : Grounded Design : Washington, D.C.
David Cristiani : The Desert Edge : Albuquerque, NM
Susan Morrison : Blue Planet Garden Blog : East Bay, CA
Rebecca Sweet : Gossip In The Garden : Los Altos, CA
Mary Gallagher Gray : Black Walnut Dispatch : Washington, D.C.
Lesley Hegarty & Robert Webber : Hegarty Webber Partnership : Bristol, UK
Genevieve Schmidt : North Coast Gardening : Arcata, CA
Douglas Owens-Pike : Energyscapes : Minneapolis, MN
Debbie Roberts : A Garden of Possibilities : Stamford, CT
Scott Hokunson : Blue Heron Landscapes : Granby, CT
All material © 2006-2012 by Pam Penick for Digging. Unauthorized reproduction prohibited.
posted in
Agaves
,
Cactus
,
Containers
,
Design
,
Designers Roundtable
,
Native plants
,
Paths
,
Patios & decks
,
Pruning
,
Seating
,
Texas natives
,
Walls
,
Xeric plants
,
Yuccas