August 17th, 2012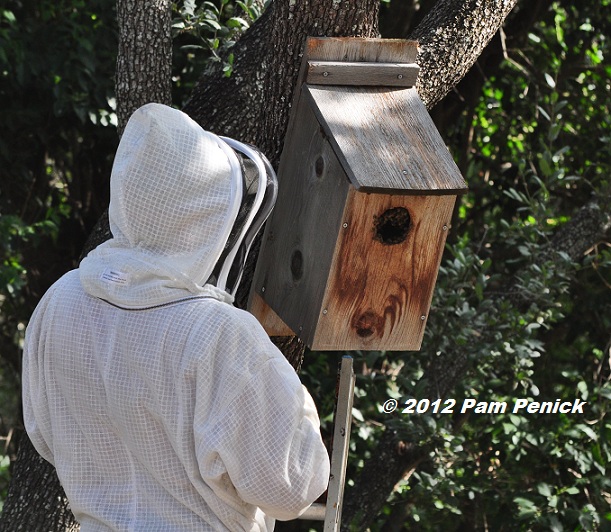 On Monday I posted about the swarm of honeybees that had moved into our screech owl box over the weekend. Yesterday evening beekeeper (and high school teacher) Jim Hogg of Daddy's Bees came over and carefully removed them for us. He took them home, transferred them to a hive, and eventually will find another beekeeper who wants them. He doesn't keep honeybees himself anymore but believes in saving them. He came out right away when I called him on Monday and gave me a free bid for removal; his modest fee was, I thought, very reasonable for his time, gas cost, and effort—not to mention climbing high up a ladder in a hot, cumbersome bee suit in 100-degree weather and dealing with testy bees.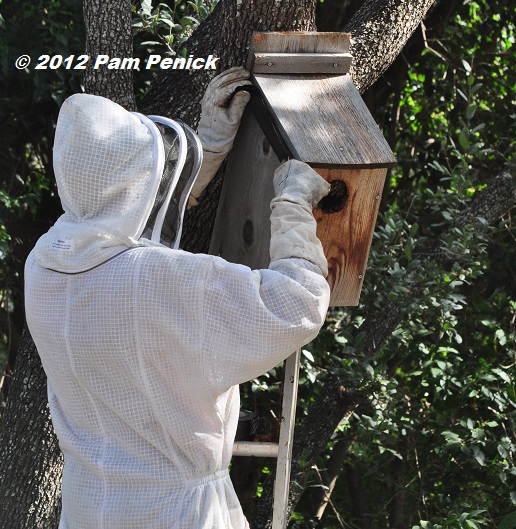 Here's how he did it. After putting on his bee suit, Jim climbed the ladder and gently taped up the openings in the owl box, even the cracks along the roof.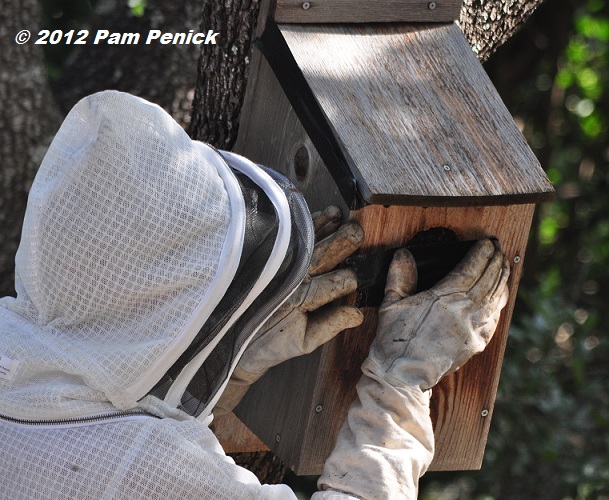 Taping up the hole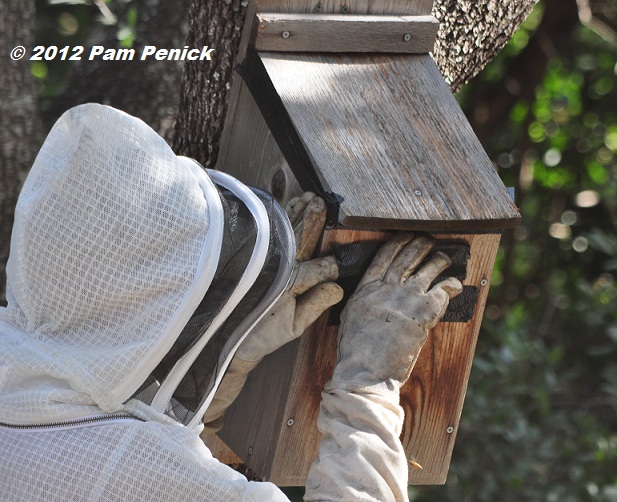 A few bees got agitated at this point, and Jim peeled the tape back a bit to give the stragglers an opportunity to get inside before taping it up again.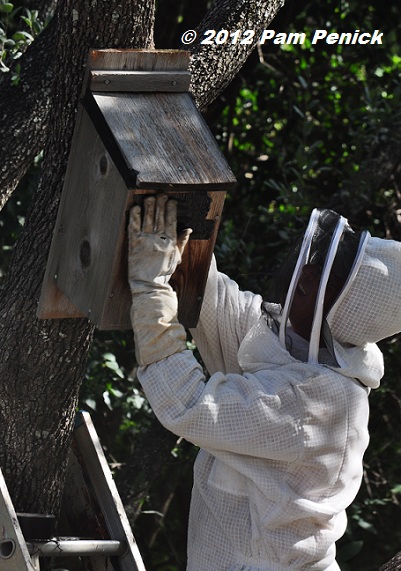 After he finished taping it up, he securely tied a rope around the box and draped the end over a sturdy branch…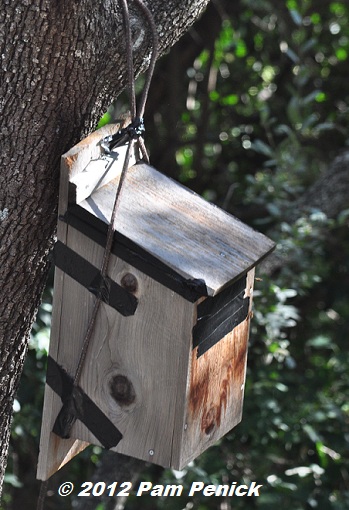 …and then he removed it from the tree and lowered it slowly to the ground. Then he just carried the whole box off to his truck. He planned to transfer them into a hive when he got home, and he'll bring the owl box back to us next week. I think we'll leave it in the garage until bee-swarm season is over.
Bee swarms are occurring all over central Texas right now, indicating a healthy population. Our resurgent bee population even made news at the Wall Street Journal this week. Colony-collapse disorder is killing off bee populations all over the country, so it's good to know our bees are pretty healthy. After all, without sufficient numbers of honeybees, we not only won't have honey but our crops won't get pollinated and even our personal gardens will suffer. So if you're in the Austin area and see a swarm at your house, don't panic and don't call the exterminator. Just call Jim at Daddy's Bees or visit the "Report a Swarm" page at Urban Beekeeping in Austin, Texas to find someone who can safely move your bees.
All material © 2006-2012 by Pam Penick for Digging. Unauthorized reproduction prohibited.