July 19th, 2012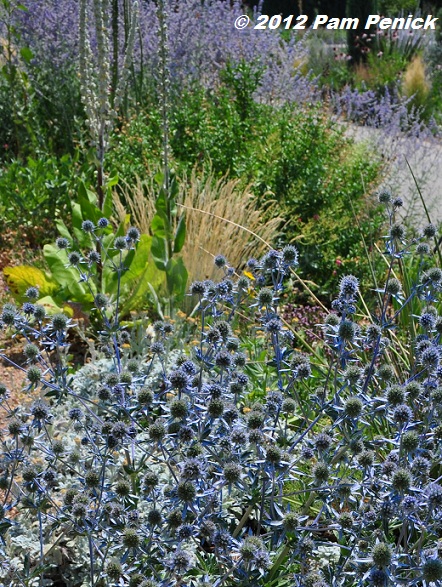 It seems kind of stay-at-home-ish to admit that my absolute favorite garden at Denver Botanic Gardens, which I visited earlier this month, is the one that looks almost like it could be in central Texas—with the addition of conifers and an intensity of color that we rarely achieve in the more-humid low country. But it was. The Water-Smart Garden, located along a glass house that we didn't have time to visit, photographed in a hurry as my family tugged at me to leave, complaining of empty bellies (it was lunchtime), is a long, narrow strip of drought-tolerant plants arranged with an eye for contrasting textures, color, and grassy movement.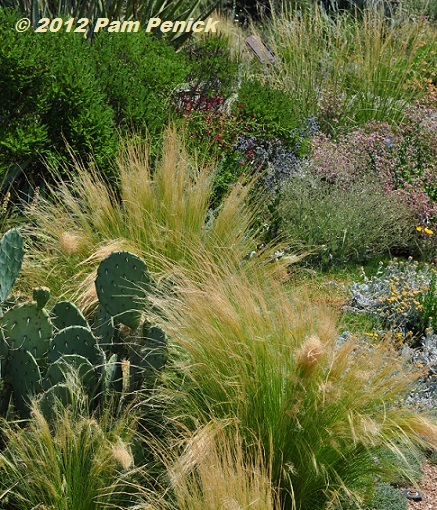 The long strip is gently mounded, so the plants "flow" down the slope toward the viewer.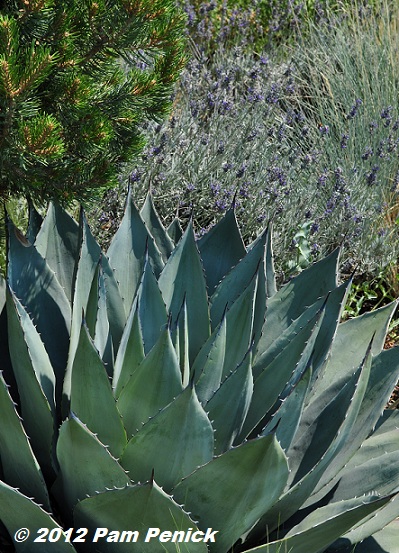 Agave and lavender do a cool-blue color echo, with the dark-green pine in there for contrast.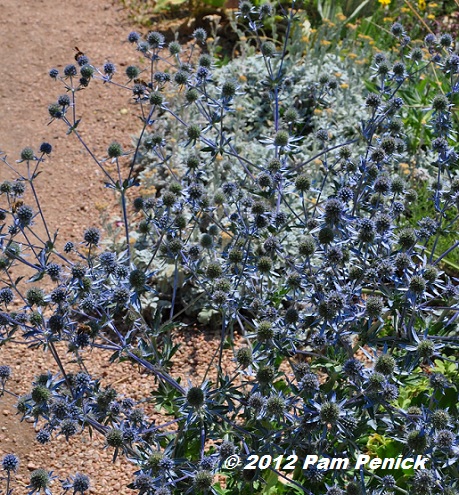 A very blue Eryngium—love!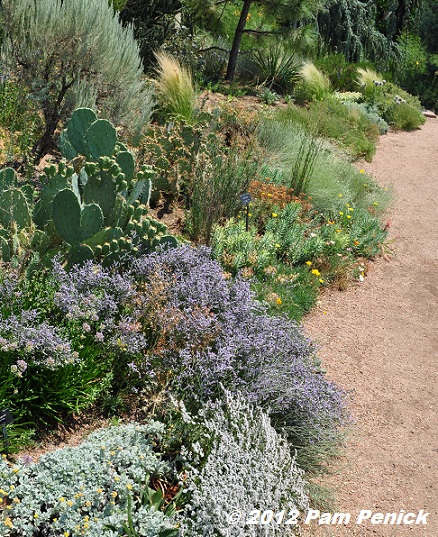 A wider view. Berming the bed adds a lot to the beauty and enjoyment of this garden—you can see everything easily.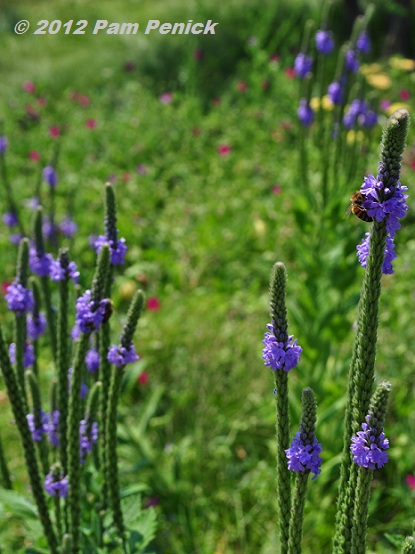 Other garden areas contained beautiful plants too, of course.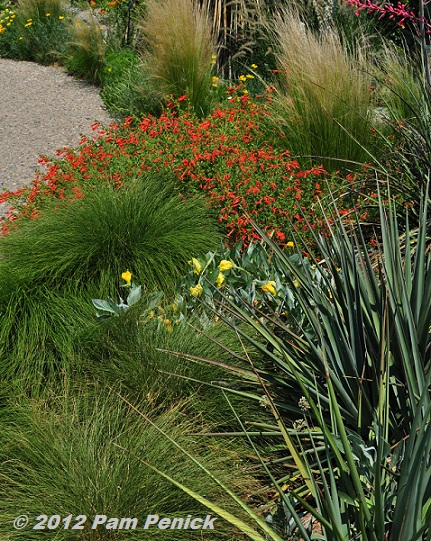 These grasses, yuccas, and flowering perennials were in a garden near the entry, I believe.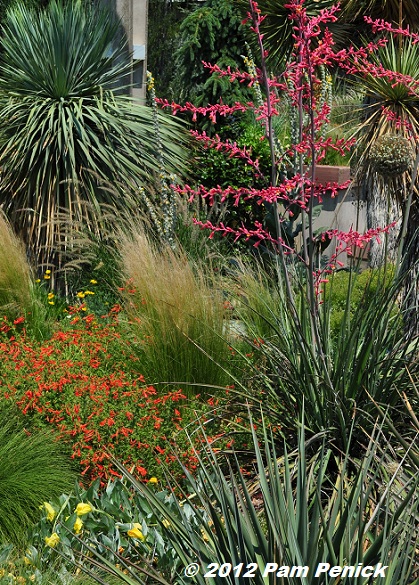 Red yucca (Hesperaloe parviflora) was in full bloom.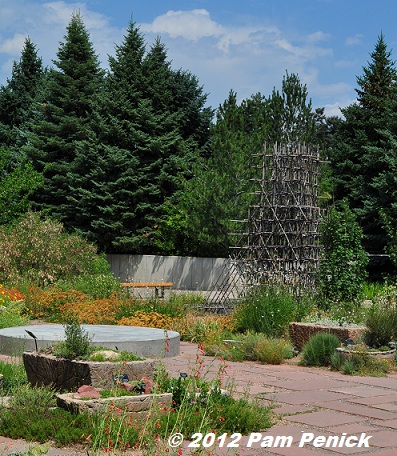 An open, patio-style garden called Wildflower Treasures (I think) contained flowering groundcovers, hypertufa troughs, and a geometric bamboo sculpture, backed by beautiful Colorado evergreens.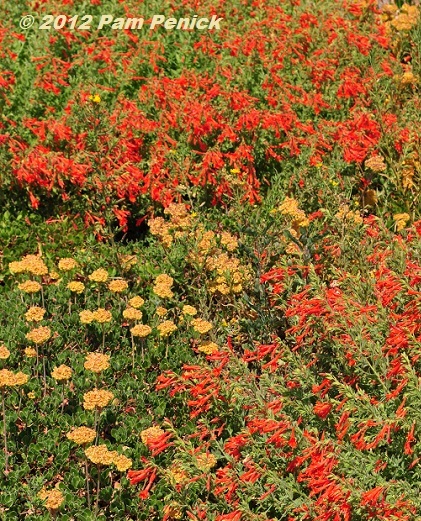 This hot combo was labeled as Californian firecracker plant (Dichelostemma ida maia) and sulphur-flower buckwheat (Eriogonum umbellatum).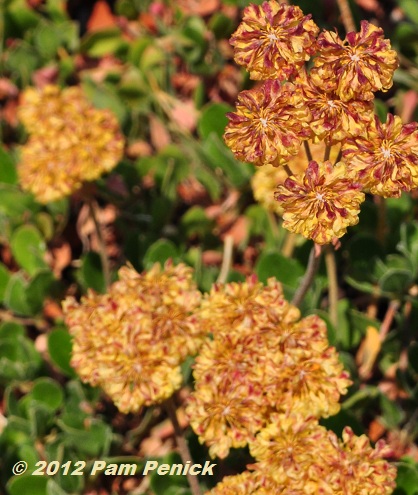 Close-up of the buckwheat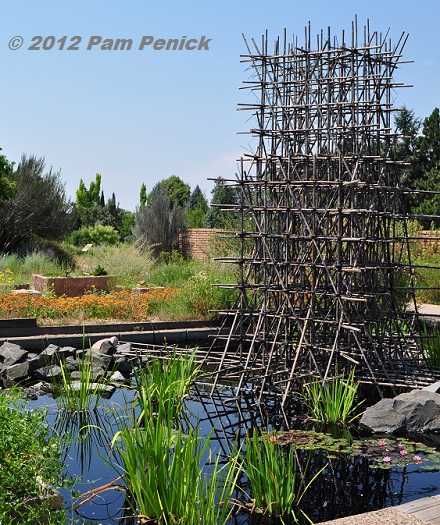 Another look at the geometric bamboo sculpture, which is anchored in a pond.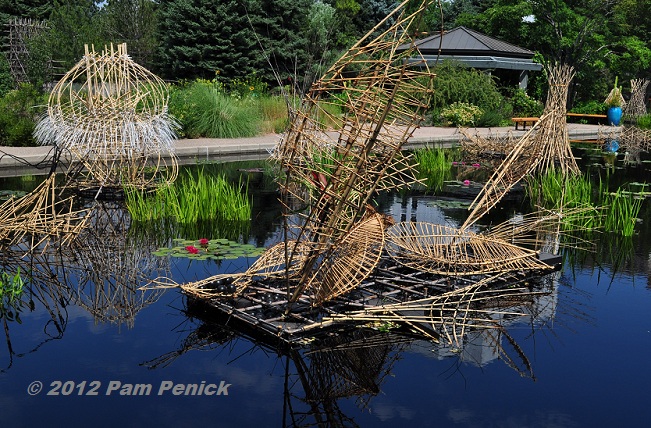 These boat-like bamboo sculptures were floating in another pond. They were my favorites.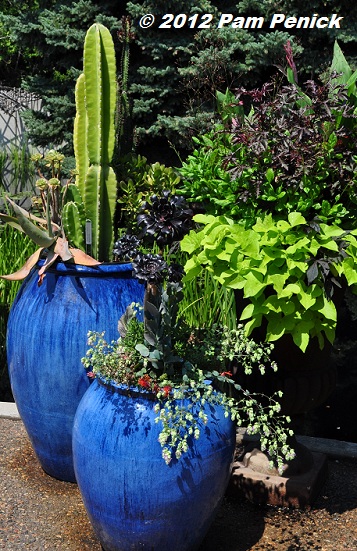 Pretty blue pots with cactus, aloes, and other assorted tender plants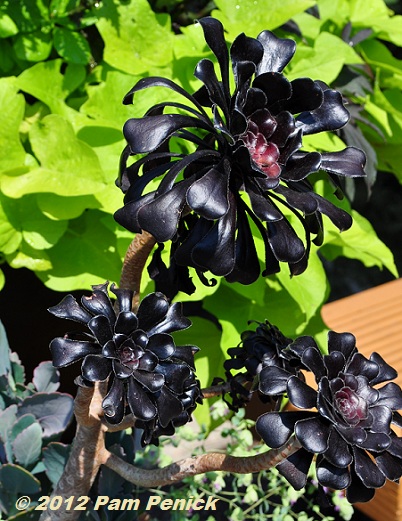 'Zwartkop' aeonium, I think, backed by chartreuse sweet potato vine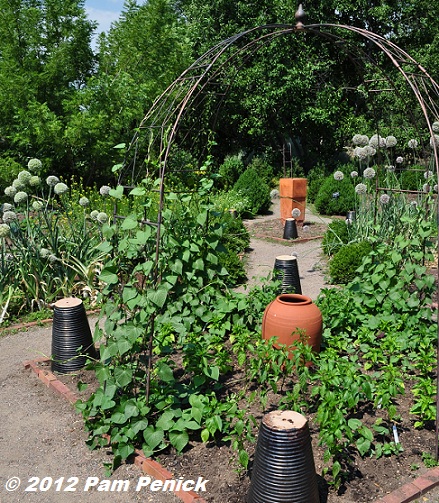 There was even a kitchen garden…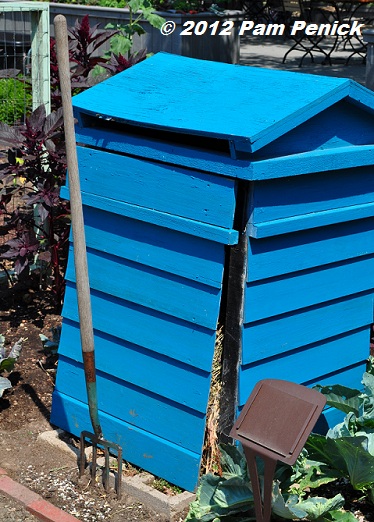 …with evidence of a gardener recently at work.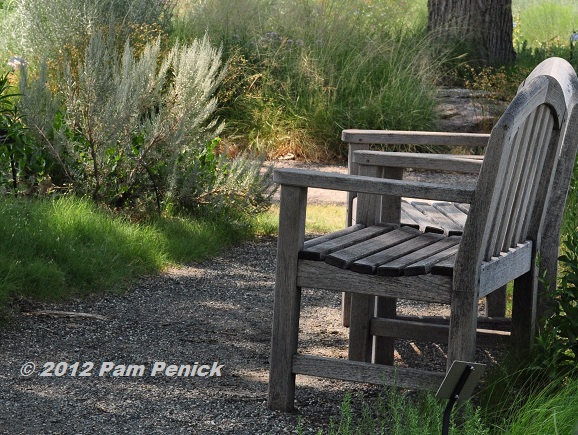 I hope you enjoyed my posts about Denver Botanic Gardens all this week. DBG is packed with beautiful gardens, and our 4-hour visit was not sufficient to see everything. I'll definitely have to plan a return visit.
For a look back at my post about DBG's Plains Garden, Rock Alpine Garden & Dryland Mesa, click here. You'll find additional links at the end of each post.
All material © 2006-2012 by Pam Penick for Digging. Unauthorized reproduction prohibited.