July 16th, 2012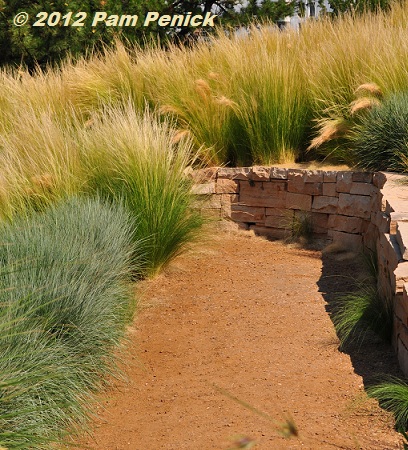 Yesterday's post about my recent visit to Denver Botanic Gardens was flower-powerful in honor of Bloom Day. Today, for Foliage Follow-Up, I'm focusing on a hillside swath of two grasses and a prickly southwestern native, both of which thrilled me—meaning I took lots of pictures. Fab foliage, both of them.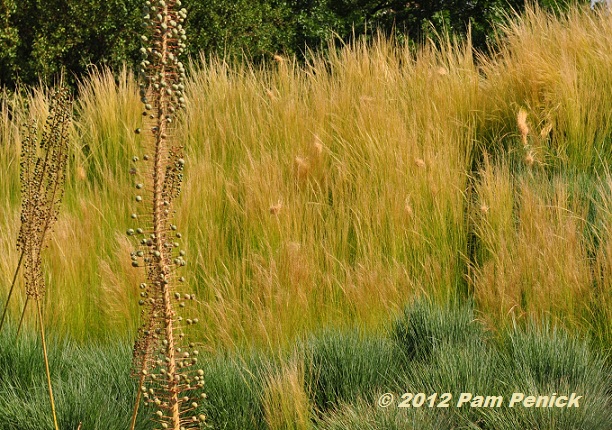 I don't know the identity of the blue grass. Update: Panayoti Kelaidis, Senior Curator and Director of Outreach at Denver Botanic Gardens, has kindly provided the missing plant IDs in his comment below. The blue grass is Schizachyrium scoparium 'The Blues'. The tawny one I first thought was Mexican feathergrass (Nassella tenuissima), but now I wonder if it isn't Peruvian feather grass (Stipa ichu), which I saw labeled elsewhere in the gardens and I was right. At any rate, together, mass planted in blocks of color, they illustrate the simple beauty of massing a single species next to another.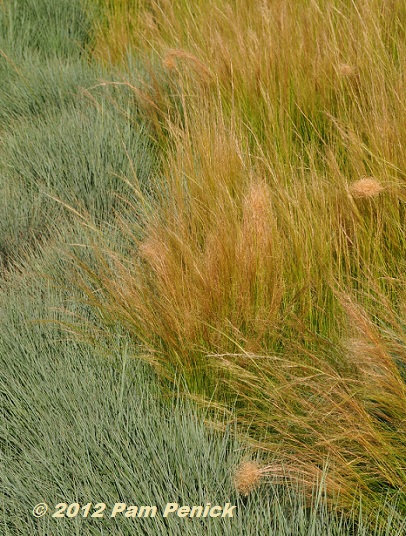 I need to remember to do more of this in my own garden (on a smaller scale), rather than trying to plant everything I like. It's so hard to resist plants, but a swath of one kind really is effective and much more serene.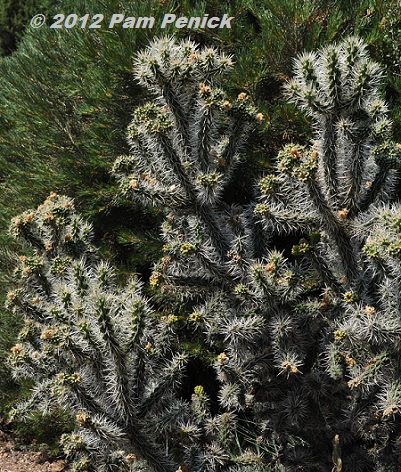 On the other side of the gardens, I came across this fantastic pairing of cholla and pine. Both prickly with needles, the pine's absorb light and the cholla's catch and reflect it.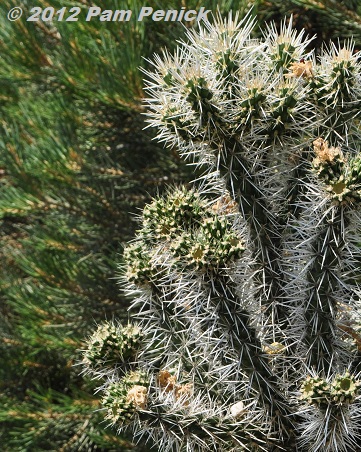 And yet the green stems of the cholla, underneath all those spines, are the same color as the pine behind it. Fantastic!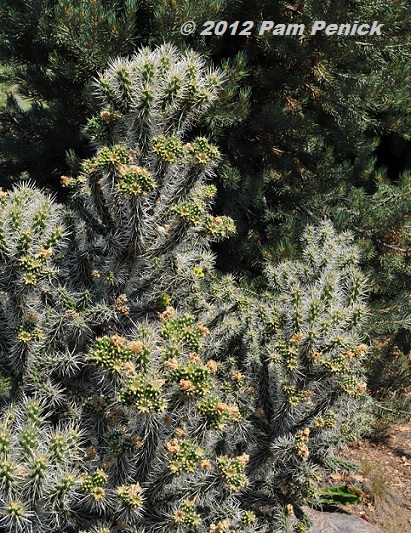 Would that I could emulate this combo in Austin, but pines never seem very happy here. Update: Panayoti, in his helpful comment below, IDs this cholla as Cylindropuntia echinocarpa, but he recommends the cultivar 'Snow Leopard' for most gardeners. The pine is Pinus edulis, pinyon pine.
Join me in posting about your lovely leaves of July for Foliage Follow-Up, a way to remind ourselves of the importance of foliage in the garden. Leave your link to your Foliage Follow-Up post in a comment. I really appreciate it if you'll also include a link to this post in your own post (sharing link love!). If you can't post so soon after Bloom Day, no worries. Just leave your link when you get to it.
And for those who want to continue my virtual tour, tomorrow I'll have a pictures of Denver Botanic Gardens' beautiful Romantic Garden. For a look back at DBG's sun-drenched perennial borders, click here.
All material © 2006-2012 by Pam Penick for Digging. Unauthorized reproduction prohibited.