June 26th, 2012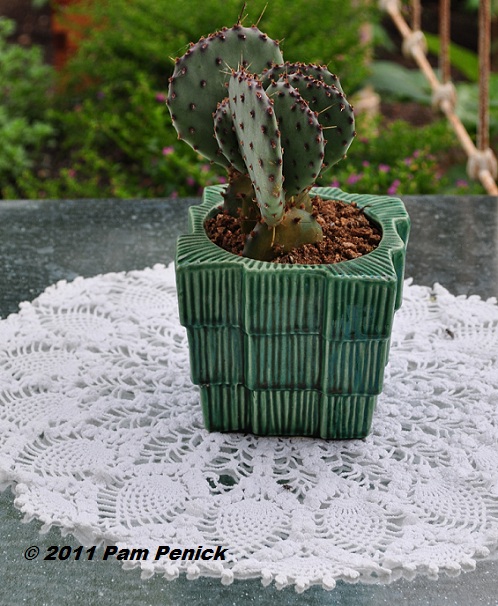 Even the smallest vignettes benefit from strong contrasts of texture. Take this tabletop display, for example. The slick zinc tabletop contrasts with a nubby lace doily, and the spiny cactus contrasts with the smooth, ceramic pot.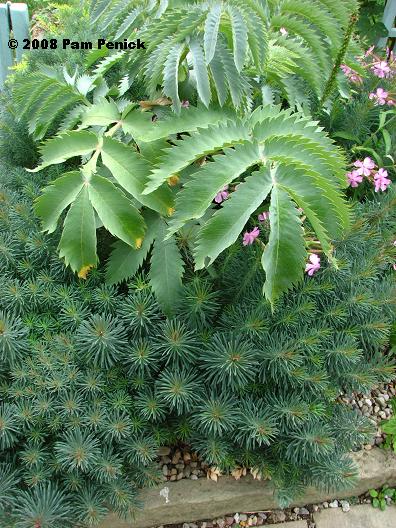 If you use design techniques to bring greater interest to your garden, you may already know that employing contrast is a good way to achieve it: contrasting leaf and flower forms (globes versus narrow spires, for example), contrasting light and shadow (creating a tunnel of shade with a vine-covered arbor, leading to a sunlit garden), and contrasting colors (green and red, blue and orange) to amp up the excitement. But how often do you think about contrasting various textures in your garden?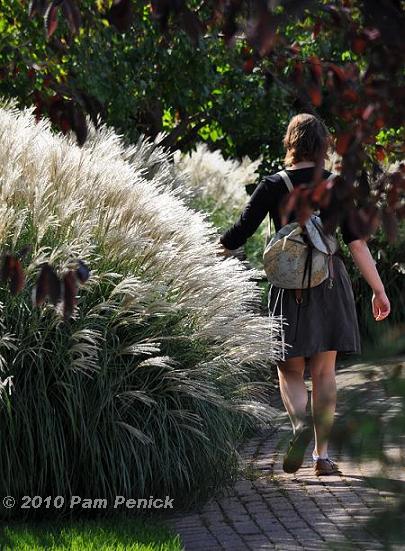 Texture is visual and tactile; you can see and feel the relative roughness, smoothness, slickness, and furriness of leaves, stones, wood, even outdoor furniture—in fact, any feature of your garden. Maybe you're not consciously considering the texture of particular elements in your garden, but I bet you notice it nonetheless. Don't we all run our fingers across fuzzy leaves, feathery grasses, rough bark, satin petals, and smooth pebbles? It's one of the pleasures of the garden! Even young children do this, and we never outgrow it.
Here are a few examples of how to contrast various textures in your central Texas garden.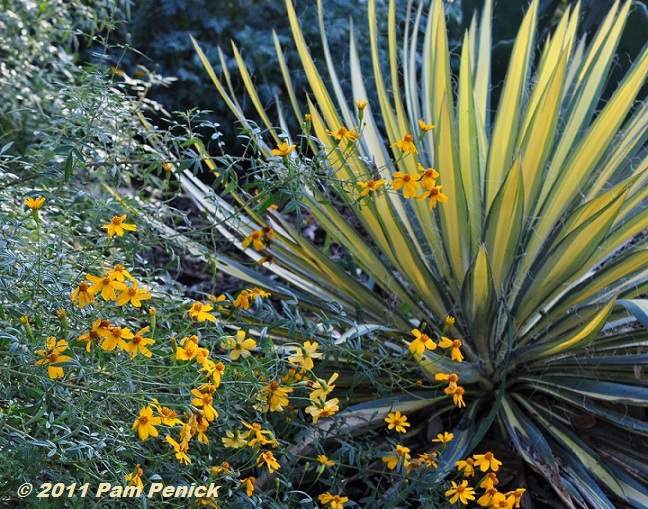 Pair sword-like, spiky leaves with soft, billowy foliage, like this 'Color Guard' yucca mingling with copper canyon daisy (Tagetes lemmonii)…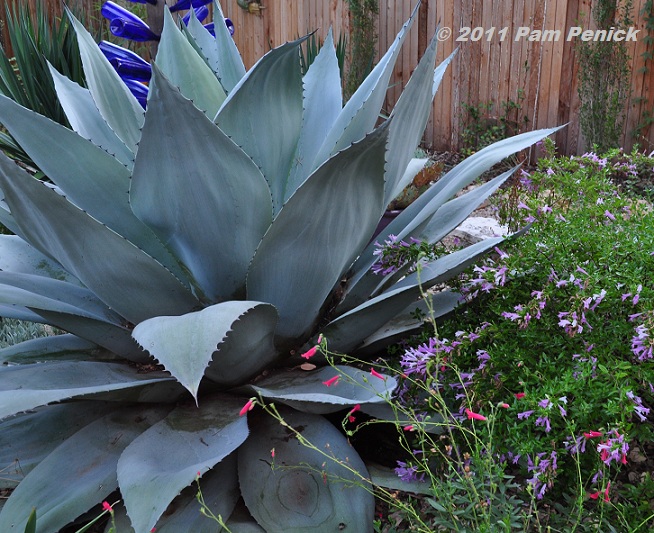 …and the smooth, broad leaves of 'Whale's Tongue' agave (A. ovatifolia) with the fine texture of Mexican oregano (Polomintha longiflora) and rock penstemon (Penstemon baccharifolius).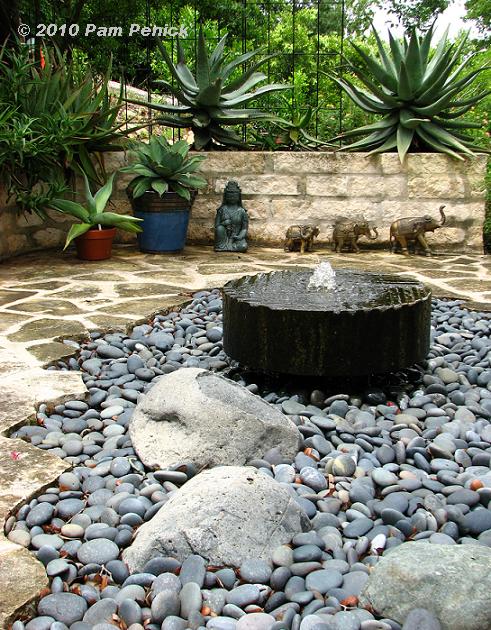 Plants aren't the only things that add texture to a garden. Hardscape materials like stone, wood, and metal add a tremendous amount of texture. In this garden, owner Jeff Pavlat contrasts a pebbly bed of river stones with a smooth limestone patio and a water-slick millstone. You can practically feel the texture of this scene with your eyes!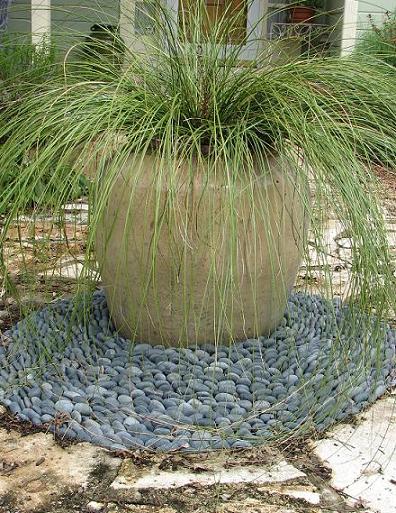 Similarly, in my own former garden, I used rock to create textural contrast: a nubby arrangement of Mexican beach pebbles paired with smooth, flat limestone.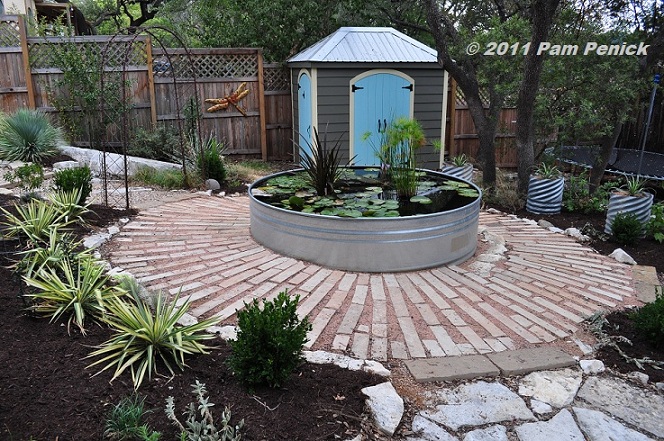 Consider the texture of decorative objects in your garden as well: slippery glazed-ceramic pots, rough terracotta, bamboo screens, rusty wrought-iron trellises, etc. I like to contrast the slick, smooth texture of galvanized steel—used here on the shed roof, the culvert-pipe planters, and the stock-tank pond—with rougher textures in the garden, like gravel and stone paving and large limestone boulders. The ridges in the steel also give it a touchable texture, even if you only "touch" them with your eyes.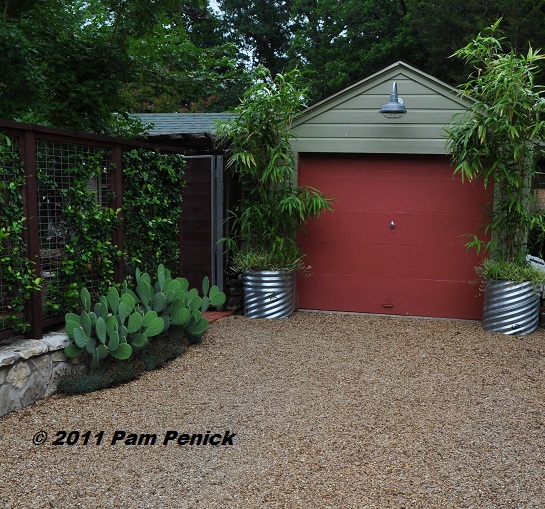 Don't you want to touch everything in this tactile driveway garden (Munsterman garden)? Smooth culvert-pipe planters and the smooth stems and leafy foliage of the bamboo planted in them; chunky Opuntia paddles and feathery dianthus foliage beneath; even the pebbly pea gravel—all invite the fingers and eyes to linger.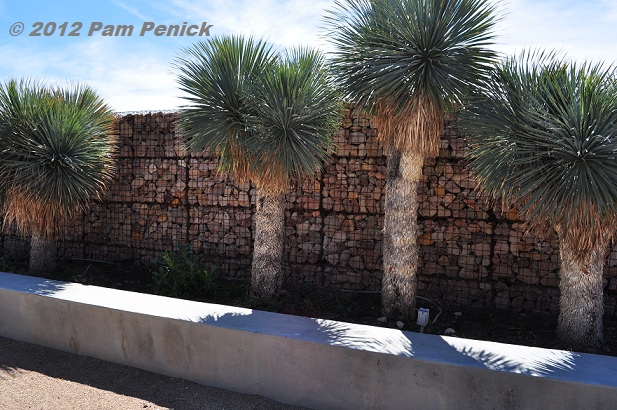 Gabion walls—steel-framed boxes filled with rocks—are trendy in gardens today, and they add a lot of texture as well. In this Marfa, Texas garden, chunky gabion walls contrast with smooth, concrete retaining-wall seating. Of course, the spiky globes of Yucca rostrata and their shaggy trunks add even more touchable texture to the scene.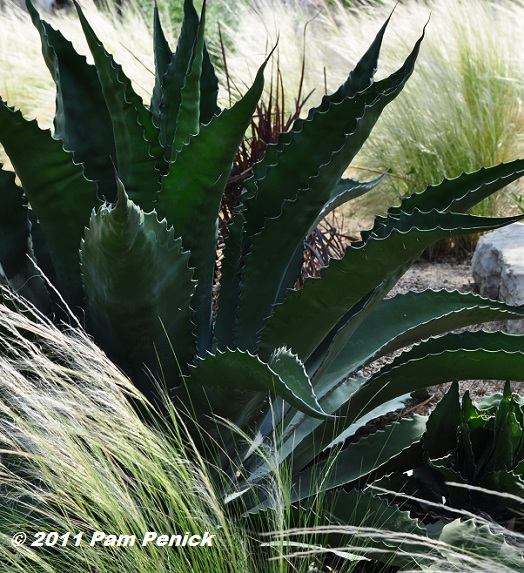 I hope this has given you some ideas for contrasting texture in your own garden. If you sense a dullness about a particular planting bed, pay attention to whether the leaves all have the same texture, whether shiny, smooth, rough, or spiky. If so, try mixing it up a little and watch how contrasting textures brings new life to your garden.
This is my contribution to today's post on Texture by Garden Designers Roundtable. Click for links to other designers' posts from around the U.S. and England.
Thomas Rainer : Grounded Design : Washington, D.C.
Rebecca Sweet : Gossip In The Garden : Los Altos, CA
Lesley Hegarty & Robert Webber : Hegarty Webber Partnership : Bristol, UK
Douglas Owens-Pike : Energyscapes : Minneapolis, MN
Deborah Silver : Dirt Simple : Detroit, MI
David Cristiani : The Desert Edge : Albuquerque, NM
Christina Salwitz : Personal Garden Coach : Renton, WA
Andrew Keys : Garden Smackdown : Boston, MA
Rochelle Greayer : Studio G : Boston, MA
All material © 2006-2012 by Pam Penick for Digging. Unauthorized reproduction prohibited.
posted in
Agaves
,
Bamboo
,
Cactus
,
Containers
,
Design
,
Designers Roundtable
,
Fountains
,
Garden structures
,
Grasses
,
Patios & decks
,
Sheds
,
Stock tanks
,
Trends
,
Walls
,
Water features
,
Xeric plants
,
Yuccas